Disclosure: We were sent the featured products for the purpose of this post however all opinions are my own.
This post contains affiliate links and I may receive commission if you visit a link and buy something. Purchasing via an affiliate link doesn't cost you any extra, and I only recommend products and services I trust.
LP and Little Man love a remote control toy and they have a new found love of Transformers – thanks to Dave! So when the new Transformers The Last Knight Autobot Sqweeks remote control toy arrived to review they were pretty excited to get him out of the box!
Autobot Sqweeks comes with a detachable blaster and a remote control unit. It does need 6AA batteries which aren't included but they do last for quite a while – the children have been playing with Autobot Sqweeks constantly for days and the batteries are showing no sign of running out.
The Autobot Sqweeks remote control is simple to use with one control that makes Autobot Sqweeks go backwards and forwards and one that makes him go left and right. The children quickly picked up how to make him go round in circles and move around the room. He moves easily across the floor on wood, tiles and even the carpet, meaning that he can pretty much go everywhere without any problems.
The children loved that the Transformers Autobot Sqweeks has so many features including an attack mode – with the blaster in place – or a more casual mode without the blaster. When in attack mode his eyes shine bright red and in the more casual mode he has blue eyes. In both modes he makes noises and sound effects as he moves as well as the physical noise of him moving – which is pretty noisy, one slight downside of Autobot Sqweeks but something you have to put up with where children's toys are concerned!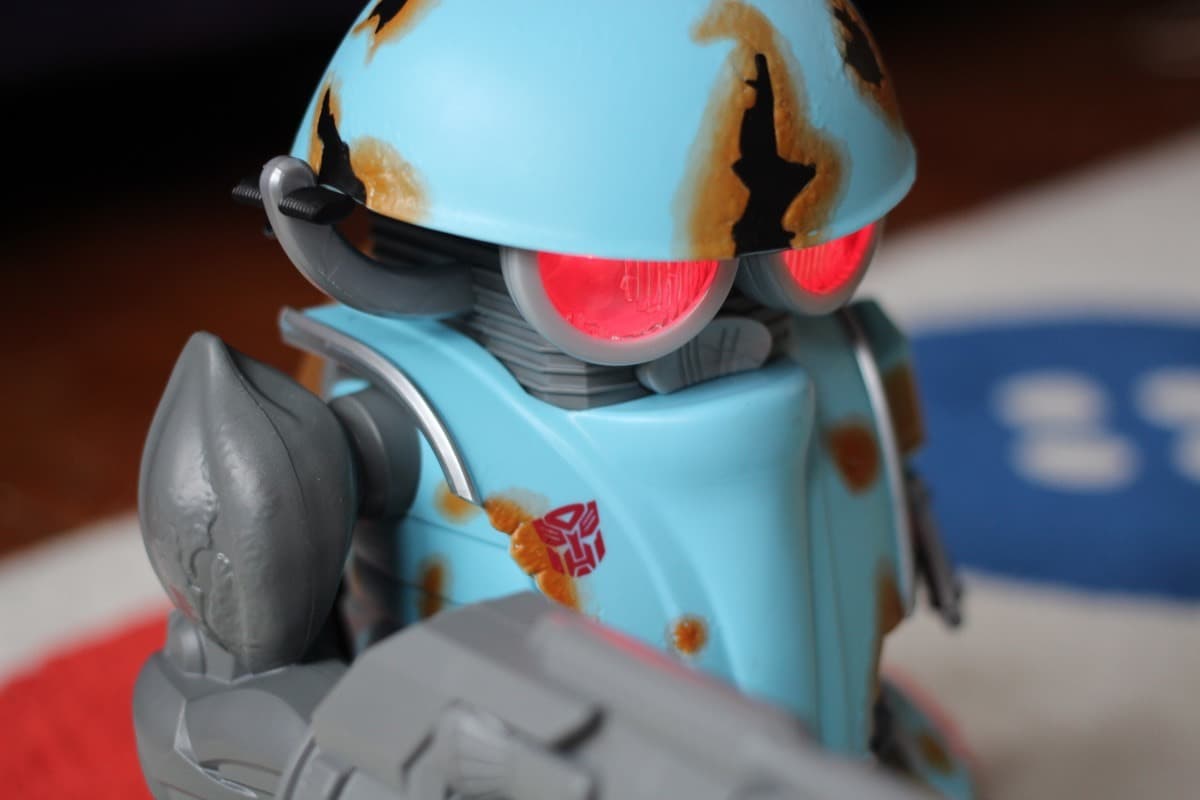 The Autobot Sqweeks transformer robot has a dance mode that you can activate by pressing the buttons on the controller. This makes him dance along to music that he plays. The children loved this action and they found that if they left Autobot Sqweeks inactive he would start moving and making noises to get some attention.
The children love Autobot Sqweeks and he is quite a friendly little guy to have moving around the house – even in blaster mode but for the price I was expecting a bit more from him. It does say clearly on all the information that even though he's a Transformers toy he doesn't transform and I think because of that some children could find Autobot Sqweeks slightly disappointing. However, LP and Little Man loved him and I think he would make a great gift – as long as you don't expect him to change into a car or similar.
Transformers: The Last Knight Autobot Sqweeks has an RRP of £69.99
You can see him in action here: