Disclosure: We were sent the featured products for the purpose of this post however all opinions are my own.
This post contains affiliate links and I may receive commission if you visit a link and buy something. Purchasing via an affiliate link doesn't cost you any extra, and I only recommend products and services I trust.
A few months ago we reviewed the Little Tikes Mini Mechanic playset and LP loved it. I always say how I have a preference for wooden toys, I absolutely adore traditional, well made wooden toys but my love of them doesn't mean that LP loves them too – She does, but she also loves plastic toys and doesn't have any real preference – If she likes a toy she'll play with it regardless of what it's made from.
When Little Tikes gave me the opportunity to review one of their new exclusive to Asda toys I knew that LP would love to try another of their great range and chose the Little Tikes Cash Register to review. LP loves role play games – She loves playing in her kitchen, playing cleaning and playing 'Mummy' with her dolls and teddies. I thought she would probably enjoy playing supermarkets too!
What should we expect from the Little Tikes Cash Register?
The Little Tikes Toy Cash Register is a toy cash register with scanner and receipt. The cash register toy has so many accessories with it – a shopping basket of play food, play money, a key and a credit card. There were a lot more accessories than I was expecting. The whole kids Cash Register is really interactive with a working, moving conveyor belt, a moving receipt print, an LCD price display, a bleeping scanner and an opening/closing till drawer. From the moment I got the play set out of the box I was impressed with how much you were able to do with it and the learning resources it provided.
Would a child enjoy the Little Tikes Cash Register?
LP has loved playing cash registers – She's learnt how to zap shopping with the scanner, how to open and close the till drawer, how to make items move on the conveyor belt and where to put the money in the cash drawer and how to give change. With working lights and sounds the Electronic Cash Register is a really great value toy that most children would love and fantastic for pretend play supermarket kids play. Having credit cards is a great addition and it has so much more play value that other toy cash registers I have seen. This is the perfect grocery play cash option for children.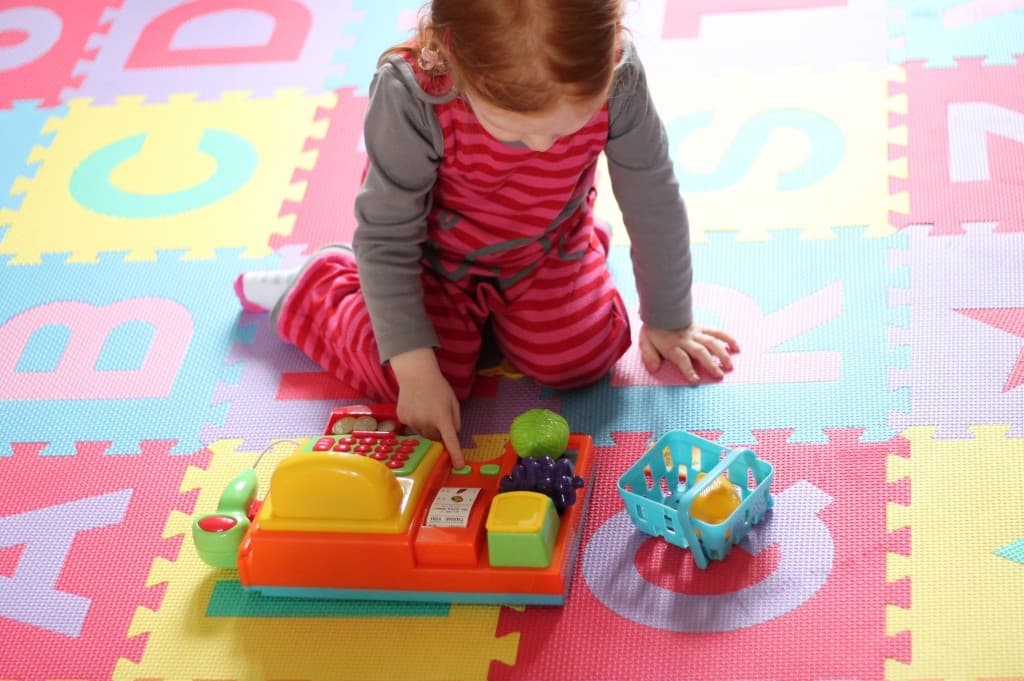 The Little Tikes Cash Register is LP's new favourite toy and she is now enjoying playing shops rather than kitchens. I'm glad that once again I have given plastic toys a chance – Little Tikes is definitely a brand that we'll always come back to as I know how much LP loves their toys.
Little Tikes Cash Register is available exclusively at Asda for £14 and you can see the full Little Tikes range of toys here.