This post contains affiliate links and I may receive commission if you visit a link and buy something. Purchasing via an affiliate link doesn't cost you any extra, and I only recommend products and services I trust.
I am always looking for ways to use up leftover mincemeat and I have made mincemeat muffins, mince pie cookies, festive swirls and even mince pie flapjacks as well as traditional mince pies. I have quite a long list of Christmas baking options! But, there is nothing quite like a homemade loaf cake to slice and serve throughout December or at any other time of the year.
So I've made mincemeat loaf cakes to use up half a jar of mincemeat and it's the perfect bake to enjoy at any time of the year – I may even start saving a jar of mincemeat after Christmas just to enjoy this part way through the year. It's a great way of using homemade mincemeat too.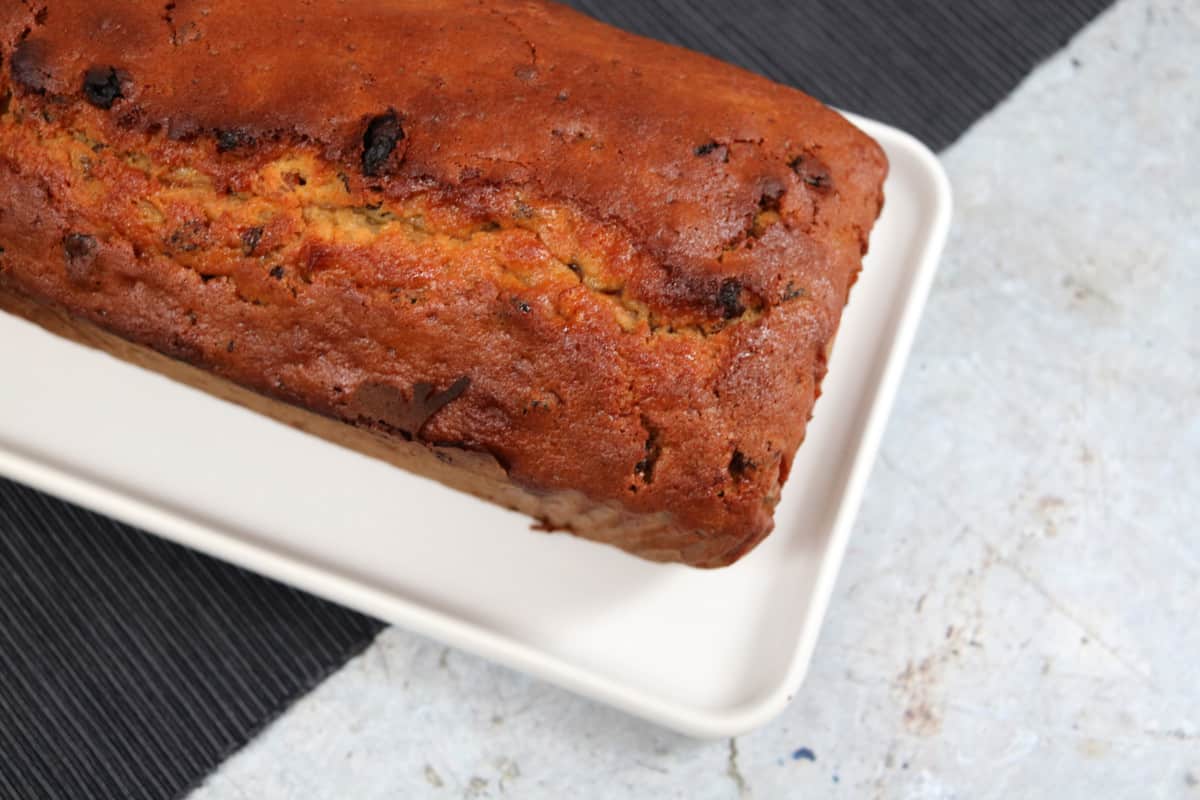 This mincemeat sponge cake is a great alternative to a Christmas cake and although I'm no Mary berry, I do think this is a cake for all occasions that everyone will enjoy.
Is this a mincemeat spice cake?
This mincemeat cake doesn't have any additional spices or seasonings in it aside from the mincemeat. So unlike other spice loaf cakes, it isn't full of cinnamon, nutmeg or mixed spices. Because of this, it doesn't taste like a festive, seasonal cake and can be enjoyed all year round.
Why should we bake this delicious Mincemeat Loaf Cake?
This old fashioned mincemeat cake is wonderful with a cup of tea at any time of day. It would be lovely as part of an afternoon tea spread and it could even be used as a festive gift when visiting friends and family or something to take to a school bake sale.
This easy cake is full of flavour – with the mincemeat adding that festive touch and the extra fruit adding a really lovely texture to it. The milk makes sure the fruit doesn't soak up all the liquid in the bake and it turns out a really lovely, light, wholesome bake that the whole family can enjoy.
Can you vary this easy Mincemeat Loaf Cake recipe?
For this cake we use self raising flour but you can use all purpose flour and a little baking powder if you'd prefer. It's a cake that we often vary to use what we have in the cupboards.
This fruit cake uses raisins but you can substitute the raisins for any dried fruit and even a dried fruit mix. A handful of glace cherries would be wonderful in the mix and would really give the cake a new flavour if you wanted to try something different.
Mixed dried fruit, a bit of peel and cherries would be a really lovely mix and if you wanted a more crumbly bake you could leave the milk out of the ingredients to create a country style fruitcake recipe. Or, if you like a boozy Christmas bake, you could substitute some of the milk for Brandy instead.
We have this mincemeat cake plain, straight from the oven but you could dust with icing sugar or add some icing if you wanted to once it's cooled to room temperature. 
Can I make individual cakes instead?
You could always make this quick recipe in individual loaf tins or a sectioned brownie pan to create individual mincemeat cake bars, a great, handy alternative to a single loaf cake. You could also make a big round cake if you wanted, or even a cake in a bundt pan which would look beautiful over the festive season.
This mincemeat Christmas cake is so simple to make, looks great and the children love helping to bake it as well. It lasts for a few days in an airtight container and can even be frozen to enjoy at a later date.
If you're looking for other festive recipes why not try our Mince Pie Bakewell Tarts, Mince Pie Slice or Mincemeat and Cherry Flapjack? You can see all our mincemeat recipes here – and even more Christmas recipes too plus we also have many cake recipes like our banana and peanut butter loaf cake and slow cooker recipes too.
What equipment do you need for this loaf cake recipe?
You can make this recipe simply with things you already have in your kitchen but here are the things we use in case there's something you don't already have:
As you can see, it's all things you probably have already. We use loaf tin liners to guarantee that bakes come out of the tin easily and they're great when baking as gifts too.
So here's our easy Mincemeat Cake Recipe – happy baking!
Ingredients
75 g low fat spread or unsalted butter
75 g caster sugar – although, light muscovado sugar or light brown sugar works well too.
2 eggs beaten
225 g self raising flour
200 g mincemeat
120 g raisins
2 tblsp milk
Instructions
Preheat oven to 180C/Gas 4. Grease a loaf tin using a little butter or spread.
Beat spread and caster sugar together in a large bowl until pale and fluffy.
Gradually beat in the eggs until combined, then fold in the flour, mincemeat, raisins and milk. Spoon the cake mix into a loaf pan and bake for 1hr-1hr15 until a skewer inserted comes out clean and it's lovely and golden brown.
Cool in the cake tin for 15 mins then remove from tin and cool completely on a wire rack.
If you'd like to print or pin the Mincemeat Loaf Cake Recipe for later you can do so at the bottom of the page. Enjoy!