This post contains affiliate links and I may receive commission if you visit a link and buy something. Purchasing via an affiliate link doesn't cost you any extra, and I only recommend products and services I trust.
We have made so many slow cooker recipes over the years and despite making dozens of things using mincemeat each year I had never thought to make slow cooker mincemeat – until now. I realised just how easy this recipe could be and thought I'd give it a whirl – and it turned out pretty good!
Mincemeat is such a festive tradition and, unlike the name suggests, it doesn't contain any meat. Historically though it was a mixture of fermented meat and fruit but over the course of hundreds of years we've stopped using meat and just use a dried fruit mixture.
How do you make this easy slow cooker Christmas mincemeat?
This homemade mincemeat recipe can be adapted to really use any dried fruit you have in your cupboards – and is very similar to the ingredients used in a traditional Christmas cake too. The main 700g of dried fruit can be any combination you like and you could even use dried blueberries or chopped dried apricots to add a bit of variety too.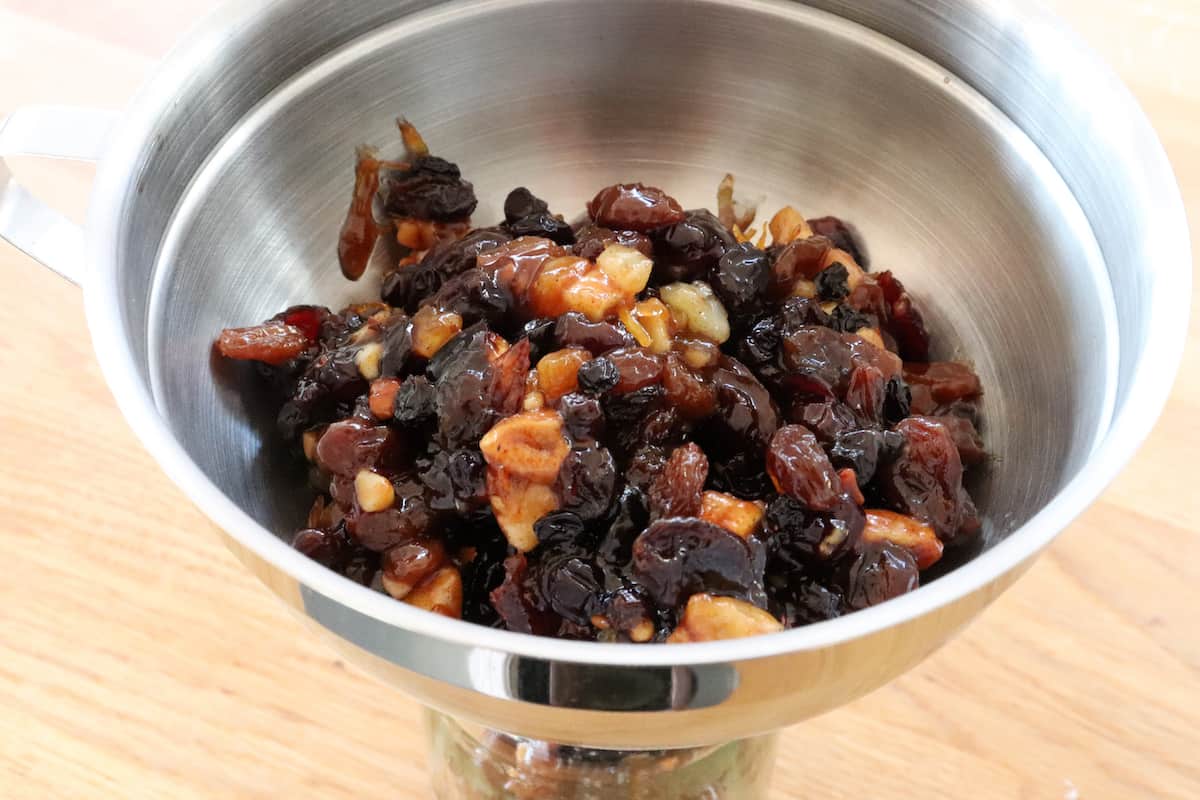 How do you sterilise jars to store the mincemeat?
It's really important that you store the homemade mincemeat in sterilised jars to keep it as fresh as possible and make sure it lasts as long as possible too. This recipe makes around three 400ml standard size jars of mincemeat and you can use any jars you like. We mostly use empty jam jars that we've saved through the year.
To sterilise jars I simply put them in the dishwasher and fill them when still warm, securing the lids on tightly and leaving to cool before labelling them. Alternatively, you can wash your jars as normal and, whilst still wet, place in the microwave on high for two minutes. The jars will be very hot – so be careful!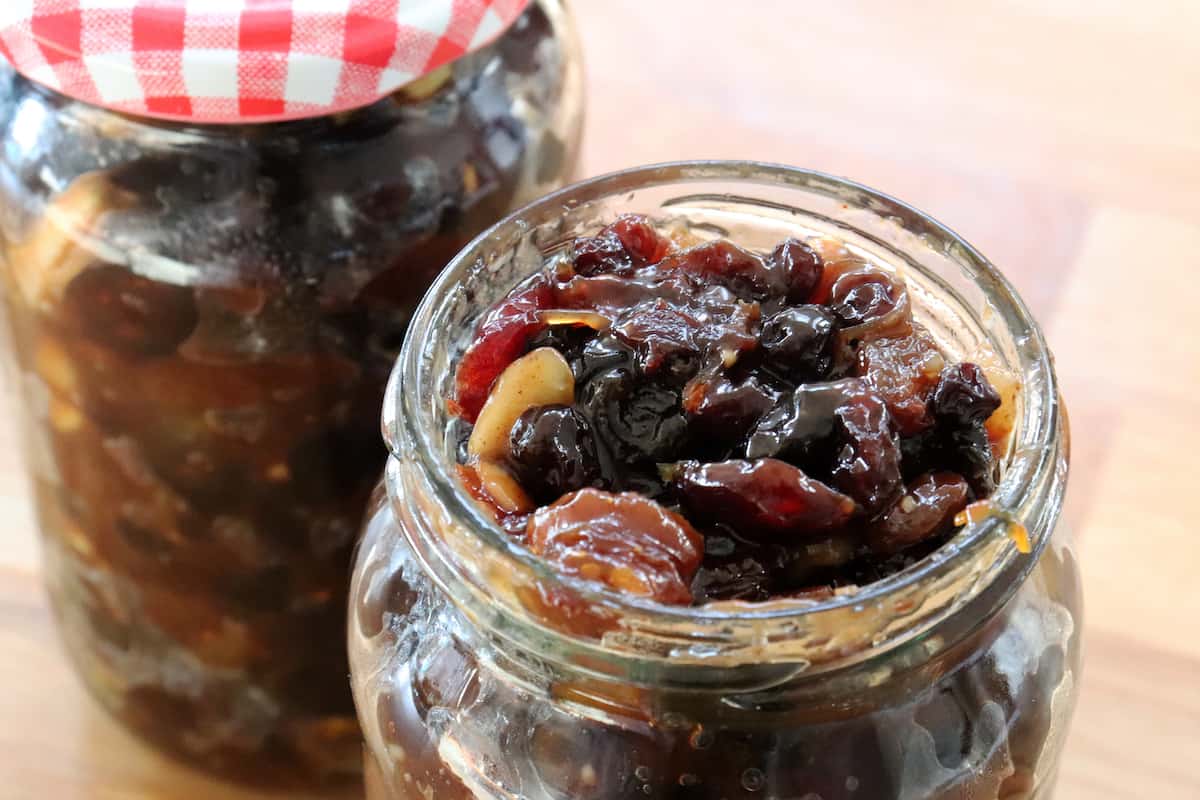 How do you use mincemeat?
I have so many recipes that use mincemeat. It's obviously a fantastic mince pie filling and we eat more than our share of mince pies every Christmas. But you can also use it in cakes, in a festive bread and butter pudding or just eating with cream or custard. It's such a versatile kitchen ingredient used in so many Christmas recipes.
How long does it take to cook home made mincemeat?
This easy mincemeat recipe takes just three hours to cook from start to finish. It can be made way in advance of the festive season and stores well for at least two months unopened, and another four weeks when the jar has been opened.
Do you need to use alcohol in traditional mincemeat?
We sometimes use brandy in the mincemeat and other times we skip it. For a more luxury mincemeat recipe, alcohol can be a great addition but as most of our mincemeat is eaten by the children we don't always include it. However, the recipe has just a small amount of brandy that wouldn't be very noticeable at all when cooked in mince pies.
Can you make this recipe for mincemeat without suet?
We use vegetable suet in this recipe but if you didn't want to use suet you could instead use butter, cut into small blocks and cooked in exactly the same way. The butter will be nicely melted into the mixture when the mincemeat is cooked. It may then be visible when the mincemeat cools but will disappear again when used in things like mince pies or cakes.
If you're looking for more Christmas mincemeat slow cooker recipes you could try out Mincemeat Loaf Cake, Mince Pie Cookies or Mince Pie Bakewell Tarts. You can see all our mincemeat recipes to date here and a whole load of Christmas recipes here too.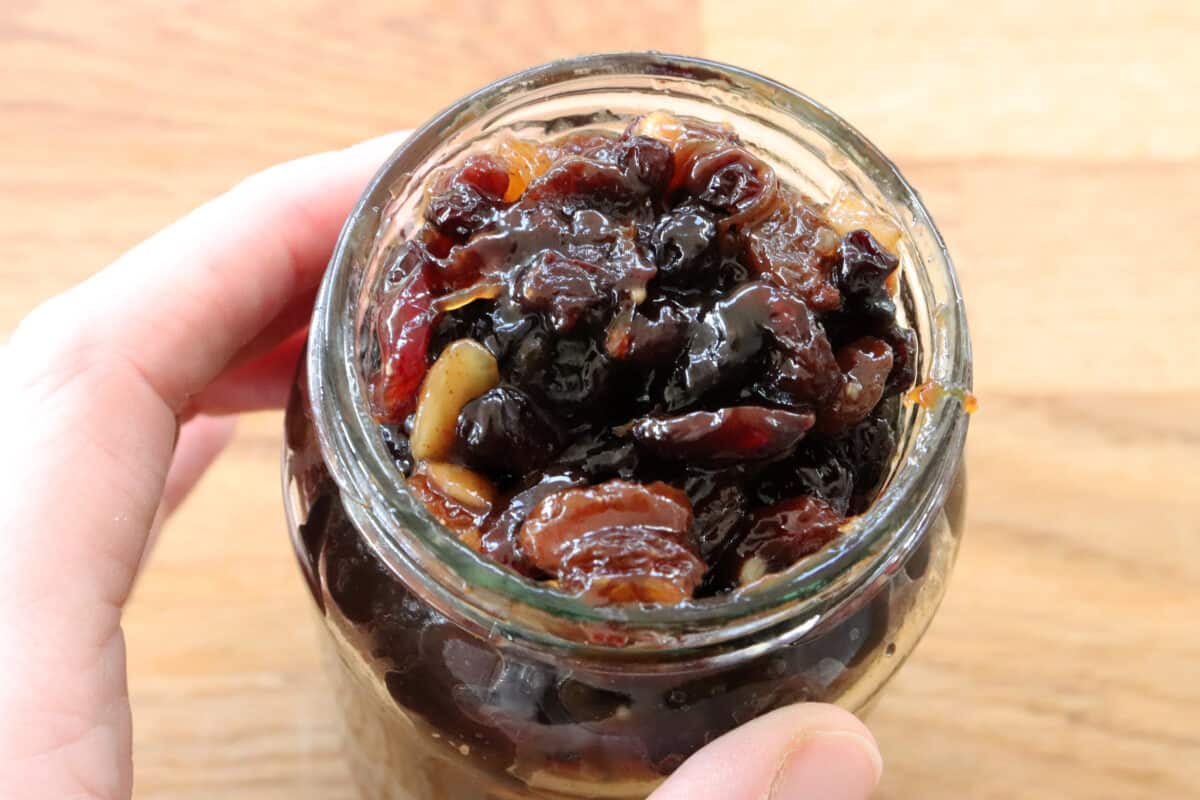 So here's our recipe for Christmas mincemeat made in the slow cooker:
Ingredients
120g mixed peel
175g raisins
175g sultanas
175g currants
175g dried cranberries
1 cooking apple – peeled, cored and chopped into small pieces
120g vegetable suet
50g blanched almonds, chopped
220g light brown sugar
1/2 tsp ground cinnamon
1 tsp mixed spice
zest and juice of 1 lemon
zest and juice of 1 orange
3 tbsp brandy (optional)
Instructions
Put all the ingredients, aside from the brandy, in the slow cooker.
Cover with the lid and cook on low for 3 hours.
Stir through the brandy, if using, and then spoon into sterilised jars.
Mincemeat with alcohol can be stored unopened for up to a year when stored in a cool, dry place away from direct sunlight. Without alcohol, it will last, unopened, for two months. Once opened, consume within 4 weeks.
If you'd like to pin or print this Slow Cooker Mincemeat recipe for later you can do so at the bottom of the page. Happy cooking!
Christmas Slow Cooker Mincemeat Recipe
This mincemeat is so easy to cook, stores well and can be used in so many delicious dishes over the festive season. A must for Christmas and beyond.
Ingredients
120

g

mixed peel

175

g

raisins

175

g

sultanas

175

g

currants

175

g

dried cranberries

1

cooking apple

peeled, cored and chopped into small pieces

120

g

vegetable suet

50

g

blanched almonds

chopped

220

g

light brown sugar

1/2

tsp

ground cinnamon

1

tsp

mixed spice

zest and juice of 1 lemon

zest and juice of 1 orange

3

tbsp

brandy

optional
Instructions
Put all the ingredients, aside from the brandy, in the slow cooker.

Cover with the lid and cook on low for 3 hours.

Stir through the brandy, if using, and then spoon into sterilised jars.
*Note: Nutritional information is estimated, based on publicly available data. Nutrient values may vary from those published.