At the start of the year we stayed in Landal Sandybrook luxury lodges for a weekend in Derbyshire and planned to explore some of the Peak District whilst we were there. High on our to-do list was to visit Chatsworth House, which was only a half hour or so drive away near Bakewell.
Chatsworth House is a Grade I listed stately home in the Derbyshire Dales and has been home to the Cavendish family since 1549. It also serves as the seat of the Duke of Devonshire.
We checked opening times for the Sunday and were pleasantly surprised to see that Chatsworth House was still in Festive Christmas mode with full decorations and an activity trail for the children to do. We pre-booked our family ticket online for our entry to the house, gardens, farmyard and playground.
You can buy tickets just for the farmyard and playground or house and garden tickets but we were all keen to get inside one of the most attractive properties we had seen for a long time. Plus, it was a welcome escape from the cold!
After going through a security bag search, we followed the suggested route inside the house. We were literally blown away by the festive decorations as soon as we stepped inside, there were so many traditional style hanging items, like wooden aeroplanes and trains, real christmas trees and presents all over the place.
The children were given a challenge to explore each different themed room and to find the item that was out of place, and should have been in a different room. The rooms were beautifully themed by country such as Canada, France and China. The children had a great time trying to figure out what shouldn't have been in a particular room and ticking it off their list.
As adults, we had a great time assisting the children and there were friendly members of staff on hand in each room for any questions we had. Many even approached the children without prompting, eager to share their specialist knowledge of their room.
Christmas at Chatsworth House was coming to an end, but this didn't stop everyone enjoying it. There were so many christmas trees in the house, we literally lost count. It must take days to put them all up and then take them down when it's all over! There were so many decorations that we felt that we didn't really get to see as much of the house as we wanted to as christmas was everywhere.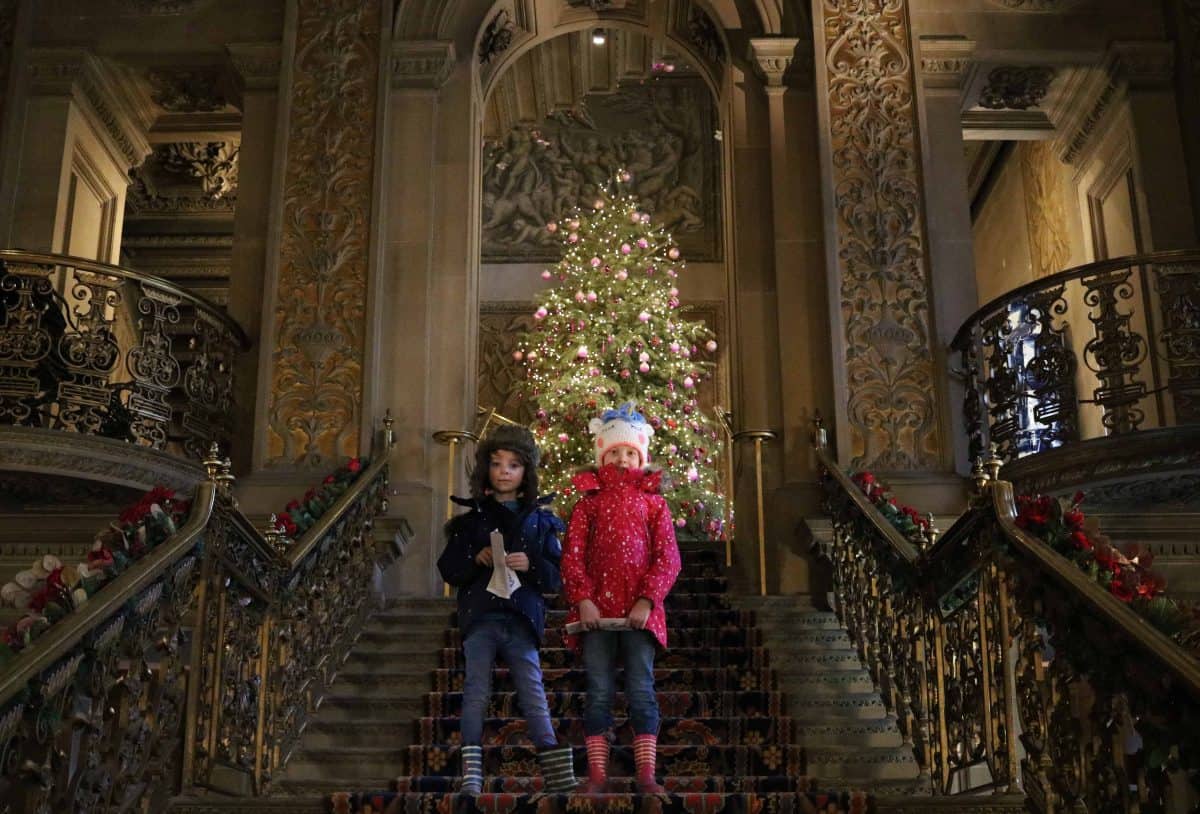 We were however most impressed with the  Painted Hall with its magnificent staircase and portraits depicting scenes from Julius Caesar's life by Louis Laguerre. The Great Stairs led towards the State Apartments, each one more grand than the previous. We spent a good hour and a half inside the house and managed to buy our souvenir magnet from the gift shop on the way out and have a browse through the estate farm shop too.
At the request of the children, we then headed towards the Chatsworth Estate farm and the Chatsworth adventure playground. We just showed the tickets for the main house and were let straight in. There is a clean and tidy toilet block next to stables where we found friendly horses and donkeys, eager for a head rub!
We also saw one of the largest pigs and litter of piglets that we have ever seen. The children would have watched the piglets suckling forever,. but we had to move on to see the goats, rabbits and other animals. Staff run daily handling sessions at different times of the day that are advertised on boards around the Chatsworth House farm.
Once they had their fill of animals, we went into one of the biggest and well equipped adventure playgrounds we had ever seen. There were three distinct section for different ages and abilities. There was a sand and water section, fed from a natural stream in the park, a giant two person swing, climbing walls of varying difficulties and even a six small person trampoline enclosure in the middle of the main adventure playground structure. With some of the highest slides the children had ever seen, they wanted to stay forever but we were also hungry for lunch.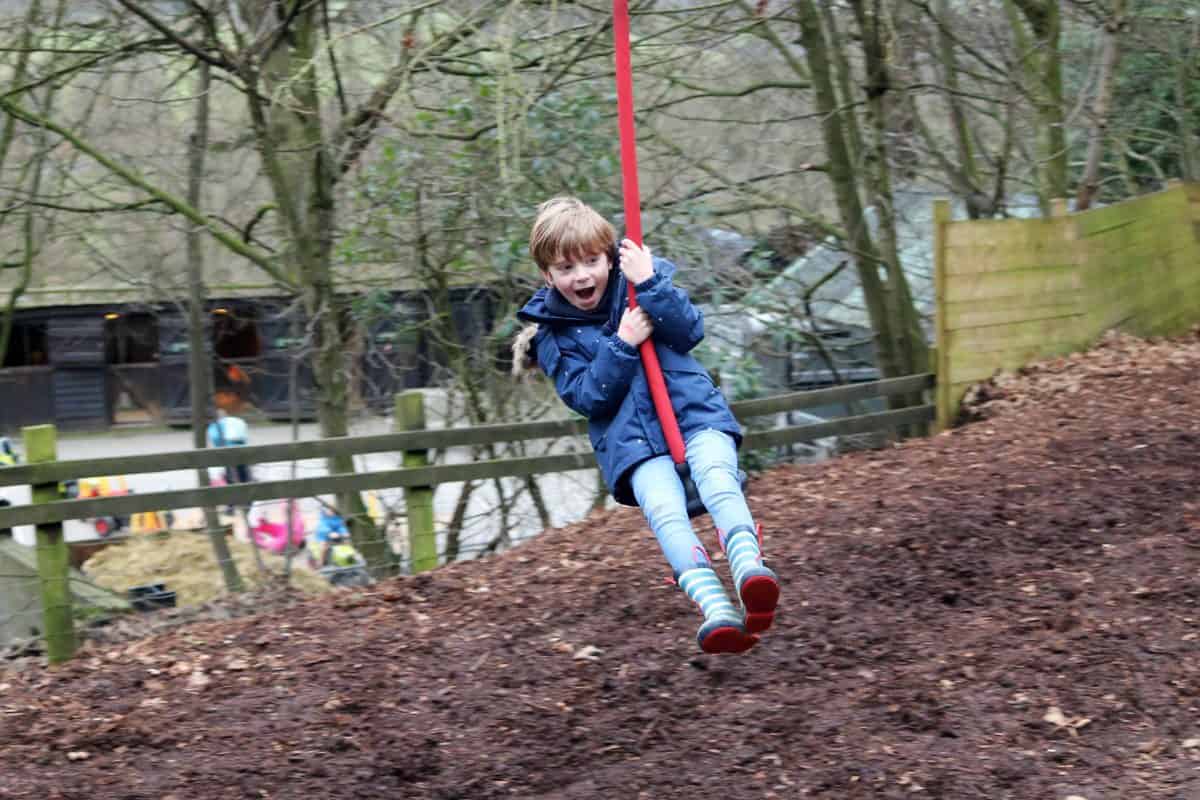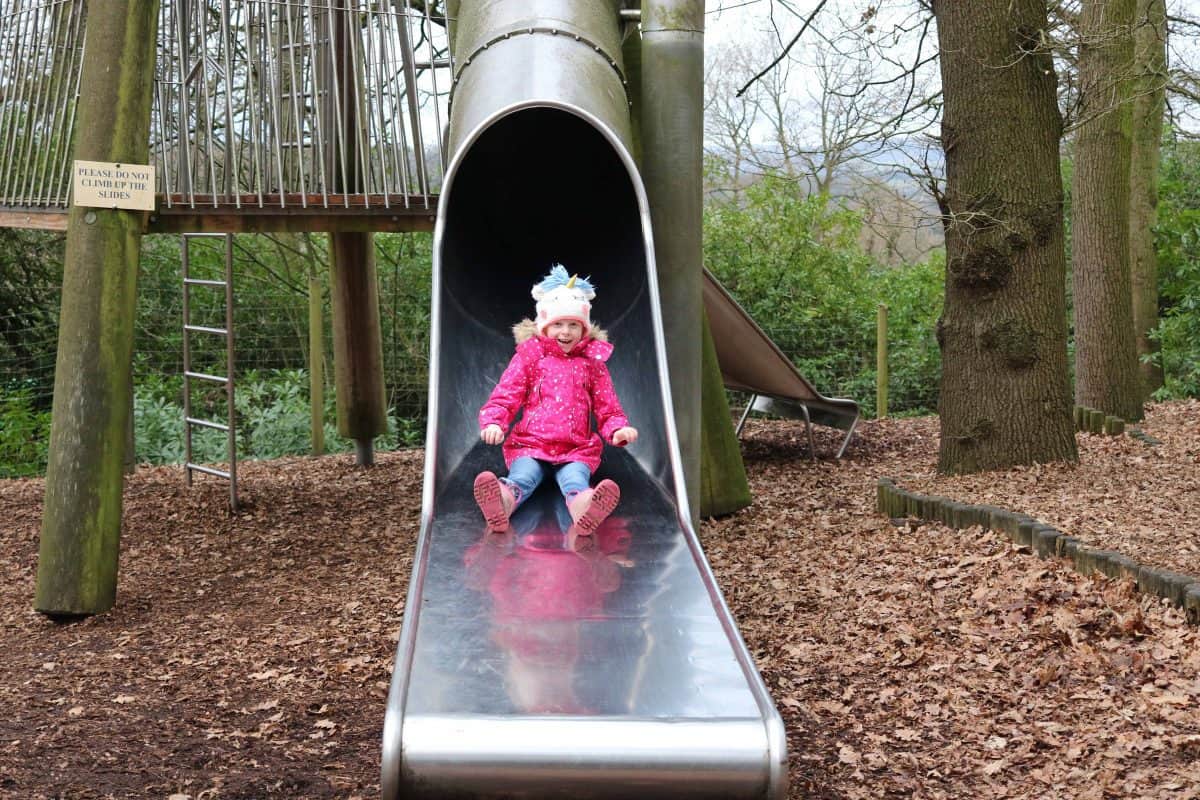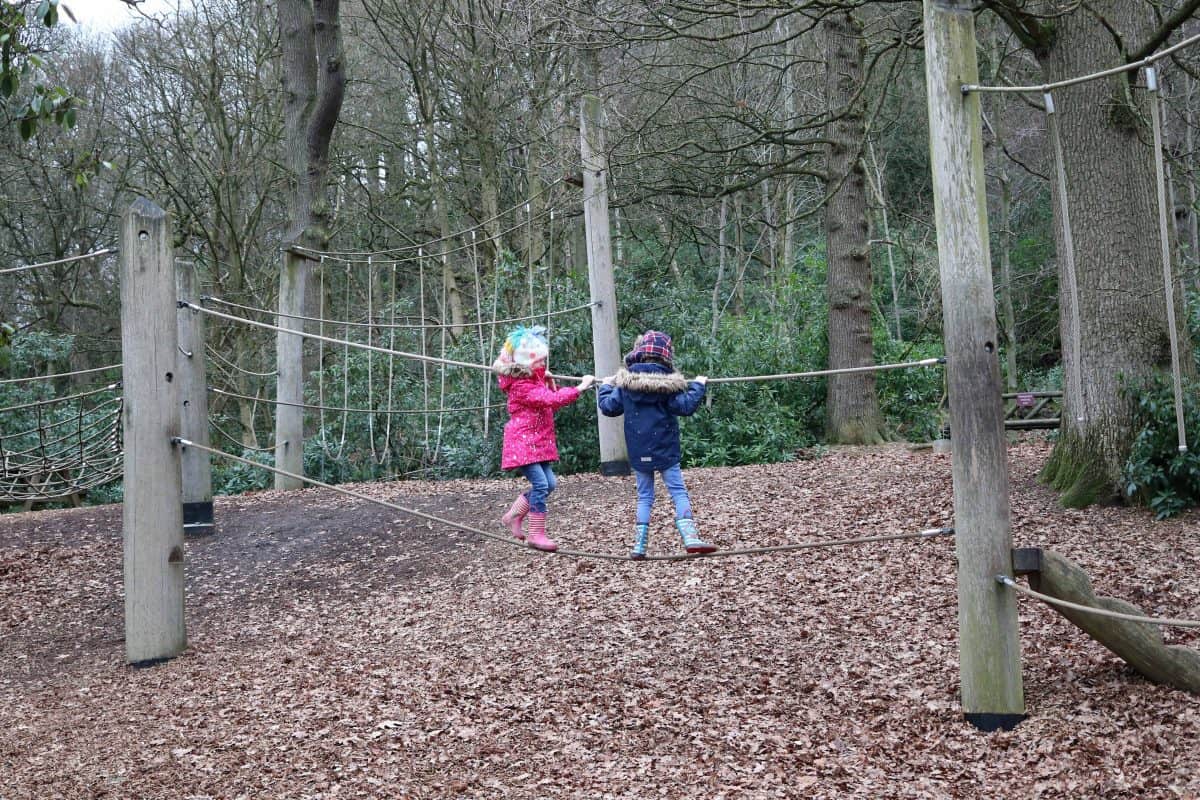 We made our way back towards the house and decided to try out the Carriage House Cafe, which is perfect for families like us. We found good value childrens lunch boxes on offer and delicious hand made fresh sandwiches for us.  Full roasts are available with traditional soups and seasonal food items.
They also serve delicious cake that one would expect in a decent stately home open to the public. The cafe is pricey though – a sandwich or lunchbox each, a slice of cake each and hot drinks for Dave and I came to £44. There's plenty of space to enjoy a picnic though and we'd definitely do that if we visit at a warmer time of year.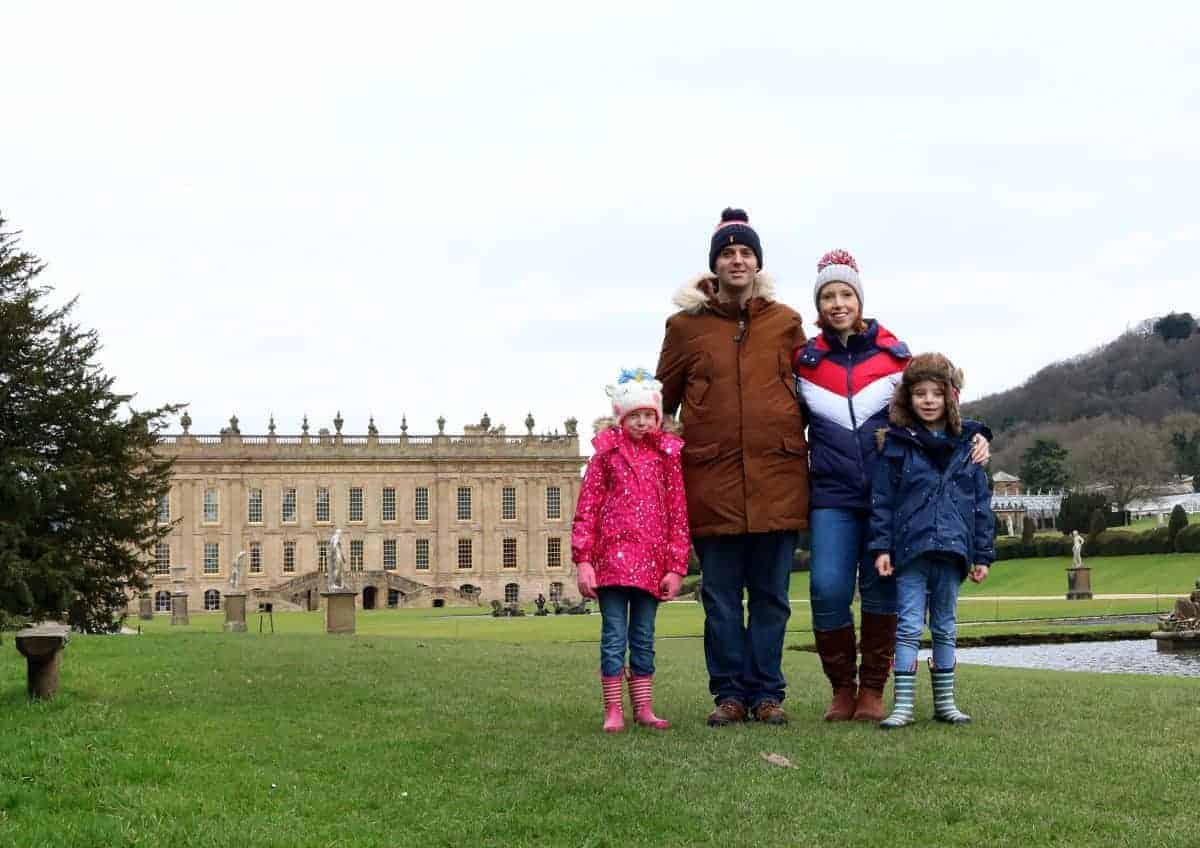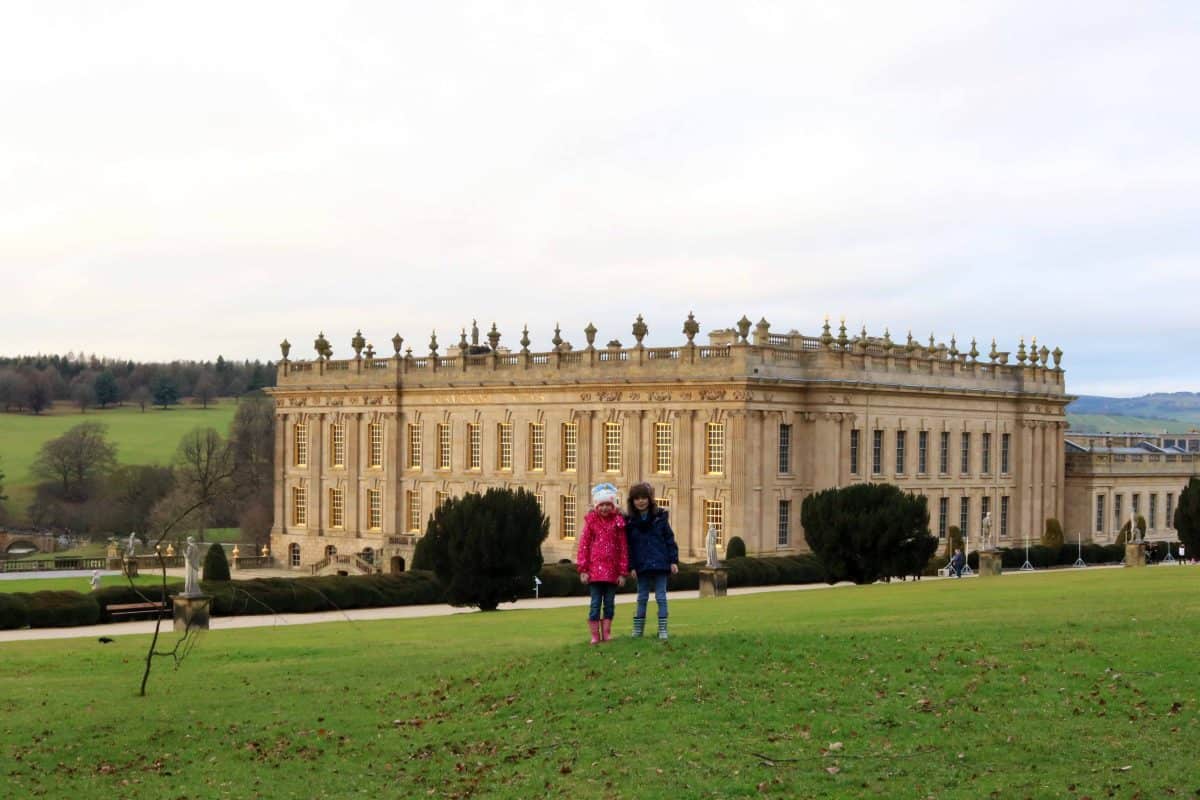 After lunch, we found time to walk around the beautiful gardens. Even in the depths of winter they are expertly kept and offer fantastic photo opportunities. There is also a ginormous hedge maze that will drive you crazy, a rock garden with sculptures and even a section of an old coal tunnel is open to walk through.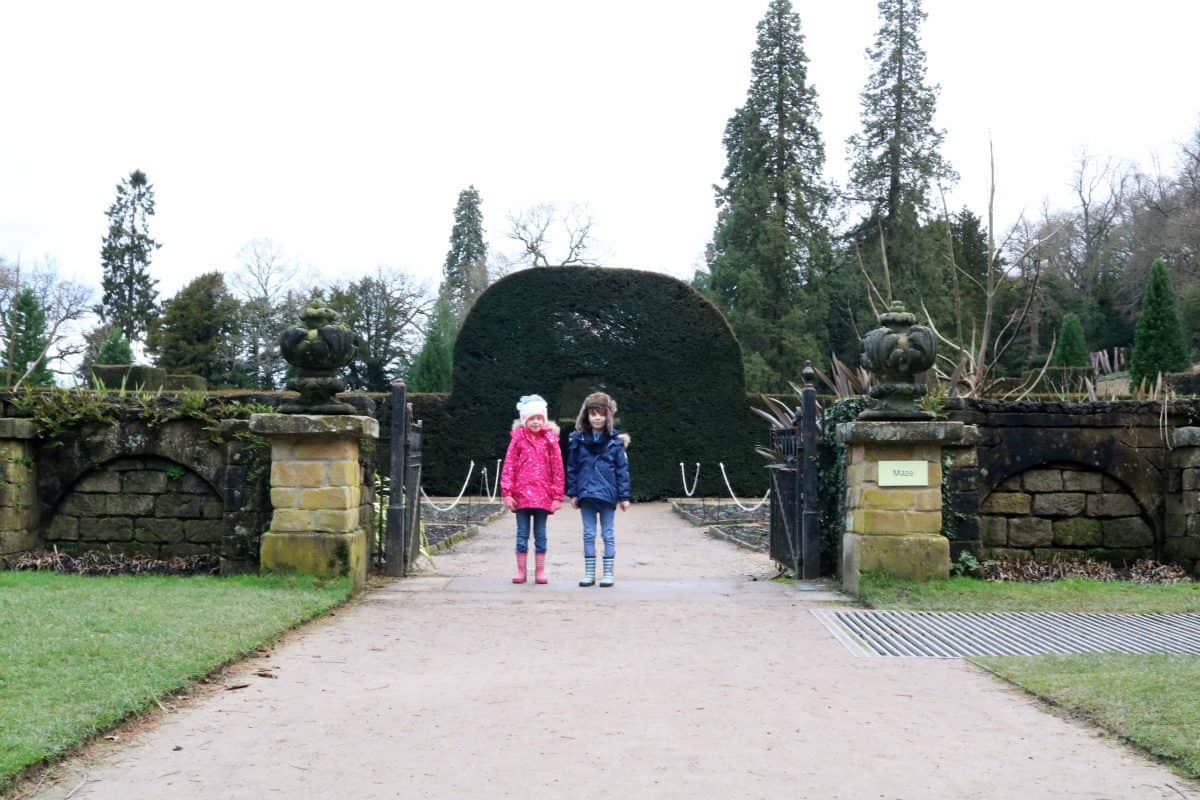 Dotted around the estate are works of modern art that don't look out of place and have information boards with them. Some are even for sale! There are plenty of walking trails to follow around the estate if you fancy it and all are clearly marked on the map and on boards.
Guided walking tours are also free and cover the main parts of the gardens. Horse and carriage rides are also available at an extra cost but this might have been seasonal for christmas but there are 30 minute guided garden electric buggy tours which cost £4 a person. 
We very much enjoyed our family day out at Chatsworth House and would love to return when the weather is warmer, and when we might be able to appreciate more of the interior of the house without christmas decorations everywhere! If we were closer I know we'd visit just to enjoy the farm and playground. It's the sort of play area that the children would happily spend all day at.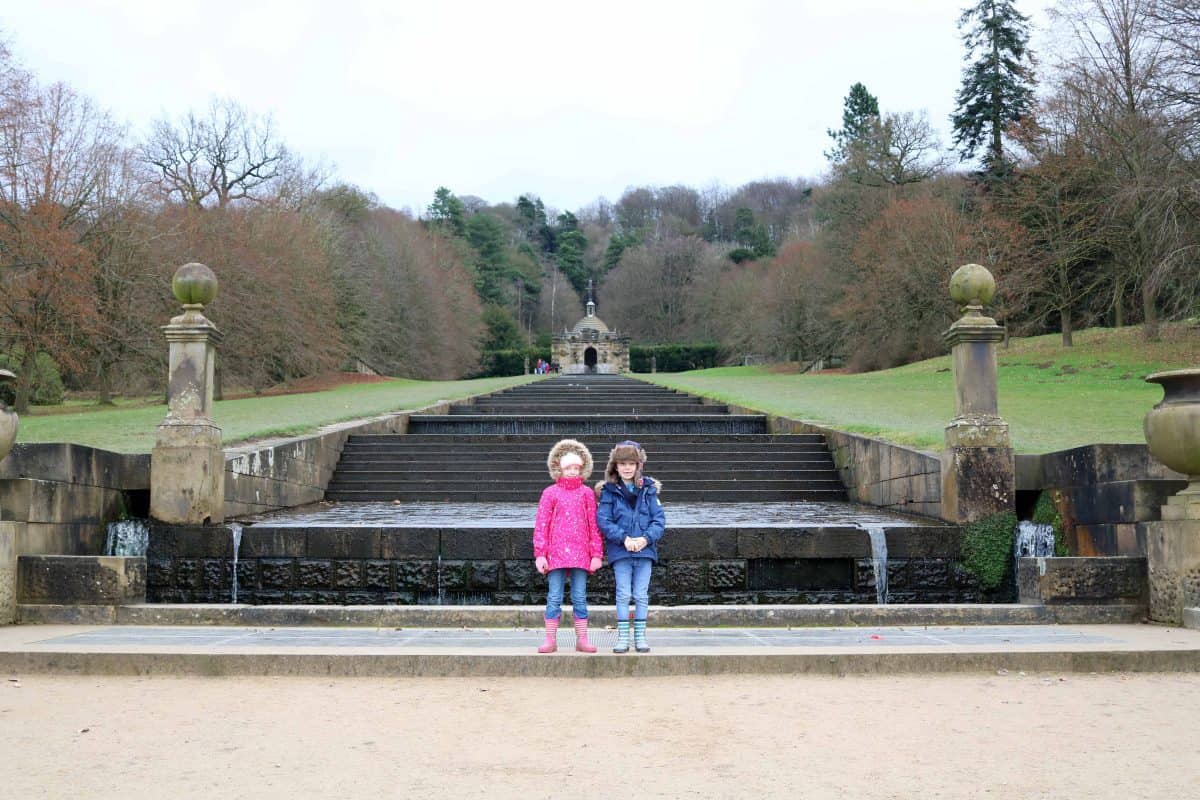 Tickets to the whole of Chatsworth House cost £66 for a family of four for the 2020 season when you book online and this gives you free car parking in the estate car parks too – a saving of £5. Find out more over on their Website.