Everyone loved a light trail. It's a real tradition in our house and we always go to at least one new trail a year. I'm always looking for places to see Christmas lights and the children always love them. So I thought I would put together all the Christmas light trails in Hampshire for you to add to your calendar over the festive season.
Festive light trails usually start in November and many go on into January, really helping to brighten life a little in those dark days after Christmas. I've tried to include the full date range as well as the prices for adults and children. I've included the lowest prices but please do click through to each provider to get up to date info and availability.
Christmas Light Trails in Hampshire
See West Green House Gardens lit up like never before in this year's Christmas illuminated garden adventure. With giant fountains dancing to music on the lake, this mile long trail is lit by thousands of lights and tells the story of Alice in Wonderland, with spectacular installations designed by guest designers.
When: 25th November – 30th December 2023
Cost: Tickets from Adult £19, Child (4-15) £15 and family £50 (2 adults, 2 children). £4 for car parking.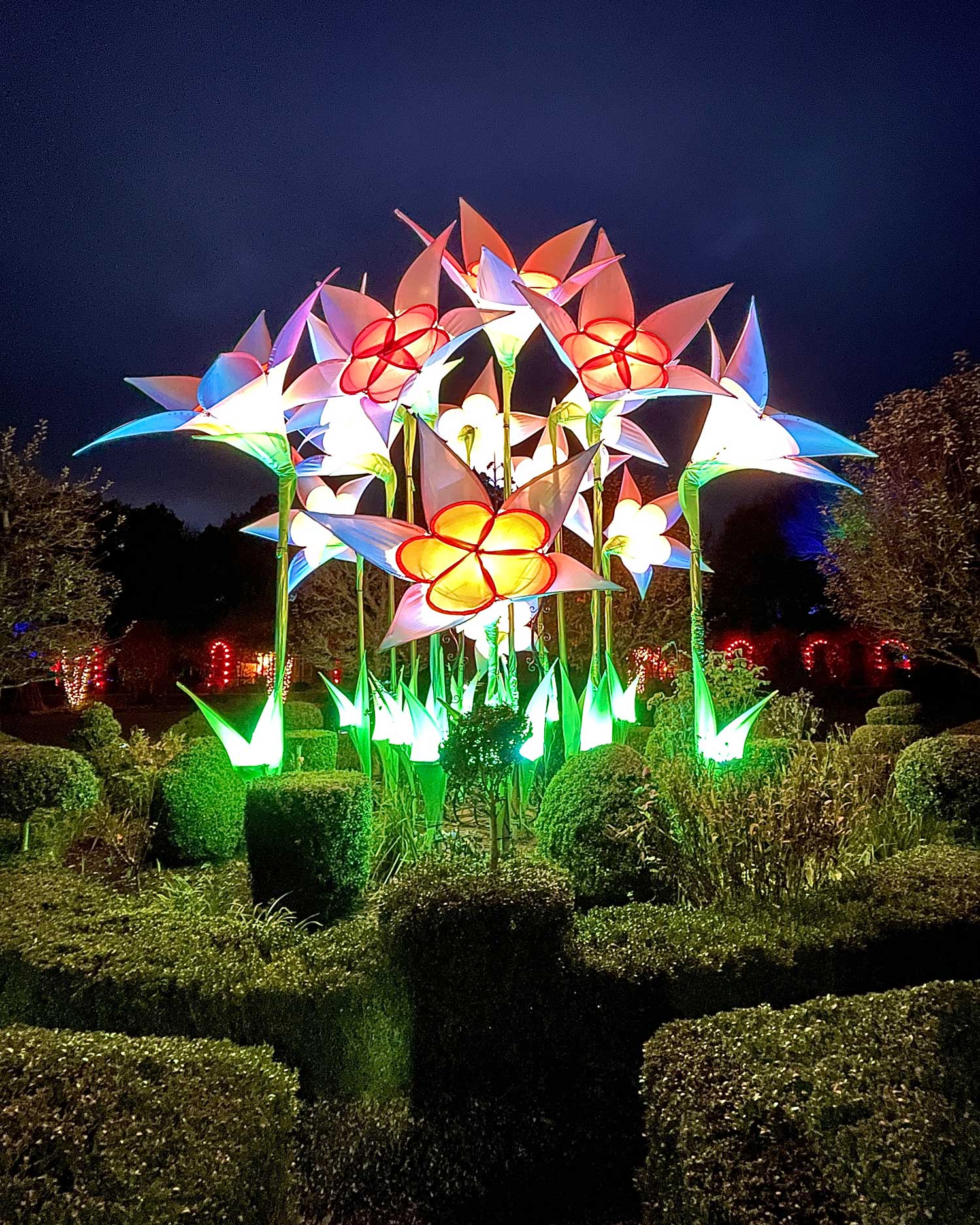 ---
Forest of Light – Sandy Balls Holiday Village, Southampton Road, Fordingbridge, The New Forest, Hampshire SP6 2JZ
Open to anyone staying at Sandy Balls, step into a mesmerizing wonderland at Sandy Balls this year. Venture into a world of magical illumination and see the forest comes alive with an incredible display of twinkly lights, captivating your senses and igniting your imagination.
When: 3rd November – 31st December 2023
Cost: Included in the cost of the break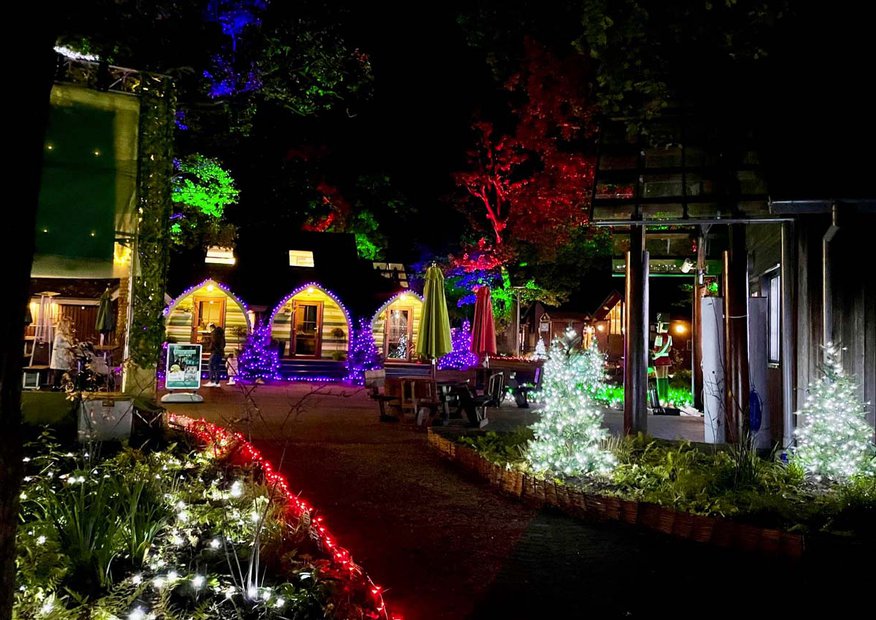 ---
Visit the Watercress Line for an incredible light show on and in a steam train! You'll see a whole kaleidoscope of colours and patterns, making the steam train look magical both inside and out. Plus, you get to travel along with a fantastic DJ mix of music too.
When: 24th November – 23rd December 2023 and 27th December 2023 – 7th January 2024
Cost: Compartment for 6 from £250, Seats for two from £59 and under 2's go free.
---
Discover Blackwood Forest in a whole new light when staying there. Grab yourself a takeaway hot chocolate and take a walk around the twinkling lights trail to see what sparkling woodland animals you can spot along the way.
When: 3rd November 2023 to 29th February 2024, Saturday, Sunday, Tuesday and Thursday.
Cost: Free to those staying at Blackwood Forest.
---
Visit Glow Marwell for a magical Christmas lights experience with double the sparkle! This year it's an enchanted nature trail featuring brand new illuminations and immersive displays using over 500,000 lights in a rainbow of colours along with the magical Glow forest, colourful clouds projected overhead, a 36 metre multicoloured light tunnel and towering enchanted trees.
When: Selected dates from 24th November to 30th December 2023
Cost: From £19 per adult and £15 per child. Under 3's go free. Discounts available for Marwell members.
You can read our review of Marwell Glow here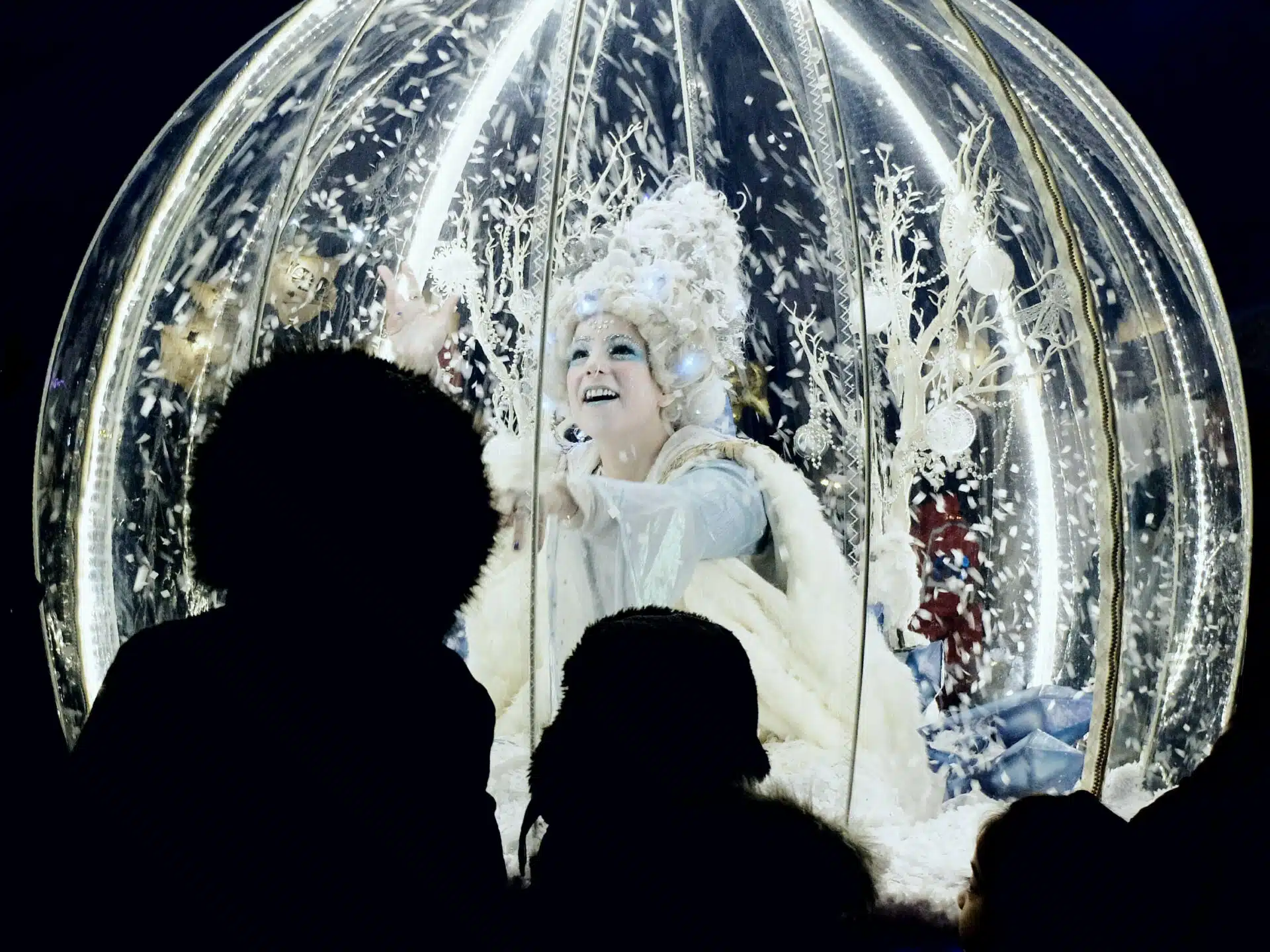 ---
Enjoy the beautiful decorations in the House before exploring the Gardens, brought to life with twinkling lights.
When: Saturday 16th December 2023 to Monday 1st January 2024
Cost: Included in standard admission.
---
Christmas Evening Lights Trains at Eastleigh Lakeside Steam Railway – Lakeside Country Park, Wide Lane, Eastleigh, Hampshire SO50 5PE
When: Fri 8th – Fri 22nd Dec 2023
Cost: To follow.
Find out more here
---
Light Up Hillier Gardens – Sir Harold Hillier Gardens, Jermyns Lane, Ampfield, Romsey, Hampshire SO51 0QA
Immerse yourself in a truly unforgettable, magical light trail experience like no other. With spellbinding lasers, a multi-sensory, spectacular light show and a mirrored world that will enliven the senses.
When: Selected dates from 30th November to 31st December 2023
Cost: Adult from £20, child from £12.50 and family tickets from £61
---
See the site shining in the glow of Christmas lights and decorations to begin the festive period. You can shop at the craft market and explore the Victorian cottage display.
When: 26th November 2023
Cost: Adult £10.50, children go free
---
The Hawk Conservancy Trust will become even more magical, with beautiful illuminations and a live owl display set in a stunning, colourful woodland. A beautiful start to the year with a brand new trail that really brings the grounds to life.
When: Friday 12 – Sunday 28 January 2024
Cost: Adult from £19.95, child from £12.95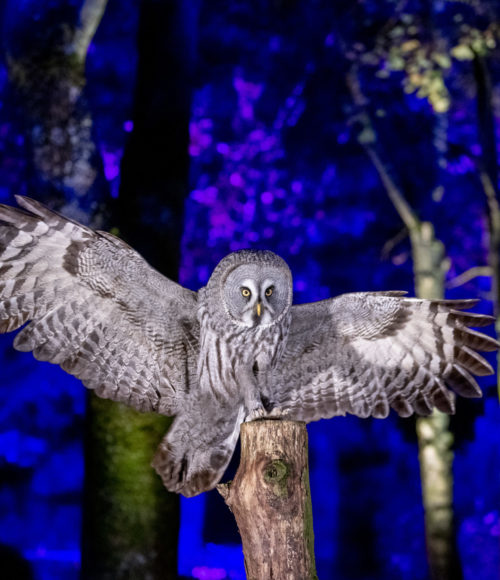 ---
Enlightened Staunton – Staunton Farm, Middle Park Way, Havant, Hampshire,PO9 5HB
Enlightened 2023 will be the biggest, brightest, and boldest year yet with a trail bursting with even more interactive and immersive elements than ever before.
When: 8th December 2023 to 24th December 2023
Cost: Tickets from £12.50 per adult and from £9 per child.
---
So there you have a fair few ideas for light trails to visit over the festive season. I'll add more as I come across them. If you're looking for more festive inspiration around Hampshire, these posts may help: