On the children's last day of the school term we kicked off our festive activities with a trip to RHS Glow at RHS Wisley Gardens. We love a light trail and after going to Waddesdon Manor and Hampton Court Palace last year we wanted to try somewhere different – and chose Wisley.
RHS Glow 2022 tickets
When we looked to book tickets to RHS Glow it worked out at about £60 for a family of four – with under 5's going free. However, if you're a Royal Horticultural Society member you get reduced entry, around £30 for a family of four.
We actually took out membership just before booking our Glow tickets, using Tesco Clubcard Vouchers and are looking forward to visiting RHS Garden Wisley throughout the year as RHS members, not just at Christmas.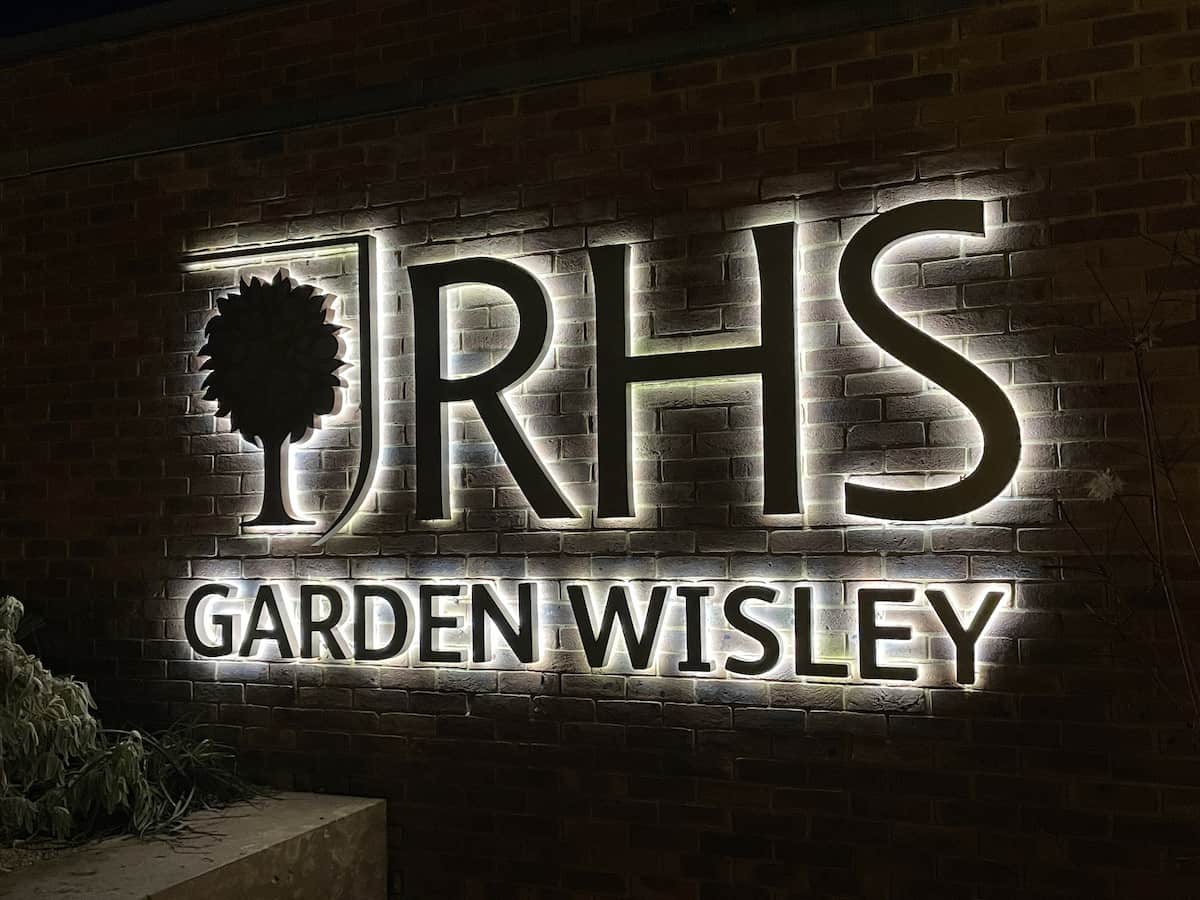 RHS Glow 2022 at RHS Wisley Gardens
We arrived at RHS Wisley at the time we'd booked – 5:30pm – and the car park was a lot quieter than it usually is when visiting during the day. There was plenty of space and even electric car charging points available.
The children were excited as soon as we got out of the car as they could see the iconic Wisley house all lit up. Walking to the entrance is very much part of the Glow experience as all the bushes and trees are lit up as well as the house.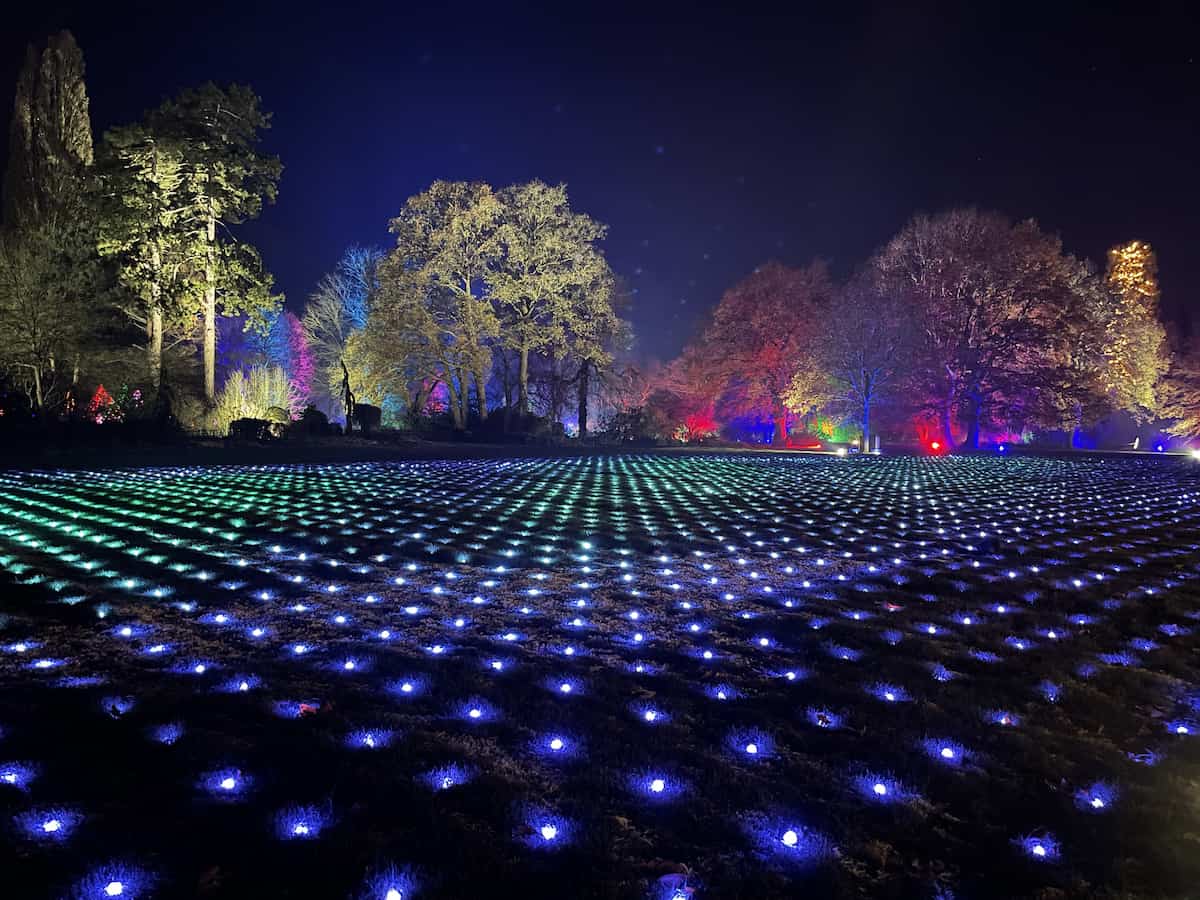 After a short queue we were in the Wisley grounds and started the trail. The trail is well signposted throughout and we hung back a little to have our own trail experience rather than being surrounded by other people. It starts at a field of lights which are simply beautiful.
The trail starts near the house where you can see it lit up with moving images, changing colours and a festive soundtrack. It's beautiful to stand and watch, which we did for a while before walking alongside the pond to see the house from the walkway at the end, giving a whole new perspective.
We visited RHS Glow on one of the coldest days of the year. The water was frozen, the bushes were covered in frost and, despite the bitter cold, it was wonderful to see everything looking so festive.
The trail took us around the grounds and through a beautiful tunnel of lights. This part was very busy, as you'd expect, but it was pretty magical, walking under the lights as a family. It was lovely.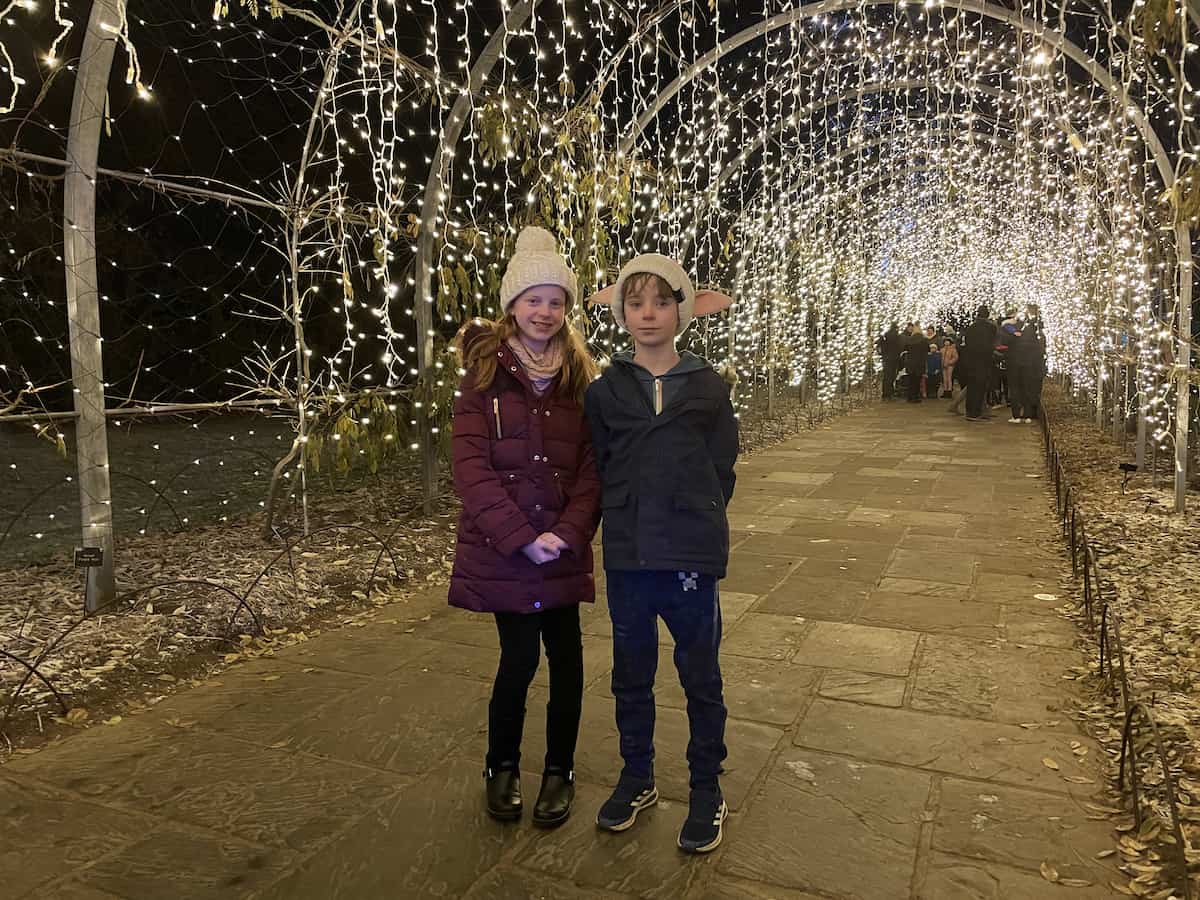 Our walk then took us to the main lake at Wisley where we could see the glasshouse in the distance. The glasshouse was lit up, the fountains were in motion and there were lights, music and even fire putting on a fantastic performance across the water.
We walked around the lake and into the glasshouse – which we weren't expecting. It was amazing to see the plants inside showcasing a whole rainbow of colours. It was fun, bright – and so much warmer than outside too! It was definitely a popular part of the trail.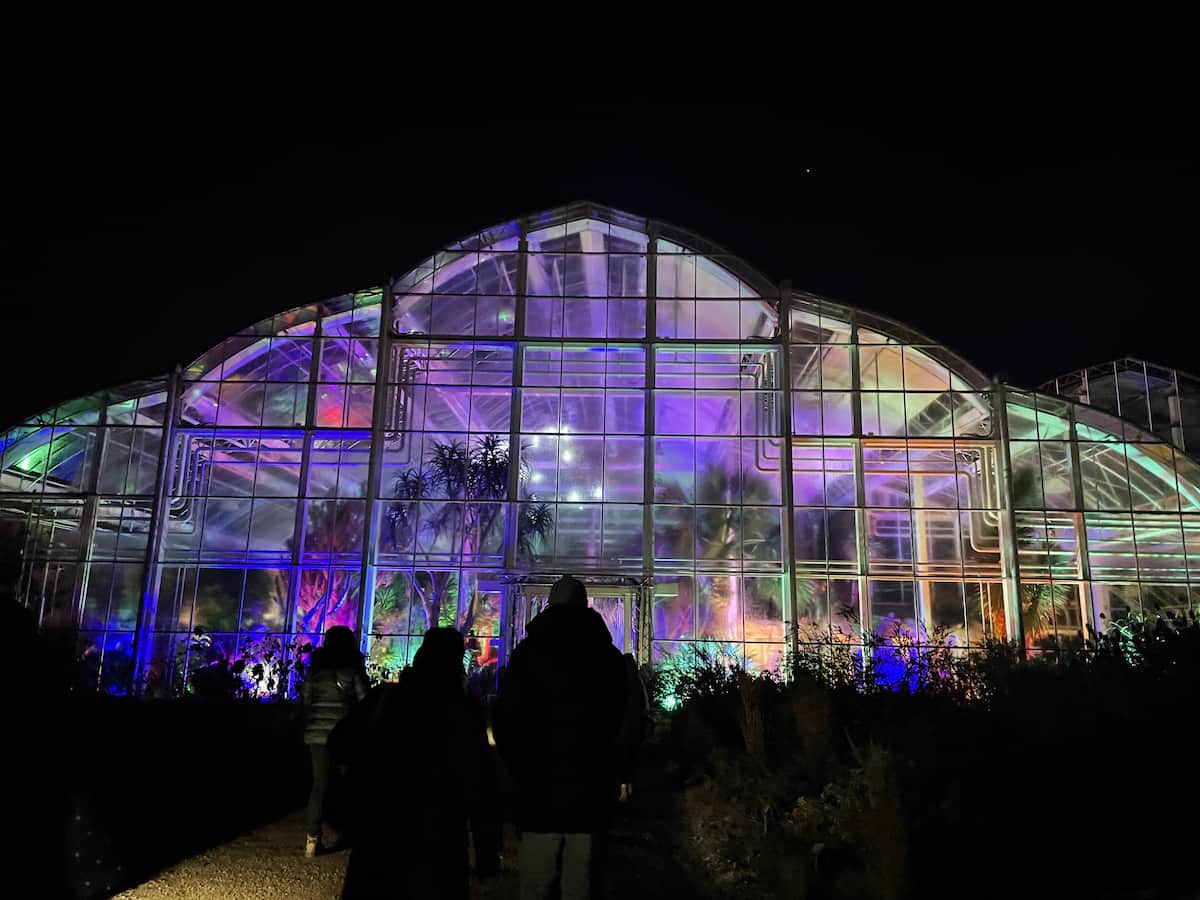 Back outside we walked around the rest of the trail, hearing festive music, seeing everything lit up and ending with a big area of rainbow light trees. These were stunning and a really lovely end to the trail.
We really loved seeing Wisley by night, lit up for the festive season. The trail took about an hour to walk around – although I'm sure it would have been longer if it hadn't been so cold.
There's also food and drinks available – with the Wisley restaurant and cafe open with special evening menus plus a selection of winter market style stalls offering a range of food and drink options from burgers and bratwurst to churros and hot chocolate.
RHS Glow 2022 is on until 8th January 2022. You can find out more and book tickets over on their website.