Ice skating is such a wonderful Christmas tradition and there are so many ice rinks popping up for the festive season. But, with the Natural History Museum Ice Rink closing permanently a few years ago and Broadgate Ice Rink, the Tower of London Ice Rink and Kensington Palace Ice Rink not on this year, where are the best places to go to ice skate in London this Christmas?
I thought I'd put together all the ice skating rinks across the capital so that you can find ice skating sessions that work for you and your plans over Christmas. I've included when the ice rinks are open to as well as the cheapest ticket prices – click through to each venue to find details of peak and off peak times, concession rates and any special offers and events that they have on over the festive season.
Where to go Ice Skating in London
The Queen's House Ice Rink is a magical open-air ice rink in the heart of Greenwich's UNESCO World Heritage Site, a stone's throw from the Royal Naval College, the Cutty Sark and so many more of London's attractions.
When: 23 November 2023 – 7 January 2024
Cost: Adults from £17, Children from £10, Students from £11.90 – 30% discount for Royal Museums Greenwich members.
You can read our review of ice skating at Queen's House here
---
The Somerset House courtyard is transformed this year into a festive destination with a uniquely Swiss winter vibe thanks to Switzerland Tourism complete with 40ft Christmas tree.
When: 15 Nov 2023 – 14 Jan 2024
Cost: Adult from £11, child from £8, discounted concessions tickets available.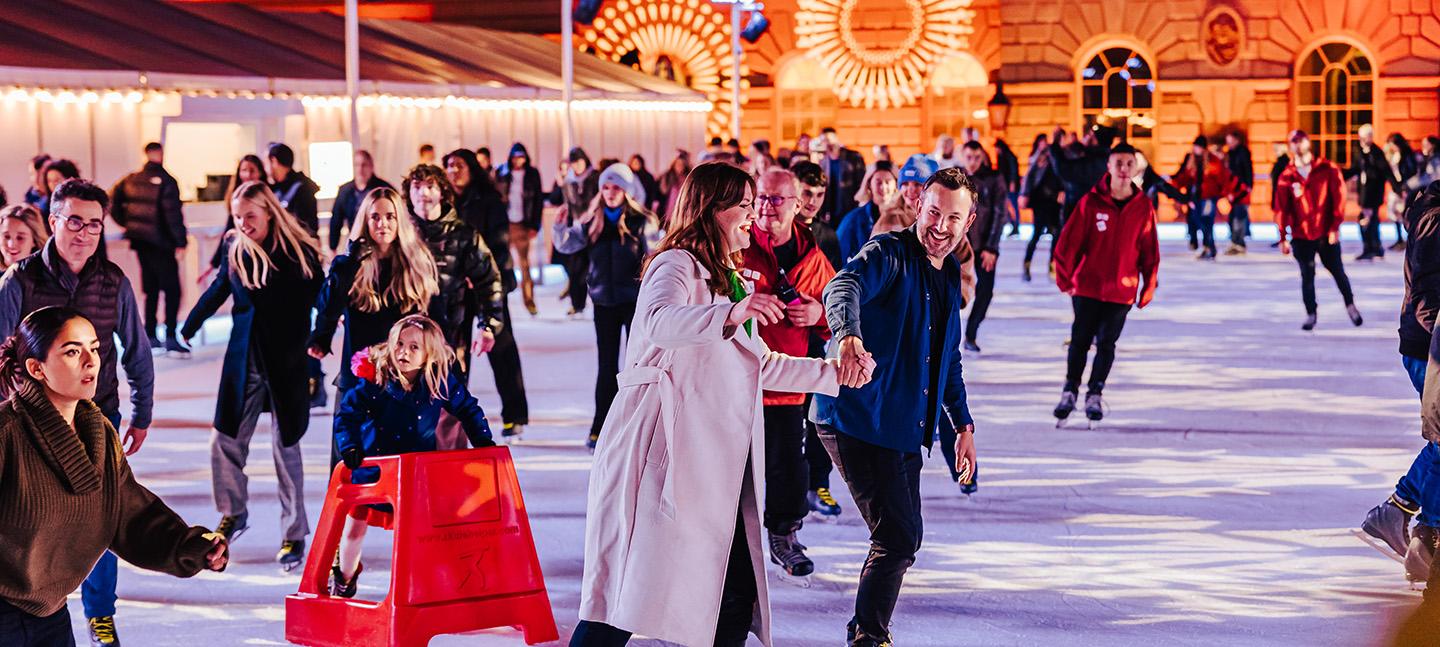 ---
Glide Battersea – Battersea Power Station, Circus Rd W, Nine Elms, London SW8 5BN
Set against the backdrop of one of London's most iconic buildings, Glide at Battersea Power Station gives amazing views of the Thames as you skate around three interconnecting rinks surrounded by twinkling lights and a spectacular 30ft Christmas tree.
When: Open until 7th January 2024
Cost: Adult from £12.50, child from £8.50, family ticket from £38.
---
Glide into the festive season on the UK's largest open-air ice rink, set around the charming iconic Victorian bandstand in Hyde Park.
When: Until 1st January 2024
Cost: Adults from £11.50, Children: from £8.50, Families: from £34.00, Concessions: from £10.50 plus entry to Winter Wonderland
---
It's the most wonderful time of the year – and there's no better way to get into the festive spirit than with skating at the Ice Rink at Westfield London.
When: 10th November – 7th January
Cost: Adults from £15, kids from £11 and family tickets from £43
---
Immerse yourself in the quintessential winter experience at Hampton Court Palace Ice Rink this year. Enjoy the magnificent views of the beautiful Tudor palace while gracefully gliding around the stunning outdoor rink.
When: Friday 17th November 2023 – Sunday 7th January 2024
Cost: Adults from £19, children from £14 and family tickets from £53
---
Ice Rink Canary Wharf – Canada Square Park, Canary Wharf, London E14 5AB
Get in the festive spirit at London's longest-running seasonal ice rink.
When: 21st October 2023 to 24th February 2024
Cost: Adults from £14.95, children from £13.50 and family tickets from £53.95
---
Ice Skating at Kingdom of Winter – ExCel London, Royal Victoria Dock, 1 Western Gateway, London E16 1XL
Kingdom of Winter is London's only indoor festive experience and a perfect family day out with plenty to see and do – including ice skating!
When: 8th December 2023 – 7th January 2024
Cost: Entry tickets from £5.50 per person plus from £7 each for ice skating.
---
Europe's only rooftop ice rink is transformed for the winter. With cosy, heated igloos and Christmas décor galore, it's the perfect place for a festive night out, office party or social gathering.
When: Open throughout the season.
Cost: £15 per person
---
Skate West End – Hanover Square, London W1S 1JA
Welcome to London's stunning new festive ice rink set in the heart of the West End supporting Great Ormond Street Hospital Children's Charity.
When: 4 November 23 – 1 January 24
Cost: Tickets from £10.50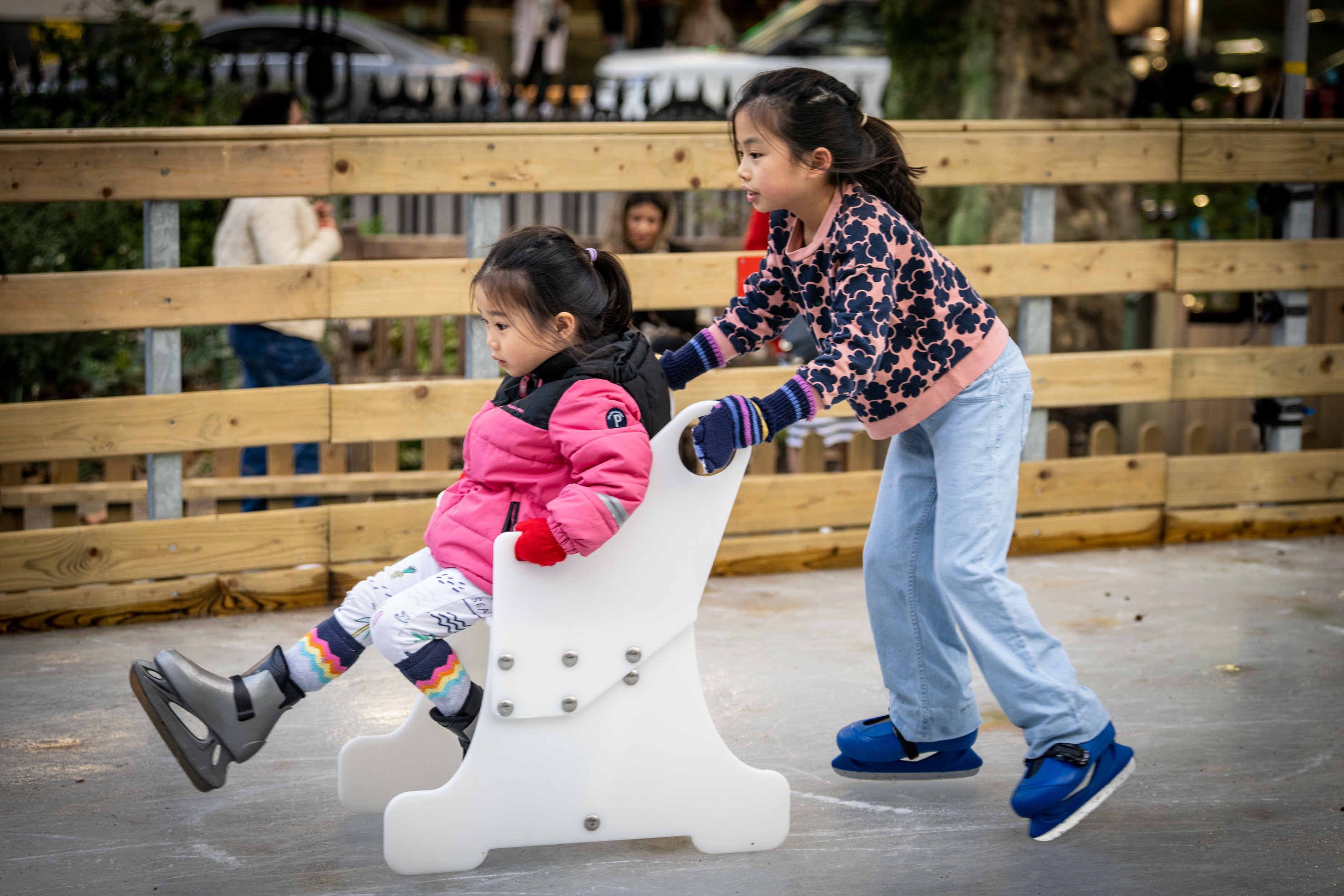 ---
JW3 Ice Rink 2023 – 341-351 Finchley Road, London NW3 6ET
With a skating area of 200m2, this outdoor ice rink comes complete with glimmering lights, vibrant music and an electric atmosphere.
When: 10 December 2023 – 7 January 2024
Cost: £15 per adult, £10 per child
---
An all year round ice rink that is transformed for the festive season with a Christmas tree, lights and music – there's even Christmas Ice Discos to enjoy!
When: 24 November to 7 January
Cost: Adults from £9.50, kids from £9.50
---
Not a festive ice rink but one where you can still enjoy indoor ice skating over the festive season.
When: Open daily. Mondays and Tuesdays are our discounted skate days.
Cost: Adults from £12.75, Kids from £11.25
---
Other London ice rinks that you can enjoy all year are:
So there you have all the London Christmas ice rinks across the capital this year. I hope it gives you inspiration for a festive day out and if you're looking for other days out, these posts may help: