This post contains affiliate links and I may receive commission if you visit a link and buy something. Purchasing via an affiliate link doesn't cost you any extra, and I only recommend products and services I trust.
We have had a Christmas Eve box for the kids since they were tiny. It's always been one of our Christmas eve traditions that they get a box of goodies to enjoy on Christmas Eve and it's always really special for them. But why should the kids have all the fun? I think Christmas Eve boxes should be a thing for the whole family, not just the kids.
So, this year I'm starting a new family Christmas tradition and making a DIY Christmas box for Dave and I. Just a gift box of goodies that he and I can enjoy during the build up to Christmas, to get us in the Christmas spirit. So I thought I'd share my a few of my Christmas eve box ideas where adults are concerned – as I know you'll probably have so many ideas for the kids already!
So what do you include in an ultimate Christmas eve box for adults?
The first thing we always put in our Christmas eve box is a pair of Christmas pajamas. The whole family get new pyjamas on Christmas eve and the more festive the better – we end up wearing them for a good chunk of Christmas day too!
To go with the Christmas pyjamas, it's only right that you have a pair of fluffy socks or festive slipper socks. If you don't really wear socks you could have a nice pair of Christmas slippers instead. Something to keep your feet toasty and warm during the festivities.
Then how do you spend your Xmas Eve? Maybe you're going to have cosy time at home as a family. In which case, you should have a Christmas game to play together and some festive treats to enjoy whilst you play. Maybe some popcorn, candy canes or an indulgent box of chocolates.
You could also include a few Christmas foodie gifts like mince pies, Florentines, shortbread or a festive doughnut. Something that feels like a real indulgence saved especially for Christmas eve. You could even make some homemade festive fudge to include!
We always go to the cinema on Christmas Eve but we also like to watch Christmas movies at home too. So a new DVD or a much loved classic festive movie that you bring out year after year is a great addition to an adult Christmas eve box.
Plus, whilst you're enjoying the movie you need hot chocolate, a nice new mug and maybe even a little Baileys miniature to add to the hot chocolate too! If hot chocolate isn't your thing you could include individual tea bags, festive coffee flavours and any festive tipple you like – from an individual bottle of wine or a premixed can of G&T!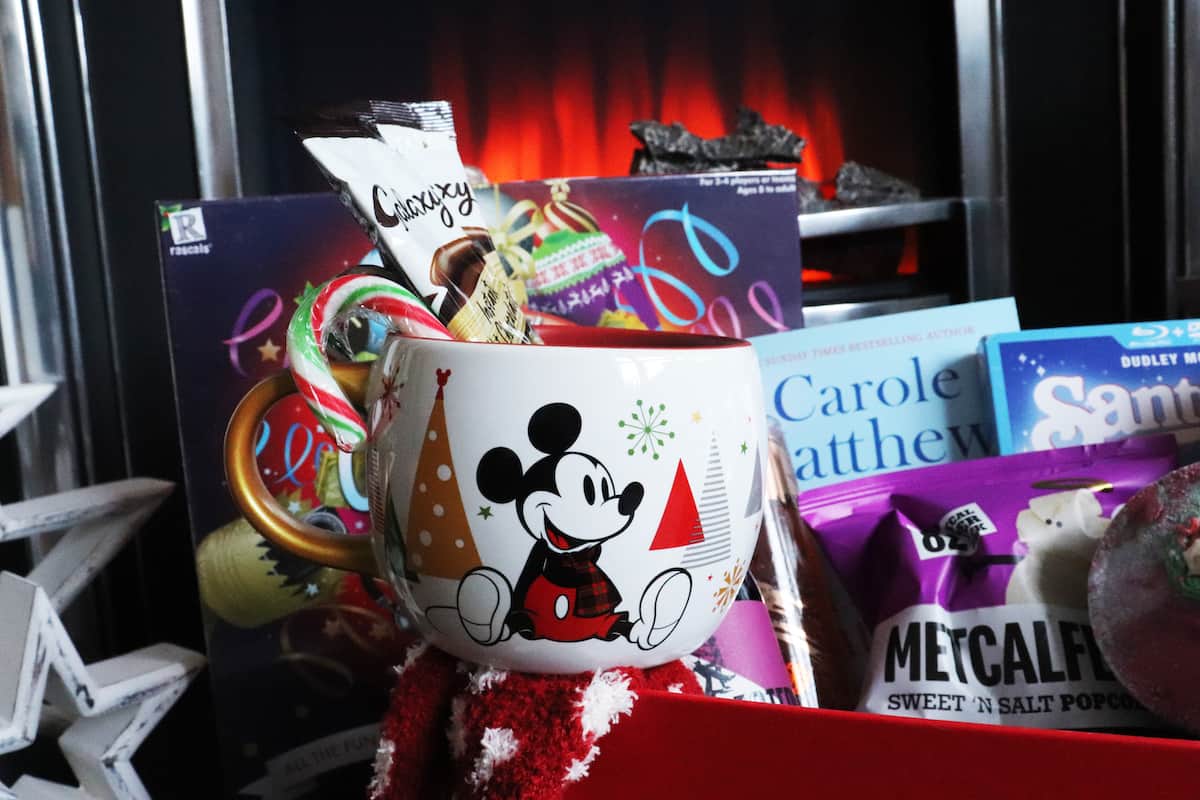 You could finish off your Christmas Eve with a nice relaxing bath before putting those festive pyjamas on. So why not include a seasonal scented candle – maybe gingerbread or that gorgeous Christmas tree smell, a Christmas bath bomb and some festive toiletries like a nice body wash or bubble bath.
And when you're relaxing in that bath, you'll need a festive book to read. A Christmas love story, predictable but perfect for Christmas eve. One where the guy always gets the girl and they kiss under the mistletoe.
I would finish off my Christmas Eve night by getting ready for Santa before enjoying a face mask before bed or a Space Mask at bedtime. Space Masks are always a great gift idea and they make wonderful Christmas gifts too. I'd love to find one in my Christmas eve box this year.
Unlike the children's boxes, I don't include some things in the adults Christmas eve box. Things like Santa's special plate to put his mince pie on before bed, reindeer food, snowman soup or Santa's magic key that we leave outside the front door as we don't have a chimney. But, if you want to really get in the festive spirit feel free to include these in the adult boxes too!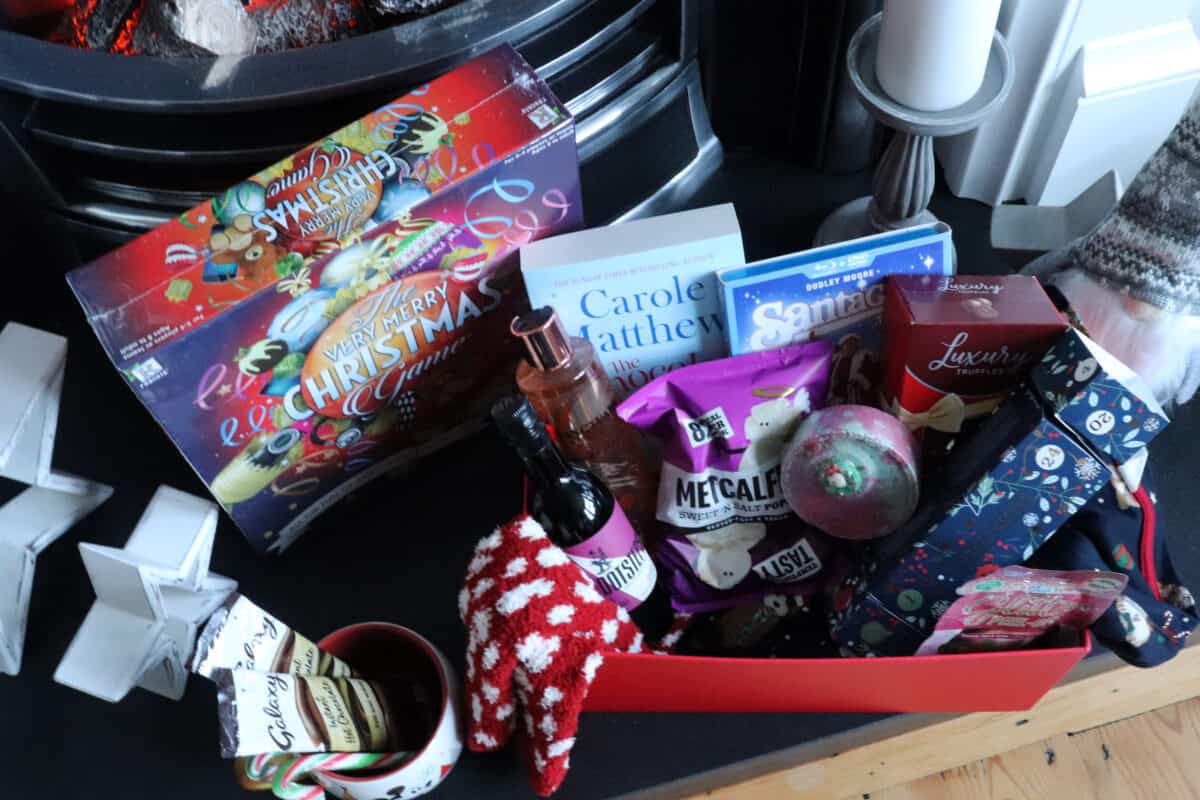 What Christmas Eve box should you use?
We have a beautiful wooden Christmas eve crate for the children we got from Etsy a few years ago and you can get some lovely personalised Christmas eve boxes online too. But, often we just use a Christmas gift box or even just have everything in a gift bog or even just in a pile next to the fireplace for Christmas eve morning. You don't need a special box at all!
So there you have everything I would put in an adults Christmas Eve box this holiday season. There are so many Christmas eve box fillers and pretty much anything in the seasonal supermarket aisle or the Christmas section in shops would be fantastic.
All you have to do is picture your perfect Christmas Eve and see what small things would make it just a little bit more special. The idea of a Christmas eve box is really just token gifts that don't have to cost much money, it's the sentiment that matters so much more than the price.
If you have any other easy Christmas Eve gift ideas I would love to hear them.