Some of our favourite days out are ones where we've visited castles. Castles always feel like something out of a fairytale and they really help to bring history to life. I thought it would be nice to put together our favourite castles in South East England to help inspire your next family day out.
Windsor Castle – Windsor, Berkshire
I think Windsor Castle is pretty much the castle of the South East. I think it's actually one of the most well known castles in the country – especially as it's one of the Queen's official residences and the venue for many royal weddings. You can make a visit to Windsor Castle into a really full day out by also exploring Windsor, the Long Walk and the many local green spaces.
You can read more about Windsor Castle here:
---
Bodiam Castle – Robertsbridge, East Sussex
When we first visited Bodiam Castle with our National Trust passes I was expecting it to be bigger. In photos it looks like a really vast castle but in reality it's quite small and compact but a perfectly formed moated castle built in the 14th century. With a bridge leading to the main entrance and plenty of spiral staircases to venture up, Bodiam Castle is a real adventure of a day out and one the children love.
You can read more about Bodiam Castle here:
---
Hurst Castle – Milford on Sea, Hampshire
Unlike other castles that you can drive up to, park and explore, Hurst Castle is a real adventure. The English Heritage property is set on a coastal spit with a 1.5 mile walk along shingle from the nearest car park – or you can get a ferry to the castle for a fee.
We loved the walk and it really added to the day out with the castle being a fantastic find at the end too! Hurst Castle gives great views out to see and the coast and teachers so much about Henry VIII's coastal defences. It's probably our favourite of the South Coast castles.
You can read more about Hurst Castle here: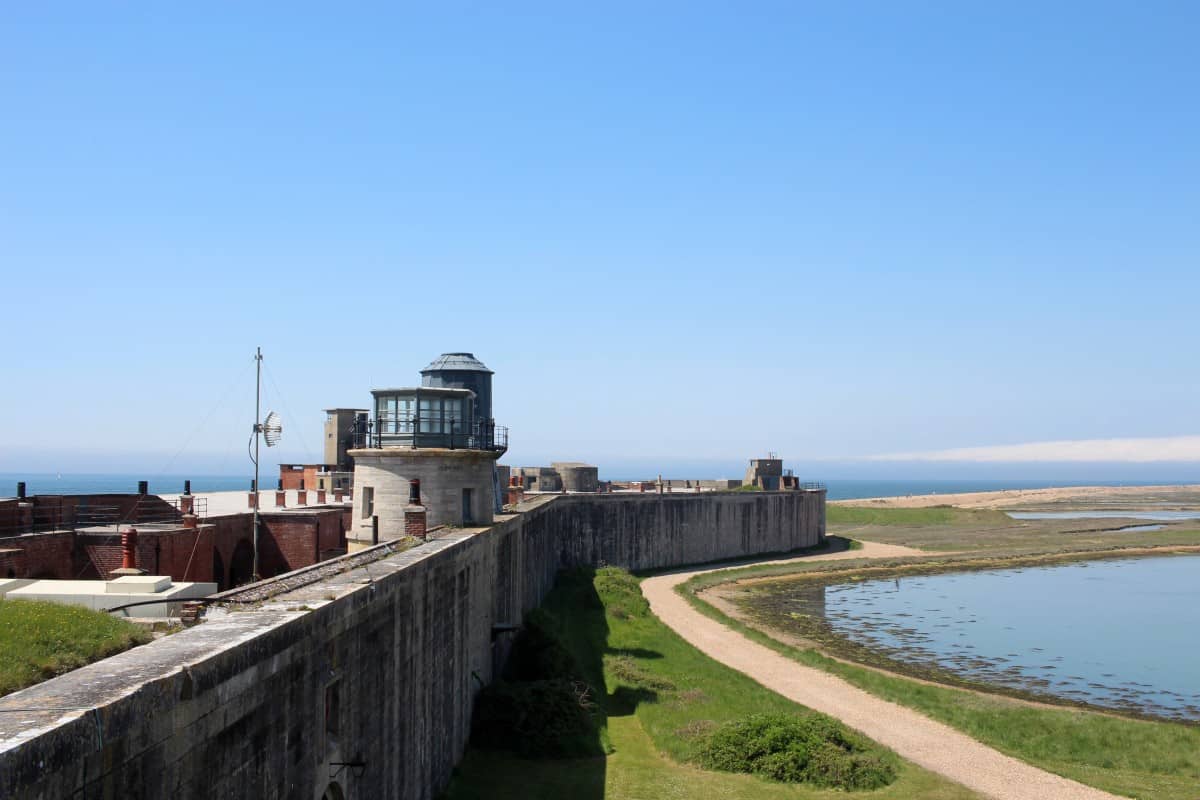 ---
Hever Castle – Edenbridge, Kent
Hever Castle is such a compact but romantic castle that stands proudly in the middle of impressive grounds. It started out as a country home and is most well known for being Anne Boleyn's family home. As well as the castle there's also a lake and gardens, playgrounds, mazes, miniature houses, the military museum and so much more. It's such a great day out for all the family and there are often children's trails to explore in the holidays too.
You can read more about Hever Castle here: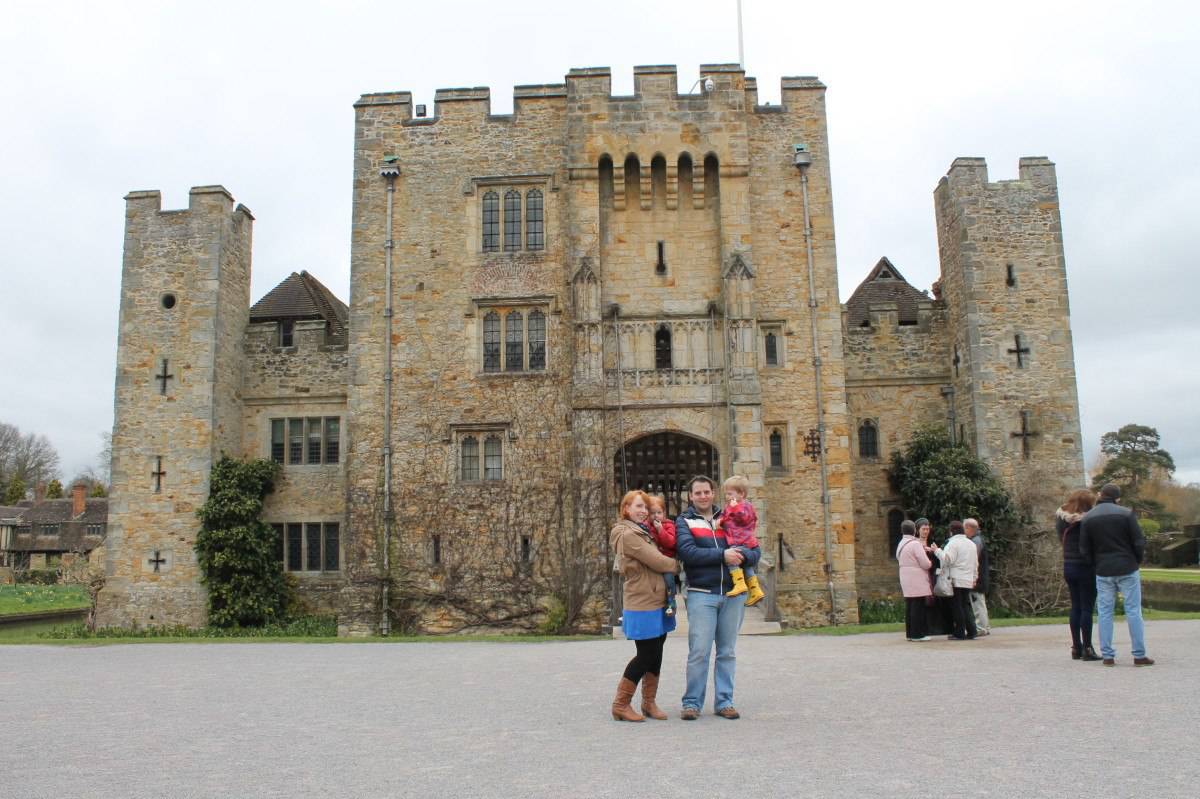 ---
Leeds Castle – Maidstone, Kent
Leeds Castle is, without a doubt, my favourite castle. It's the most beautiful I have ever seen and it has such a timeless quality to it, making you feel like you've been transported back to the days when Kings and Queens would have walked along the corridors. It's been standing 1119 and had many 19th century additions making it such a fantastic medieval castle.
Leeds Castle has so much to offer with a couple of playgrounds, a maze and a grotto to explore as well as falconry shows to watch too. If you'd like to extend your trip you can even stay in one of the castle's glamping tents or in a room in the manor house.
You can find out more about Leeds Castle here:
---
Rochester Castle – Rochester, Kent
I've put Rochester Castle here as it has castle in its name but it isn't really on a par with the other castles I've mentioned. It's still a beautiful castle and full of so much history, it's just not as incredible as the likes of Leeds Castle.
It's an English Heritage site which can be looked at from the outside for fere. It sits proudly in the heart of Rochester and is a real focal point if you visit the city. Going up to the top of the castle gives incredible views of the local area too.
You can find out more about Rochester Castle here: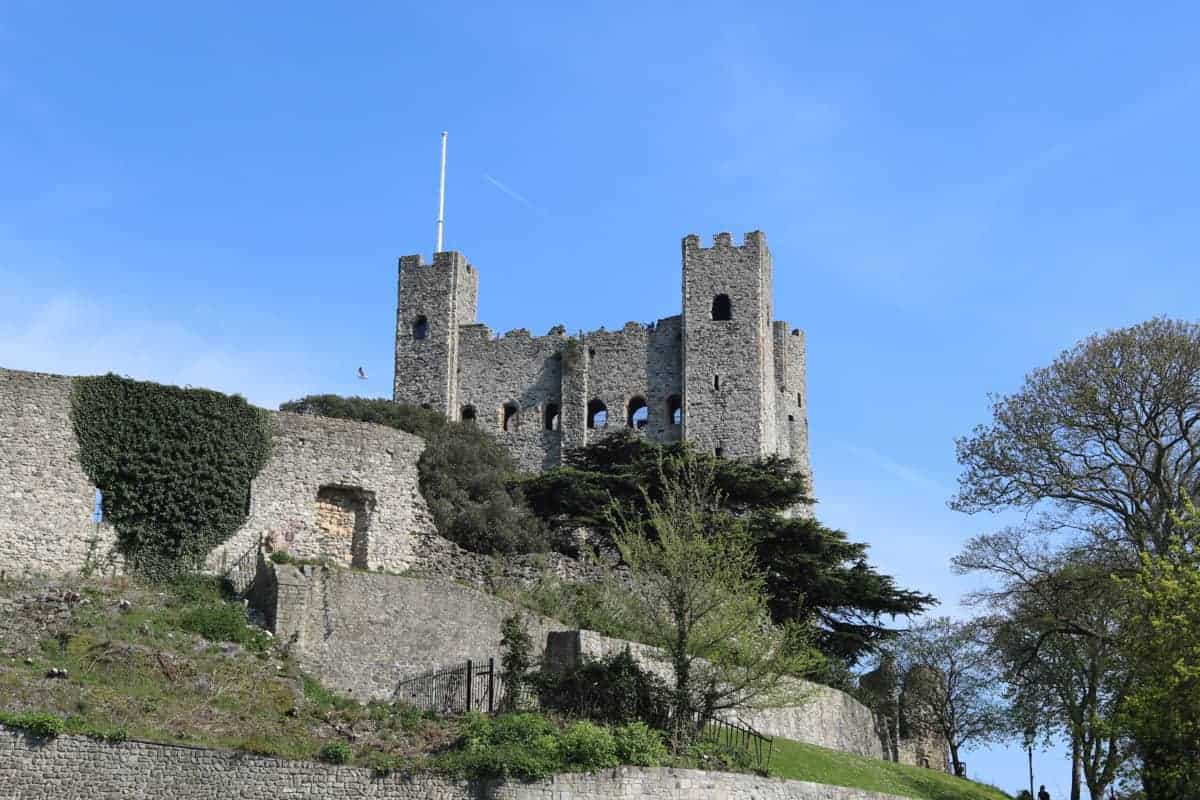 ---
Dover Castle – Dover, Kent
Dover Castle may be the most iconic of all English fortresses. It has been commanding the gateway to the England for 900 years and visitors can climb the Great Tower and meet characters whilst exploring deep within the White Cliffs of Dover. It's an action-packed day out for the whole family even when visiting the castle with young children.
You can read more about Dover Castle here:
---
Arundel Castle – Arundel, West Sussex
Set high on a hill in West Sussex, Arundel Castle gives amazing views across the South Downs and the River Arun. Dating back to 1067, visitors can explore the Norman Keep, medieval Gatehouse and Barbican whilst learning about the castle's sieges with interactive exhibits, games and costumes. It's a castle the whole family will love and there are special events like jousting shows throughout the year too.
You can read more about Arundel Castle here: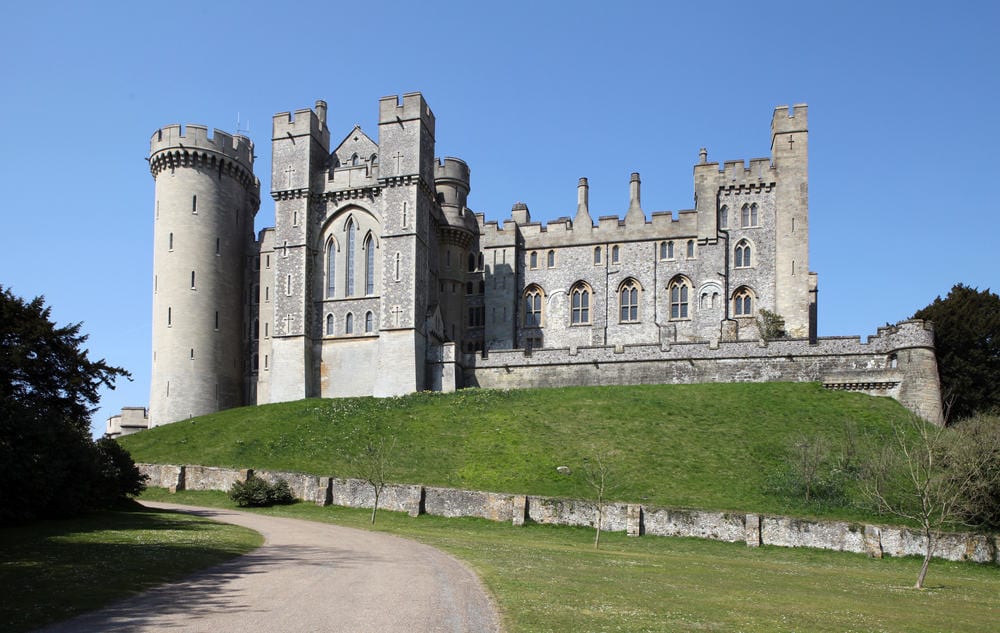 ---
Odiham Castle – Odiham, Hampshire
Unlike the other castles above, Odiham Castle is pretty much in ruins but this makes it a great place for children to explore and act out adventures amongst the remains. It's known locally as King John's Castle and sits happily beside the Basingstoke Canal.
You can read more about Odiham Castle here:
---
So there are our favourite castles in the South East so far – and a couple that we're planning on visiting soon too! Have you got a favourite castle that we haven't visited yet? Let us know and we'll visit as soon as we can.