This post contains affiliate links and I may receive commission if you visit a link and buy something. Purchasing via an affiliate link doesn't cost you any extra, and I only recommend products and services I trust.
One of our favourite treats as a family are churros. They are a go to dessert whenever a restaurant has them on the menu and we have bought them countless times from festive markets over the years. But until now we had never made them at home. But, thanks to the Aldi Ambiano Churro Maker we can now make them whenever we want in the comfort of our own kitchen.
What are churros?
A churro is a type of fried dough originally from Spain and Portugal although they are now often seen in Latin American cuisine and other menus around the world. Usually dusted in sugar and served with a dipping sauce, they are a popular dessert, sweet treat or snack. They're great for anyone with a sweet tooth!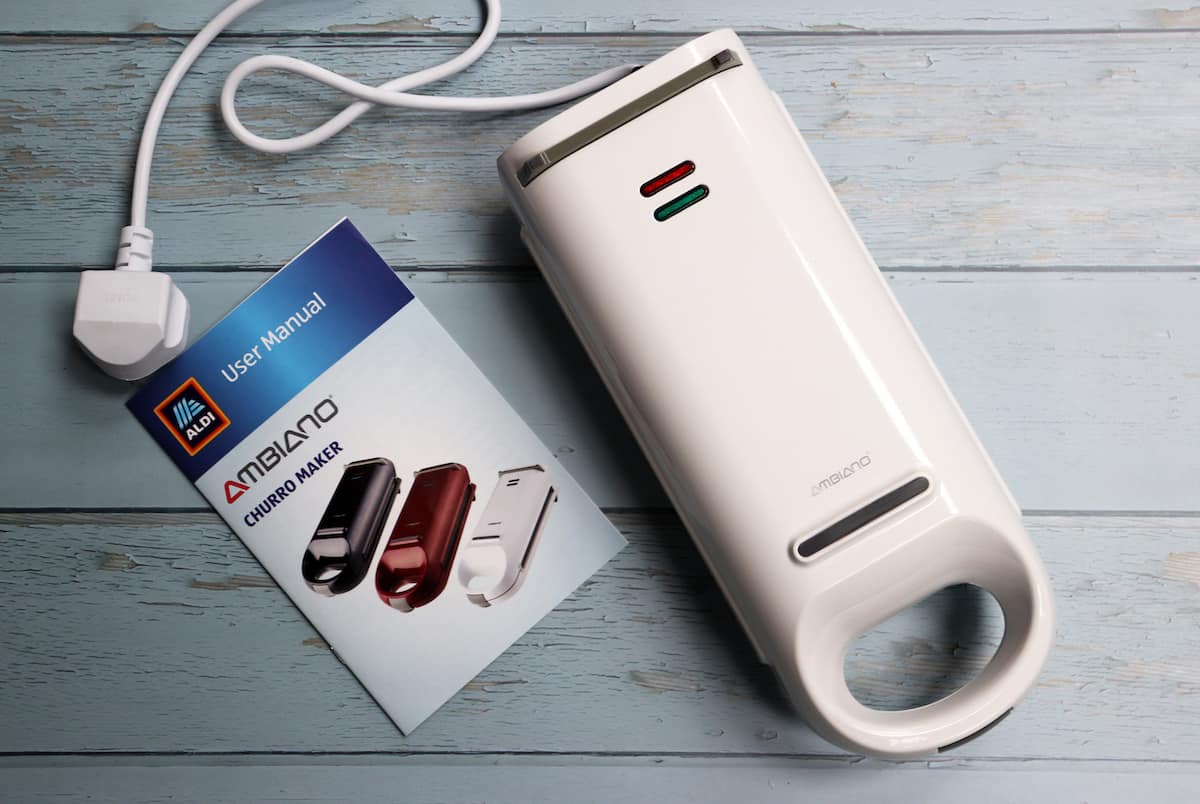 Churros are usually made by deep frying in a deep fryer until they become crunchy. The surface of a churro is usually star shaped from being piped using a churrera, a syringe-like tool with a star-shaped nozzle.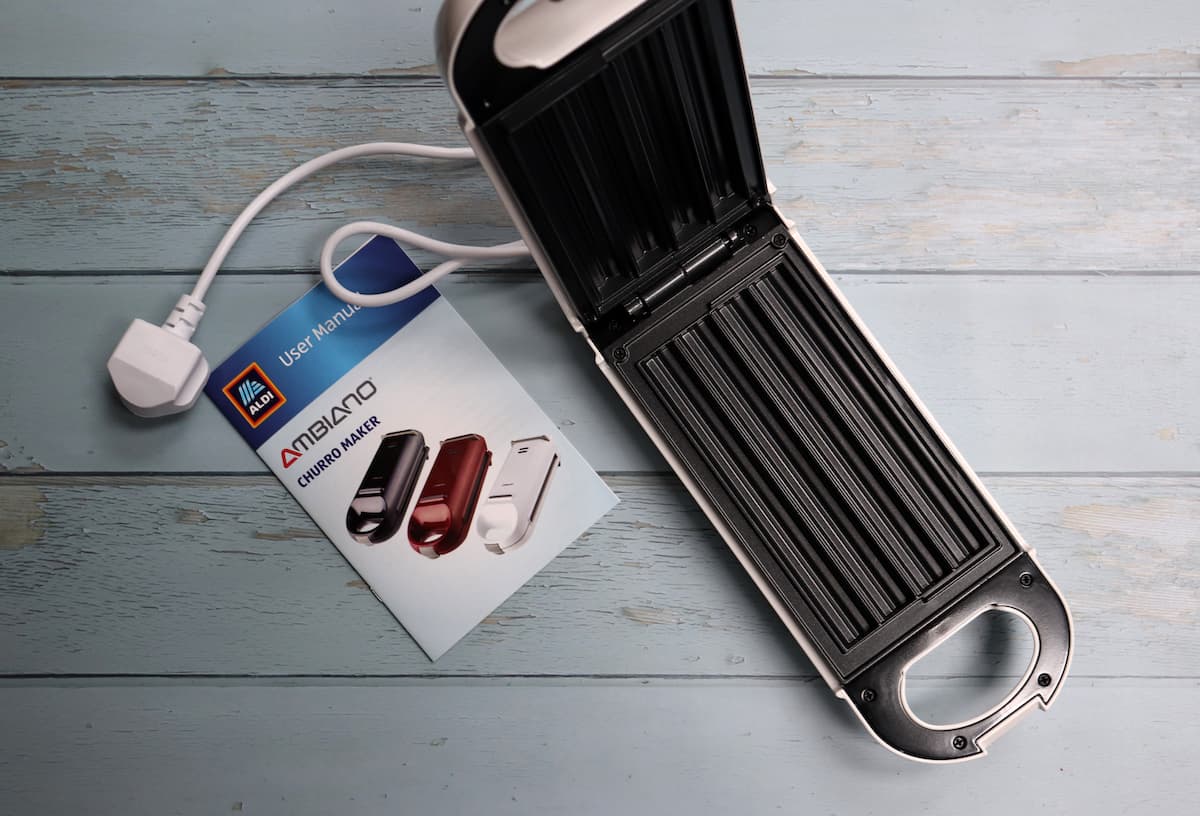 What is the Ambiano Churro Maker?
The Aldi Churro Maker makes the churro making process much easier. It takes away the need for deep frying and instead makes churros in much the same way as a sandwich toaster. It makes churros in just four minutes, creating a quick, tasty snack.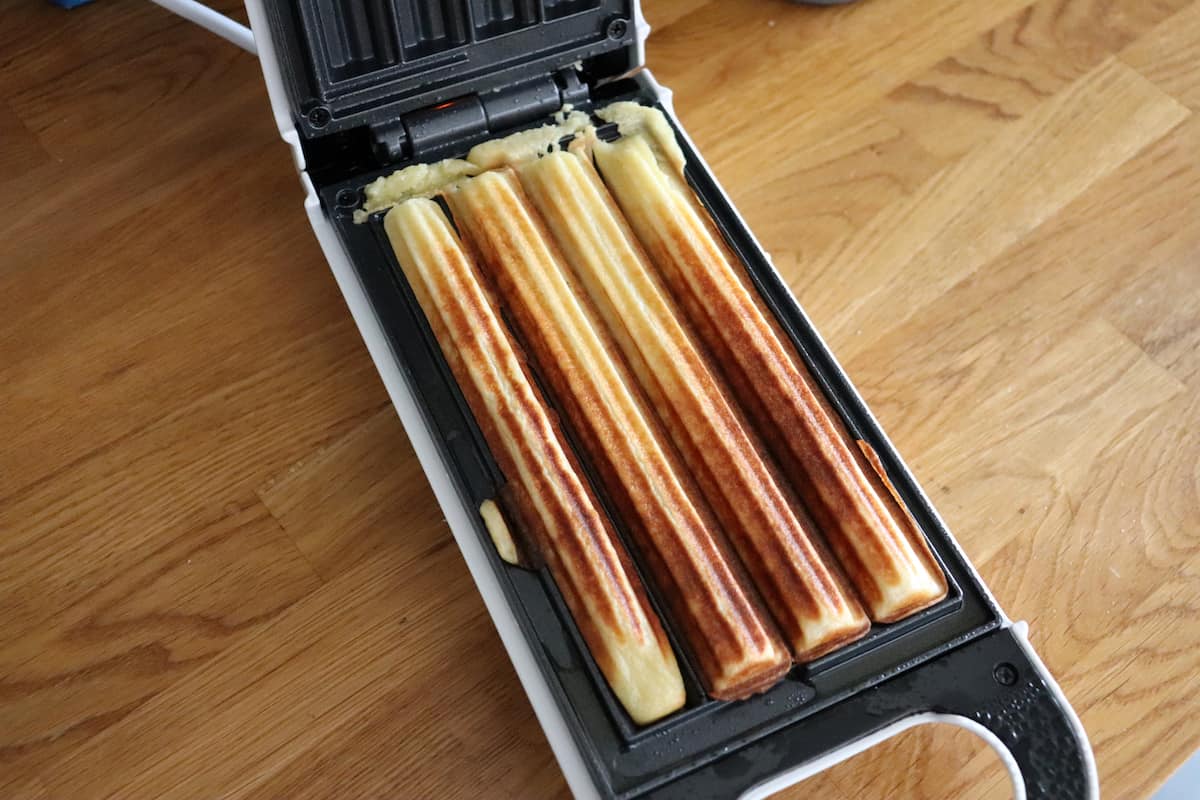 How do you use the Aldi churros maker?
To make churros you first turn on the electric churro maker to preheat it and then make the dough as per the recipe in the provided instruction manual. The churro maker machine has stainless steel plates that heat fairly quickly, ready to fill before you know it.
You then fill the ridges in the churro machine with the dough and close the lid, leaving it to cook for four minutes or a little longer if the churros aren't brown enough.
The churros machine comes with a piping bag to fill the machine with dough however, we poured the dough straight from a jug which worked perfectly and avoids unnecessary waste.
What do you serve churros with?
Once the churros are cooked you roll them in a cinnamon sugar topping before eating them. We served our churros simply with chocolate dipping sauces. Nutella, Biscoff Spread and Carnation Caramel all work well as easy dipping sauces if you decant them and then zap them in the microwave for thirty seconds.
You could also make a salted caramel dipping sauce or chocolate sauce for the churros, serve them plain or use any ready made sauces too.
The Ambiano Churro Maker is super simple to use, takes up hardly any space in the cupboard and works really well. The churro maker makes authentic churros in no time at all and with minimal mess. We all really enjoyed the delicious churros and will be making them regularly in the future.
This awesome Churro Maker is just one of a whole range of Ambiano products that pop up in the Aldi Special Buys. We've also reviewed the Ambiano Omelette Maker and Ambiano Nutrient Blender too and from experience we'd always happily buy Ambiano Aldi products. They're great value and work well.
The Ambiano Churro Maker has an RRP of £14.99 and you can find out more on the Aldi website. There's also very similar alternative churro makers on Amazon here. You can also find a really easy churros recipe here too.