On a trip to Brighton last summer we couldn't help but notice that there appeared to be an upside-down house, plonked next to the seafront. Billed as part art installation, part optical illusion, we were keen to see what the fuss was about.
The Upside Down House
We were able to reserve tickets for the Upside Down House online on our phone whilst we were queuing which saved us some money off the gate price. The queue to get in was well managed by the small team of staff members and there was a priority queue too that cost 50% extra. Like most people, we were quite happy waiting in the sunshine rather than paying extra.
When we got to the front of the queue, we were briefed with two other groups of four people on how the Upside Down House works. There are two floors and we get ten minutes on each one, with at least three distinct areas of each space to explore.
You can take as many photos as you like and staff are on hand to suggest interesting poses and will take some snaps for you. The magic comes alive when you flip the image on your device to see the photo from an entirely new perspective! 
We walked through the front door and found ourselves instantly disorientated – there was a bicycle hung up (or down?) on a wall with the ceiling where our feet were and the floor above our heads!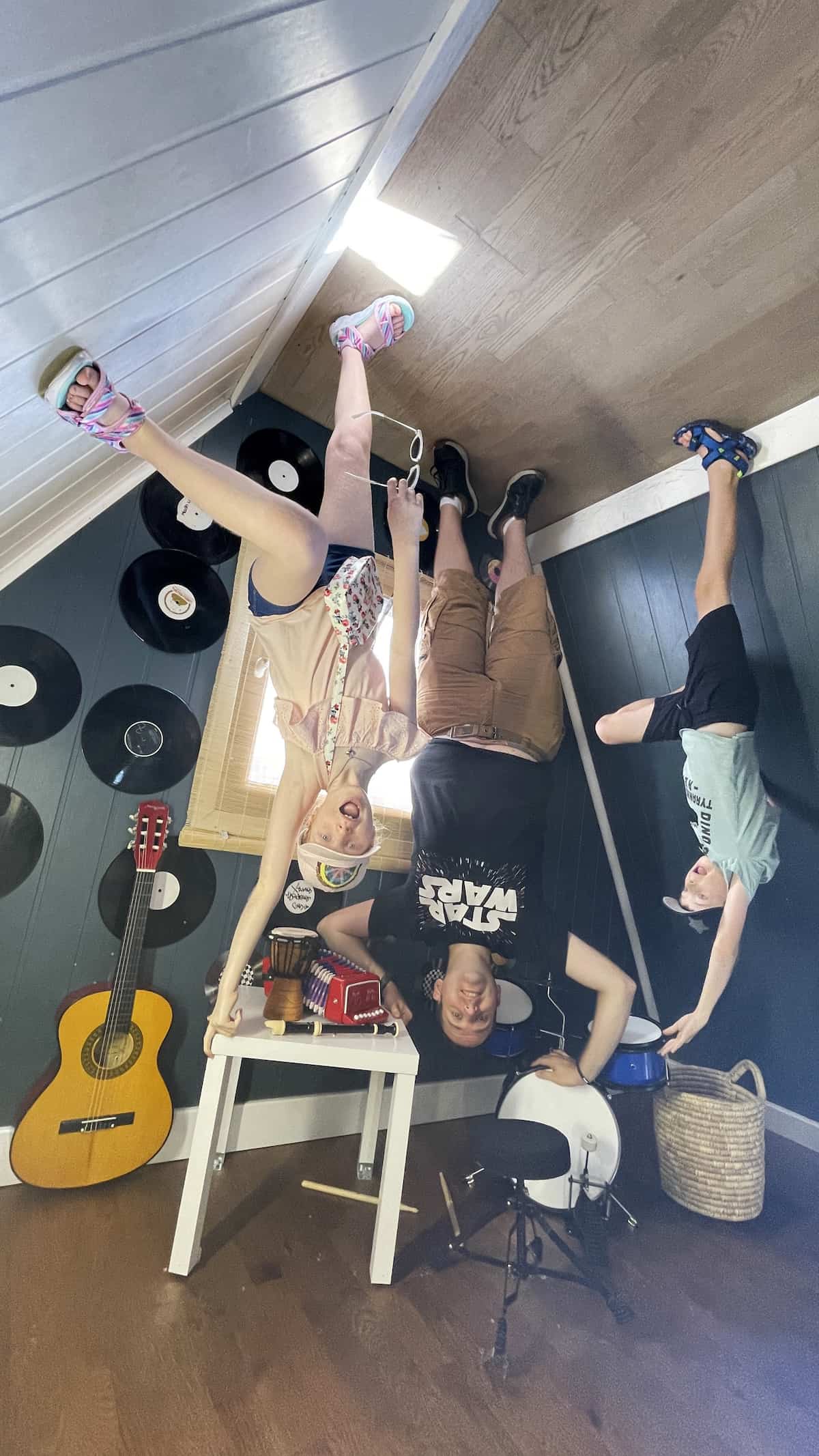 It was fun to use the different props in photos, like a telephone table, pots of paint on the ceiling (or was it the floor?), a DJ's turntables, chairs and even a drum kit.
The toilet made for some creative photo opportunities and we had great fun coming up with some silly, original poses. We made our way around the ground (or was it first?) floor with ease around the other two groups in our time slot.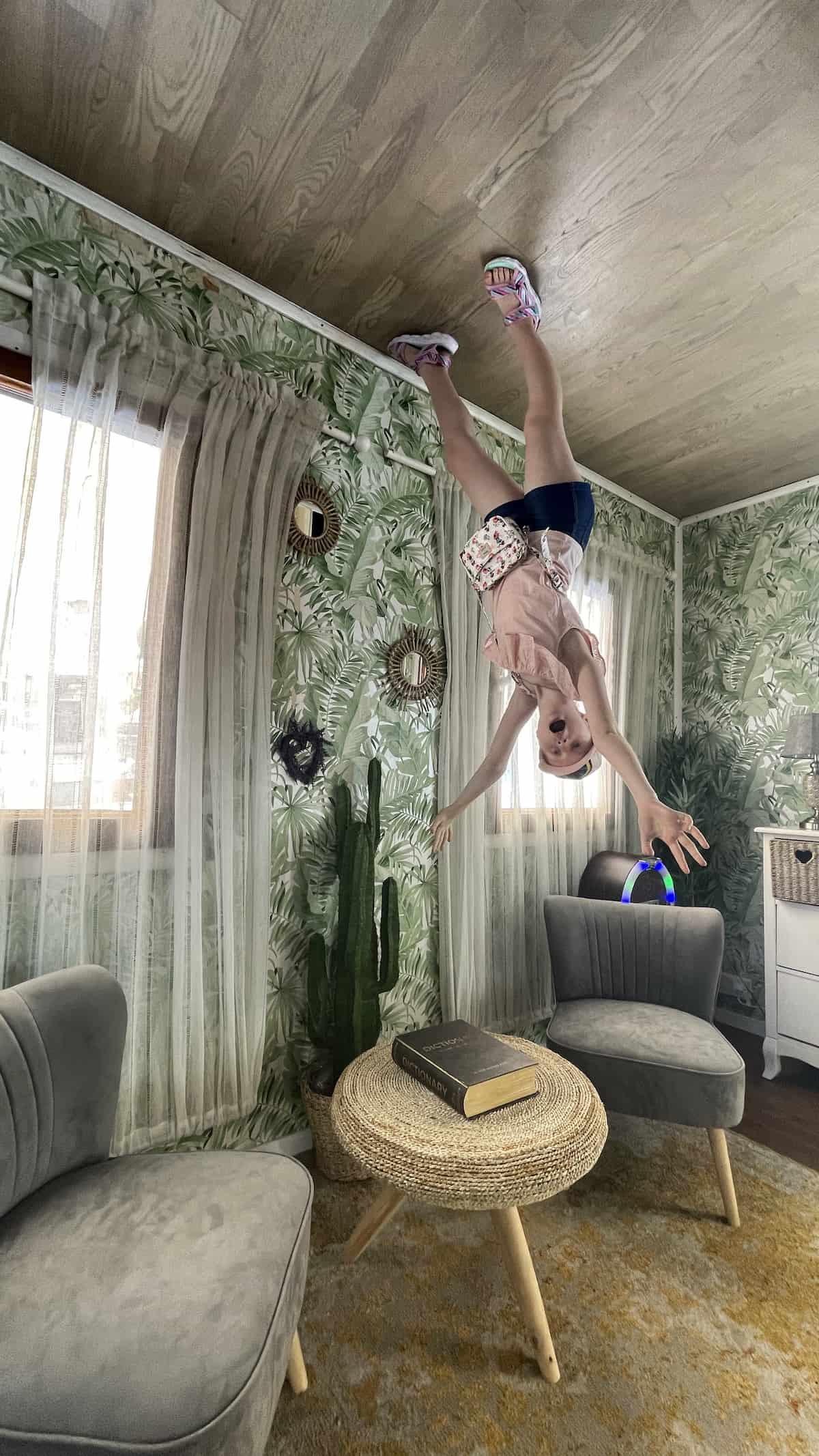 When we were ready, we moved up (down?!) a spiral staircase to an open plan kitchen, lounge and bedroom with entrance hall.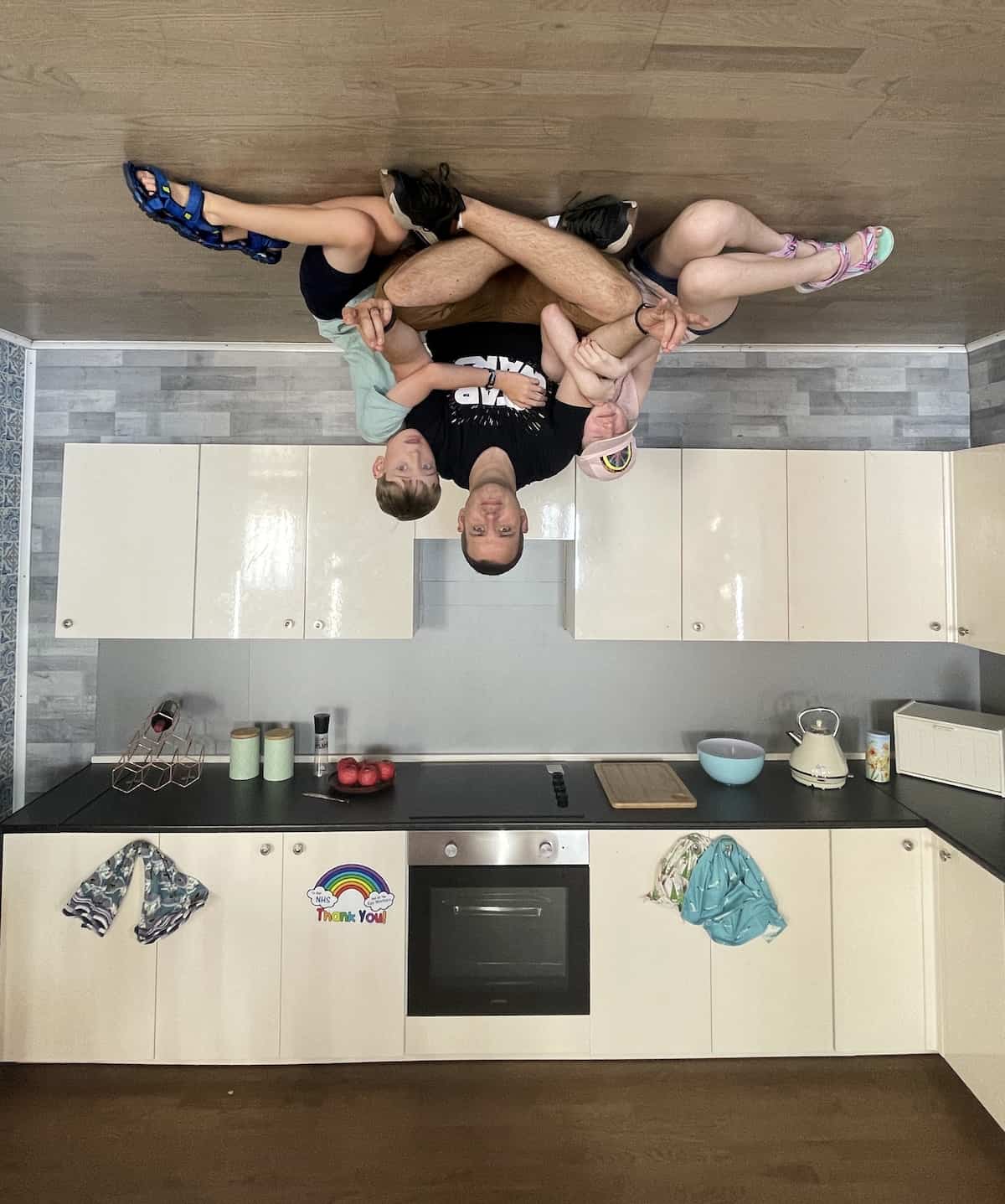 The large double bed was great to pose with and get a snap of trying to bounce on it! The kitchen has a small table set up with food and utensils and the only limit to silly photos is your imagination.
We had a great 20 minutes at the upside-down house, the photos we took always make us laugh when we see them upside down. Or is it the right way up? I'm so confused!
You can find out more about the Upside Down House and book tickets over on their website. For reference, the address is: 42-43, Kings Road Arches, Brighton BN1 2LN