Disclosure: We were invited on this break for the purpose of this review however all opinions are my own.
We always love a weekend away, exploring somewhere new and staying in a family friendly hotel. Last weekend we were invited to the Langstone Cliff Hotel in Dawlish, Devon for a couple of nights which gave us a great reason to have some down time, relax and check out the local area.
I've heard great things about Devon and we've only really been to Crealy before – no other hotels in Devon so it was lovely to arrive at the Langstone Cliff Hotel, find plenty of free parking, a gorgeous sea view and welcoming staff. After a long journey it was just what we needed.
Our room at the Langstone Cliff Hotel was a family room with a sea view. It had a king size bed and two singles for the children as well as plenty of storage space, a TV and tea and coffee making facilities. The family suites are perfect for a break with the kids.
The bathroom had a bath with a shower over it and complimentary toiletries as well as plenty of towels. The room did feel quite dated but it had everything we needed for our stay. Due to the age of the building we did find that the floor in our room creaked wherever we walked and there was quite a lot of movement when people walked along the corridor outside but it didn't affect our stay as once the children are asleep not much will wake them!
We visited the Langstone Hotel on a dinner, bed and breakfast package and so had a table booked at the Lincoln Restaurant at 7pm each day. At the hotel you get assigned a table that's the same table for your breakfast and dinner each night which is really nice – knowing that whenever you want to eat there will be a table waiting for you.
The Lincoln Restaurant doesn't have a children's menu but the hotel offers a children's dinner time at 5:30pm which has to be pre-ordered from the bar before 5pm each day. We weren't really sure how this would work as if the children ate at 5:30pm they would then have to amuse themselves whilst we ate at 7pm – or we would have to eat with them at 5:30pm which was a bit early for us. So instead we dined together in the Lincoln Restaurant and the children had dishes from the main menu.
The food in the Lincoln Restaurant is fantastic. It's a combination of fine dining and a carvery style main and it's a different set up to anything we have experienced before. The starter and dessert are table service from a menu and then for the main course you go up to a carvery style buffet where the main part of the dish is served for you and then you add any sides you would like from the buffet and there's a cold salad buffet too.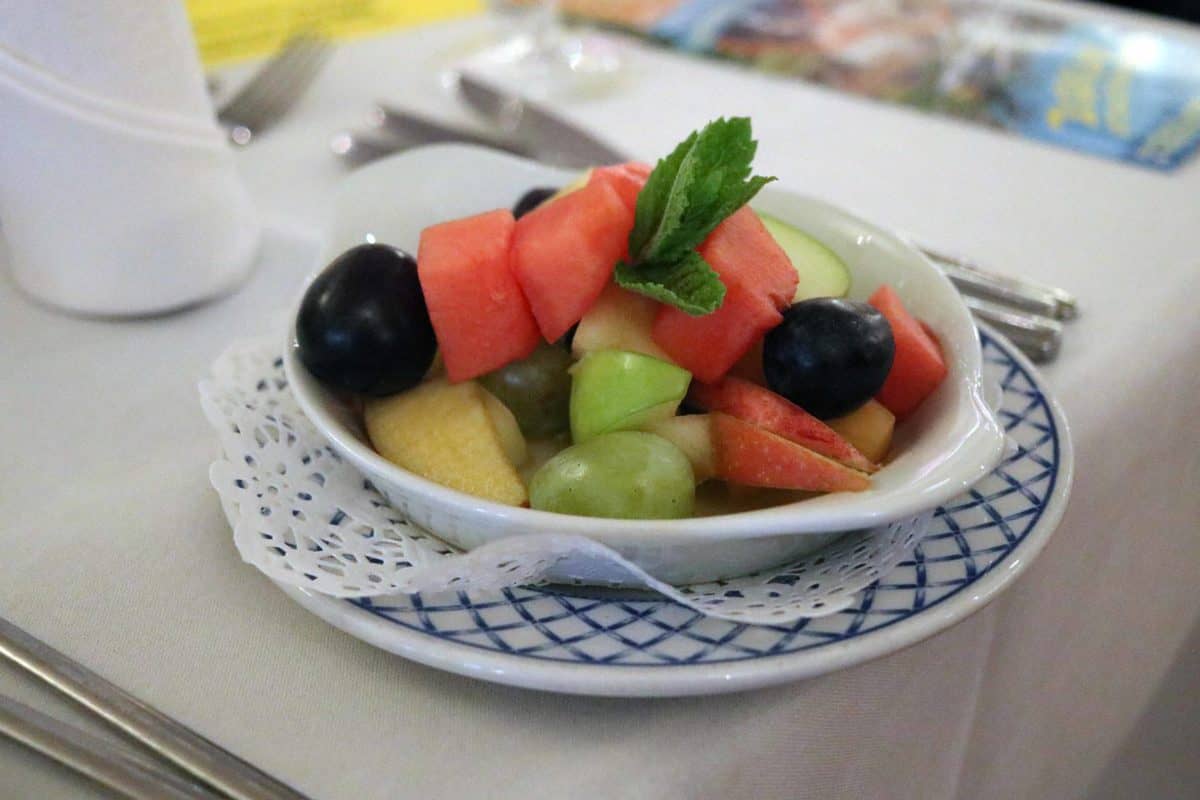 Our starters over the course of the two days were haddock fishcake, cannelloni, tuna nicoise, garlic mushrooms, soup and a fruit medley. They were all really good portion sizes and really lovely dishes, a great way to start a meal.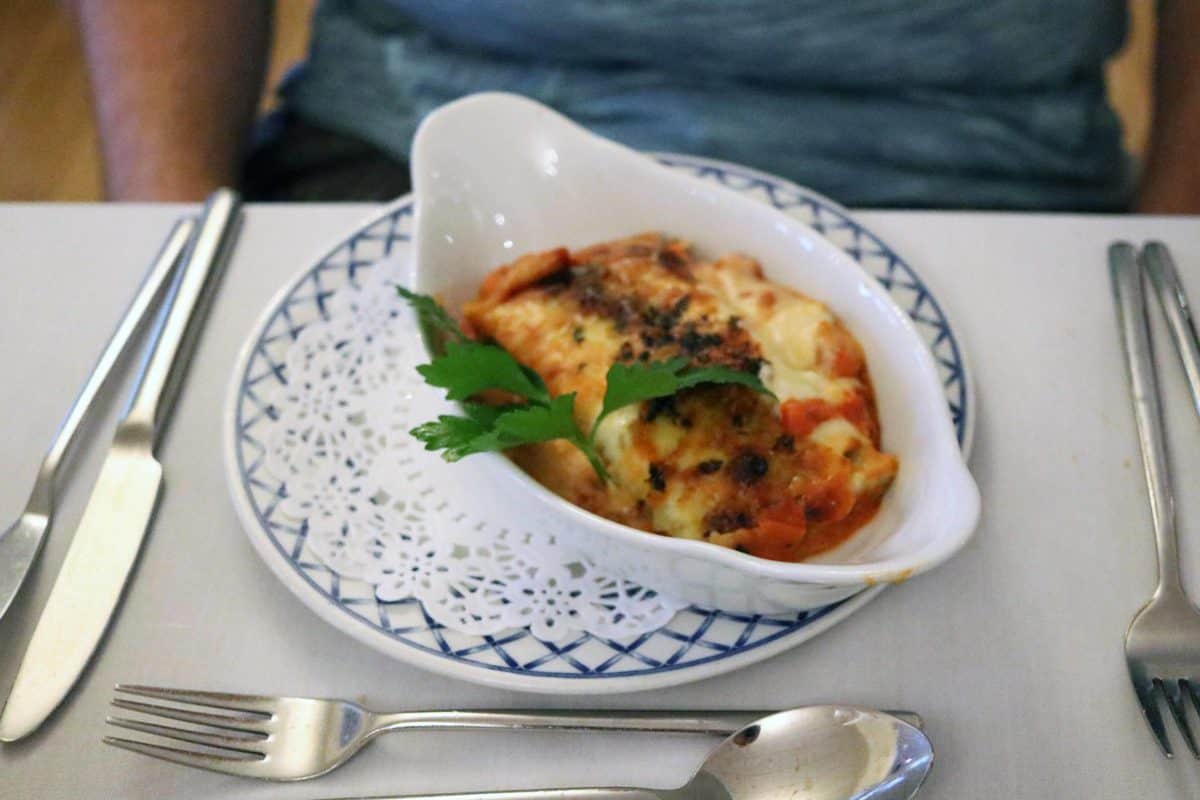 The mains that we had were roast dinners of lamb and turkey, braised beef and fish. These came with accompaniments like dauphinoise potatoes, roast potatoes and a variety of vegetables as well as the salad buffet of different salad vegetables, potato salad, pasta salad and coleslaw.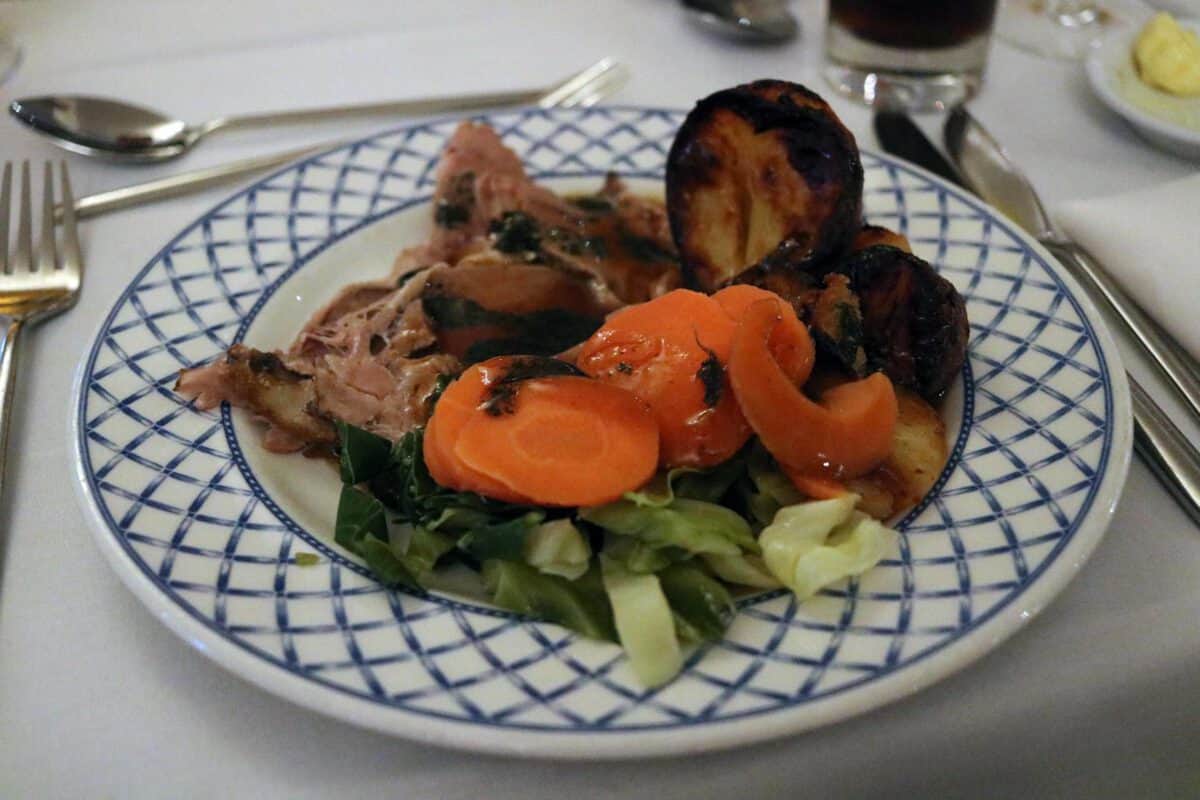 The food was a really good quality, well cooked and good portion sizes. The buffet allowed us to pick sides that were more suited to us than in a standard restaurant. However, we don't have fussy eaters where the children are concerned – they eat pretty much anything – but the food was quite fancy for them. LP had a roast dinner two days running whilst Little Man had fish on one day with roast potatoes and carrots and on the next day he didn't really want anything from the menu and ended up just having a slice of turkey and cucumber from the buffet. A children's menu in the restaurant would really be appreciated and, at £25 per head for the set menu, would reduce the cost for families too.
Our desserts were lovely with the children having ice cream and Dave and I have bread and butter pudding, pavlova, mille feuille and a chocolate pot. They were really great desserts and all served with a choice of ice cream, cream or clotted cream too. The children loved the range of desserts available to them as well.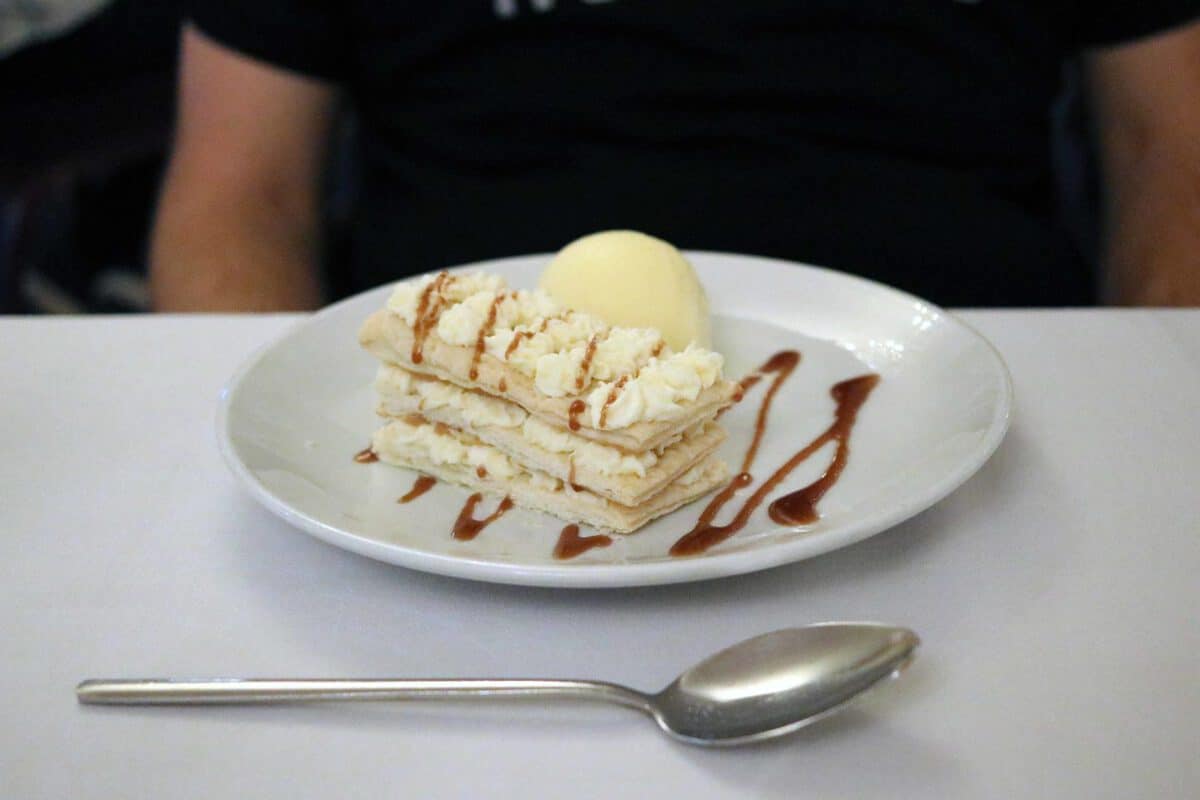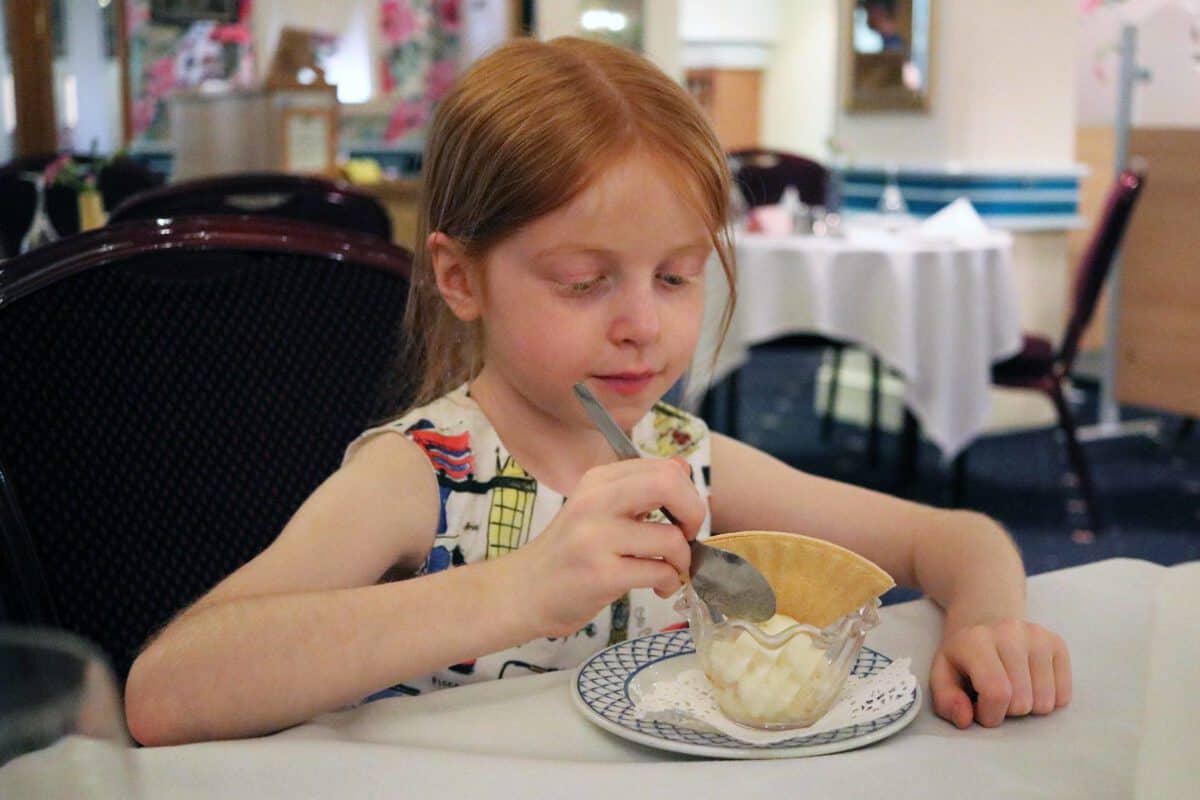 We slept well in the hotel although we did find it quite hot. Our room had air conditioning but it was too noisy to have on overnight so we ended up sleeping on top of the covers instead.
Our stay had breakfast included in the package so in the morning we went back to the Lincoln Restaurant for breakfast. It was a buffet of cereals, fruit, yogurts, ham, cheese and plenty of cooked options. The service at breakfast was quite hit and miss with one day us not being offered tea and coffee until after our plates had been cleared and on both days with items on the cooked buffet running out and taking quite a while to be replenished.
I didn't have a fried egg on either day as they had run out and a few other items ran out whilst we were queuing at the buffet too. This may be because breakfast was a lot busier than the dinner buffet had been.
We spent our first day the Langstone Cliff Hotel exploring the local area and loved that it was just a few minutes walk from the hotel to Dawlish Warren. The arcade there was lovely and the children really enjoyed a few hours on the golden sandy beaches of Dawlish Warren. The hotel is also walking distance to the Dawlish Warren Nature Reserve and the Langstone Rock.
I don't think we've ever stayed anywhere as well located as the Langstone Cliff Hotel before. Dawlish Warren is the perfect place for a family break away with places to eat or grab a drink, beach huts to hire and an amusement park too. We also got to walk alongside the railway watching trains go along the tracks – something we saw so many people stopping to watch too.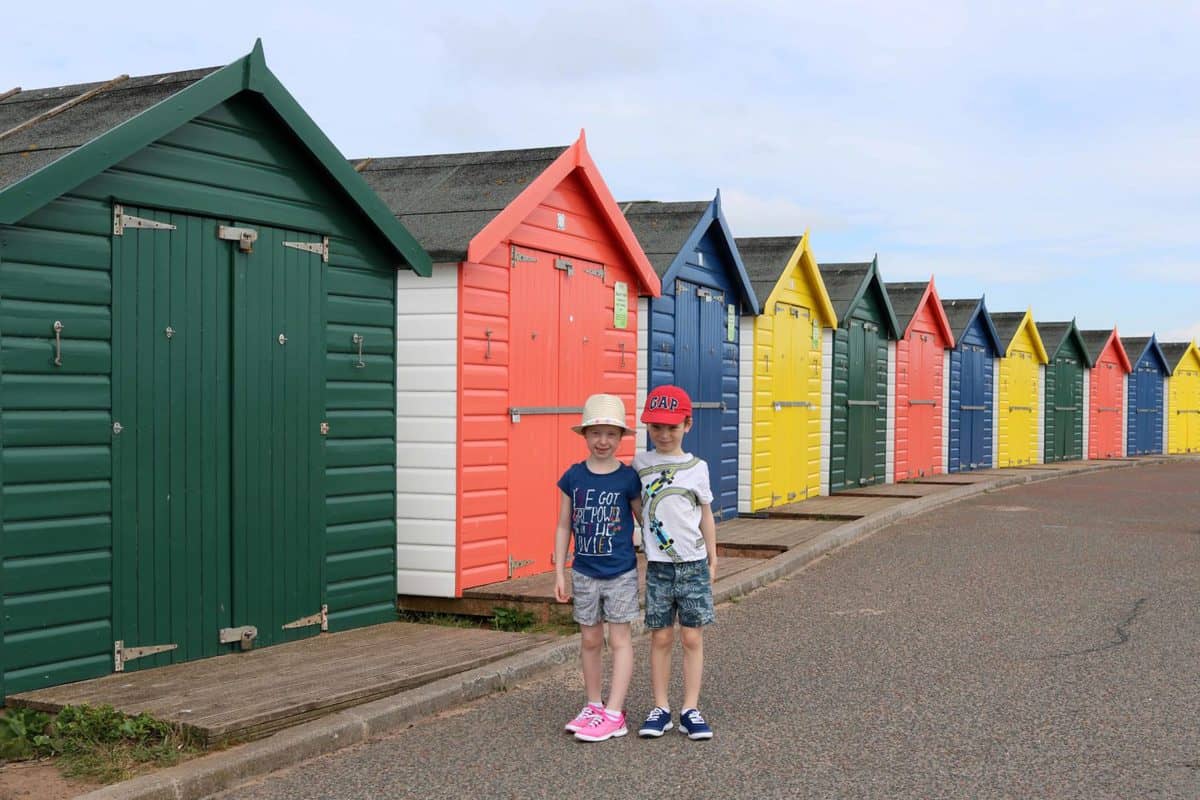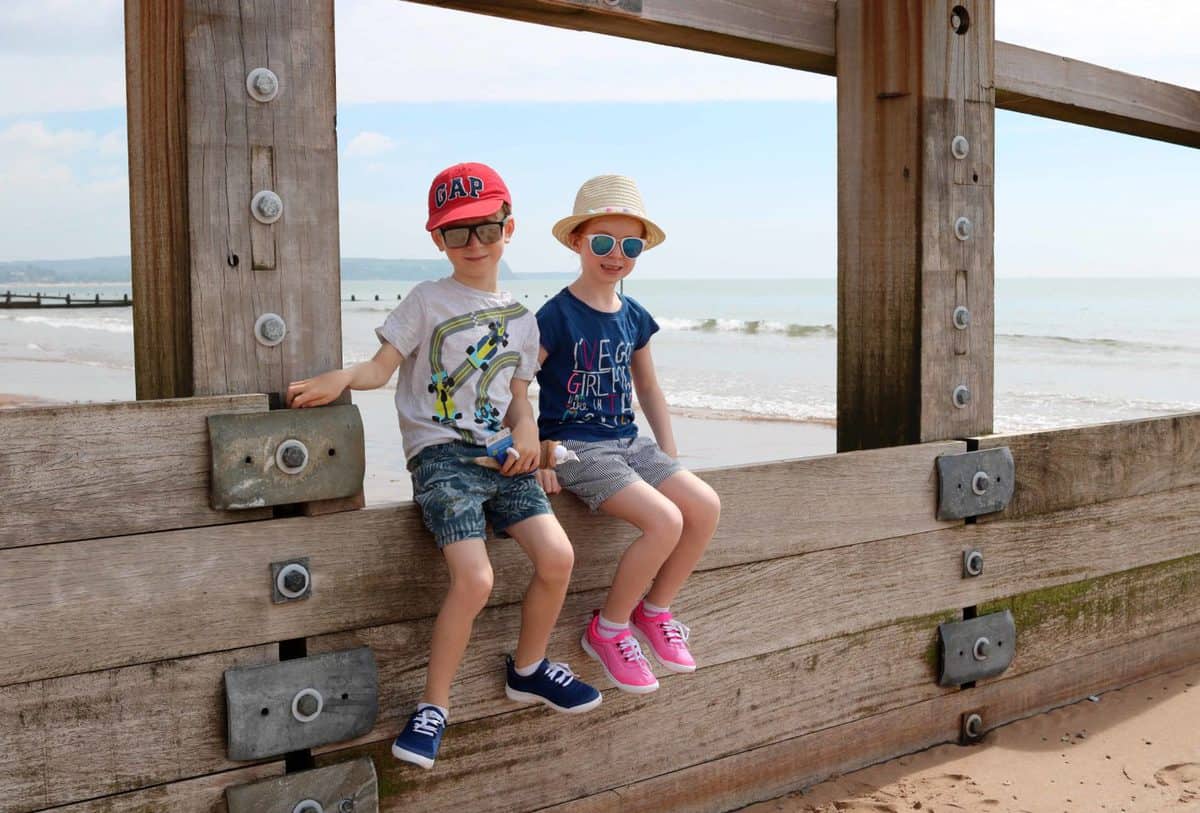 The Langstone Cliff Hotel swimming pool is a really nice size heated indoor pool for guest use and they give towels for swimming as well. Whilst we were there we saw quite a few non-residents coming to the hotel just to use the swimming pools which made it feel like a real hub of the local area.
The hotel also has a heated outdoor pool too but the weather wasn't warm enough when we were there for us to try it out but I can imagine it being a real bonus of the hotel at the height of the summer.
Outside the hotel has a really lovely adventure playground as well as a few playhouses and a smaller toddler play area on the lawn. There's so much space outside to sit and relax and Dave and I enjoyed a drink on the lawn whilst the children played. However, I was quite shocked to find that a pint of draught Coke Zero was £4 – we've never paid that much for a soft drink.
Inside the hotel has a lot of different lounges and areas to sit. Everywhere had big windows letting in so much light and the whole hotel had a really welcoming feel to it. There was even a small soft play area for younger children and it's obvious that the Langstone Cliff Hotel want guests of all ages to feel at home.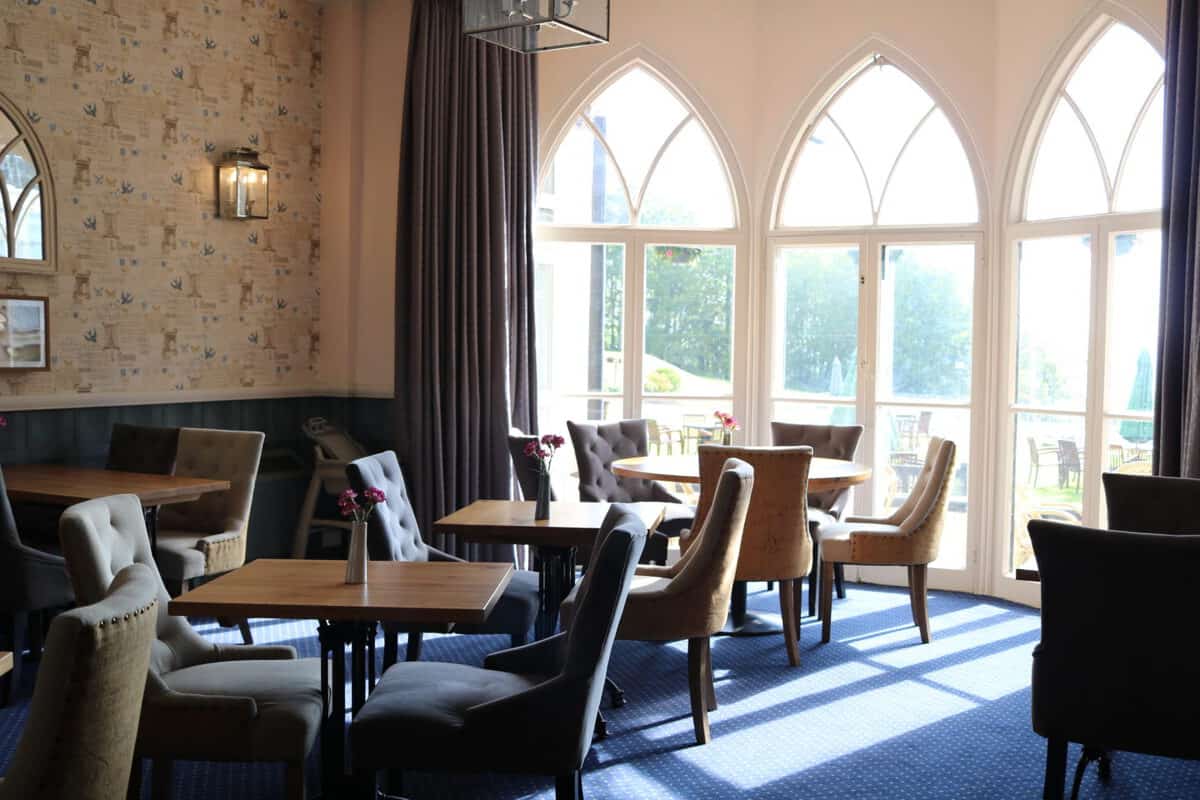 There is so much to do in the local area that we really were spoilt for choice. In the end we spent our second day visiting Babbacombe Model Village, the Babbacombe Cliff Railway and Oddicombe Beach. It was a really lovely day.
Langstone Cliff Hotel is a fantastic, child friendly base for exploring the local area of South Devon. The staff were lovely, we were made to feel really welcome and the hotel facilities were fantastic.
The hotel is quite dated but it does add to its traditional charm and I can imagine guests go back year after year. We really enjoyed our stay and I'm sure we'll be venturing back to Dawlish in the not too distant future.
One thing to note, Langstone Cliff Hotel is dog friendly so if you're looking for hotels to visit with your furry friend, this one would be perfect.
You can find out more about the hotel over on their website and their address for reference is Mount Pleasant Road, Dawlish Warren, Dawlish EX7 0NA. Make sure you book direct on 01626 868000 to check availability and make the most of current special offers.