This was my first attempt at making a lasagne in the slow cooker but it will definitely be the first attempt of many. I don't cook vegetarian meals very often either but love spinach and ricotta in cannelloni so thought it might go well in a lasagne too. This Slow Cooker Spinach and Ricotta Lasagne is great served with a side salad and garlic bread.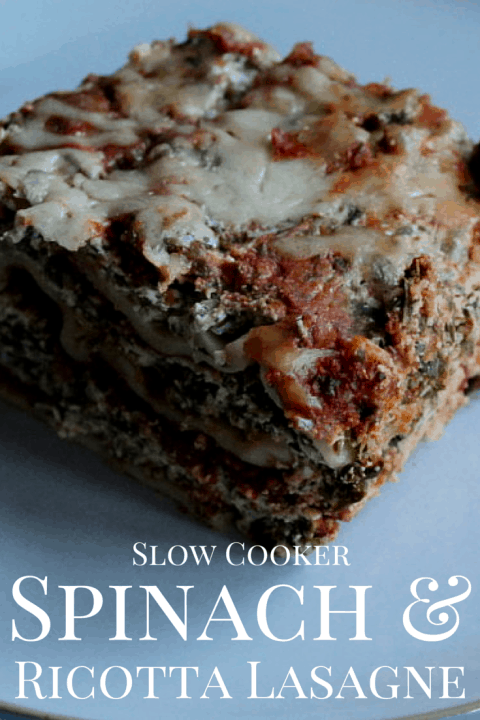 We use a large 6 litre slow cooker but if your slow cooker is smaller you can reduce the quantities or have a deeper lasagne
Ingredients
1kg ricotta cheese
700g frozen spinach, defrosted and excess water squeezed out.
3 eggs, beaten
130g parmesan cheese, grated
1kg passata or sieved tomatoes
130g green pesto
dried lasagne pasta sheets
150g grated mozzarella
Recipe
In a bowl mix the spinach, ricotta, eggs and half the parmesan cheese.
In another bowl mix the passata and pesto.
Lightly grease the slow cooker pot and ladle the passata sauce onto the bottom to have a thin even layer – this was two large ladles for us. Add a layer of pasta.
Spoon some of the cheese mix to create a thin even layer followed by another layer of sauce and then pasta. Repeat until the cheese and sauce are used up – finishing with the sauce.
Mix the rest of the parmesan with the mozzarella and sprinkle over the top of the lasagne.
Turn the slow cooker onto low and cook for 4 hours until nicely browned and the pasta is cooked.