If you are looking for a slow cooker curry that is packed with flavour, leaves the meat really tender and is perfect for cooking in bulk and freezing then this Lamb Rogan Josh could be the perfect recipe for you! There's a simple way of making this into a beef curry at the end too – happy experimenting!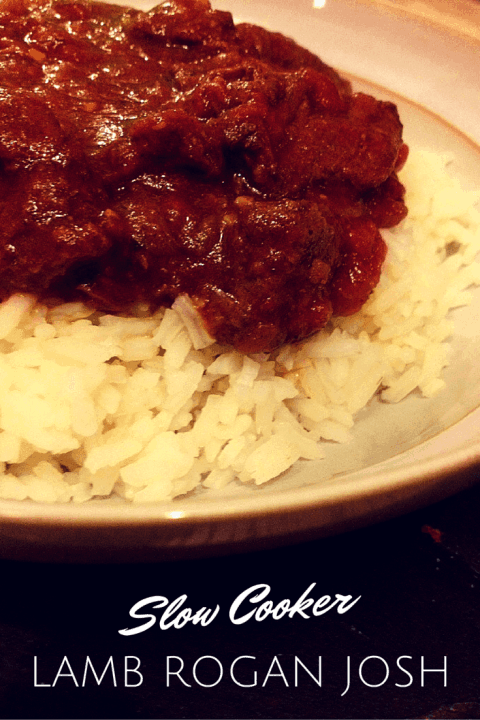 Preparation Time: 15 Minutes Cooking Temperature: Low Cooking Time: 8-10 Hours
Slow Cooker Lamb Rogan Josh
Ingredients
Spray oil
750g diced lamb
2 onions
3 garlic cloves
2.5cm fresh root ginger, peeled and chopped (although I use this – (a teaspoon of) so much easier!)
1 teaspoon ground turmeric
2 teaspoons ground coriander
2 reaspoons cumin seeds, roughly crushed
2 teaspoons garam masala
1/2 teaspoon crushed dried chillies
2 tablespoons plain flour
400g can chopped tomatoes
300ml lamb stock
4 tablespoons creme fraiche
Recipe
Heat a frying pan and spray with oil. Add the lamb and fry until browned. Transfer to the slow cooker pot with a slotted spoon.
Add the onions to the frying pan and fry until softened. Stir in the garlic, ginger, spices and dried chillies and cook for a couple of minutes. Stir in the flour and then add the tomatoes and stock. Bring to the boil whilst stirring.
Pour the mixture over the lamb in the slow cooker pot and cook on low for 8-10 hours.
Just before serving stir in the creme fraiche.
You can substitute the lamb in this recipe for beef and change the lamb stock to beef stock – just as nice! It's a family favourite meal and so nice served with naan and poppadoms. Even the children really enjoy it and the flavours infuse wonderfully in the slow cooker. It's also great for batch cooking and freezing for a tasty meal when you're short of time.