Disclosure: We were sent the featured products for the purpose of this post however all opinions are my own.
This post contains affiliate links and I may receive commission if you visit a link and buy something. Purchasing via an affiliate link doesn't cost you any extra, and I only recommend products and services I trust.
Having a baby and a toddler it is lovely to find a company that sell products to suit a wide span of ages – The Gro Company have products that cater from newborn upwards and we were lucky enough to be sent two of their products for review which should be any any pregnancy wish list.
Gro-Clock
The Gro Company Gro-Clock is a great idea for a product – young children can't tell the time using an actual clock so instead Gro have developed a clock with a simple face that shines blue with stars at night and yellow with a sun in the day time. The idea is that the child learns that when they can see the sun (on the clock) it's day time and they can get up for the day and when they can see the stars they should be asleep.
The Gro Clock comes with Gro Clock instructions and a story book that you read as part of your bedtime routine that explains to the child in a fun way how the clock works. It is full of loveable characters who club together to buy Percy Pig a clock to help him get up at the right time.
When you first use the clock you have to set the time and then you have two times that you can set – one is the time the child can get up in the morning and the other is when they can get up from a nap – however, if your kids are like LP and doesn't nap often or doesn't nap at the same time each day, you can use this setting as a weekend wake up option – an extra hour in bed and a lay in!
How did we find the Gro Company Clock?
LP loved reading the story at bedtime and she consistently started saying 'Morning' when the clock changed to day time after she woke up – she hasn't yet actually got out of bed by herself but always lets us know that she's awake by chatting. This morning chatter changed to 'Morning, Morning' once we introduced the clock.
Another good use of the groclock sleep trainer is the light up face is also a great nightlight. The brightness can also be changed to suit your preference – a great feature as a lot of nightlights are set at just one brightness. The toddler clock also has the option of having a digital clock displayed as well as the sun or star character.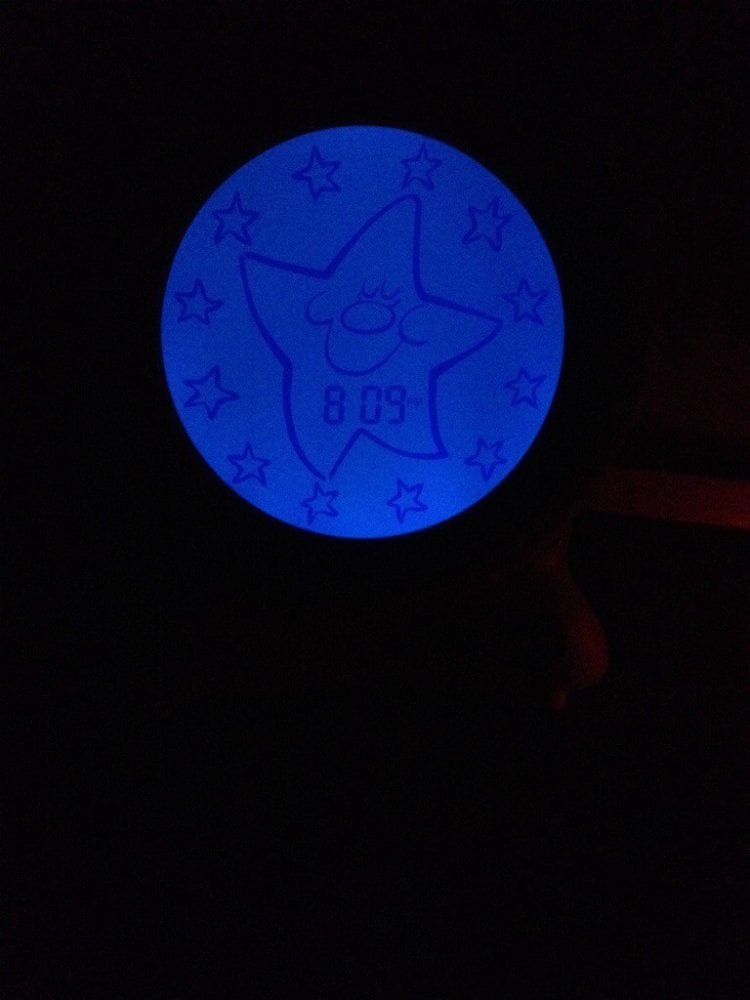 The Gro Clock sleep trainer is mains powered however it would be nice to have the option of batteries also for ease when travelling, camping or even just repositioning in your child's bedroom.
The Gro-Clock is a sleep trainer clock that is definitely worth getting if you have a frequent early riser! If you've mislaid your Gro Clock manual you can find a copy of the Gro Clock book pdf here.
Gro-Egg
The Gro Company Gro-Egg is a nightlight and colour changing room thermometer in one. The Gro-Egg helps you keep a safe sleeping environment for your child at a glance – the room temperature shows when it glows red if the room is too hot, yellow if it's just right or blue if it's too cold. The Gro-Egg also comes with instructions on what a baby should wear when the room is each temperature.
The Gro Egg gives off just enough light to be an effective nightlight and can be used from birth when the baby shares it's parent's room right the way through to older years – there really is no age cap on this product, making Gro Eggs night lights for everyone and really promoting safer sleep.
How did we find the Gro-Egg?
As well as the colour coded night light there is an LCD display that shows what the temperature is in the room. We have found since using the Gro-Egg that our house is very warm – even with never having the heating on we find it hard to get the Gro-Egg to stop shining red – however we did hold it in the fridge to make sure it was working! We have since been dressing Little Man in a lot less at night!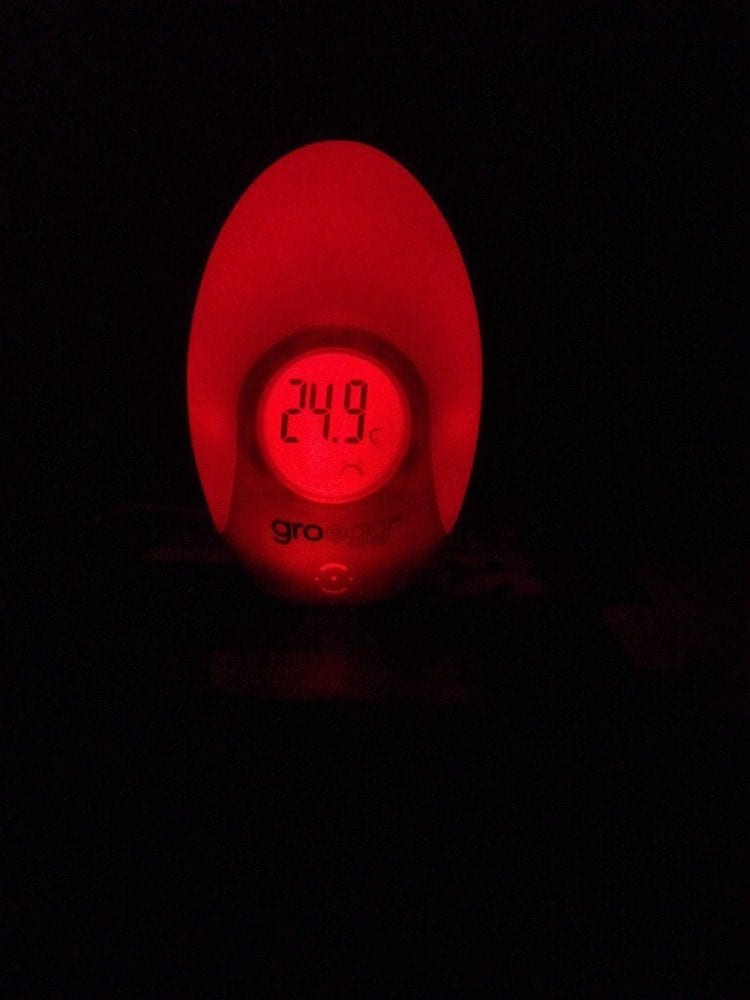 Like with the Gro-Clock, the Gro-Egg is mains powered. It would be nice to have the option of using batteries if we needed to.
A lot of baby monitors do have the same functions on them as the Gro-Egg, however, if you don't use a baby monitor – if your child sleeps in with you at night, or if your baby monitor doesn't have an inbuilt thermometer then this would be a great product for you.
What's the difference between Gro Egg and Gro Egg 2 thermometers?
There's now a second generation of the Gro Egg room thermometer available and from what I can see it's bigger, softer and brighter than the original Gro Egg baby room thermometer and it also has four different brightness levels to make it a good quality night light too.