*This is a paid post
With new floor carpets recently fitted in the whole house, we have been keen to keep them looking as good as possible for as long as possible. So when the MOOSOO K17U 4 in 1 Handheld Cordless Vacuum Cleaner arrived we couldn't wait to put it through its paces.
The first thing that struck us was how lightweight this handheld vacuum cleaner was, even with the large capacity 2200mAh battery installed. The children could easily maneuver it around the house, making it super lightweight for adults to use too.
Whilst leaving the battery to fully charge before we used it, we got to know the vacuum and different attachments. It comes with a telescopic wand which is easily adjustable with one button for different lengths. Rather than just being tall or short, it can be stopped at any length to make it the perfect vacuuming height for you.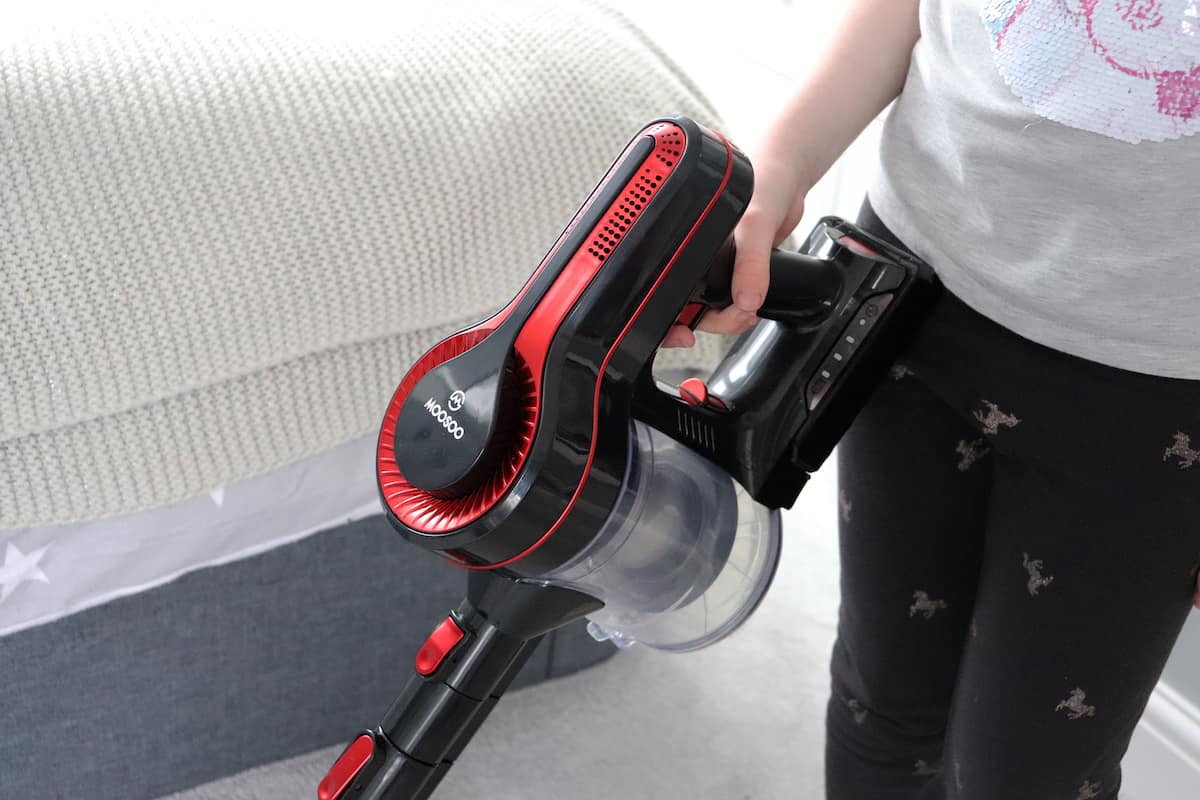 The motorised floor brush has 4 LEDs built in to illuminate those tricky to see areas and a brush system to grab pet hairs that can accumulate in carpets. It also comes with a thin nozzle and smaller upholstery brush. A handy wall mount is also included should you wish to store the MOOSOO 4-in-1 in an upright position out of the way somewhere.
The cordless stick vacuum cleaner doesn't need to be wall mounted but it's a great option to have. Plus, the battery can be charged both inside the vacuum cleaner and separately. We have found in the past that other vacuum cleaners overheat when run continuously but the MOOSOO 4 in 1 has a battery cooling system so this doesn't happen. We can literally run it from full charge to an empty battery without any complaints.
Once charged, the MOOSOO 4-in-1 was up and ready in no time. I was pleasantly surprised with how quiet it was compared to similar cordless vacuums we have used in the past. It also rolled effortlessly from hard floor areas to carpets and rugs with seemingly no loss of power.
You can also use a power boost mode, but this will reduce the run time significantly from around thirty minutes to about 12-15. the MOOSOO 4-in-1 is really easy to maneuver and we have had no trouble in getting under raised cupboards or the kitchen table.
The MOOSOO stick handheld vacuum is also small enough to be used in the car to get to those hard to reach places and with the power boost, it picks up virtually anything that might get deposited in the footwells. It has really powerful suction anyway – and even more so with the power boost turned on.
When it came to our new carpets, the MOOSOO 4-in-1 made light work of them, gliding effortlessly and leaving those satisfying vacuum marks in the pile! With the large capacity 1.2L bin, there was more than enough room for everyday use before it needed emptying.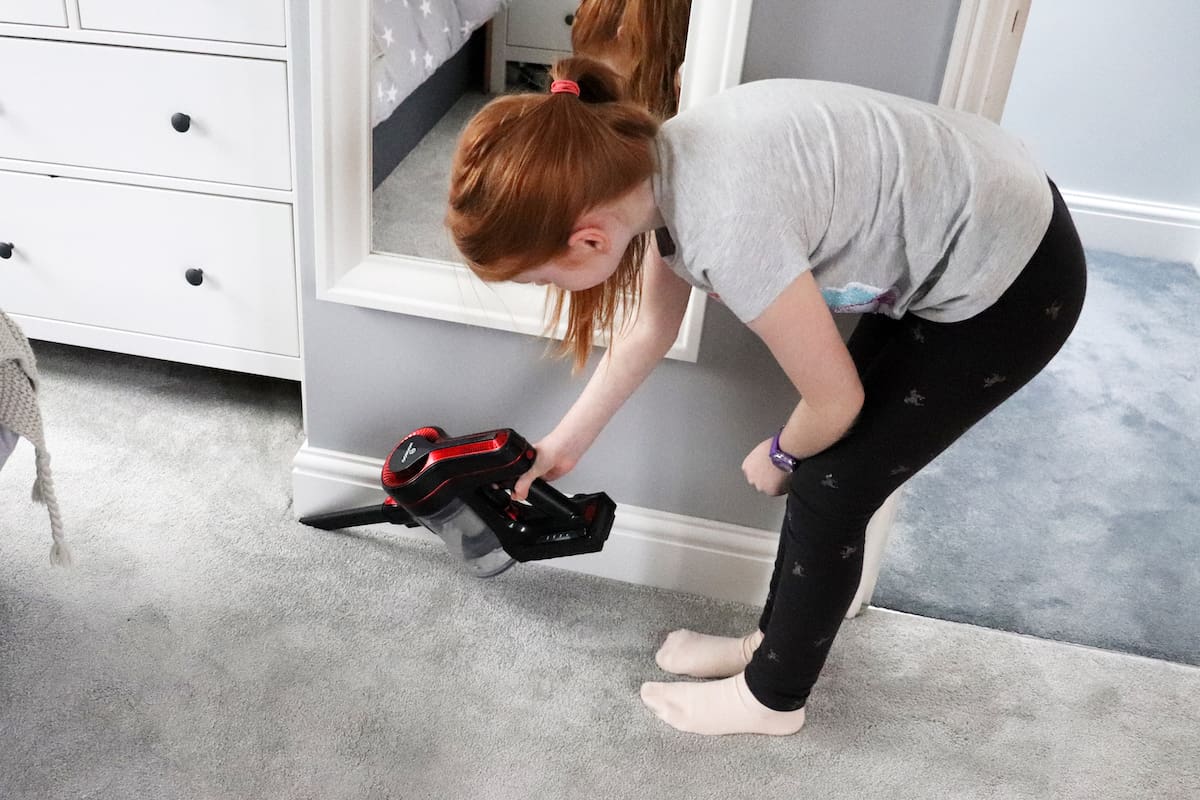 It also has a 4 stage fully sealed cyclone filtration system including HEPA to really get your house rid of bacteria and dust. It is recommended that the filter/sponge be cleaned regularly to stop the suction level reducing so this is something we'll build into our routine.
We've been using the MOOSOO cordless vacuum most days around the house – from our big, thorough, weekly vacuum to just here and there when needed in the kitchen and lounge. It only needs charging for us on to two times a week and the internal bin doesn't need emptying very regularly either – it has a huge capacity.
One thing I loved about the handheld stick vacuum is that any larger pieces it sucks up are automatically put in the waste bin. With other vacuums we've had we'd find larger pieces falling back out onto the carpet but the MOOSOO deals with them straight away. It's so efficient!
Overall, we have been really impressed with the MOOSOO 4-in-1, mainly due to its lightweight design and long battery life. It would be a fantastic investment for any home, especially those with children who want to help with jobs around the house or those getting older who can't manage traditional, heavy vacuums any longer.
At an RRP of £179.99 it is almost half as cheap as rival cordless manufacturers with comparable quality. Currently on offer at Amazon for £118.99, it's an absolute bargain and it's even cheaper when bought direct from MOOSOO – at under £90 with free delivery too.