*We were provided with this experience for the purpose of this post however all opinions are my own.
Last weekend Red Letter Days invited us to try Family Afternoon Tea at The Langham Hotel in London. It was a belated birthday treat for me and something we were all looking forward to. We love going for afternoon tea but it's not something where children are often catered for so it feels extra special when the children can have a proper afternoon tea experience too.
Afternoon Tea with Red Letter Days
Red Letter Days have so many afternoon tea experiences. They're simple to book and make fantastic gifts. Our experience was the Family Afternoon Tea at The Langham London for Two Adults and Two Children. It is valid Thursday to Sunday all year round aside from days like Valentines Day or Mother's Day. You can also upgrade on the day to add cocktails or champagne to your afternoon tea experience.
Family Afternoon Tea at The Langham London
The Langham is really easy to get to, round the corner from Oxford Circus. It's the perfect place to stop during a shopping trip in London, a day at the theatre or on a sightseeing break.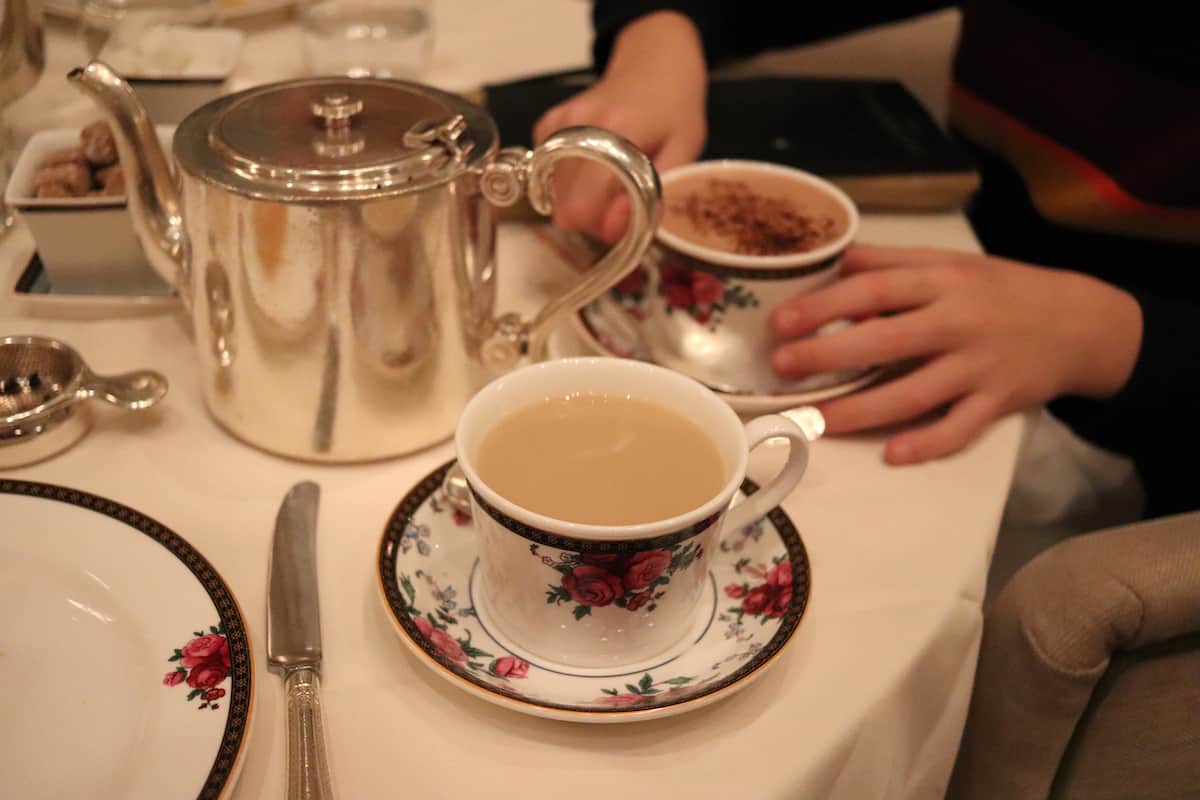 The five star hotel is beautiful. With so many staff to open doors and take your coat, it's a really luxurious experience. But, Palm Court, where afternoon tea is served, has a smart casual dress code. So you don't have to worry about dressing up too much for your day in London, we felt completely at home there with the children and were made to feel really welcome.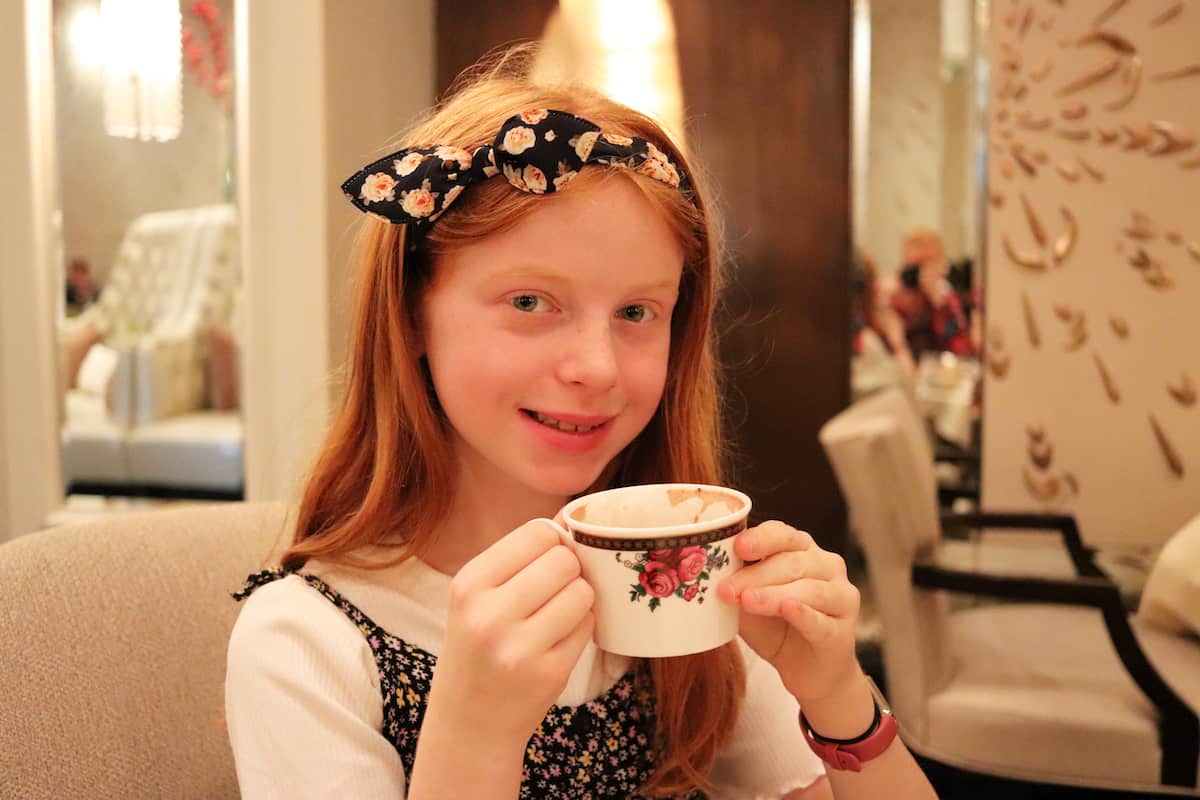 We were shown to our seats and the Langham afternoon tea service was explained to us. Rather than everything coming out at once, as is usually the case with afternoon tea, they bring everything out as courses. Sandwiches, followed by pastries and then scones to finish.
This means that everything is super fresh when you get it the table doesn't get to full up at any point. Plus, there are really attentive staff to keep the drinks flowing and the experience moving on nicely. You're allocated a table for an hour and forty five minutes which is a really nice amount of time for afternoon tea.
Palm Court at The Langham
Palm Court, The Langham restaurant where afternoon tea is served, is a beautiful place to spend time. With comfy chairs, beautiful crockery, flowers on every table and a pianist playing beautiful versions of modern pop songs, it could not be a nicer place to have afternoon tea. The ambient lighting was lovely – although I do always have a preference for natural light.
Our afternoon tea started with sandwiches. The children had jigsaw shaped sandwiches with cheese, ham, jam and cream cheese and cucumber in them whilst the adults had Pastrami and hispi sauerkraut mustard on caraway bread, cucumber and cream cheese on white bread, eggs with black truffle on pain de mie bread and hot smoked salmon and sour on tomato bread.
The sandwiches were delicious. Beautifully cut, with not a crust in sight and so full of flavour. We were brought a second round of sandwiches out and I'm sure could have had even more if we'd wanted.
We had a choice of teas to accompany the food and the children had a choice of apple hibiscus tea, hot chocolate or fruit juice. They both chose hot chocolate and it may have been the fanciest hot chocolate they have ever had – served in the most beautiful china too.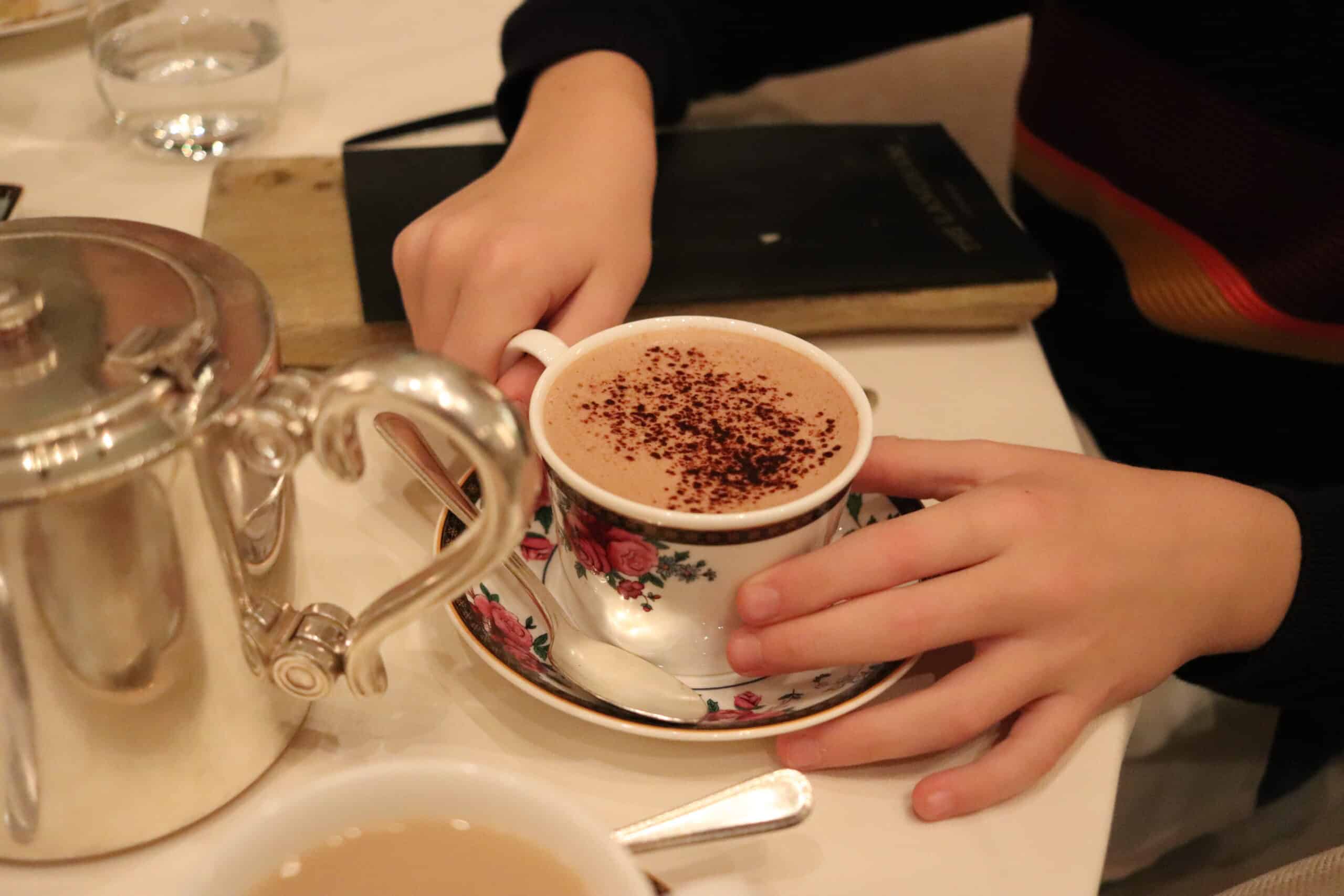 Next, we had our pastries. Little Man commented when we first sat down that they only had one pastry and he couldn't hide his disappointment. But, when his custard cream arrived in front of him he couldn't have been happier. It was huge – and amazing!
The Langham custard cream was like a pinata, where you break it open to reveal surprises inside. It was served with vanilla, malted milk and treats inside – fresh berries and homemade chocolate marshmallows. The children loved it.
Dave and I had a selection of treats all a twist on classic sweets. We had four each and then a Twister inspired one to share which was presented to me with a Happy Birthday chocolate plaque and a candle in the top. Such a lovely touch!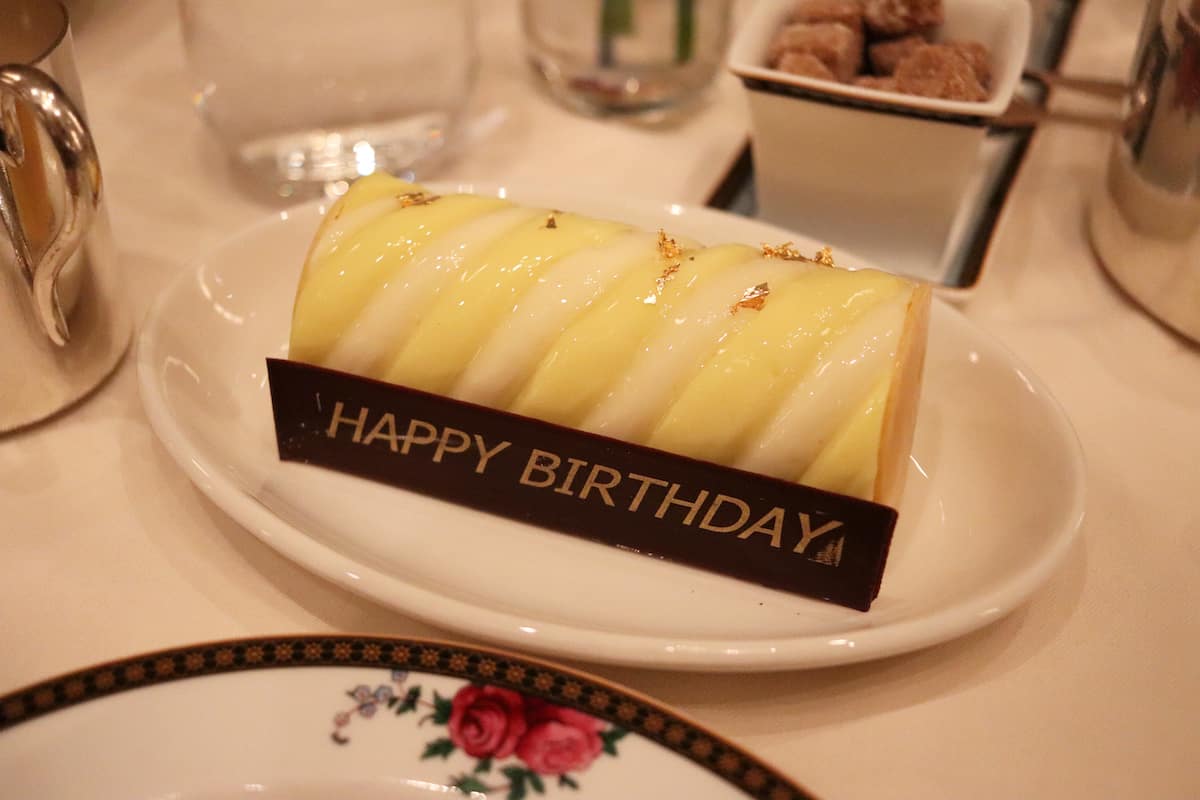 The pastries were a real mix of flavours – a reimagined Rafaello, a new take on a custard cream, a Tunnock Tea Cake inspired treat and what was instantly recognisable as a Sherbet Dip Dab lolly. The flavours were incredible and we took our time savouring them all.
The Twister ended up being our favourite. Light sponge, mango jelly and all the flavours of a classic Twister but in an amazing dessert form. All four of us ended up sharing it and it could not have been a better way to finish our pastry course.
By this point we were all so full but we had to leave room for scones! A traditional tiered cake stand was brought to the table with warm scones, cream, strawberry jam and raspberry jam. The scones were so fresh and we did our best to eat them but afternoon tea is so filling! They were delicious.
We left The Langham feeling so happy and satisfied. It was such a lovely afternoon tea experience and a real treat for us as a family. The food was amazing, the atmosphere was lovely and the staff couldn't have been more friendly and attentive. It was the perfect way to celebrate my birthday and enjoy some quality time together.
You can find out more about the Langham afternoon tea experience on the Red Letter Days website and you can see the full afternoon tea menu and children's afternoon tea menu here. For reference, The Langham hotel address is: 1C Portland Place, London W1B 1JA