Disclosure: We were invited on this break for the purpose of this review however all opinions are my own.
Every Mum needs a little break away every so often so when I heard about the Holiday Inn Mummymoon package it was something I just had to try. I was invited to the Holiday Inn Oxford along with my lovely friend Natalie to review the Mummymoon and we couldn't wait to have some time out and relax.
The Holiday Inn Mummymoon is aimed at Mums in need of some time to themselves and a good night's sleep. The Mummymoon at each hotel varies but our package included an overnight stay, three course dinner, breakfast, a beauty treatment, use of the leisure facilities, fluffy robes and complimentary magazines. To say we were looking forward to the break is an understatement – it sounded like heaven!
We found the Holiday Inn really easily – straight off the motorway. It has so much parking and although it's basically next to motorway services it has a really pretty and welcoming exterior, and it's well soundproofed so you can't hear any noise from the roads.
We checked in easily and found our room, a really good size twin with everything we needed for our stay. There were tea and coffee making facilities, an iron and ironing board, hairdryer and even a drinks chiller.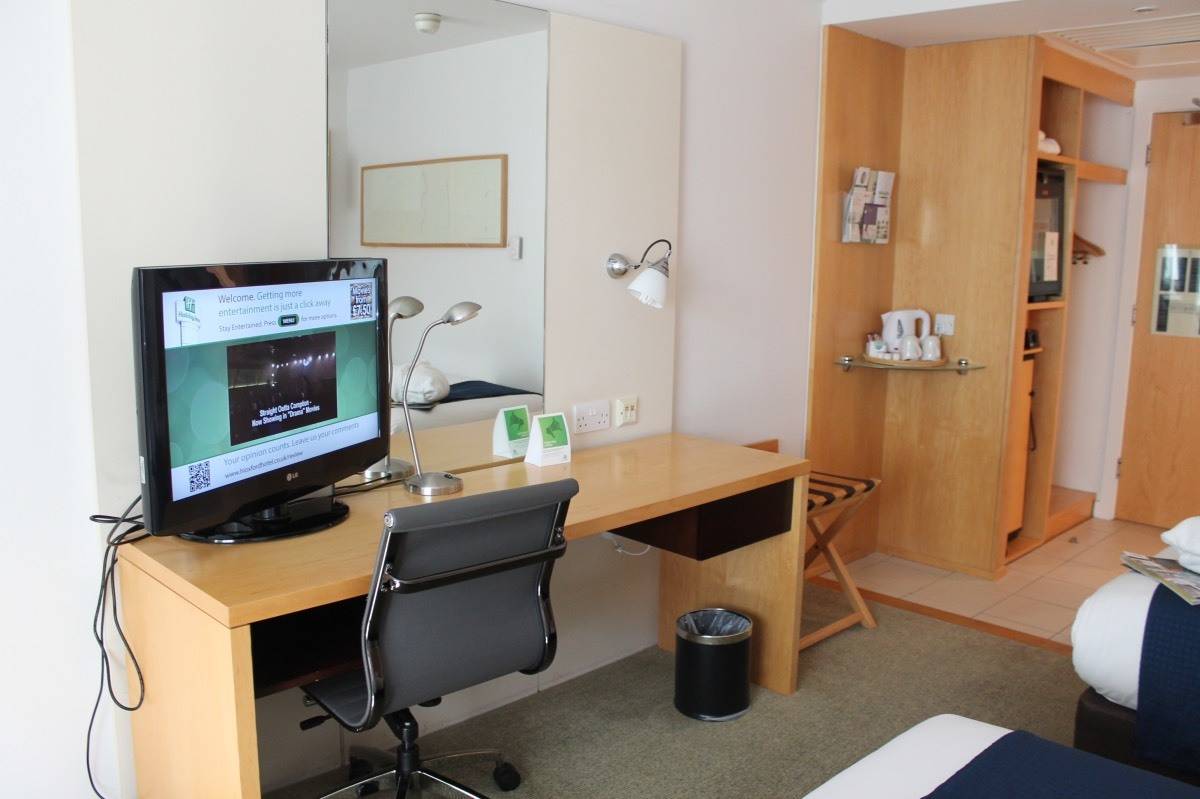 The bathroom was a good size with plenty of towels and complimentary toiletries. We were even left fluffy robes, slippers and magazines on our beds. We really didn't need anything else.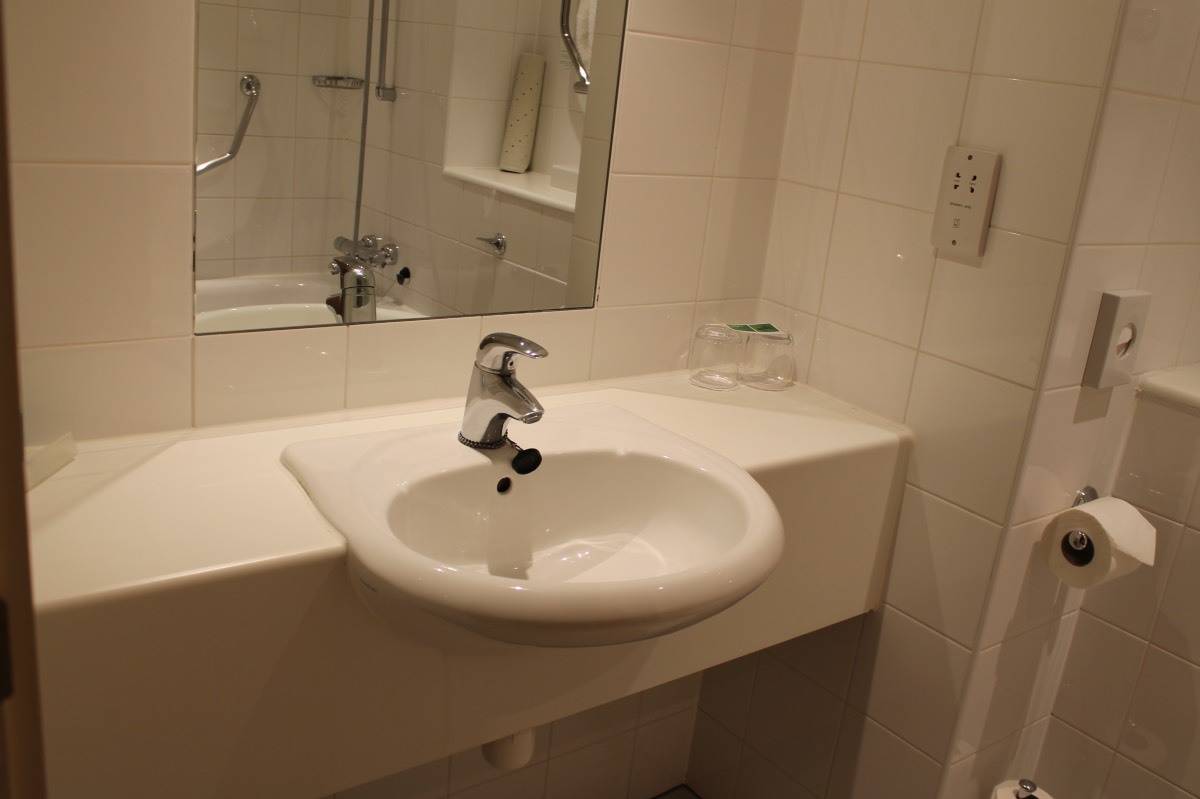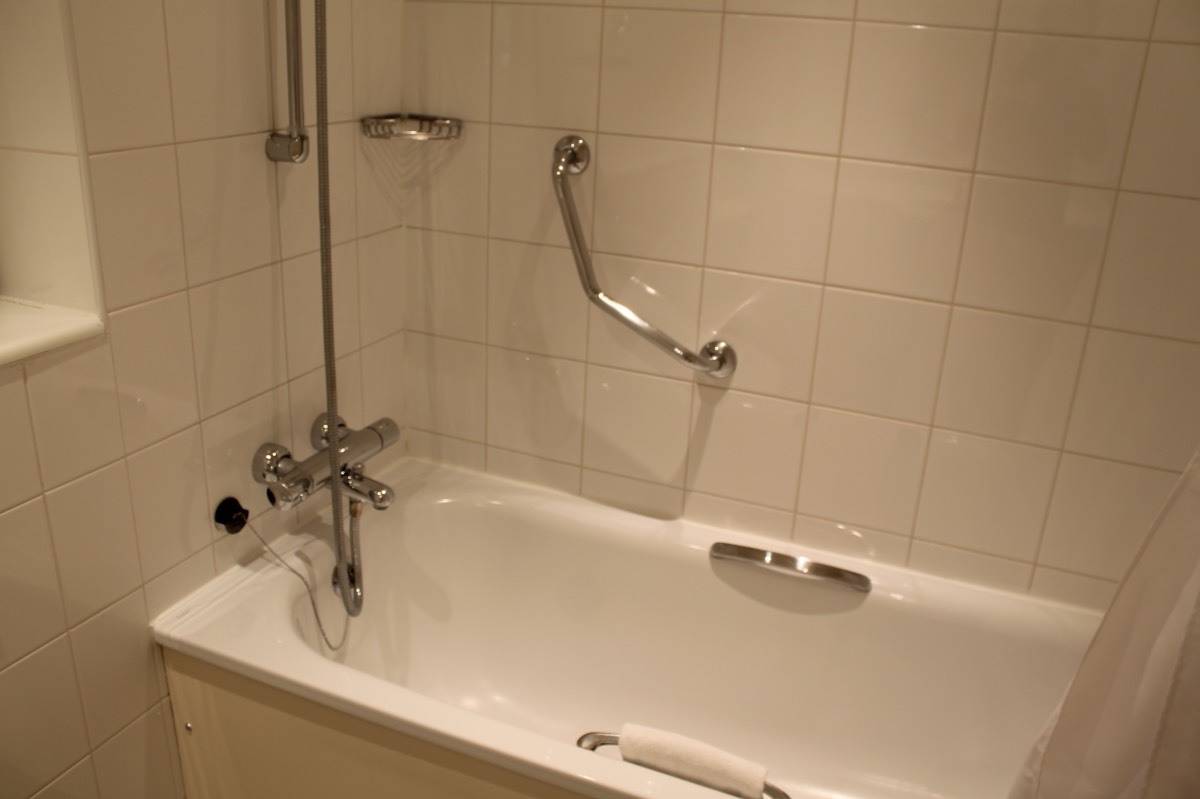 After we checked in we went and had our beauty treatments. The beautician was so lovely and friendly and I had the most amazing pedicure – Natalie went for a back and shoulder massage. The treatment rooms are well equipped and the list of available treatments is extensive with just so much on offer.
After our treatments we spent a good hour and a half in the pool and using the jacuzzi, sauna and steam room. The changing rooms were a really good size with showers, complimentary hair and body wash and even hair drying stations and a machine to dry your costume. Holiday Inn have thought of everything!
Whilst we were in the pool some children's swimming lessons were going on. It didn't disturb us and the pool was portioned off so that you were still able to use the pool. It was actually nice to see that Holiday Inn is such a family friendly place to visit.
We spent such a nice afternoon in the pool and then went back to our room to relax before dinner. We found that there was complimentary wi-fi for up to two devices per room and the option to upgrade to high speed internet – or add more devices – at an extra small charge. The only slight niggle was that there were no plug sockets next to the bed, a bug bear of mine in many hotels.
We had dinner in The Junction restaurant and the atmosphere was lovely. It had a modern feel but was really relaxed too with no set dress code. Natalie and I chose three courses from the really nice, varied menu and there were specials to choose from too. For starters Natalie chose the Creamy Mushrooms and I had the Farmhouse Style Pate. Both were lovely, just the right portion size and a great start to our meal.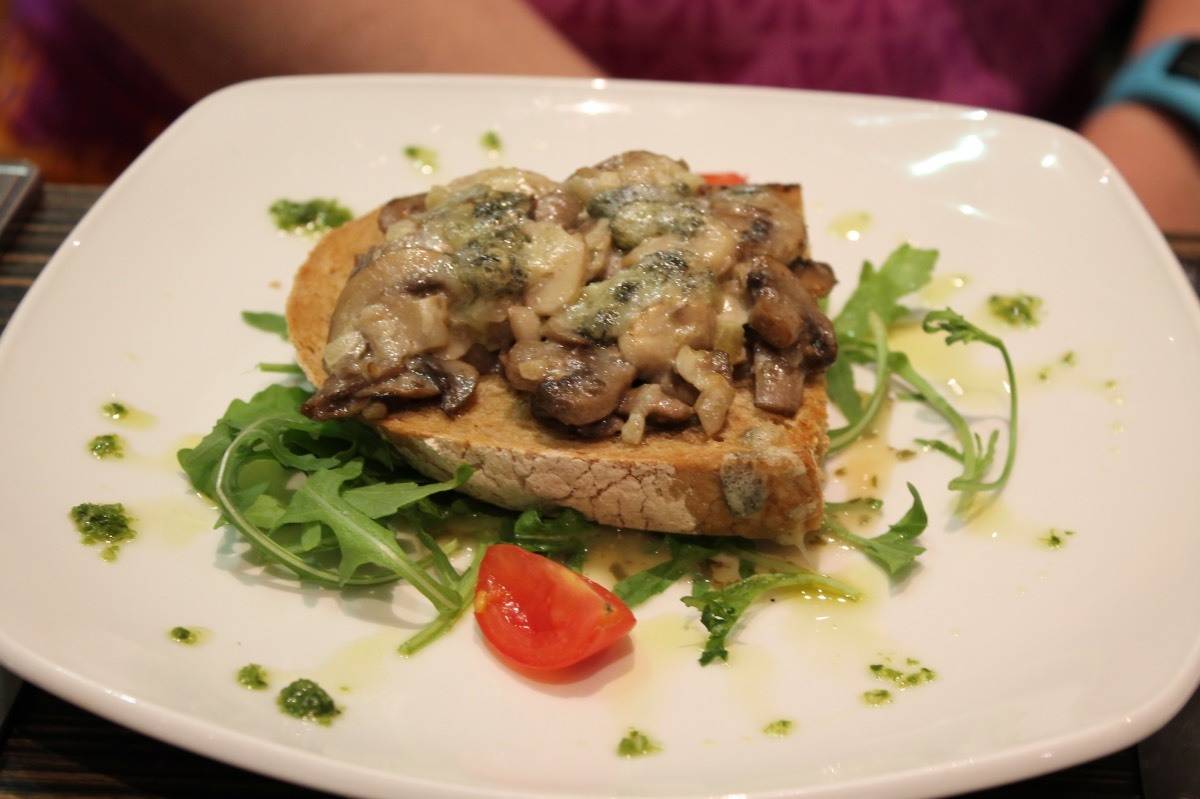 For mains I went for the Salmon Steak which was perfectly cooked and presented beautifully too. I don't usually eat a lot of fish so it was a lovely change and the flavours worked well together. Natalie chose the Falafel Burger which was huge and came with a good size portion of fries too – a really filling meal!
For dessert I went for the Sticky Toffee Pudding which was a really good size and just the right temperature but could have done with more ice cream. Natalie chose the White Chocolate & Raspberry Panacotta which was the perfect way to finish her meal – really light and refreshing.
After dinner we spent some time in the bar which was a really nice place to relax and unwind. During the week it seems like Holiday Inn is mainly full of business people but I'm sure it would attract a more diverse group over weekends. It really was a lovely place to stay and as it's only three miles from Oxford it would be the perfect base to explore.
Natalie and I ended up staying late, chatting and relaxing in our room before heading to bed. The beds were really comfortable, the pillows were perfect and I had literally the best night's sleep I have had in ages. I woke up at 7am feeling completely refreshed and awake – a feeling I haven't had in a long time!
We were offered a room service breakfast as part of our Mummymoon package but we wanted to make use of the swimming facilities again and so didn't know what our plan would be for the morning. Instead we went down to The Junction restaurant and had the buffet breakfast.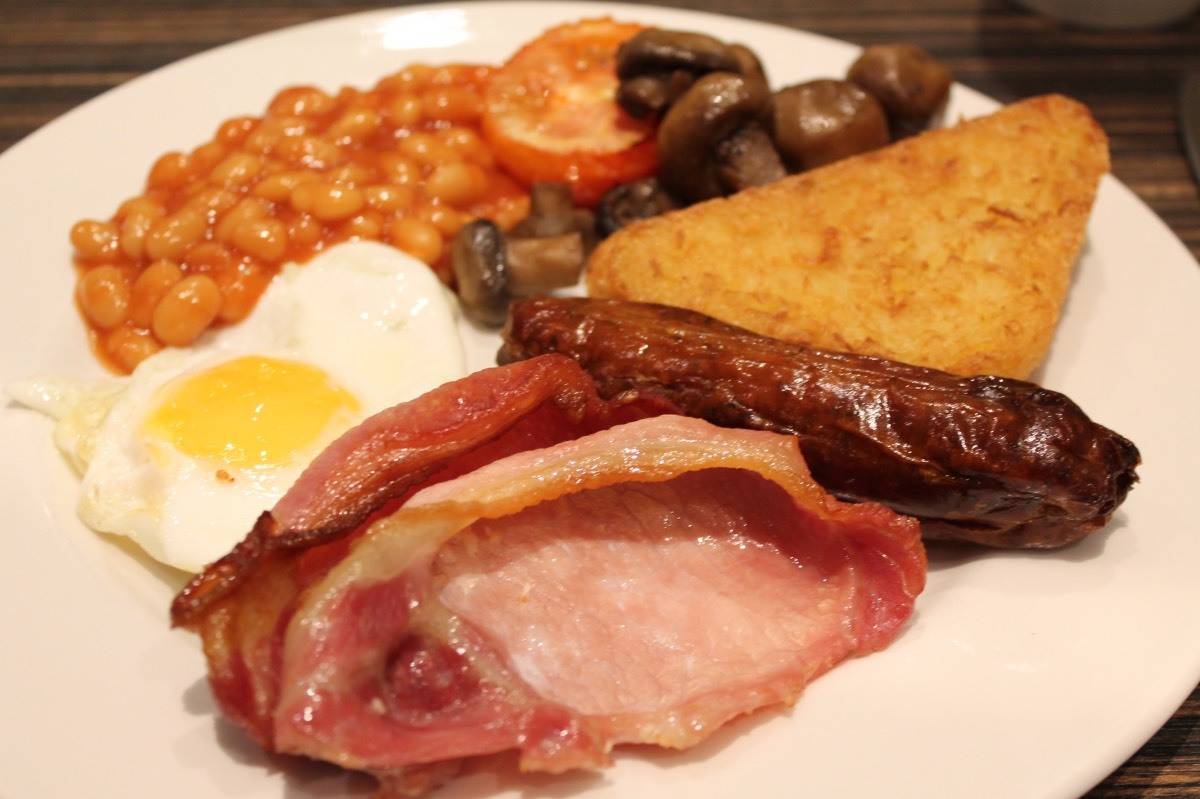 The breakfast range was fantastic with everything you'd expect from a cooked breakfast, plenty of cereals, fruit, hams and cheeses as well as cakes, pastries and even a pancake making machine! We both made sure we sampled as much as possible – you have to really, don't you?!
We had a bit of a relax after breakfast back at our room and the went to the fitness centre gym. This was actually my first ever gym experience and I really enjoyed it. There was a great range of machines and it wasn't very busy at all, a good introduction for me!
We then had another swift visit to the pool, steam room and sauna before we checked out and both left feeling completely refreshed. We had a really lovely stay and both commented on how we would go back again tomorrow.
The Holiday Inn Mummymoon is aimed at Mums who are in need of a relax, time to themselves – or time with friends – and a decent night sleep. I definitely came away from it feeling more relaxed than I have done in quite a while and having had just the best night's sleep. If you're a Mum, or just someone who would love time out, a chance to relax and a great sleep then I can't recommend Holiday Inn enough.
Holiday Inn Oxford is well located for days trips like Blenheim Palace, has free parking, air conditioning and is really just a lovely place to stay. You can find out more on the Holiday Inn website and for reference the address is: Peartree Roundabout, Woodstock Rd, Oxford OX2 8JD