*This is a paid post
At Christmas we always have something to read wrapped up under the tree but this year I'd like to introduce you to a great innovative gift idea that the recipient can use throughout the year. Readly – unlimited magazines at your fingertips.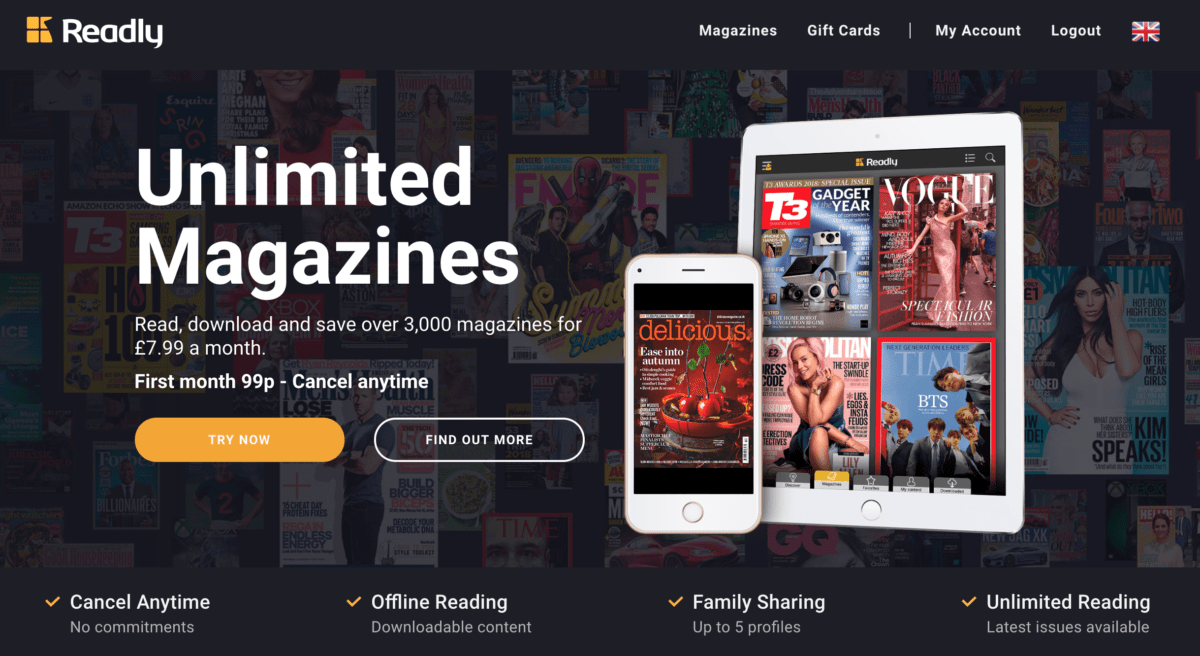 Readly is a magazine app with a difference. It lets the whole family read as many magazines as they like each month for just £7.99 – the price of just a couple of traditional magazines.
The app gives you access to literally thousands of titles and includes current and over 12 months of back issues too. It's a whole, ever-expanding library of magazines with something to suit every member of the family, every interest and every personality.
Setting up a profile is easy and you can have up to five profiles on one account. This is a great feature that lets the whole family enjoy whatever they like reading for one low price. What's more, Readly is available for iOS devices and Android devices which includes Amazon Kindle Fire tablets – perfect for young children.
Once a profile is set up, which includes your age and gender along with optional parental controls to filter content that might be deemed inappropriate for young readers, you are asked to add a few suggestions of titles that you might enjoy. Readly will then take you to the latest edition of your favourite magazines.
Readly downloads each issue in no time at all, and it also automatically downloads the latest issue when it is released if you want it to. With an optional email alert for day of release, you'll never miss an issue!
The download feature is fantastic for reading offline. You are able to download up to five hundred magazines at a time to read wherever you might be. This really comes into its own on long journeys where mobile signal or WiFi isn't available and it means, like with eBooks, you can read anywhere in the world – by the pool, on the beach, on a plane or even in the bath. Readly also deletes the oldest magazine on your device if you reach your limit to make way for new ones.
The app offers suggestions of new magazines for you to try based on your favourites and you can also search for things to read by keyword searching. This doesn't just search for titles but Readly will also search the content of the magazines too. You can literally try any magazine with absolutely nothing to lose and it may even help you find a whole array of new reading material you hadn't thought of before.
Another feature we love with Readly is the interactivity. Web links in magazines will open your default browser. When you turn each page it rolls like a real magazine too, so much nicer than just moving to the next page. You can have a double page spread on view or half a page which you then scroll down, depending on what works best for you. Crossword and puzzle books are also available and are fully interactive too, with the keyboard popping up when you press on the screen. Readly will remember what you've filled in so you can take a break and come back to it when you've rested your brain. You can also place bookmarks in Readly to easily skip between pages that catch your eye but that you might not want to read just yet.
The Readly app will change the way you subscribe to your favourite magazines and help you to discover new titles for one amazing price. Readly is currently offering your first two months subscription for just £1.99, which is an absolute bargain for unlimited reading and definitely worth a try. You can find out more here.
Readly also has gift subscriptions available for 3, 6, 9 or 12 months so this Christmas why not give someone the gift of unlimited magazines? It's so nice to have a whole shelf full of magazines right there in your pocket. Readly is definitely something I would love under the Christmas tree this year.