Disclosure: We were invited on this break for the purpose of this review however all opinions are my own.
Earlier this week Lauren and I went to Needham House hotel for a little break away. It's situated just outside Stevenage in Hertfordshire and is really easily accessible from London and the home counties. We arrived in the early afternoon, parked easily and loved how secluded the hotel felt although we had only turned off the A1 minutes earlier!
Needham House had such a lovely welcoming feel and as soon as we walked inside we were greeted warmly and got to experience the wonderful decor of the bar and lounge area – such a friendly, welcoming space where, over the course of our break, we got to relax, have a drink, chat and even get some work done. It's a really versatile space perfect for any use.
We were directed to our room and couldn't have been happier with it. The executive room had such a lovely feel to it – with really modern finishes that still kept the period charm of the property. There was beautiful wallpaper on the walls, funky orange accent lamps and a well stocked tea and coffee tray – complete with tea pot.
The room had everything we could need – fluffy robes and slippers, wifi, complimentary toiletries and even plug sockets beside the bed – big brownie points for that one. Often I go to hotels and the room isn't very exciting but I don't think much of it – it's just somewhere to sleep, after all. But, our room at Needham House was somewhere we wanted to spend time, somewhere we were happy to relax and just a really lovely space.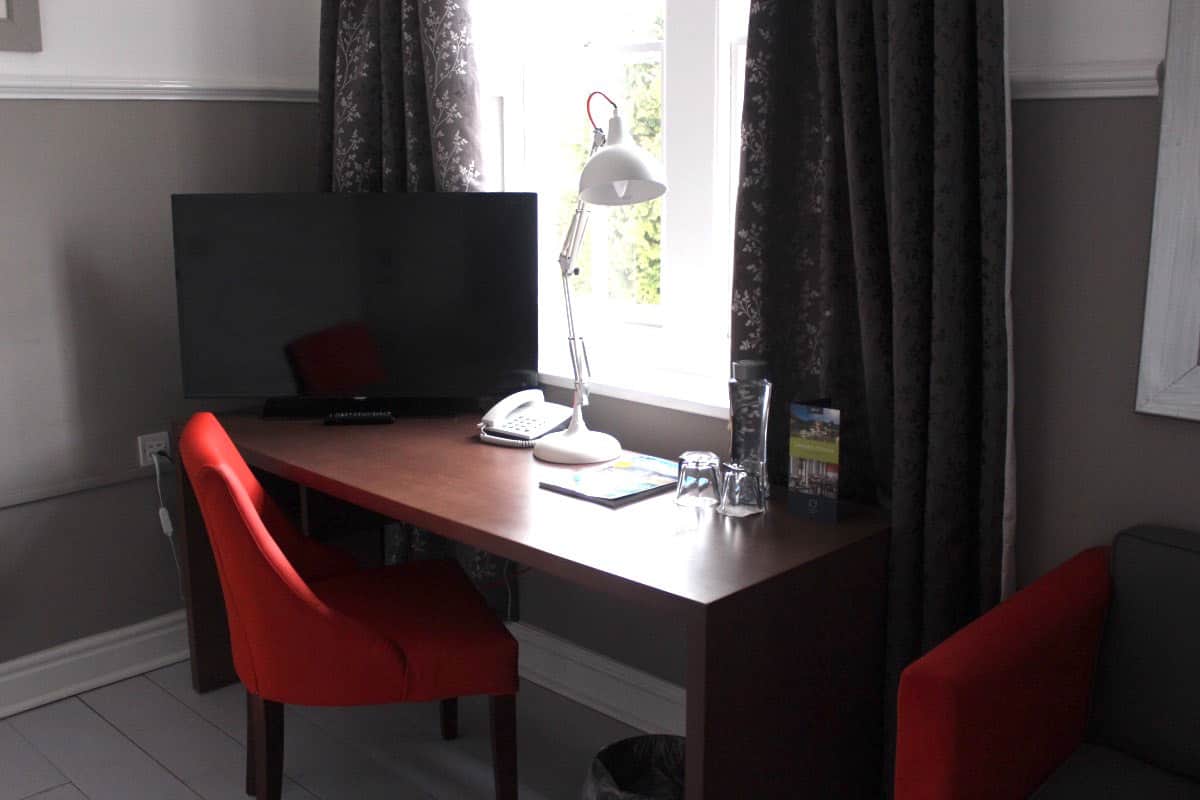 We were able to make use of the spa facilities which the hotel describe as a dry spa. There's a sauna, steam room and relaxation room – so no pool or jacuzzi but it was a really nice place to relax. Lauren and I both had spa treatments and my ESPA Lifesaving Back Treatment was both relaxing and therapeutic. It was deep cleansing with body brushing and exfoliation followed by a luxurious aromatherapy massage and body mask. It couldn't have been a better way to unwind and relax.
The spa facilities may not be the best for a day of relaxing but they compliment the treatments and the treatments are definitely the main focus of any trip to the Needham House spa and it would be a great place to relax for a couple of hours as part of a hotel stay.
We had dinner in the SG4 Brasserie which, like the rest of the hotel, had a mix of traditional and modern decor that worked so well. There was nice music playing in the background and it was a lovely place to have a meal. After ordering our food we were brought a generous basket of bread and a selection of butters to enjoy whilst we waited for our starters to arrive.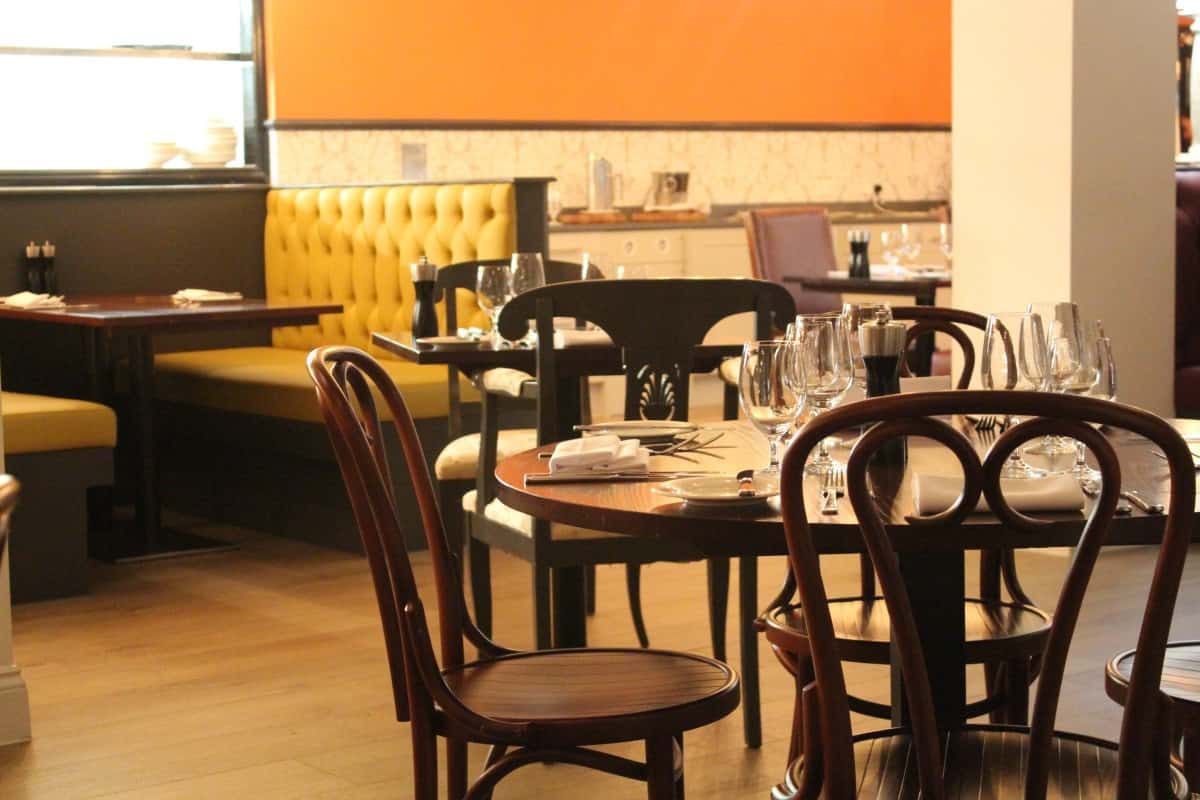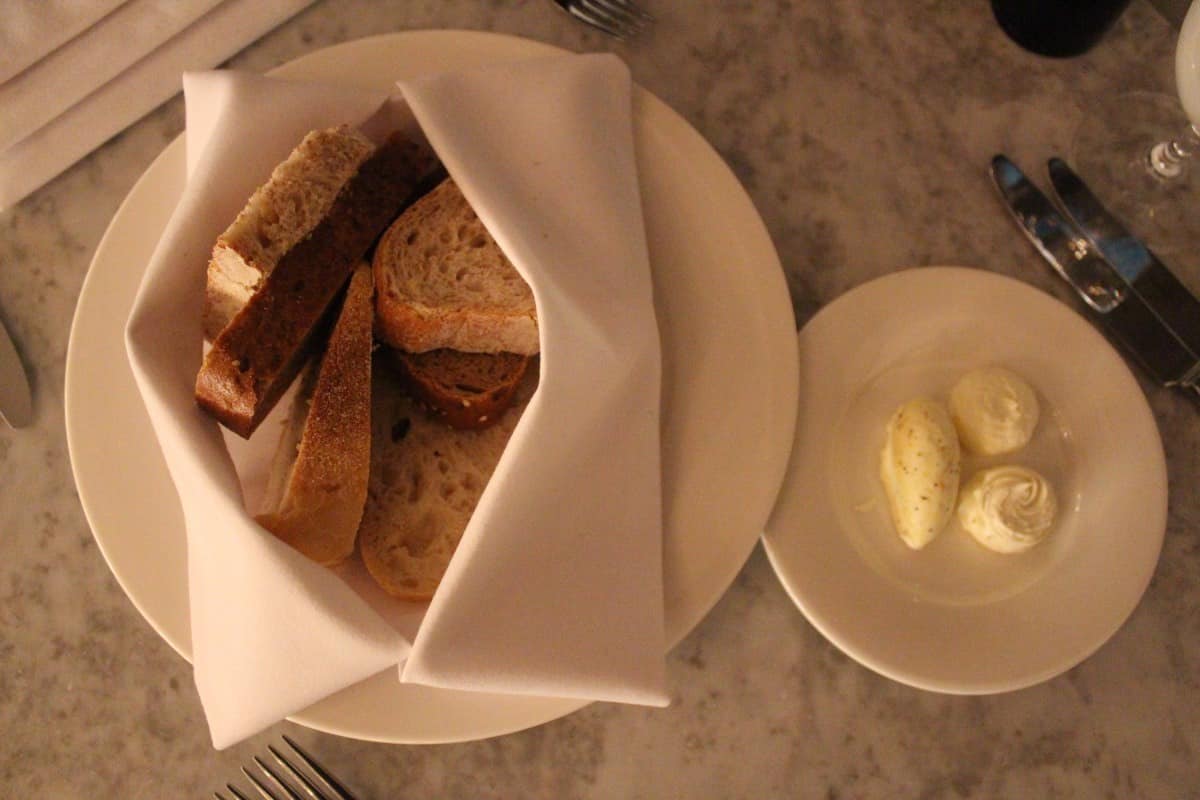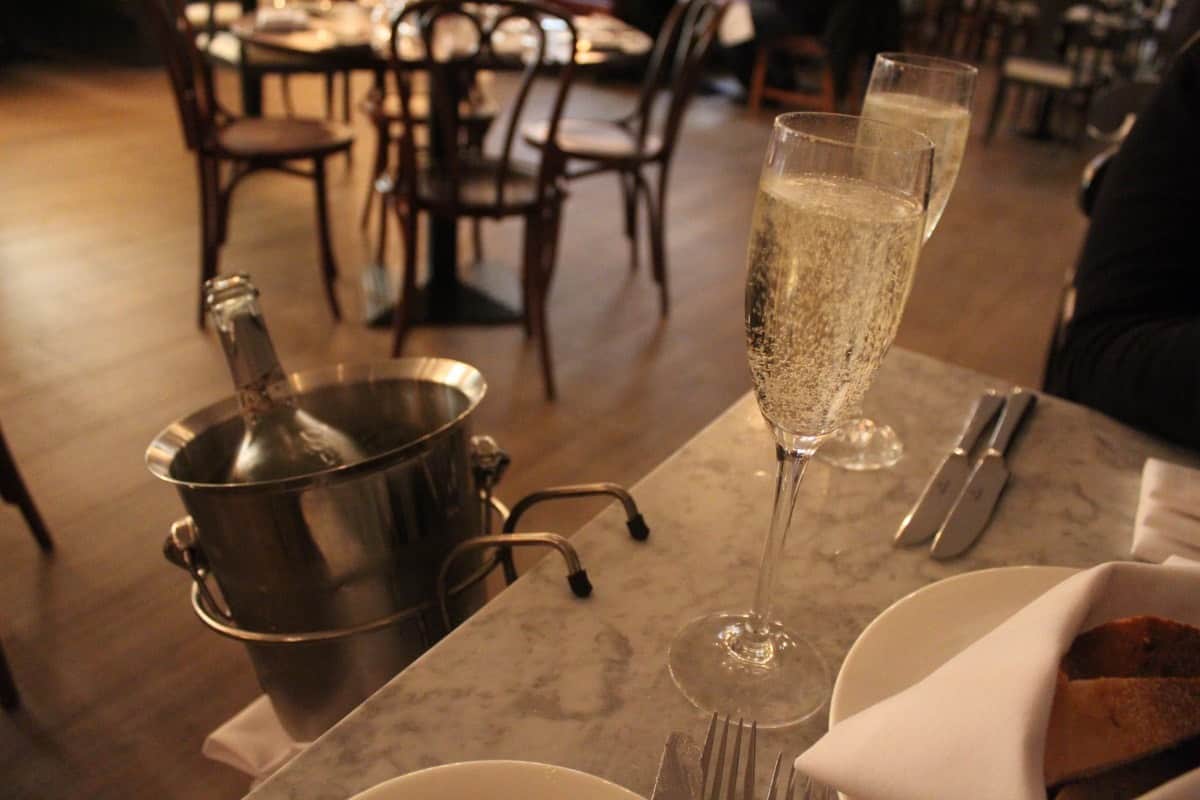 For our starters Lauren had Maple Glazed Smoked Ham Hock served with pearl barley, caramelised ham hock broth, apples and celery. It was served without the broth to let you pour the broth over once the plate was in front of you and it was a really lovely starter.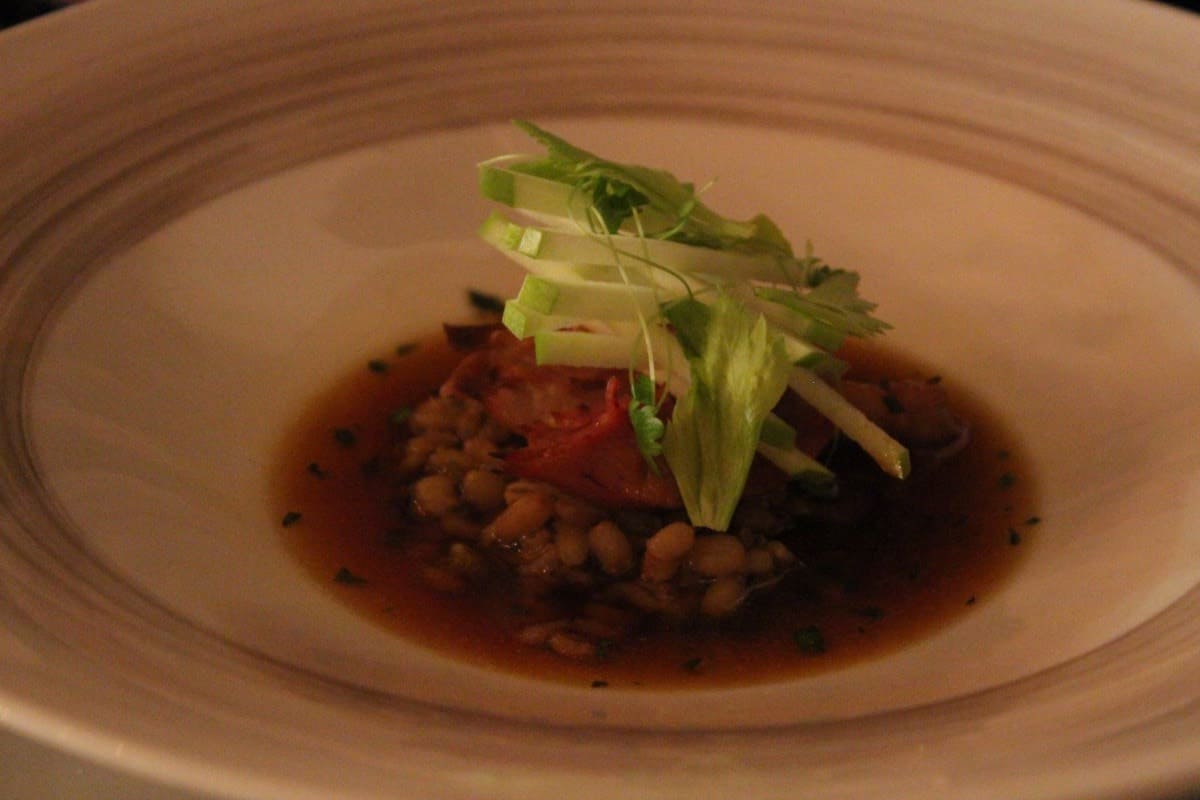 I went for the Scotch Egg served with tomato chutney and kohirabo remoulade. I don't think that description does it justice as it was one of the nicest starters I have had in such a long time. Both the egg and remoulade were so full of flavour and it all worked so well together.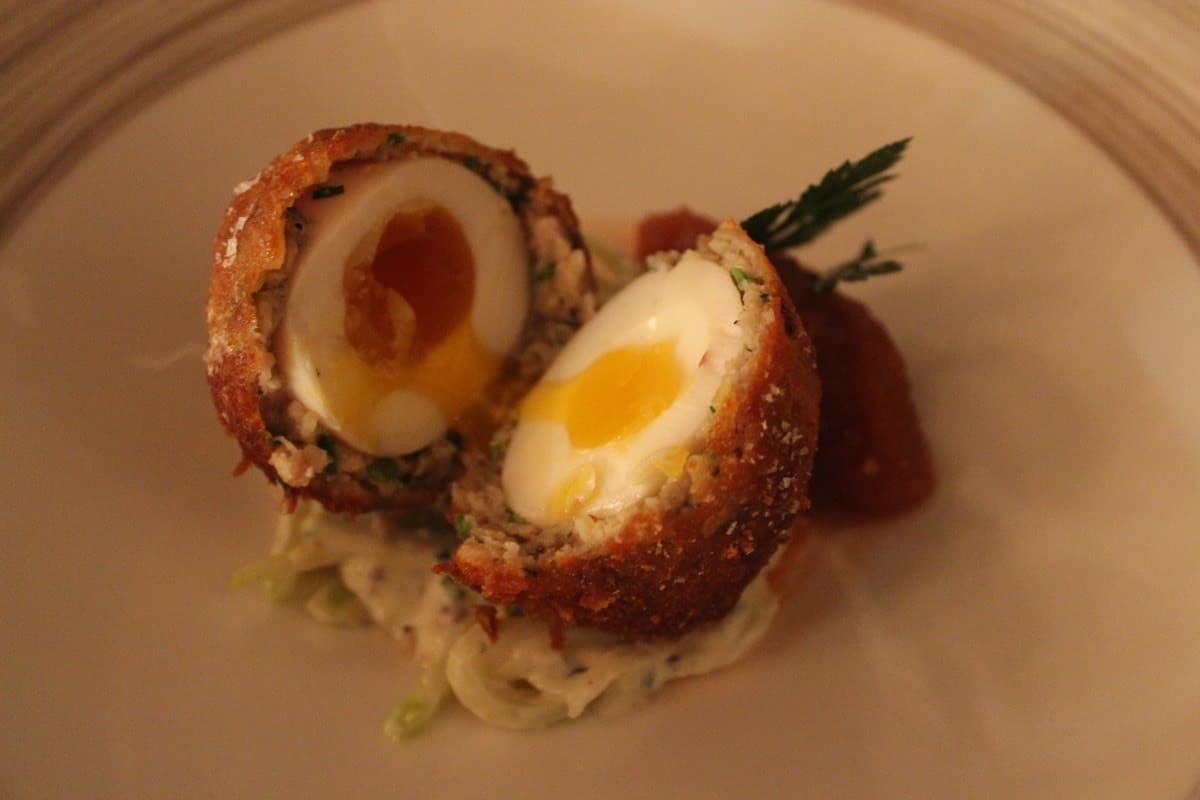 For her main Lauren went for the Honey Glazed Duck Breast which was a beautiful meal with so much duck cooked to perfection. I went for the Dingley Dell Pork Tenderloin which would be a great alternative to a roast dinner – and so much nicer to look at too! It had so many flavours – of black pudding, turnip and apple which all complimented the pork perfectly.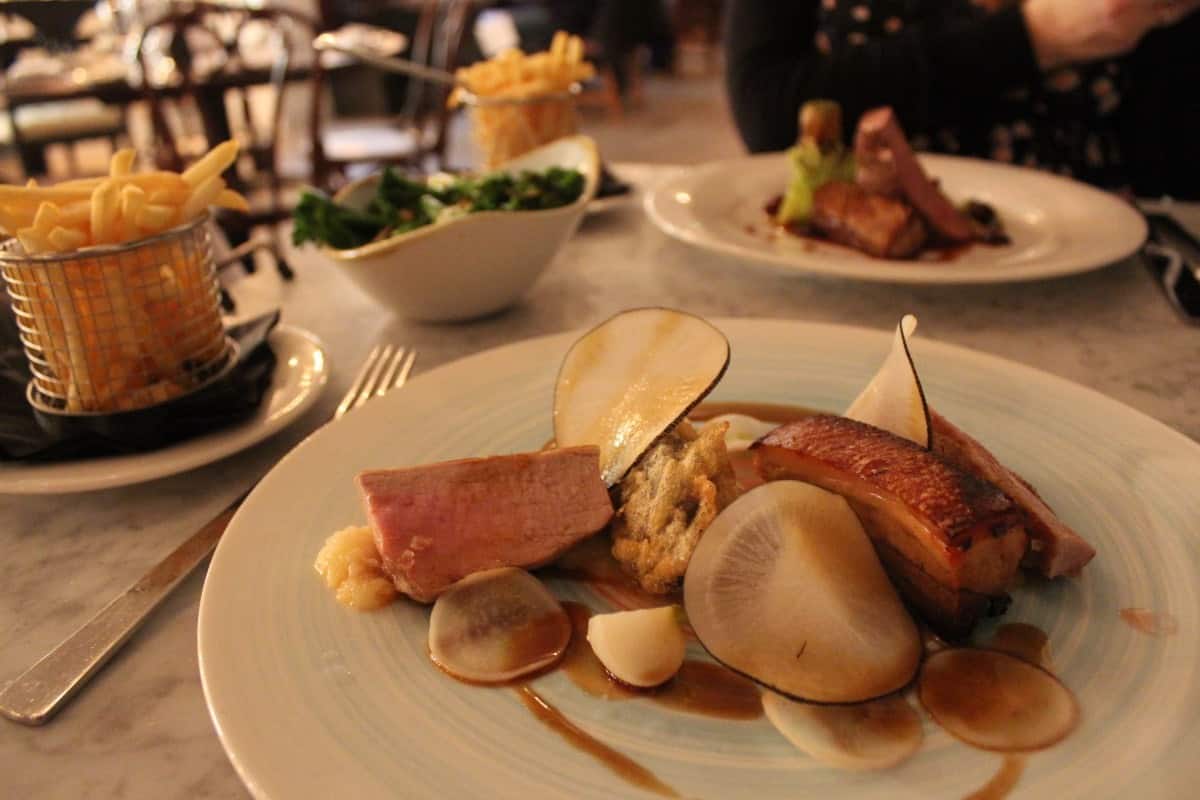 We also had fries and tenderstem broccoli on the side which were the perfect additions to our meal. I know, french fries may not be typical fine dining choices but they were beautifully cooked and we really enjoyed them. The broccoli was cooked with almonds and it was such a nice combination.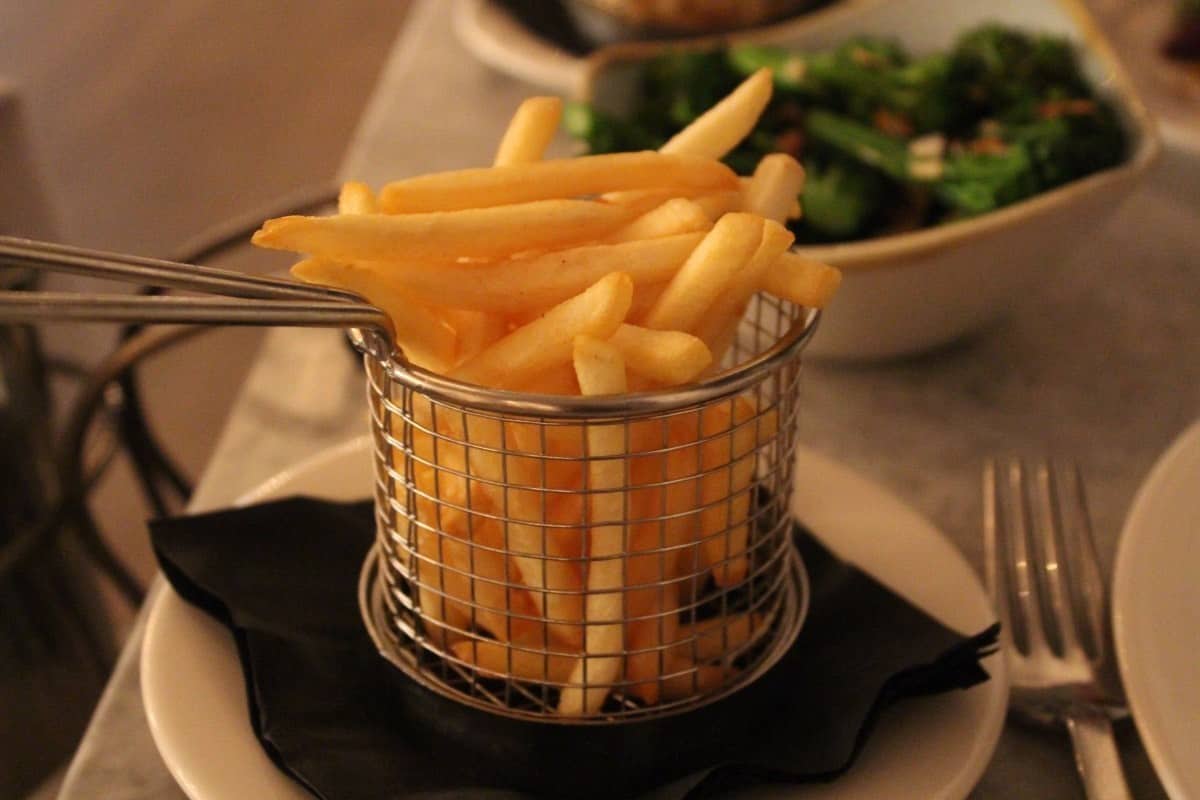 For dessert I chose the Lemon Meringue which was unlike any lemon meringue I have ever tasted, it was deconstructed and had shortbread, beautifully light meringue as well as more firm meringue, a lemon ice cream and lemon curd. It was so light and full of flavour – the perfect end to my meal.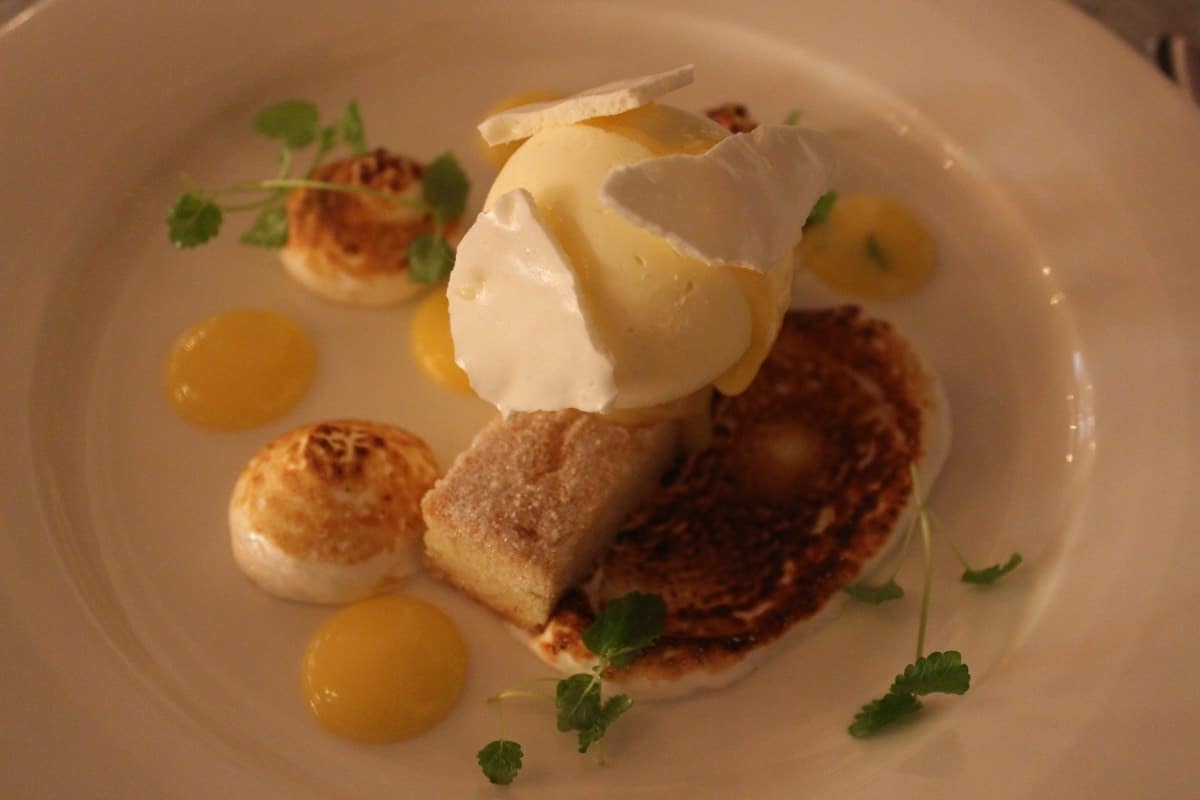 Lauren went for the Chocolate Mille Feuille which looked like something from Masterchef. It was so beautifully presented and had so many different components. It was rich and full of flavour and a great choice for dessert.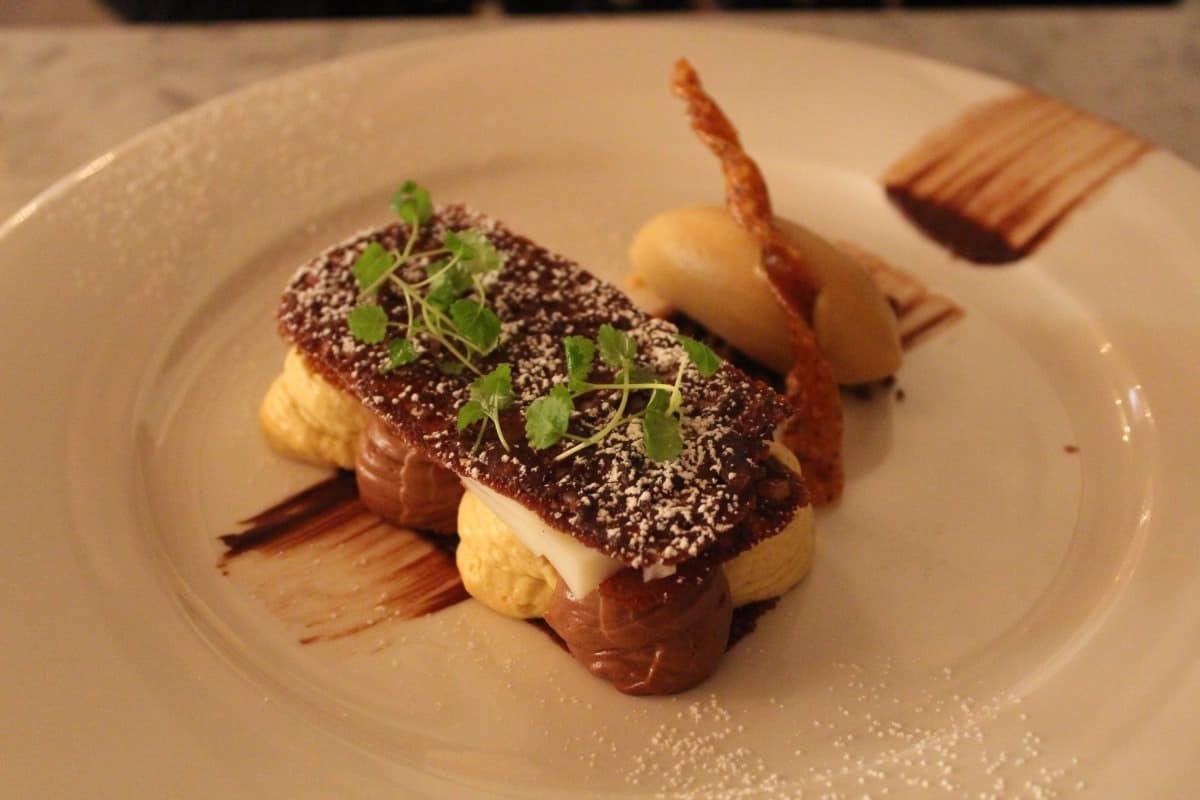 Our meal was wonderful. The restaurant had such a relaxed atmosphere but with beautiful food and it was just such a lovely place to spend an evening. The bar and lounge area have a lovely atmosphere too and as they specialise in gin I felt right at home – our drinks before dinner were lovely and if we hadn't been so tired we probably would have had another after dinner too!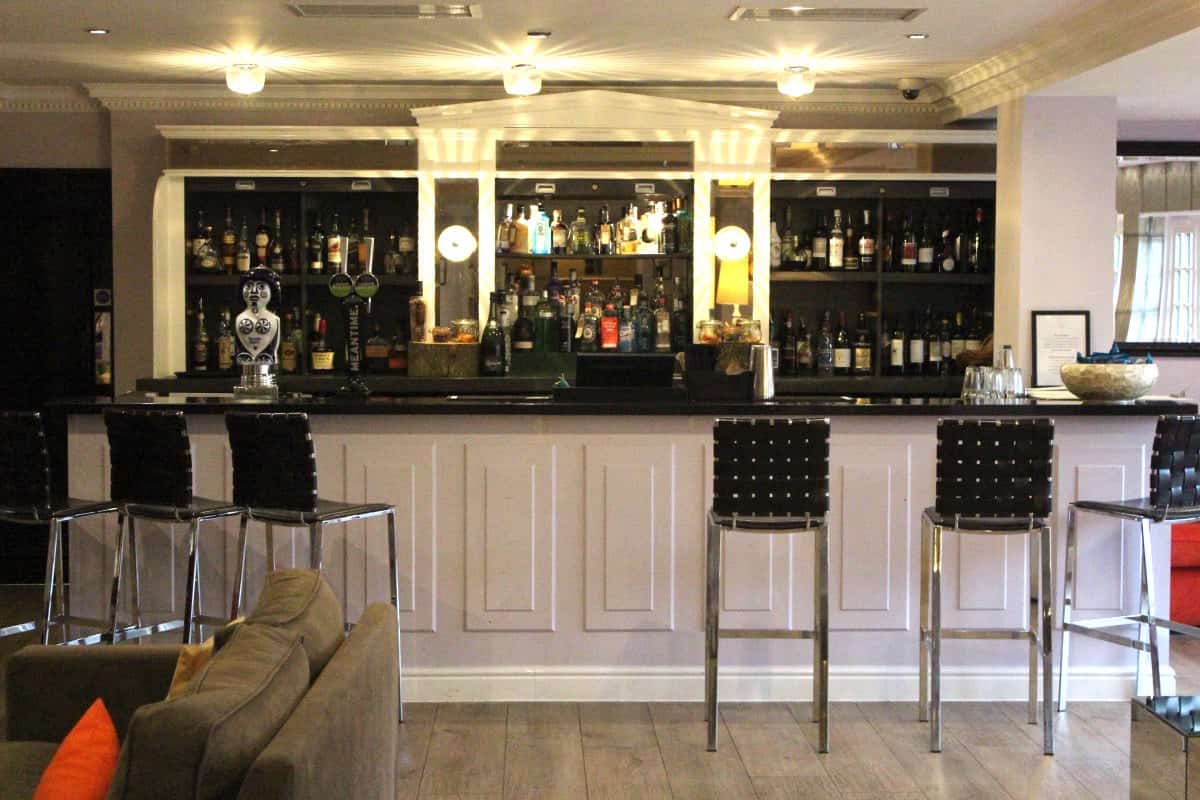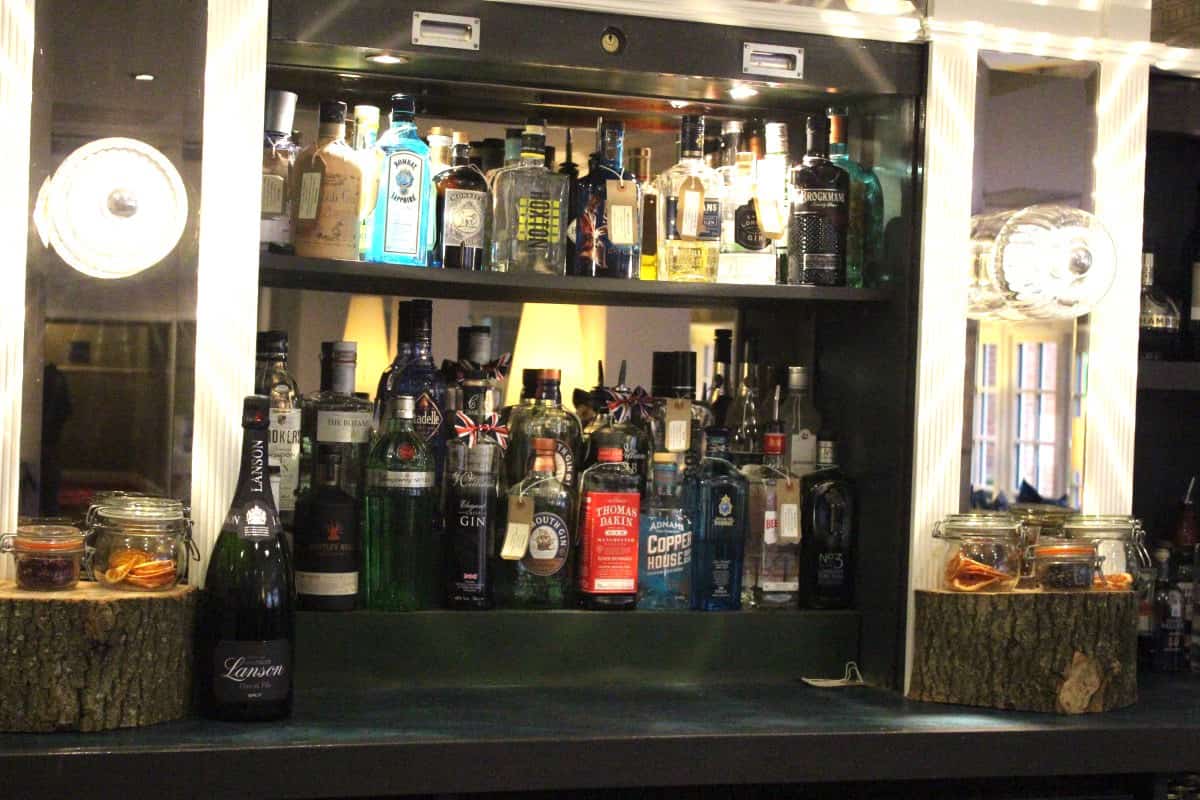 Instead, we headed back to our room for a cup of tea and TV before having such a good night's sleep. Our only niggle was that, as the corridors have wooden floors there was quite a lot of noise from people walking up and down – and we were both woken early by someone dropping something outside. This can't be helped but a carpeted corridor would definitely help to reduce the noise – and give an even better night's sleep.
We had breakfast in the same room where we'd had dinner and got to choose a cooked breakfast from a selection which are all made to order. But we were also able to help ourselves from the continental buffet where there was so much fruit, pastries, cereals and yogurt.
There were also machines to make tea and coffee, fresh juices and water. Both Lauren and I had full english breakfasts with poached eggs and they couldn't have been cooked any better. It was definitely a great start to the day. The only criticism I could possibly make was that the additional garnishes on our breakfasts weren't really needed – and the same greenery had been on our desserts too!
After breakfast we checked out and relaxed in the bar, chatting, working and just passing time. It was such a nice space to sit and watch the world go by and it was a nice way to finish our stay at Needham House Hotel. The hotel was beautiful and would be great for a romantic weekend away, a break with friends or somewhere to spend a few hours having spa treatments and relaxing.
Before we got in the car to head home we had a wander around the Needham House grounds and it was a lovely place to explore. I also noticed the Needham House lodge, nicely tucked away behind trees at the edge of the grounds – the perfect place to stay with friends or family for a proper celebration.
I really don't feel that the website does Needham House hotel justice. I was looking forward to our stay but thought it would be quite a businesslike place for a break away – I couldn't have been more wrong. Although Needham House clearly does a lot of weddings, functions and conferences it couldn't have been further from a corporate hotel. Instead it was beautiful, individual and so welcoming. Lauren and I felt so comfortable throughout our stay, the staff were friendly and attentive and I wouldn't hesitate to stay at Needham House again in the future.