Disclosure: The products featured were sent for inclusion in this gift guide however all opinions are my own.
I love to cook and spend so much time in the kitchen but I also love to eat, drink and socialise so I thought it would be nice to put together a Christmas gift guide for other people like me – foodies who just love everything food. If you know a foodie here are some food gifts and food related gift ideas that would be great for them.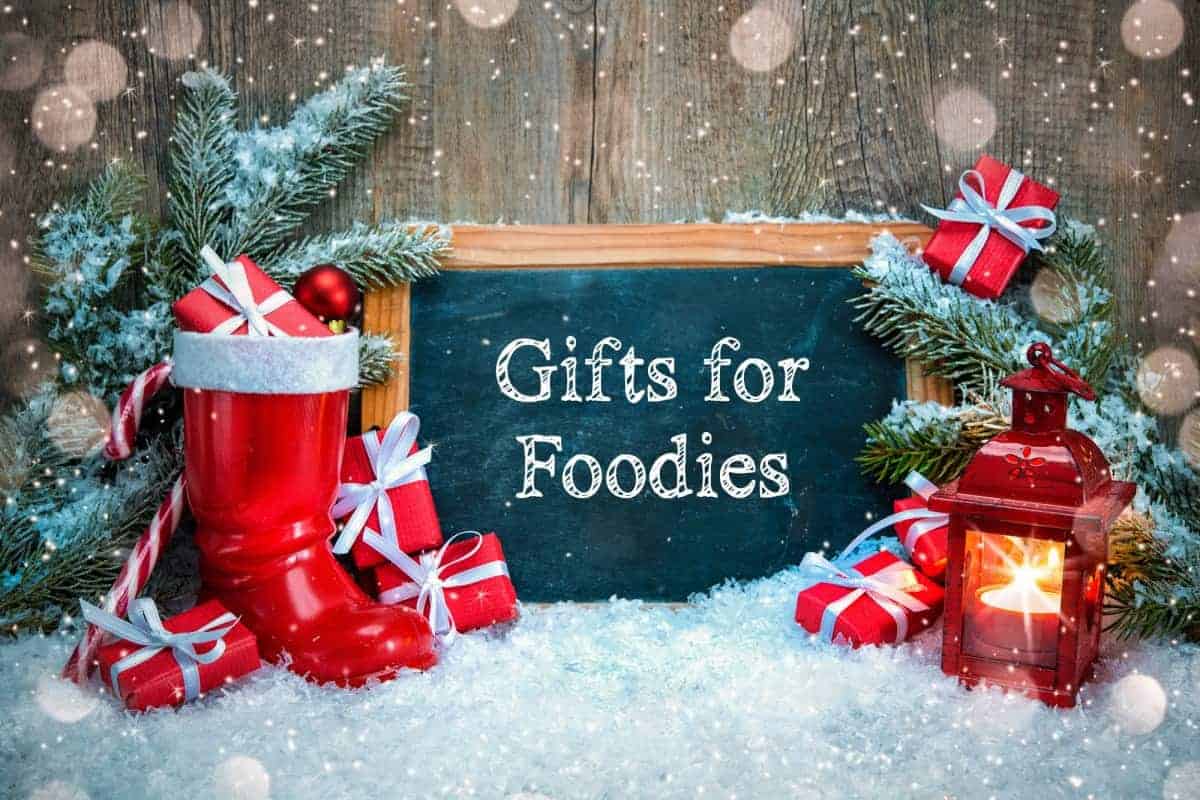 Kitchenware
The first thing you think to buy someone who loves food is something to use in the kitchen – but what? Something fun and funky like these Cactus Digital Scales from Salter could be just the thing. Easy to use, incredibly accurate and something that will make any foodie smile whilst using them.
One thing my kitchen is full of – and that I always think of for any foodies in my life – is good quality enamel cookware. It's a style that has been around for generations – now looking so retro – but being so timeless. This Enamel Roasting Tin Set from ProCook would make a wonderful gift for any foodie – and would be the perfect addition to help with the Christmas dinner cooking too. Hardwearing and durable it would be great in any kitchen.
Something to bake with may be another option and a Brownie Pan is always on my wish list. Everyone knows that the edge of a brownie is the best bit so this pan gives a much better edge to middle ratio – and gives a really even bake too.
Every foodie needs something to cook with and a Copper Stone Pan from JML might be just the thing. The range of Copper Stone Pans enhance the look of any kitchen, have unparalleled heat distribution and have the highest levels of durability and scratch-resistance. They are as non-stick as pans come, without the need to add any fat or oil making meals healthier and cleaning-up quicker than ever before. These pans would definitely be a great investment for the foodie in your life.
A practical kitchen gadget that any foodie could make use of would be a Smart Cutter. Like a pair of scissors but with a built in cutting board it makes cutting everything from meat to vegetables that much quicker and easier – with less washing up too!
Every kitchen needs a set of good quality knives and Viners have an amazing range. This Titan knife block set would make a statement in any kitchen. Including five knives and a magnetic block it's functional, modern and comes with a ten year guarantee.
As well as knives you need a chopping board and this Butchers Block from Farrar & Tanner would have pride of place in any kitchen. It's a professional grade but has so much rustic charm and can be personalised with any message to make it a really thoughtful gift.
Every kitchen needs measuring tools and these Sophie Conran for Portmeirion measuring cups would be a beautiful gift for anyone that loves to cook. Gift boxed and with a timeless appeal I'm sure they would be well used all year round.
Another substantial gift for the foodie in your life could be a soup maker. This one from Salter is so easy to use and makes really healthy soups – smooth or chunky – in as little as thirty minutes. So compact and simple but with a fantastic 1.6 litre capacity it really is a great addition to any kitchen.
Cancer Research UK have a really lovely range of festive gifts and homeware this year and amongst them is a Kitchen Gift Set that any foodie would love to have over the holidays. With an apron and two tea towels it's such a nice gift that can be brought out and enjoyed year after year.
Edible
Every foodie loves to cook so why not invest in something that they can cook with and that keeps on giving not just at Christmas but a few months afterwards as well? The Spice Pioneer is a culinary adventure delivered to the recipients door each month. It includes all the spices and flavours needed to create the most exotic and tasty meals from every continent of the world – and there's even a music playlist to keep you smiling while you cook. Plus, new orders get a free Gin and Tonic Garnish Box worth £12.95 too.
Another great option to cook with is a Taste the World Gift Hamper from Yumbles. It's an ideal way to travel the World from your own kitchen and try some exciting ingredients inspired from different cuisines. It includes eight full size pots of World-inspired rubs and each pot is enough for at least four meals. Varieties include Spicy Taco rub, Jamaican Jerk rub, Mediterranean rub and a Tandoori rub. A great gift for those who like to experiment in the kitchen.
Alcohol is always a foodie favourite whether to cook with, pair with their food, socialise with or just savour and enjoy. A simple but thoughtful gift this year could be a gift boxed bottle of personalised wine from It's Your Bottle.
With a wide range of wines and labels to suit every personality and occasion I think this would make a wonderful gift for literally any recipient this Christmas. It's Your Bottle can supply just labels to personalise your own wine at home or they have a range of red, white or rose wine and even Prosecco to personalise and a choice of gift boxes too.
Another drinkable option is The Duppy Share. A smooth and award-winning blend of two Caribbean island rums – one from Jamaica, one from Barbados – it's the perfect base for a classic the rum punch – a great drink to enjoy and share over the festive season. The Duppy Share is all-natural and has no added sugar, caramel or spice – it's just a lovely authentic drink that will be enjoyed all year round.
Another option this Christmas is a Loch Lomond Whiskies Tasting Collection. With a rich history dating back to 1814, Loch Lomond Distillery is one of the most well-known producers of single malt whisky in the Scottish Highlands region and this taster pack includes three 5cl bottles of the Loch Lomond 12 Year Old, Inchmoan 12 Year Old and Inchmurrin 12 Year Old. The perfect gift for any whisky-lover, whether a newbie taster or experienced connoisseur.
There are also a whole range of edible – and drinkable – baubles now too and my favourites are The Lakes Gin Baubles from Find Me a Gift. Containing three different varieties of gin from The Lakes Distillery they would look beautiful on any tree and are a gift any foodie wood enjoy – especially if paired with nibbles and good company.
Something Different
Every foodie loves a good recipe book and The Dairy Book Of Home Cookery is a classic cookbook that is still a hit in kitchens 50 years after it's first publication. With 950 classic recipes including 50 brand new recipes it's sure to be a much used staple in any kitchen.
Many foodies love to grow their own food and this Foodie Garden is a great gift to do just that – and maybe get the children involved too. Including three different varieties of tomato and a beautiful metal planter it would look at home on any kitchen window ledge. It's part of the Sous Chef gift range where you'll be able to find something wonderful for any foodie in your life.
And lastly, if you want something that the foodie in your life can use at their leisure then a Dining Out Card could be just the thing. It can be used at any of the Mitchells & Butlers restaurants and comes in a range of denominations so any foodie can put it towards a wonderful meal cooked for them where they don't even have to do the washing up. I think we'd definitely be making use of this soon after Christmas!
I love receiving – and giving – foodie gifts at Christmas and they are always gifts that last long after the Christmas tree has been taken down. I cannot wait to finish my shopping and start wrapping gifts too. What would be at the top of your list to buy the foodie in your life?