Disclosure: The products featured were sent for inclusion in this gift guide however all opinions are my own.
It's that time of the year where I start thinking about Fathers Day, and what to buy all the father figures in my life. I have a biological dad, a step dad, a father-in-law and my husband – who is, obviously, a great dad to LP and Little Man. This means that we have a lot of cards and gifts to buy at this time of year – and I thought I would put some of my favourite ideas together to share with you too.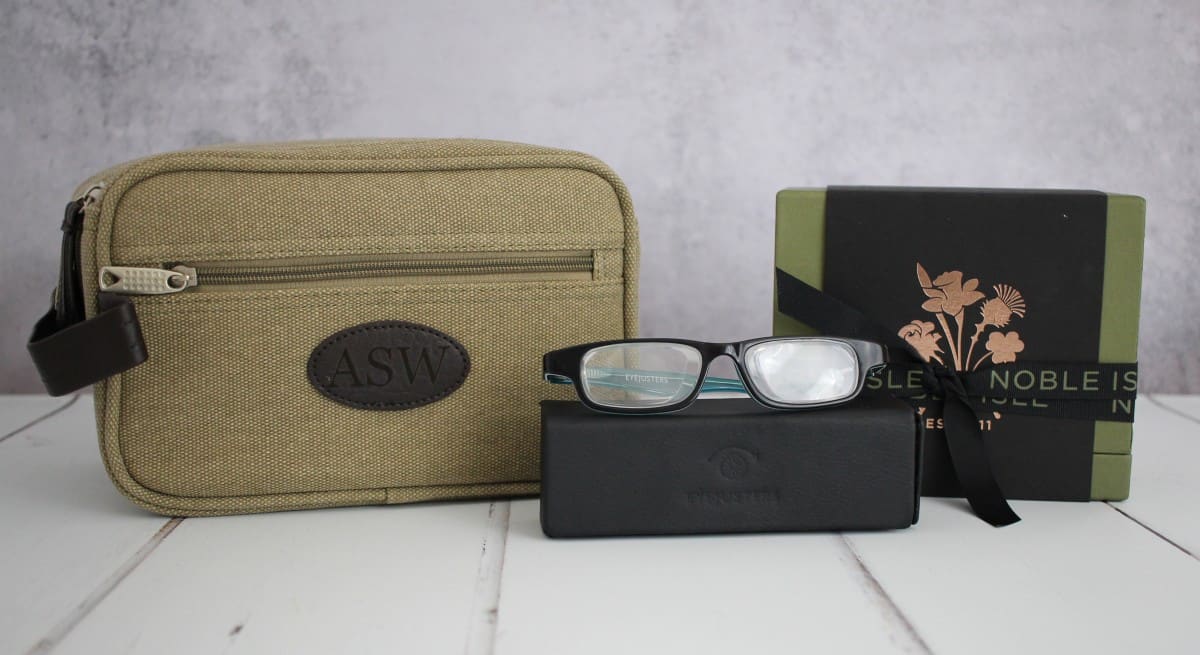 My father-in-law travels on business pretty much all year round so a good quality wash bag is a great gift for him. Hard wearing, with so many compartments and personalised too – I know it's a practical gift that he'll love and use constantly.
Going hand in hand with a wash bag is a nice set of men's toiletries. The Cosiness Encased set from Noble Isle contains two premium shower gels – warm, spicy Fireside to recharge the skin and smooth Whisky and Water to restore the skins protective properties. These make a great set and the perfect gift.
My dad has used cheap reading glasses for years from high street stores, never knowing his prescription and always just making do with whatever he could buy cheaply – not wanting to spend hundreds of pounds on glasses. But, his sight issues could be fixed – or at least greatly improved – with Eyejusters. These glasses are such an amazing idea and one that really is such a thoughtful gift. You see, they have dials on them to change the lens strength, means that they can work for everyone with a prescription between +0.50 to +4.00 D. Plus, Eyejusters have given me a discount code to pass on. You can use code WTRS18 at the checkout to get 10% discount off purchases for the next 30 days – happy shopping!
A good quality electric toothbrush is something I know none of the dads in my life would ever invest in – so it would make the perfect gift. I have been a fan of Oral-B for years, knowing they're the brand dentists recommend. The Oral-B GENIUS 9000 is the latest and most technologically advanced addition to the Oral-B toothbrush range, making it a must-have grooming tool for any dad. It includes motion sensor technology in the brush and smartphone video recognition as well as working alongside the Oral-B App, making sure your brushing technique is up to scratch whilst also delivering the news and weather!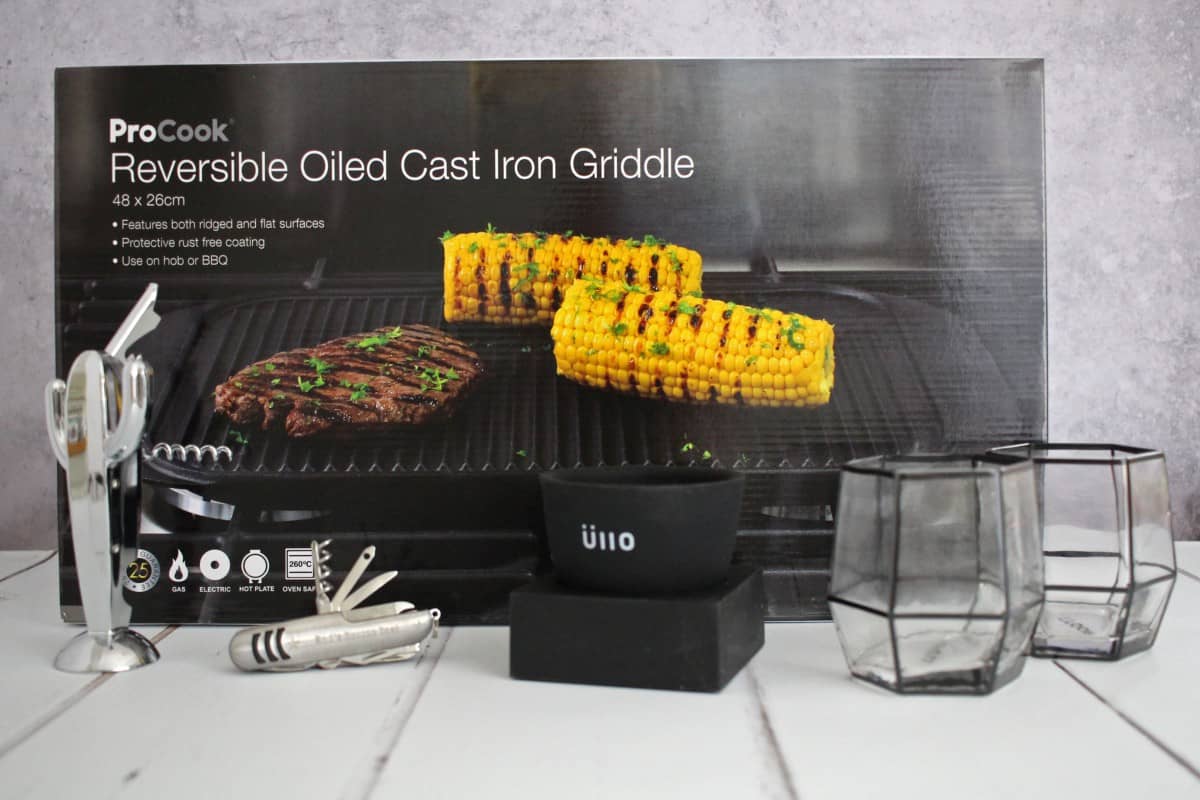 For foodie fathers a cast iron griddle could be a great gift – especially as it's double sided with one flat and one ridged side, letting you cook all manner of things on both the hob or barbecue. I know that we'll be cracking this out throughout the summer to make barbecues that little bit more exciting!
All the dads in my life love wine so a Üllo Wine Purifier would be perfect for them. A pretty unusual gift but one that they won't want to be without – it helps to remove sulphates from wine before drinking – and may even be able to prevent wine hangovers too!
Carrying on the drinking theme, new glasses are always an appreciated gift and ones that are a little different always go down well – like these geometric glasses which would be perfect for mixers or cocktails.
Bottle openers and corkscrews are another much appreciated gift where wine lovers are concerned and this cactus bottle opener is the perfect kitchen or drinks cabinet addition. It looks great and is nicely weighted and well made – a really lovely gift.
Or a gift that anyone would love is a multi-tool. You never know when you might need a knife, screwdriver or scissors and so this could always be kept to hand. Plus, it can be personalised too! Dad's Rescue Tool – the perfect gift for any dad on fathers day.
If you're looking for a more traditional gift then a watch is perfect for any occasion – especially fathers day. The Krug-Baümen Principle Classic Chronograph Watch would be the perfect accessory for any event. The black leather strap can be paired with a black leather belt and shoes, and the dial would match silver or chrome cufflinks too. A really lovely gift for any man. Plus, if you use code RH40 at the checkout you can get a whopping 40% off the whole Krug-Baümen range.
If you have a history fan in your life then a commemorative newspaper book could be the perfect gift. Bound in leather and personalised on the front and inside, the Beatles Newspaper Book is just beautiful – and includes the whole of the Beatles history as told by the newspapers through the years.
There are also books to commemorate significant years, historic events, football teams and so much else. Whatever the dad in your life is into there will be a newspaper book perfect for him.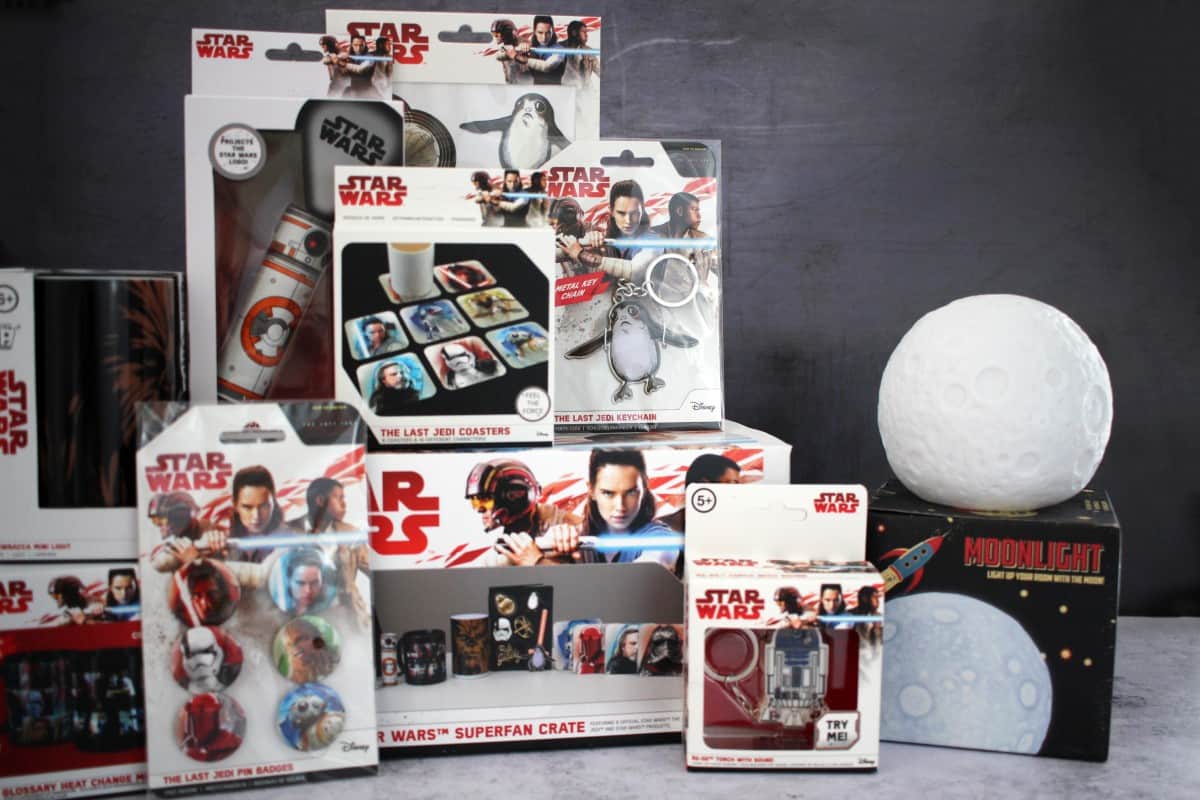 If you have Star Wars fan in your life then the Star Wars Superfan Crate would make the perfect gift. It is packed full of Star Wars merchandise – from a heat change mug to badges, coasters and even a torch and night light.
A Moonlight could be another great novelty gift – the perfect night light for any space fan and, as it's battery operated, it could even be used outside over the summer months. I think it's just the right amount of quirky to be really appreciated and well used.
Following on the Star Wars theme, Po-Zu have launched a Star Wars sneaker collection that is perfect for any Star Wars fan. Po-Zu create ethical footwear made from non-harmful materials, aiming to combine supreme comfort with outstanding ethics and sustainable materials. The Po-Zu Resistance sneakers would make a fantastic gift – and they would be a really ethical choice too. Dave has said that they are the most comfortable shoes that he has ever worn – and they were comfortable from the very first wear – no wearing in required.
A Star Wars Galactic Robe is another gift that could be enjoyed all year round. Really thick and warm, it would be great to lounge around in throughout the year. It has an oversized hood and oversized sleeves, making it almost costume-like and such a fun wardrobe addition as well as being really practical too.
If you're looking for a bit of a Fathers Day stocking filler then Itty Bittys make the perfect gift. There are so many different characters available and they are so cute – the perfect little keepsake for any member of the family.
All of the dads in my life love tech and so no gift guide would be complete without something tech related. Headphones are a go-to gift for me as they just keep getting better and better – and these ones from House of Marley are no exception. They have a really funky wood and fabric design, are cordless and have up to twelve hours of play time.
Tablet, phone or laptop covers are also a popular gift for us and the Dux iPad air case really provides best in class protection. It's tested to the U.S. Department of Defence Standard and has a patented magnetic closure which saves battery life. It's a really hard wearing, great looking option for a gift.
A Lava BrightSounds 2 Bluetooth speaker could be another great gift – not only a high quality bluetooth speaker but it also incorporates a light, perfect for those long summer evenings. Plus, you can even use it to charge mobile devices as it has an integrated portable power bank.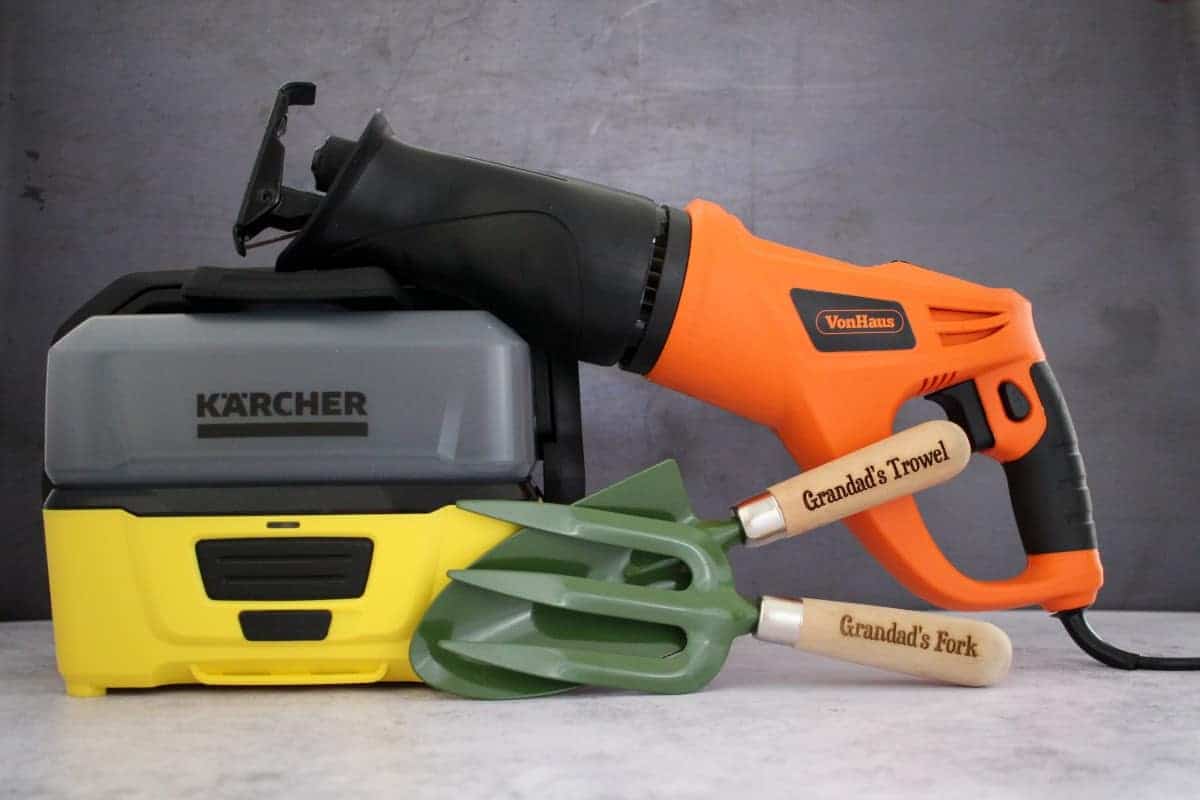 The dads in my life also love the outdoors, love gardening and love to try their hand at DIY. Because of this, tools are often a great investment – and a really appreciated gift on Fathers Day. This reciprocating saw can be used on both wood and metal making it a really versatile edition to any toolbox.
Another great gift that the whole family could appreciate is the Kärcher Portable Cleaner. It's made to leave dirt where you picked it up – not taking it back in the car or home with you. This is a great gadget for cleaning off wellies, scooters, bikes or even the dog and I think I'll be buying them for every dad in my life over the next year or two.
And for the gardener in your life, a beautiful set of personalised gardening tools could be the perfect gift. Really well made, durable and with a nice weight to them this set of tools could be used, and treasured, for years.
Chocolate is another typical gift when I'm shopping for presents and my latest find is the Eat Your Hat Chocolate Library. The collection includes seven different milk and dark chocolate bars that are fair trade, organic, eco-friendly, completely sustainable and great tasting too!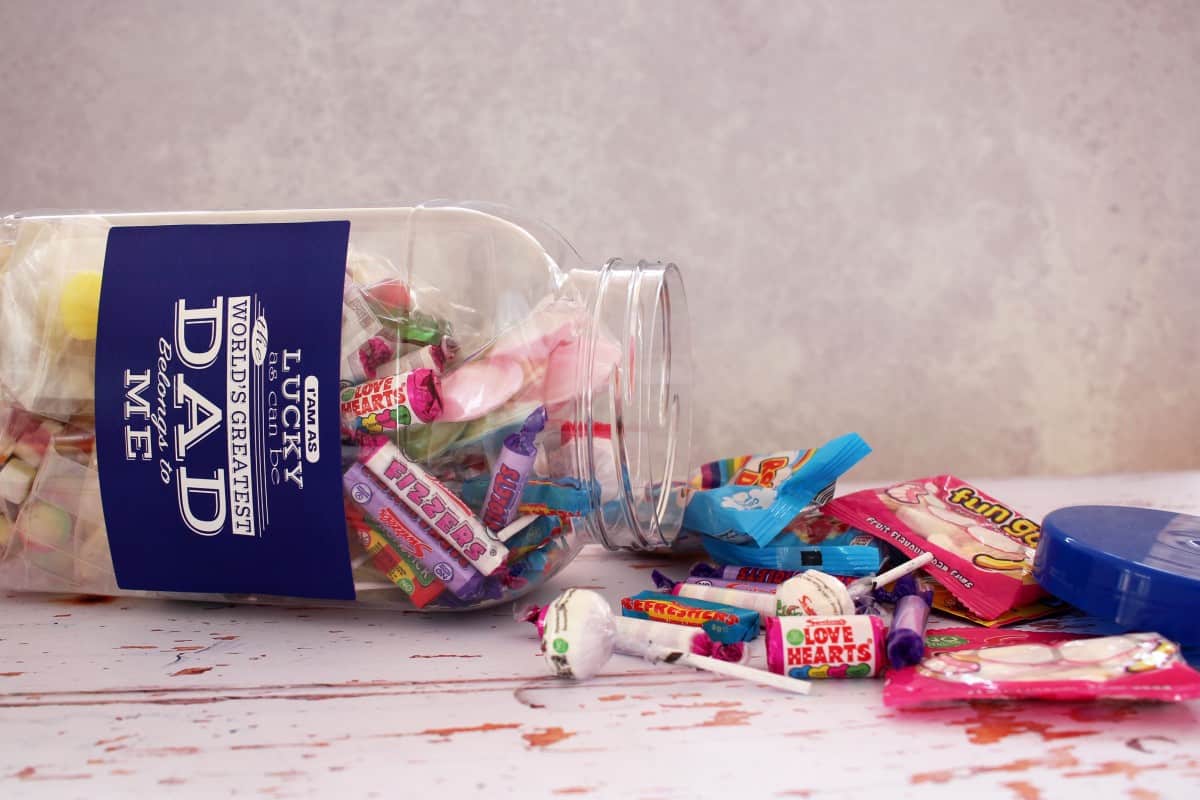 But, if chocolate isn't your dad's thing, then maybe sweets would be better. I've found that you can't go wrong with a big jar of sweets from Retro Sweet – especially if they have a lovely Fathers Day message on them too. It's the kind of gift that can be enjoyed over time and with so many favourite sweets inside it will definitely be well received.
Carrying on with the food theme, barbecues always feature highly in our lives over the spring and summer months so a Barbecue Hamper from Ross & Ross would be a fantastic gift. Jam packed with everything you need to make anything on the barbecue taste great I know it would be well received – at Fathers Day or any other time of the year. The hamper includes dips, rubs, salts, jams and even an oil which I cannot wait to try out. They all smell amazing and I know they are going to be a highlight of our next barbecue.
Alcohol is always an appreciated gift when it comes to dads. A gift set always goes down well, like this St Peter's Brewery Golden Gift Pack which includes a bottle of Suffolk Gold, a bottle of Golden Ale and a St Peter's Brewery glass to enjoy them in.
But if your dad is more of a cocktail fan then a personalised Mojito set might be just the thing. It comes with all you need to make a mojito including a glass and mojito gourmet popcorn to enjoy with the drink too – all in a tin that can be reused afterwards too.
Gin is usually the top drink in our house and Copperhead the Gibson Edition Gin is our latest find – perfect for this gift guide. The Gibson Edition is the masterpiece of London's finest bartenders and the owner of The Gibson Bar in London – Marian Beke and Copperhead Gin – and it's distilled at the second oldest operational distillery in Belgium. This is the kind of gin that will be not just enjoyed but savoured and appreciated. With a savoury flavour and a hint of spice and intensity, this gin is great for dads that want a bit of a change from the current sweet and floral gins on the market.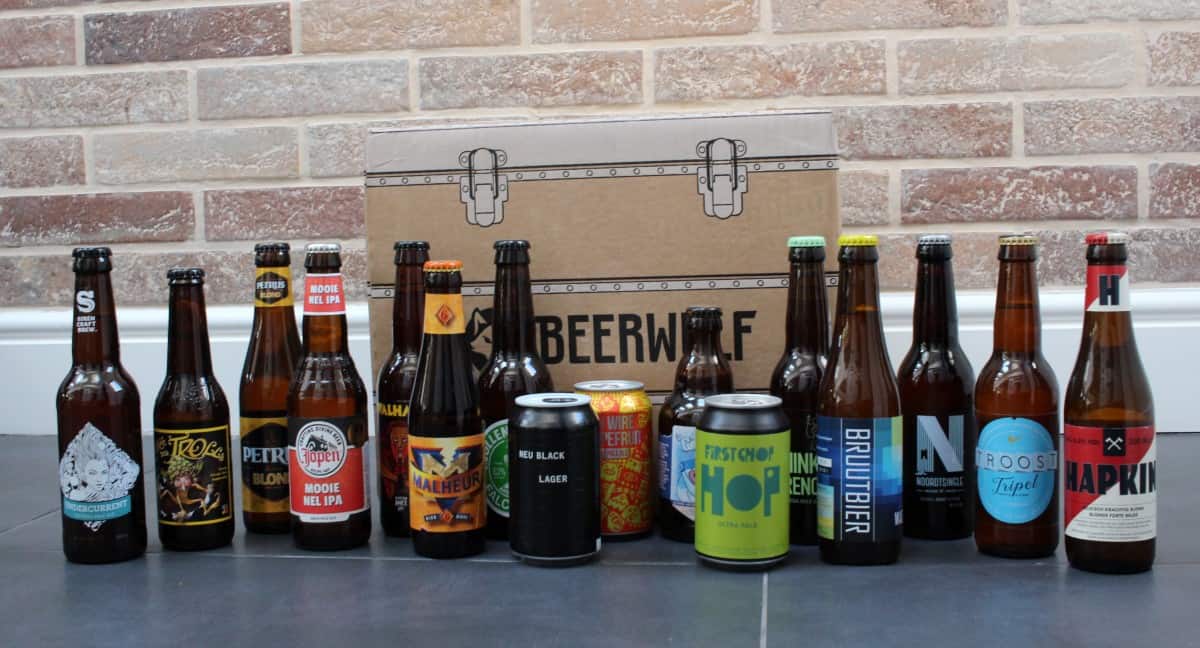 And last but not least, beer. You can't go wrong with beer where dads are concerned and Beerwulf.com have a variety of 'tool boxes' perfect for the dad in your life. They are available in 12, 16 or 20 packs and contain a variety of beers carefully selected by Beerwulf.com's beer lovers. But that's not all, Beerwulf.com are also giving you £5 off a £25 spend by using code discount5 at the checkout.
So there you have some of my favourite gift ideas for Fathers Day this year. I have so many different dads to buy for and it's given me a headstart on my shopping for next month. If you have any other Fathers Day gift suggestions I would love to hear them.