Disclosure: We were invited on this break for the purpose of this review however all opinions are my own.
We love finding new family friendly hotels to stay at. Last weekend we were invited to the Marriott hotel in Waltham Abbey to have a little break for Dave's Birthday. It's a part of the country we haven't really spent much time before and one we were keen to explore a bit more.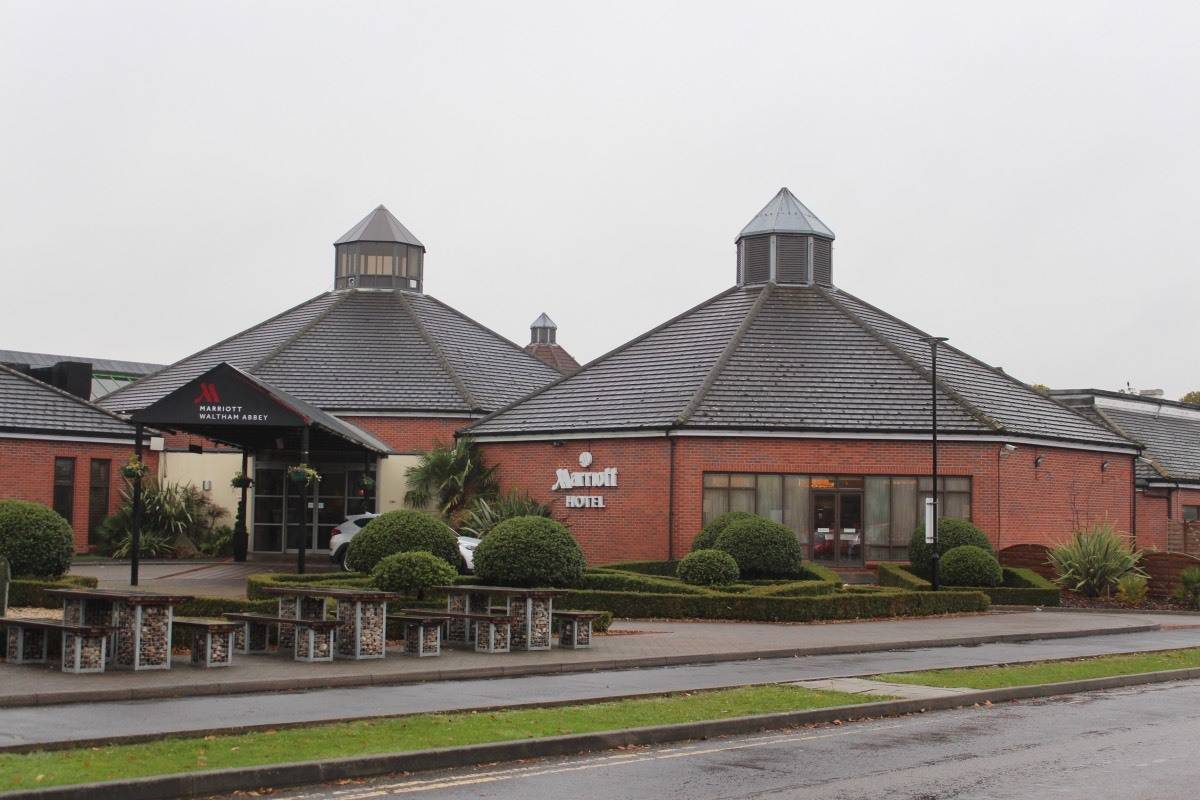 Marriott hotels are always well located to make the most of the surrounding areas and the Marriott in Waltham Abbey has great access links to London as well as plenty of parking marking it a great base to explore London, Essex and Hertfordshire. We had planned to spend Saturday afternoon in Epping Forest, a beautiful place to explore close to the hotel but sadly the weather was so bad that we instead chose to spend some time together at the hotel instead, making the most of some quality time to relax.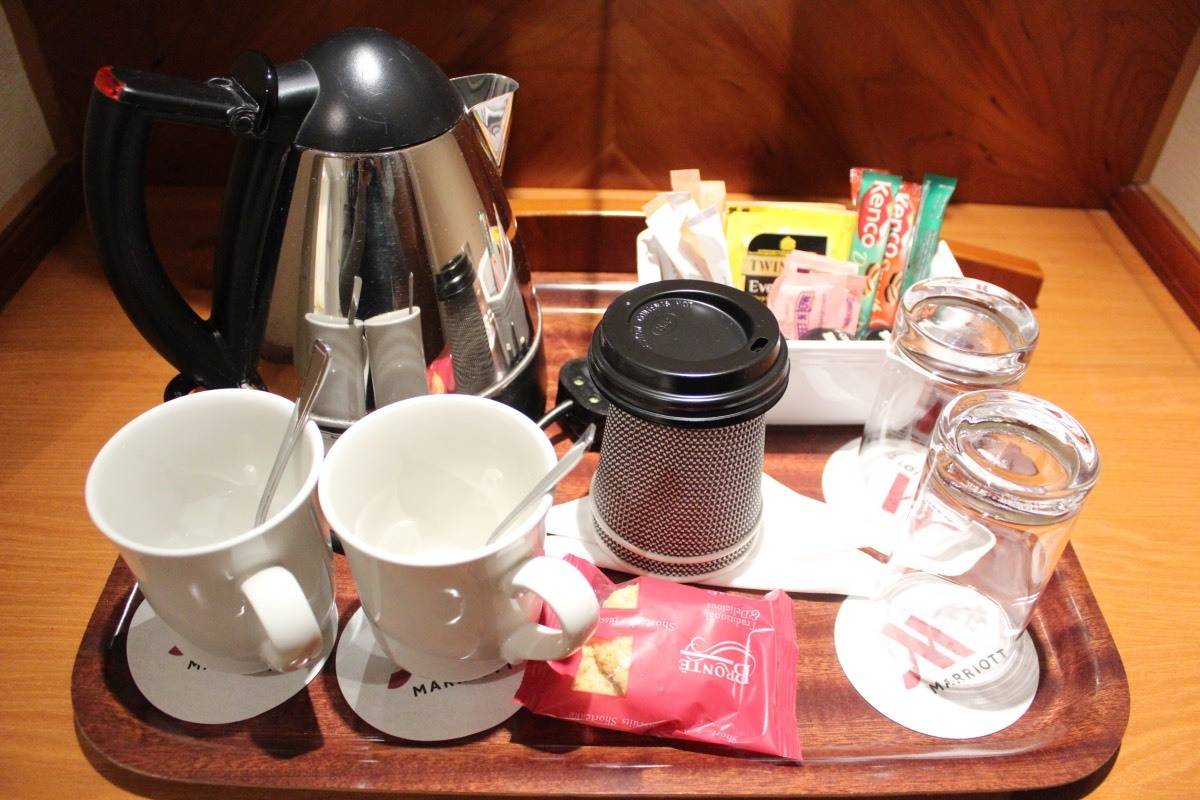 We had a lovely warm welcome at the hotel and checked into our room – a really good size family room with two double beds. It also had a really functional bathroom – complete with bath, which is always appreciated on a family break. There were complimentary toiletries too which are always such a treat and so handy.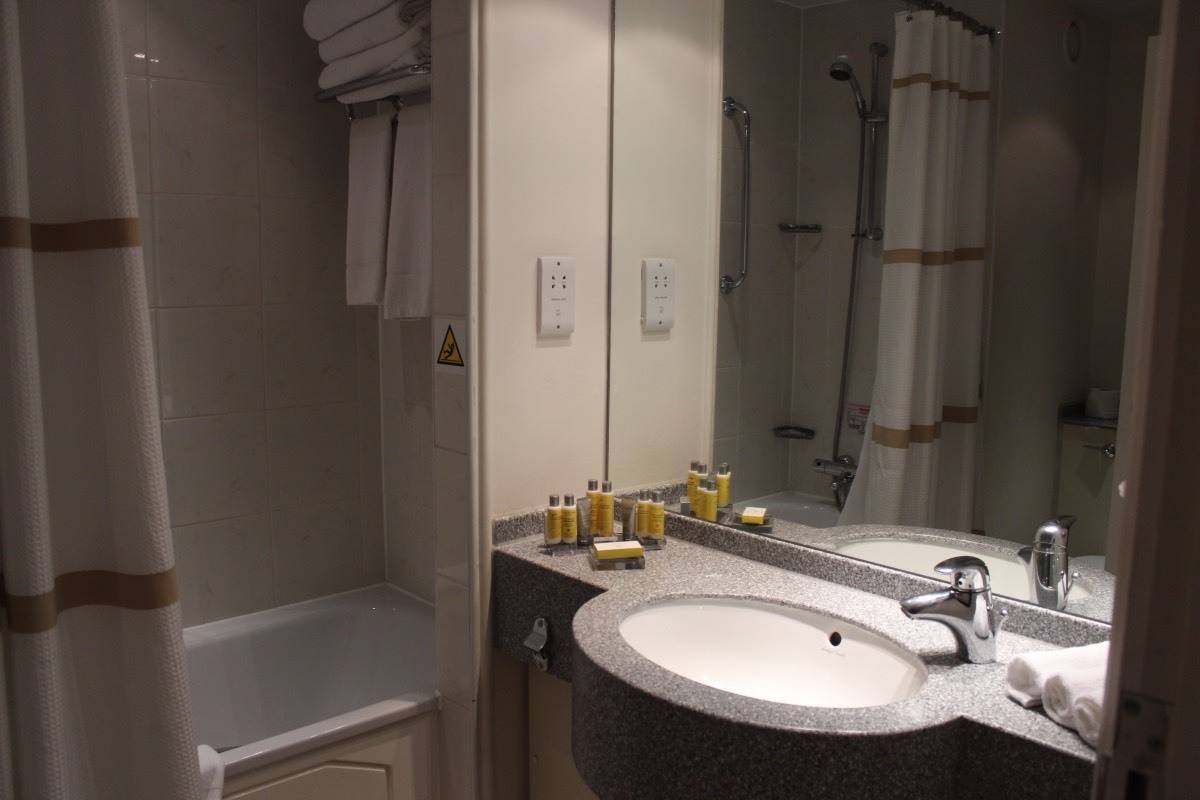 The children were in their element having a big bed to share and were happy bouncing on the bed, playing with their tablets and watching TV whilst we all relaxed and got ready for dinner.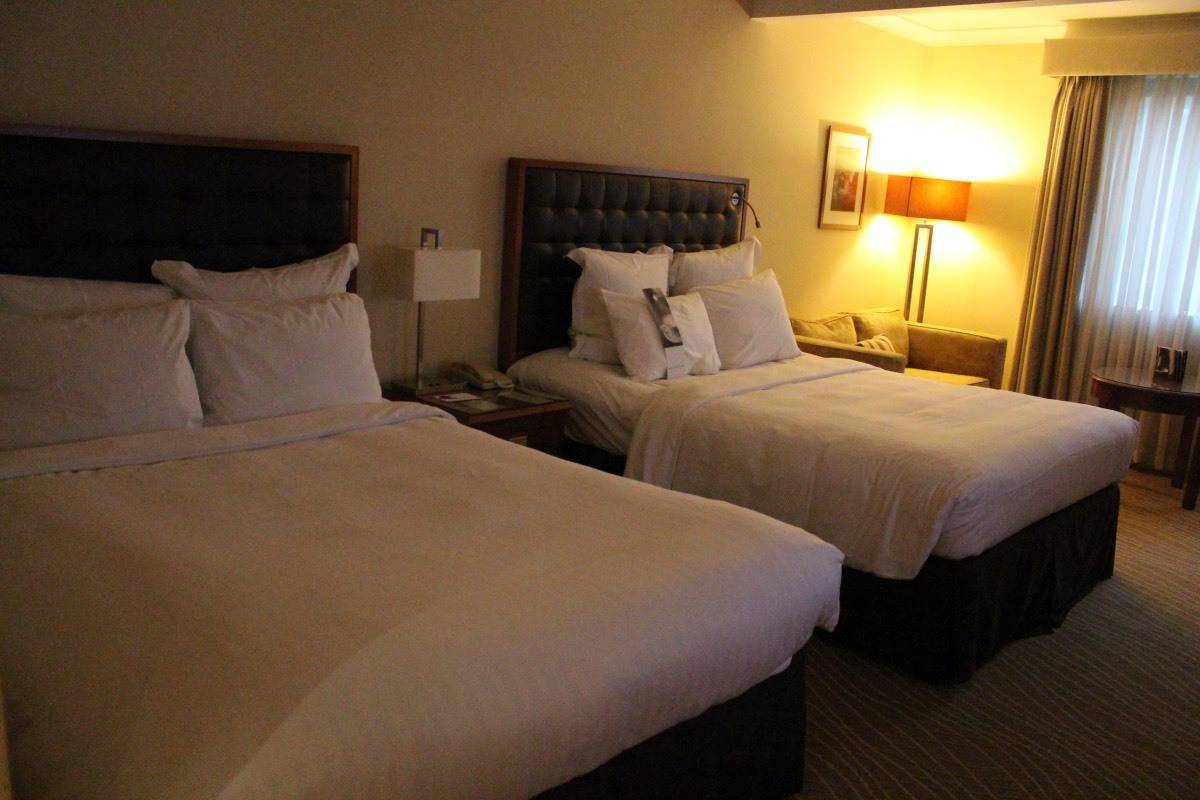 We didn't realise that the Waltham Abbey Marriott has a beautiful leisure suite complete with swimming pool so didn't bring our swimming things but this would have been a great way to spend a rainy afternoon!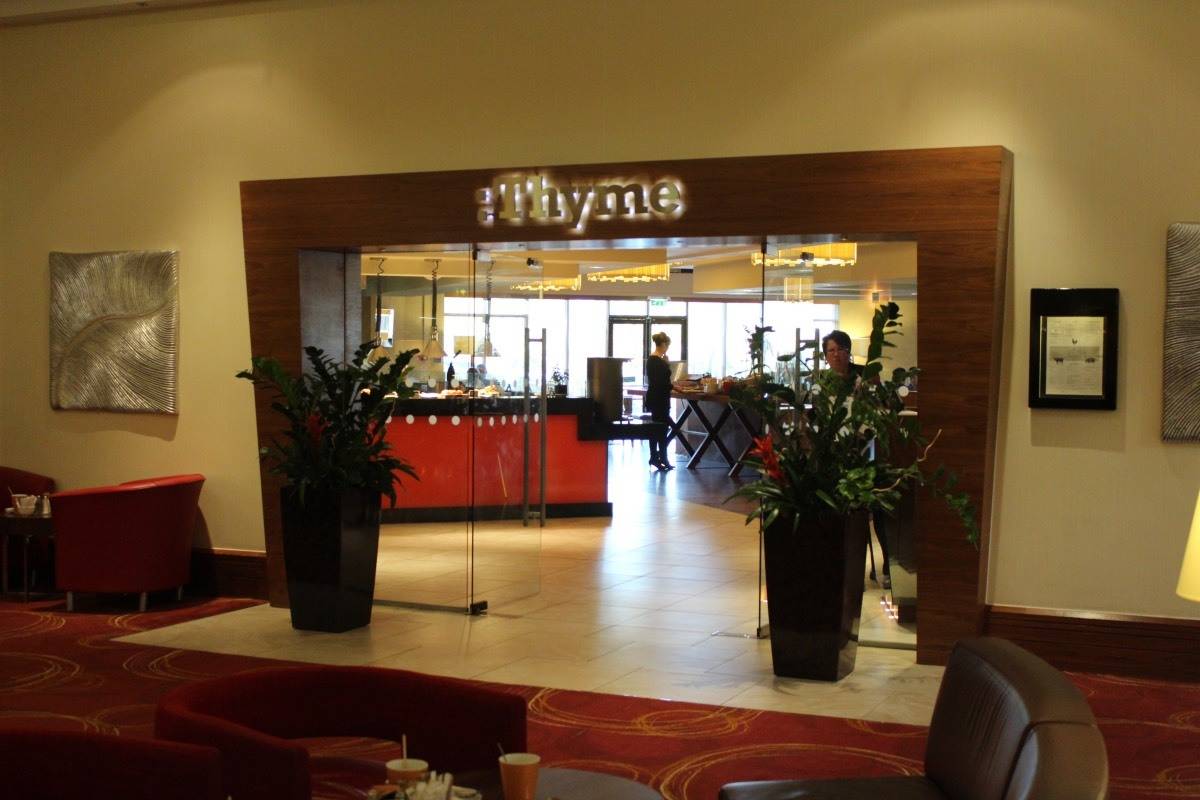 We had dinner in the Thyme restaurant which had a really nice and upmarket feel to it but a relaxed atmosphere too. The children were given colouring pages to keep them entertained and we took our time ordering from the menu.
The children's menu had a good choice of mains – chicken breast, hot dog, sausages or a burger all served with chips or salad as well as a pasta option. Little Man chose the hotdog and LP went for the chicken breast.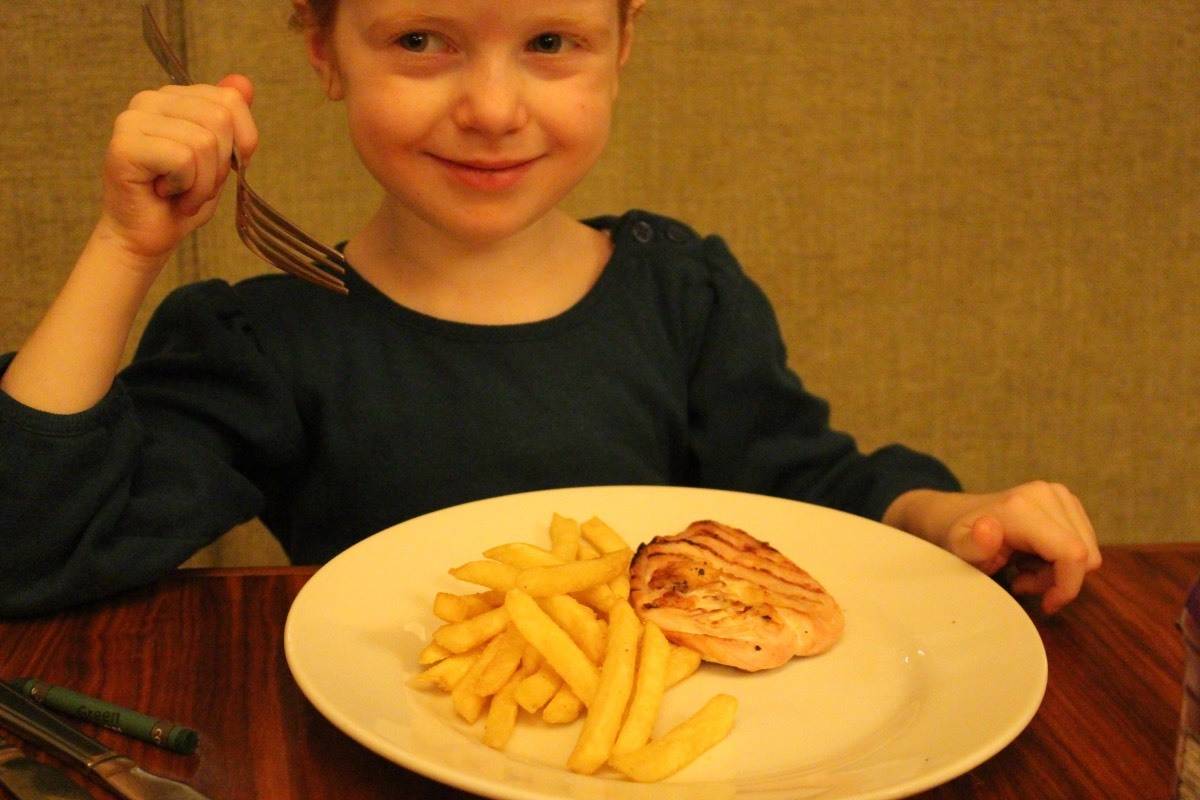 Both of their meals were a good size but having just chips to accompany the main part of the meal did leave their plates looking like they were missing something. It would be nice to have chips and salad as standard or offer beans or an alternative side to make it a more balanced meal.
For our starters, I chose the Buttermilk Chicken Salad which was really refreshing. It was full of flavours with a great mix of beetroot, chicken and salad leaves as well as plenty of dressing. A really nice starter.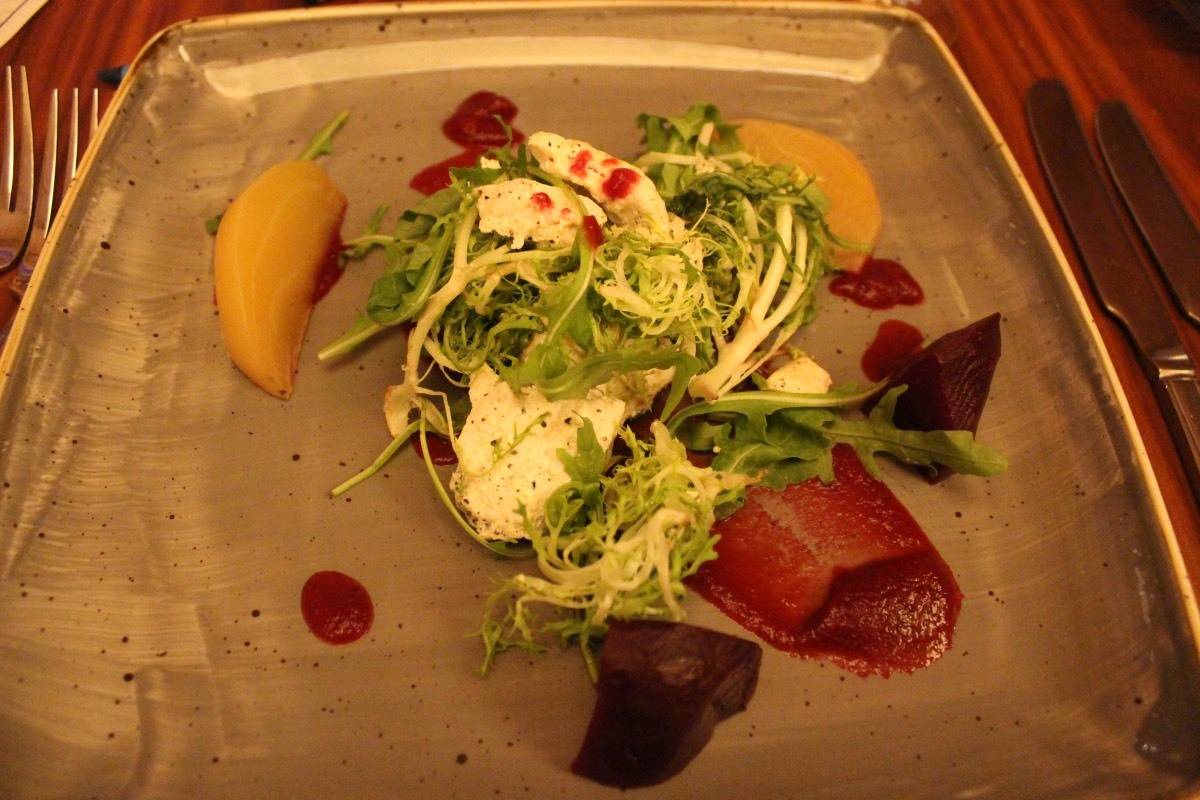 Dave went for the Cheese Brûlée which was like a cheese fondue served with carrot sticks and celery. There wasn't really enough carrot and celery for the amount of cheese and it would have been nice to have more to dip in the cheese – either more vegetables or some crusty bread for a more rustic starter.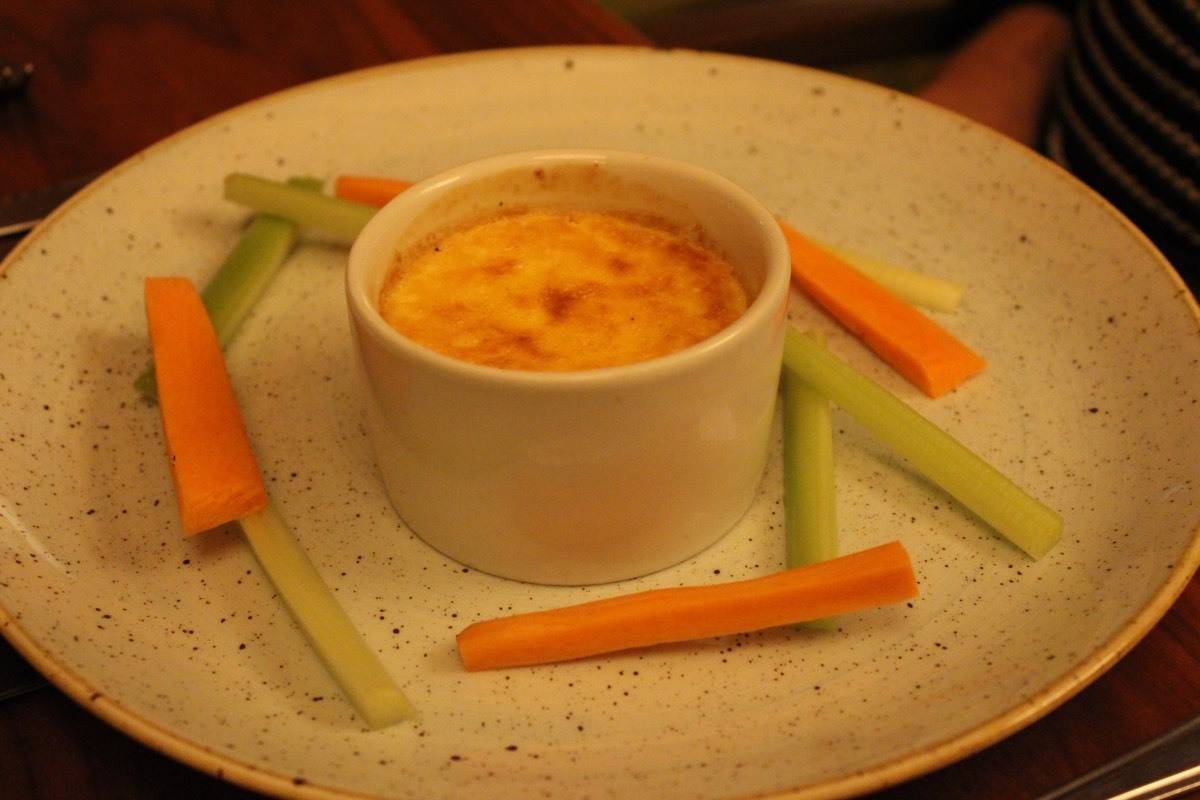 For our mains, Dave chose the rib eye steak which was served with thick cut chips, salad and peppercorn sauce. He really enjoyed his meal however, the sauce was quite thin – we're used to a nice and thick peppercorn sauce. But, the steak was cooked to perfection and just how he had asked for it.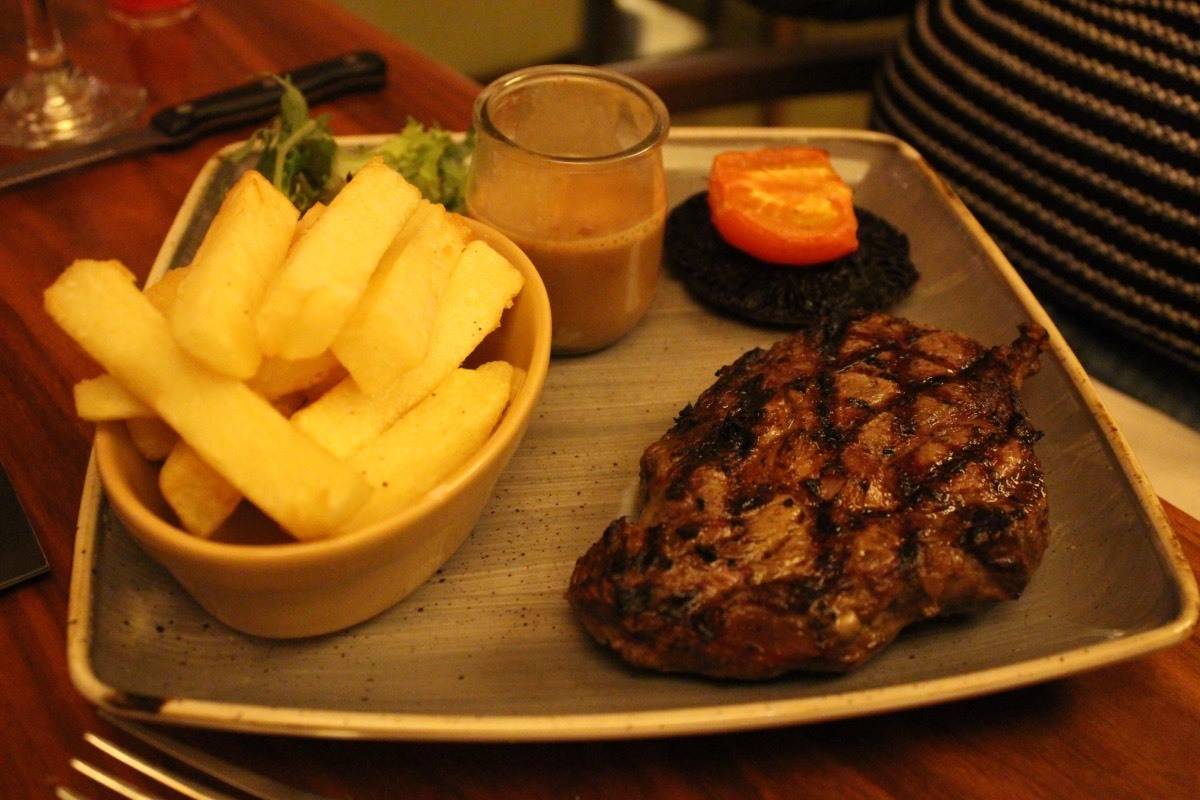 I went for one of the specials – a lamb burger served with fries. It would have been nice to have a side salad too, just to make it more of a balanced meal – especially as there was space on the plate for it. The burger was lovely but the minted mayonnaise was more like minted soft cheese which was a bit of a strange consistency and I would have liked the red onions to have been cooked rather than raw. But, I enjoyed my meal and the chips were beautifully cooked.
For dessert the children had ice cream which was served with wafer straws. It was really good quality strawberry ice cream and the children really enjoyed it.
Dave had a Chocolate Pave which was a really good quality chocolate cake served with chocolate coated pieces of honeycomb and, it doesn't happen often, but he couldn't eat it all. It was lovely and rich and the perfect end to a meal.
I had sticky toffee pudding served with salted caramel ice cream. Salted caramel is never salty enough for me but it went so well with the sticky toffee pudding – and I have never tasted such a light and fluffy sticky toffee pudding before. A really lovely dessert.
We all had such a lovely meal and it's always so nice to have a meal together as the four of us as we're not always at home at the same time – which makes weekends like this even more special.
We had a really good night's sleep and were all looking forward to breakfast in the morning – a good breakfast really sets us up for a day of adventuring. The breakfast was fantastic – with plenty of cereals, fresh fruit, yogurts and pastries as well as a plentiful cooked buffet too. There were even freshly cooked waffles!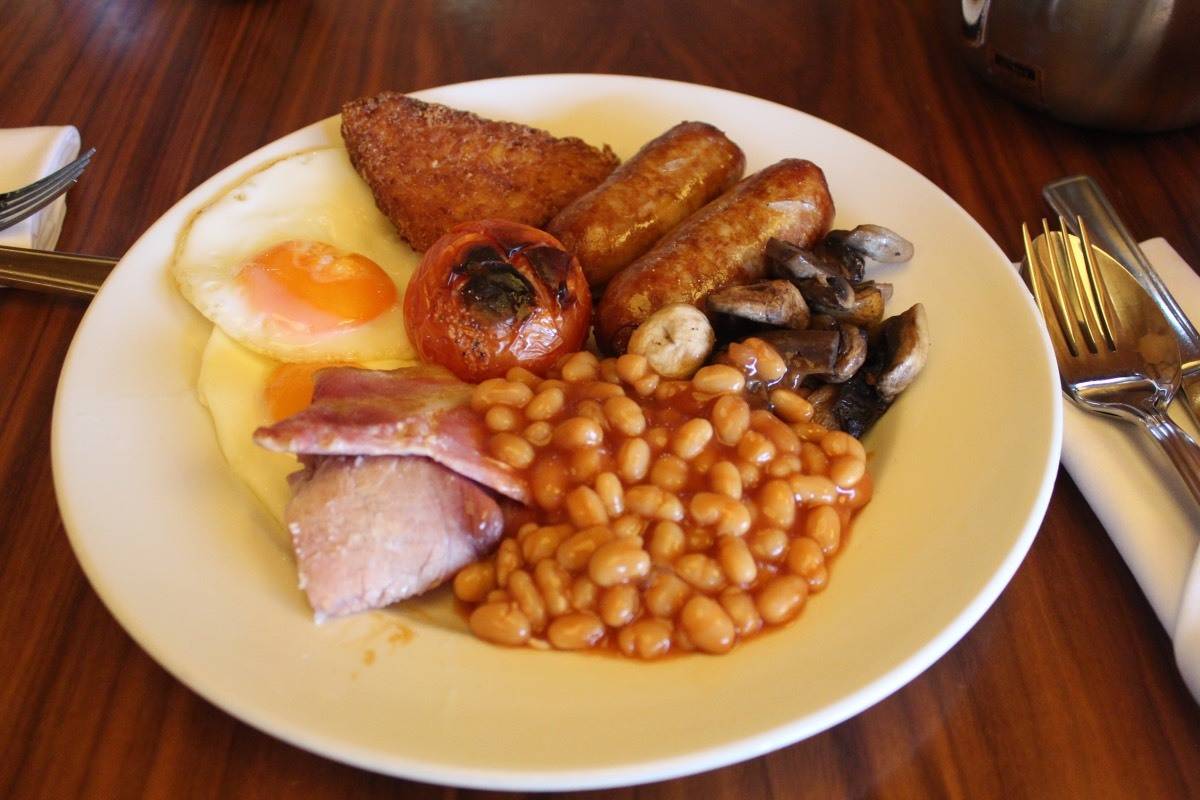 The children loved having fresh fruit, yogurts and then chocolate muffins for breakfast and Dave and I enjoyed cooked breakfasts followed by pastries – and plenty of tea and coffee too. It couldn't have been a better end to our Marriott stay.
We left the Marriott in Waltham Abbey and went on a day out to Paradise Wildlife Park which is just up the road from the hotel. It was the perfect place to stay for a family weekend away and any Marriott hotel would be a great base to explore the surrounding areas.
The UK has so much to offer, whatever time of year and whatever the weather and our family are enjoying exploring more of it. According to Marriott's Great British Break Report, two fifths of Brits have already chosen to take a break in their own county this year and three in ten are more likely to holiday in the UK now than they were in the past. Over on the Marriott Weekends website, Marriott are inviting you to discover your weekend self with them. For us, we love exploring the UK and will keep having at least one UK break each year – exploring more and more of the country as we go.
So, next time you plan a break away, stick a pin in a map of the UK and go and explore somewhere new. We are already looking for our next place to visit!