Little Man has been obsessed with Thomas the Tank Engine since the first time he saw him and so when I found out about Drayton Manor and their Thomasland attraction I knew I had to take the children there as even LP loves Thomas!
I decided that we'd all go for my Birthday, spending a weekend away with a day of afternoon tea for me and then a day at Drayton Manor for the children. We picked Birmingham as our base for the weekend and it wasn't that far to Drayton Manor at all.
What were our first impressions of Drayton Manor Theme Park?
When we first got to Drayton Manor I was immediately put out by the parking charge. Why do theme parks insist on charging people to park when there's no other real way of getting to them? Increase the admission fee slightly instead. It may only be £3 but it's the principle of it.
Other than that my first impressions of Drayton manor was that it was all quite dated. The whole place has the feel of a seaside resort that hasn't had much of a makeover since it opened, like a permanent fairground – although I am sure that there have been modernisations as the years have gone by.
What is Thomas Land like at Drayton Manor Theme Park?
One part of the park that has obviously had money spent on it though is Thomas land. The whole area was busy and with so many rides that we didn't know what to go on first. The children just loved seeing all their favourite characters and we spent the whole morning in Thomas land, taking photos with trains, going on rides and enjoying ourselves.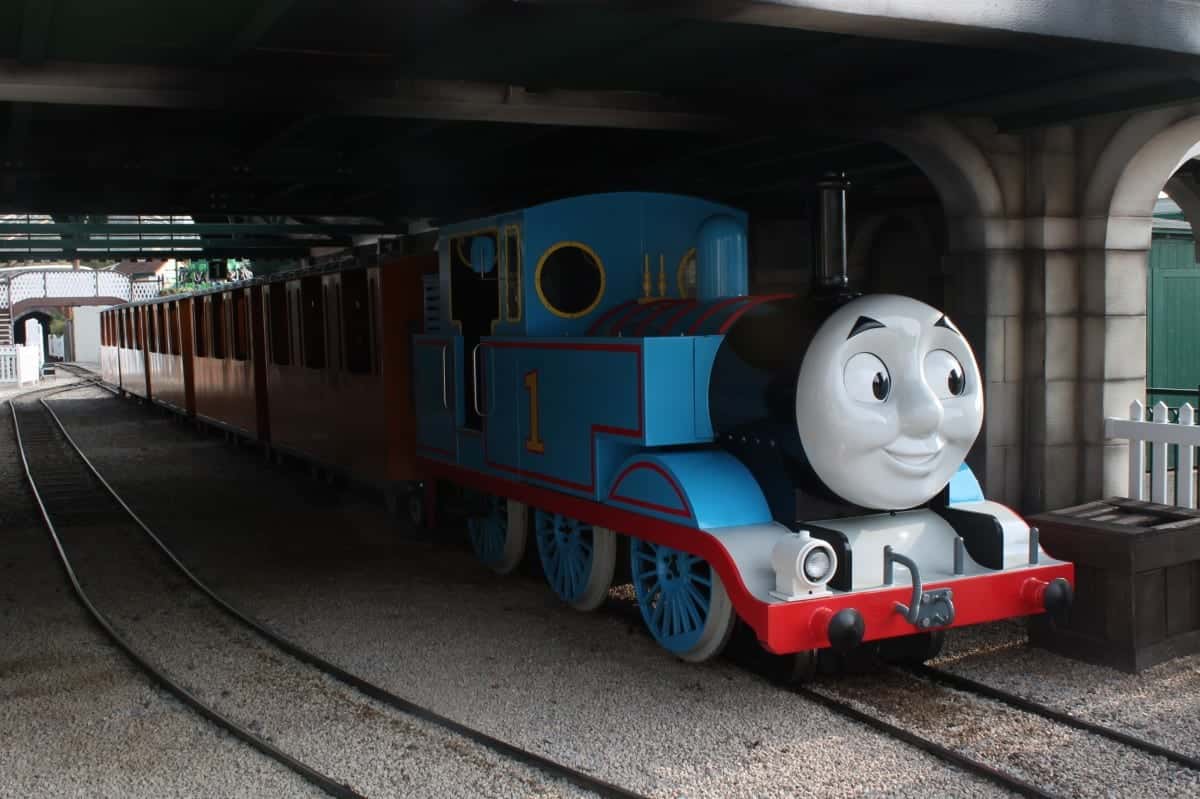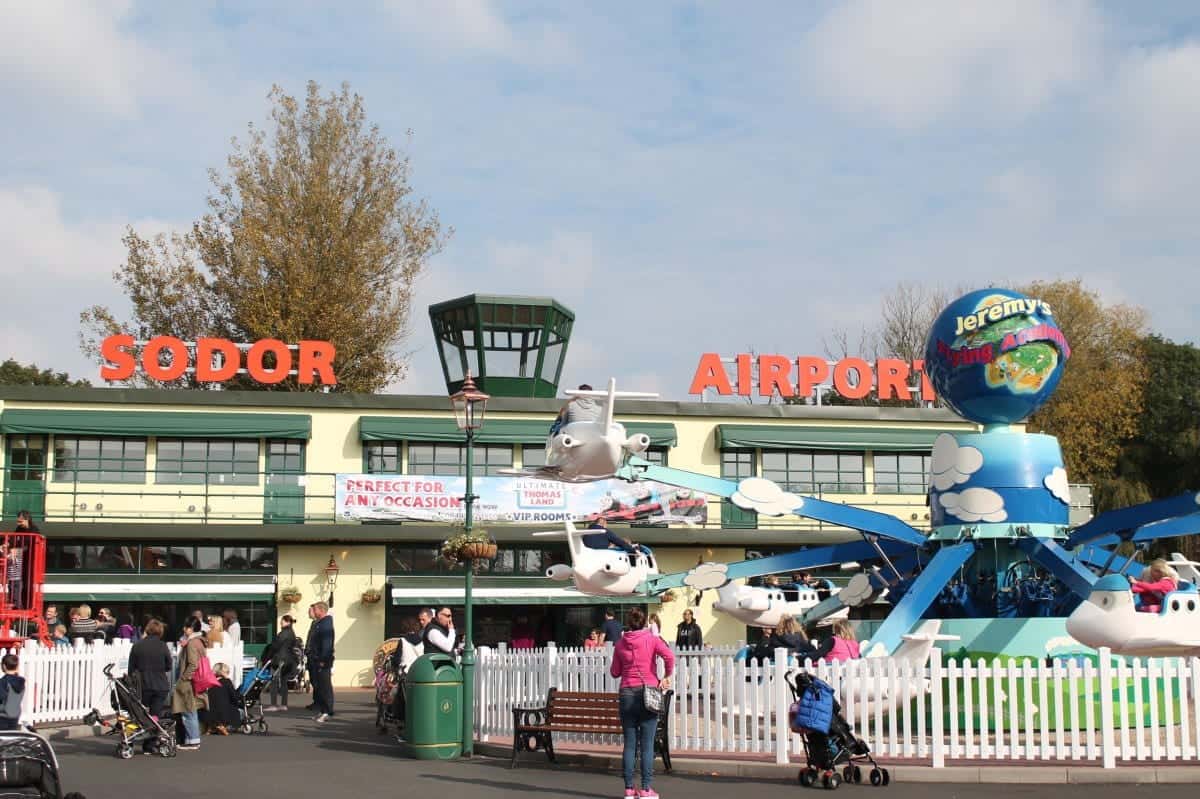 The children had such a great time. As far as they were concerned the trains were real and this in itself was enough to keep the kids so incredibly happy. Thomasland is the sort of place that makes children's dreams come true and LP and Little man loved it.
After lunch we got on the Percy train – although there's also a Thomas – and took a ride to the zoo part of the park. The train stops in an area surrounded by animal enclosures although this area was very quiet and the enclosures didn't have much in – a bit of a waste of space as Dave remarked.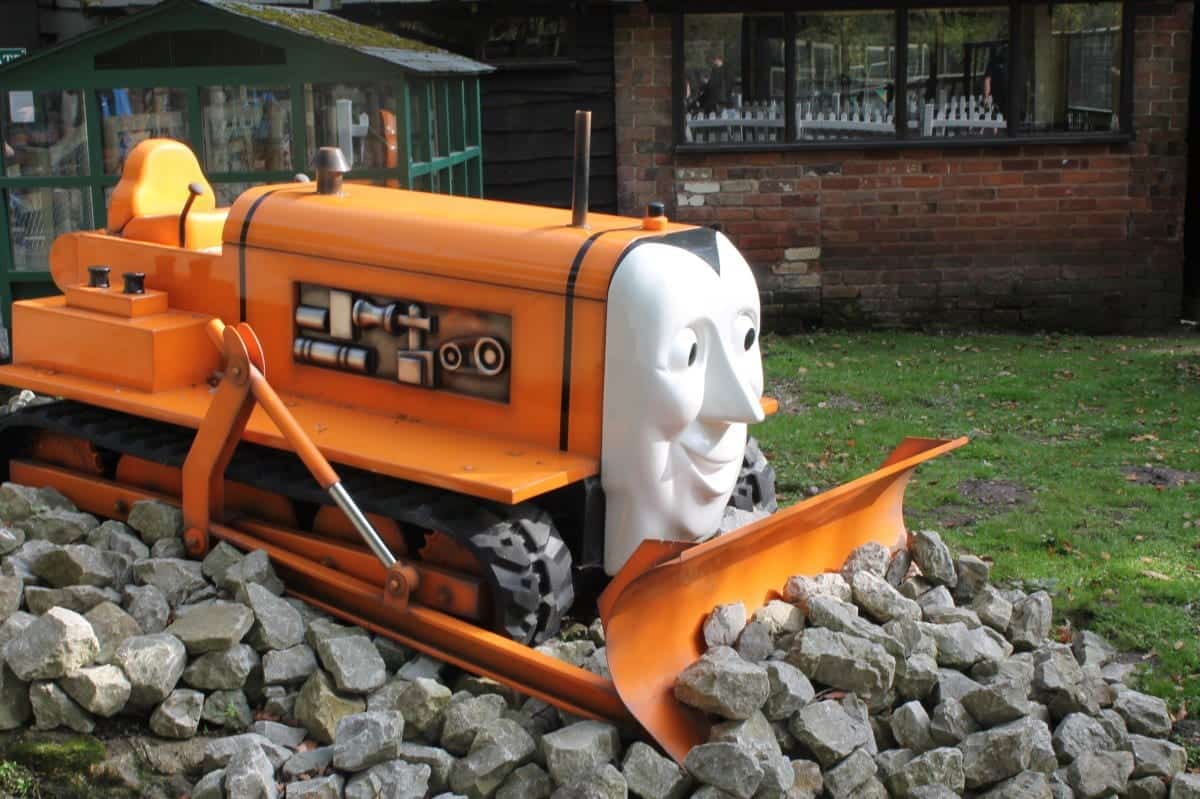 What other attractions are there at Drayton Manor Theme Park?
There was also a little farm and a few zoo animals although I wasn't impressed with their enclosures and the whole animal part of Drayton Manor felt like the last few animals from the original zoo and definitely not something guests would go purely to see although a nice addition. There was a tiger, some monkeys and parrots and a few other small animals.
There was also a Dinoland exhibit that again was a bit odd and random with huge model dinosaurs to walk around and look at but the main attraction at this end of the park was the adventure play area that the children would have loved to have spent some time at if they hadn't been so tired.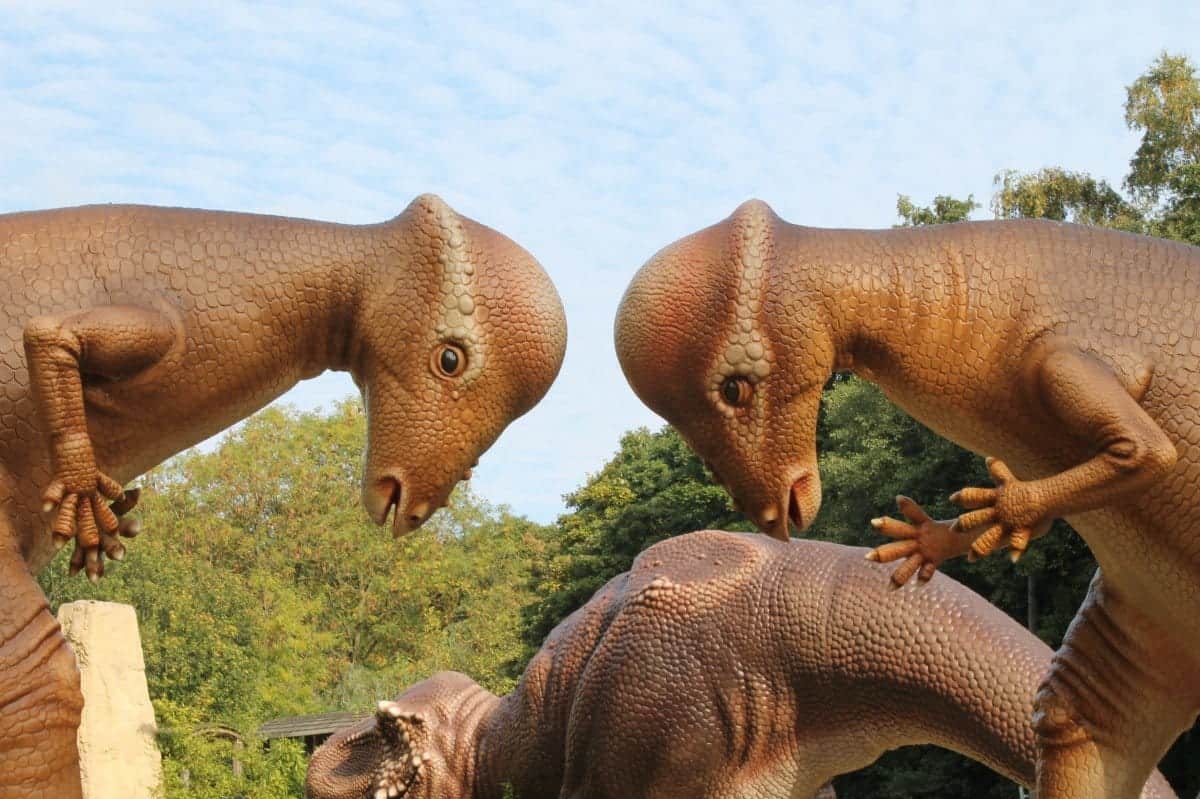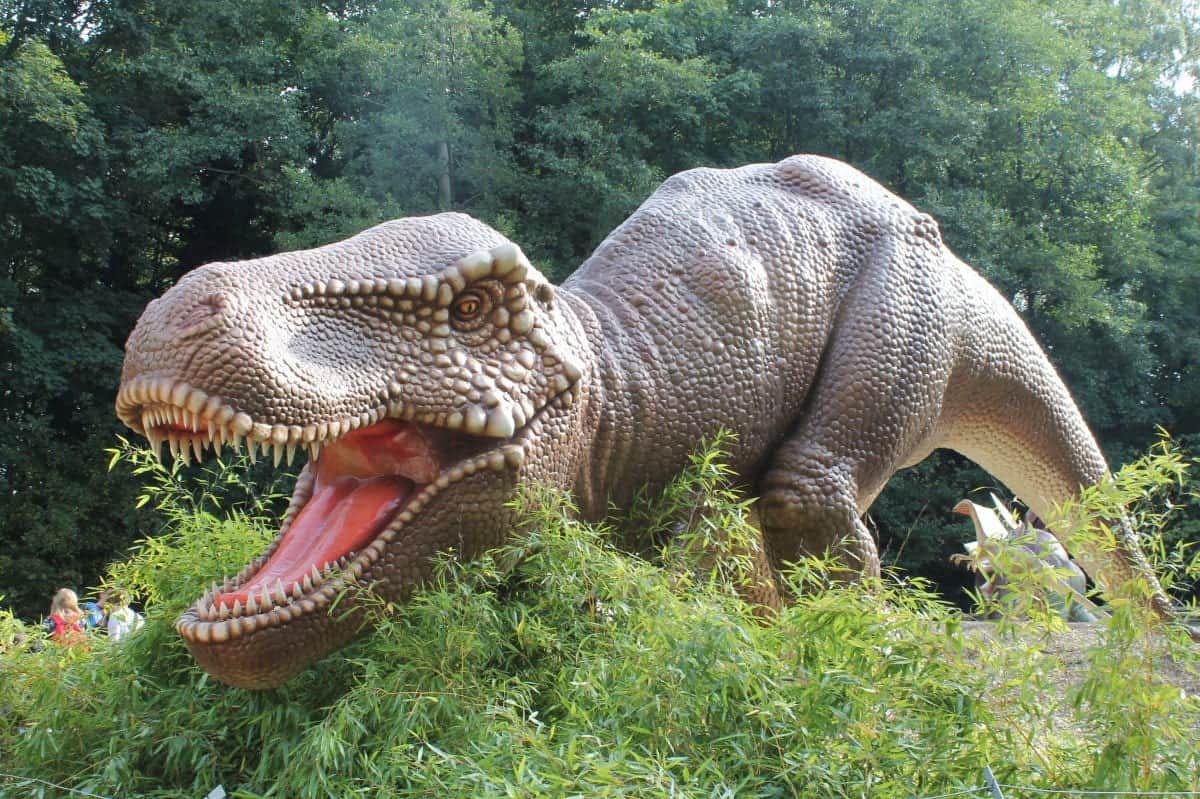 We then walked through the main part of Drayton Manor and went on a few rides and I was impressed that the children were tall enough for a lot of it – 90cm seems to be a good minimum height if visiting Drayton manor.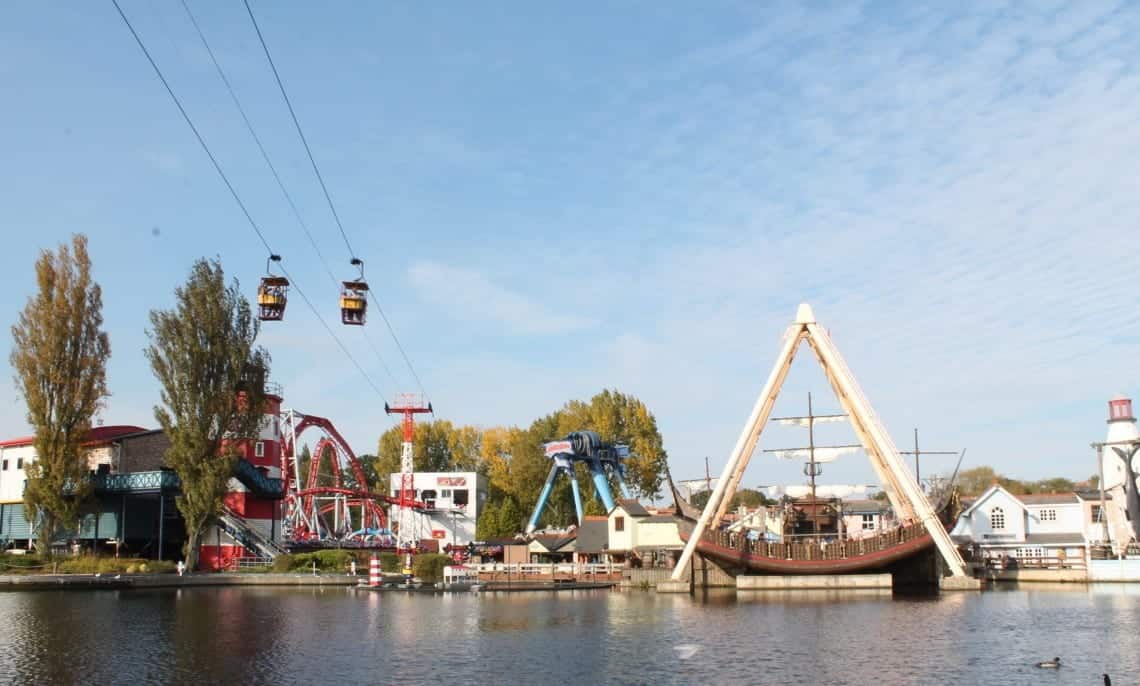 The park is quite big and has a great mix of water rides, rollercoasters and traditional fairground attractions like carousels and even old fashioned penny arcade machines. Drayton Manor has been around for a very long time – and it shows – but it does have a vintage charm about it that is hard not to love. Parts of Drayton Manor need a bit of life putting into them – or pulling down – but other parts really make Drayton Manor such a lovely day out.
Before I started writing this review I had a very rose tinted view of our day at Drayton Manor and now that I've put it down into writing it seems really negative but it isn't meant to be. We had the best of days at Drayton manor, Thomasland especially, and it's a day that the children will be talking about for years. It's a great value day out compared to other theme parks – especially if you book more than 7 days in advance – and it is a great day out that the family will love. Just make sure you don't go expecting the shiny newness of Alton Towers and instead submerse yourself in a theme park that will remind you of everything you loved about your own childhood. I can guarantee any family will have a great day at Drayton Manor.