Disclosure: We were invited to see this show for the purpose of this post however all opinions are my own.
Last weekend we took the children to The Old Market, Brighton to see their very first concert. I can safely say that by the time I was LP's age I hadn't been to a concert – and was actually an adult by the time I first saw live music. But, LP and Little Man were treated to quite an experience – Andy and the Odd Socks live on stage!
LP and Little Man are familiar with Andy – as they know him from his dinosaur adventures on the TV but they had no idea he had a band too. Andy Day and his band – Rio, Blu, Moxy and Cousin Mac – create songs for children that adults can enjoy too. They were all fun, engaging, loud and just the sort of thing that children love so LP and Little Man were pretty excited the minute the band came out on stage.
We weren't familiar with the Andy and the Odd Socks songs before they started playing but by the end of each song we knew all the words. There were songs about football, aliens and even a vacuum cleaner – yep, a vacuum cleaner! All of the songs were lively, had actions and audience participation and LP and Little Man loved it – especially when giant inflated balls bounced around the audience and a flossing alien appeared on stage!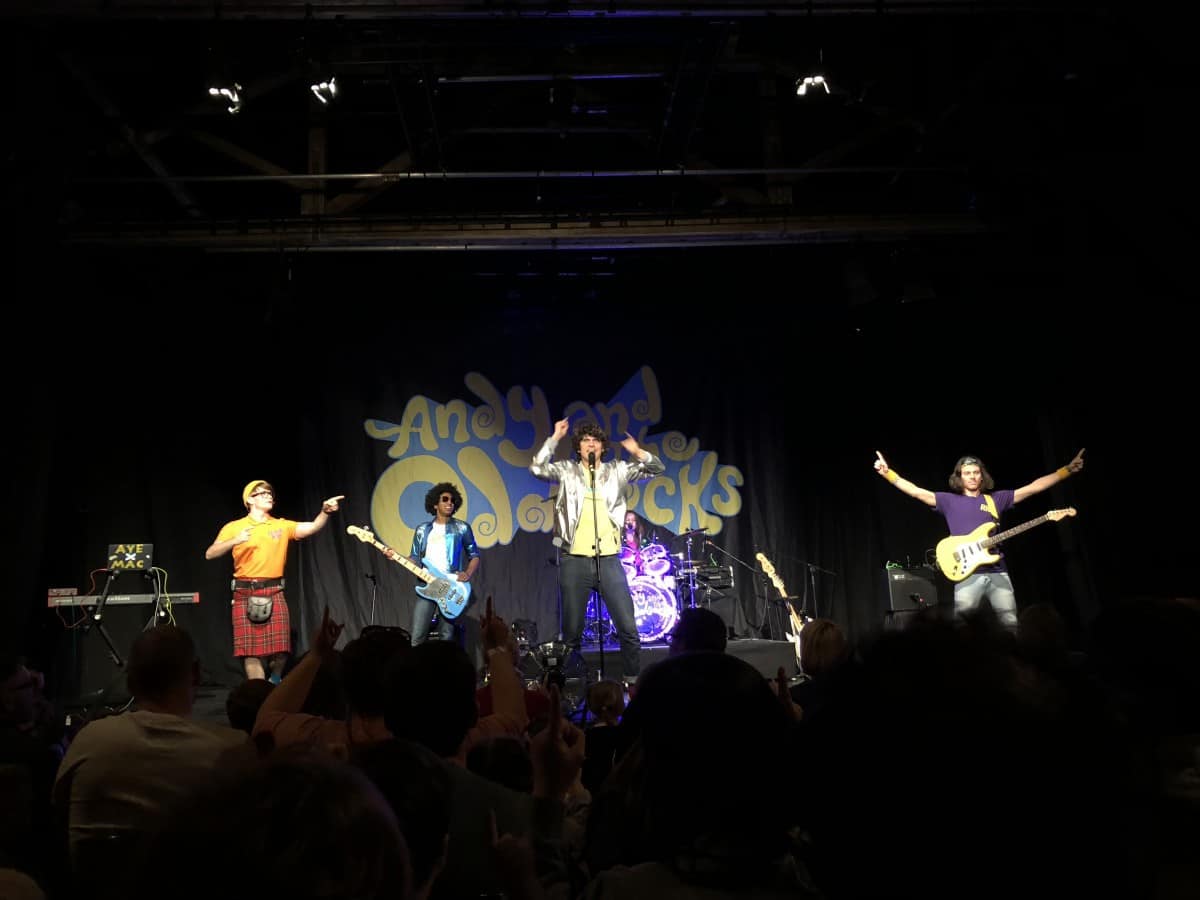 Andy and the Odd Socks was so much fun for the whole family. It was really loud – with lots of young children wearing ear defenders – but LP and Little Man loved it and it was a really nice introduction to live music.
LP and Little Man also got to learn about Odd Socks Day, where Andy and the Odd Socks have teamed up with the Anti Bullying Alliance for Anti Bullying Week to give children an opportunity to express themselves and celebrate their individuality and what makes everyone unique. Odd Socks day is on Monday 12th November to help raise awareness around anti-bullying and you can find out more here.
If you would like to introduce your children to live music and also hear songs that promote having fun, equality and embracing our uniqueness then Andy and the Odd Socks are a band for you. You can see the rest of their tour dates over on the Andy and the Odd Socks website.