The Bodmin and Wenford Railway is a classic old fashioned passenger railway that runs both steam and heritage diesel engines. With a five year old who is in love with Thomas the Tank Engine and all trains, we made the most of one of the running days on our way back from Cornwall recently to stop off at Bodmin General station for an hour's fun visiting one of the best train rides in Cornwall.
We looked up the time table and prices online and were delighted to discover that at certain times of the year, children can go for only a pound when accompanied by a full paying adult! What made this better was that there are no time limits as to how long you can go up and down the line, making it a cheap full day out if you want it to. Free parking is available at Bodmin train station with another overflow car park nearby.
With the vintage charm of days gone by at Bodmin Station, there were lots of things to take in. From the authentically uniformed staff in the old ticket office to the small but well stocked gift shop, there is lots to look at. The member of staff in the gift shop was also actively seeking out children and giving them an activity sheet and colouring pencils to use onboard. A lovely and unexpected touch. From vintage advertising posters and routes, everything about the station instantly took us back in time. The children were in love with the place, happy to pose for photographs along the platform with props like luggage, station signs and even an old milk churn cart. Every detail was well thought out and blended in perfectly.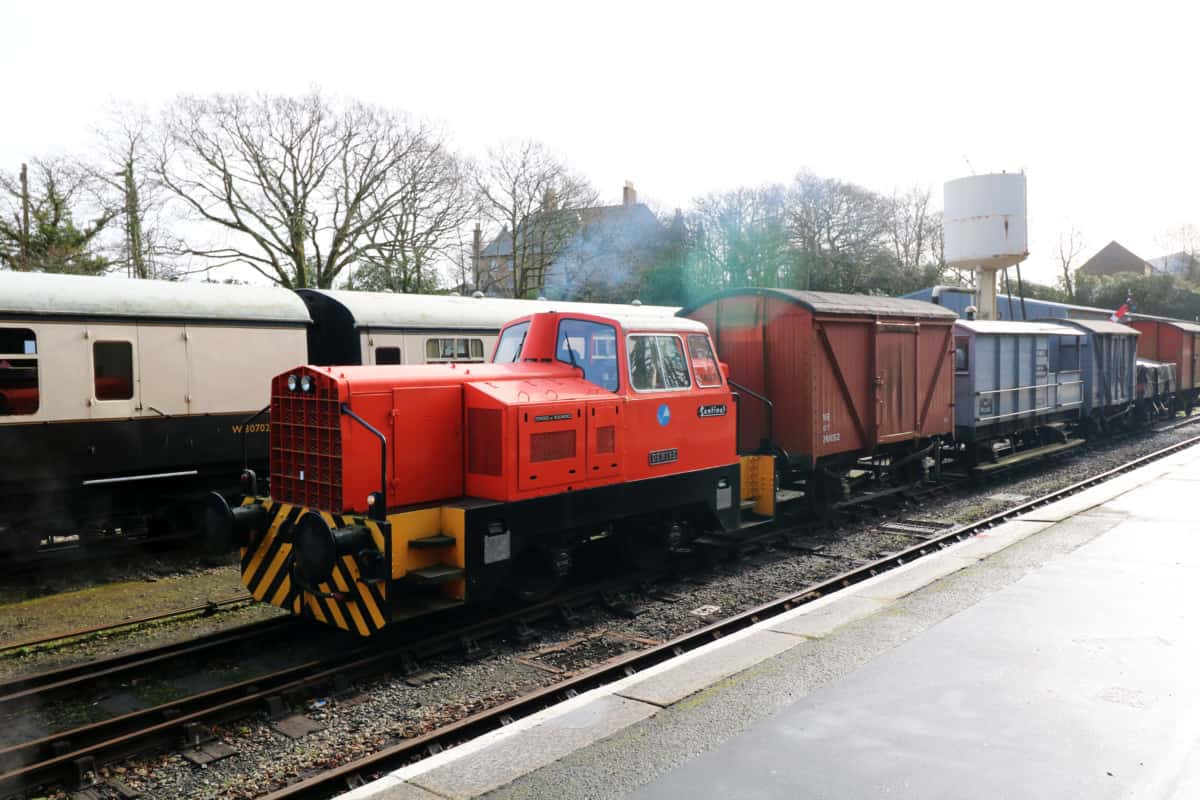 The signalman at the end of the platform was also in authentic uniform and when we heard an almighty whistle coming from a siding, we saw him swing into action, pulling levers allowing our engine to approach the platform. As it pulled in slowly, the children were in awe, it was so loud! The driver approached the carriages head on and the engine was coupled up. It was a few minutes until departure and the crew allowed all the children who wanted to, have a few moments actually inside the cab! Little Man was in his element.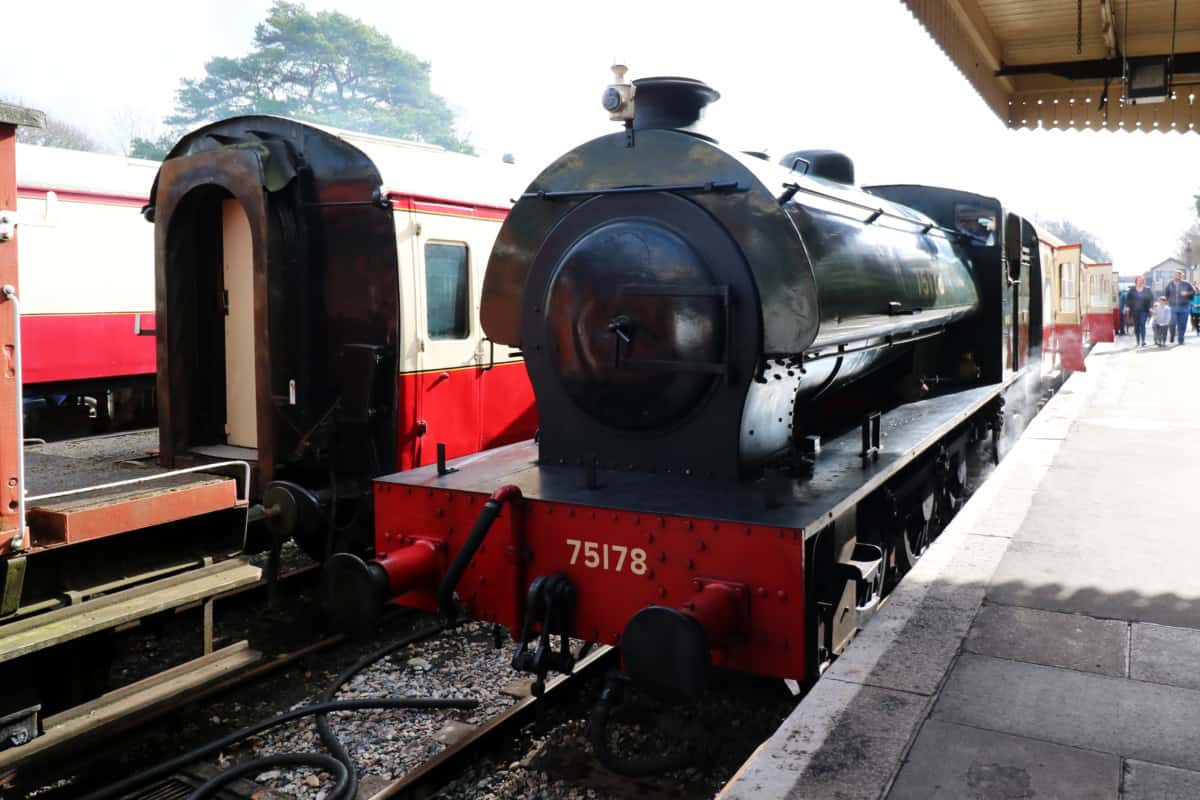 It was time to find some seats and we were fortunate enough to find an empty compartment with big windows. We soon settled in and we could feel the steam building. Soon we were off, enjoying the Bodmin steam train ride. The ticket inspector soon came round and asked for our tickets, also telling us that tea, coffee and snacks were available at the end of the carriage. The children enjoyed their activity sheets, doing a crossword, colouring in pictures and spotting things out of the windows that were on a list. It was all railway themed and we loved every minute of it.
When the train pulled into the next station, Boscarne Junction, we took the opportunity to visit the tea lady and we also swapped seats into another carriage that was more open, allowing another family to enjoy the ride back in the private compartment.
Boscarne Junction is adjacent to the Camel Trail and we saw many people with bikes disembarking to go on a cycling adventure. This looked like a great stop for a cycle or walk and there is a pub, tea room and vineyard all within a 30-minute walk of the station.
During the fifteen minute stop, the engine whizzed past and soon coupled up to the front of the carriages. We were then on our return journey to Bodmin that was just as enjoyable as the first leg. At other times the steam railway train would stop at Bodmin Parkway and Colesloggett Halt too.
As we were on a schedule to get closer to home to meet friends, we only did one trip on the railway, getting back off at Bodmin Railway Station, but we could've stayed all day, the last trip wasn't for a good few hours. We managed to get photos with the engine at the front of the carriages and the children had thoroughly enjoyed their morning on the railway.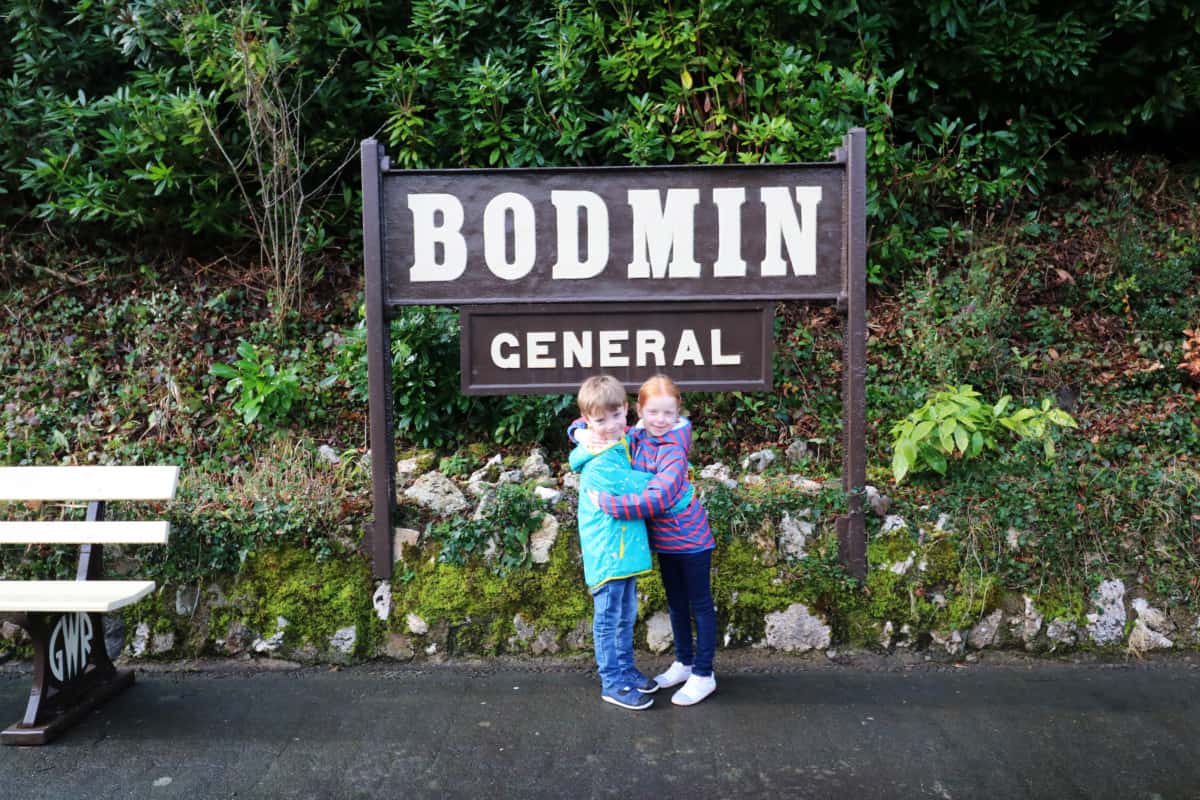 If you're in the area then the Bodmin & Wenford Railway would be a lovely addition to any day out and the children loved the experience of going on a real life Cornish steam engine. It isn't a big main line steam train but it does offer connections to the First Great Western railway service at Bodmin Parkway if you want to make it part of a longer journey. It's not every day you get to travel on a heritage railway service that's for sure!
Ahead of your visit make sure you check the Bodmin and Wenford Railway Facebook page to see if there is an applicable Bodmin Railway discount that you can make use of. There are also many special events and you could even treat yourselves to Bodmin Railway cream teas or a Bodmin Railway Christmas special. You can find out more about the Bodmin Steam Railway here.