*This is a paid post
It will come as no surprise that I've gained weight over lockdown. After such a challenging year, 70% of people have put on weight and I know that, as lockdown started to ease, I didn't feel healthy at all. I had spent the pandemic finding comfort in food, hardly leaving the house and immersing myself in books and TV. We did what we could to get through lockdown but, once we got some of our freedom back, I wanted to make changes and return to my happy, healthy lifestyle.
This year, SlimFast and Kelly Brook are encouraging people to 'Love the Shape You're In' which celebrates individual body positives and being the healthiest and happiest we can be. I can relate to this so much as I love my body and am at my happiest when I'm comfortable and can exercise easily. When running around with the kids comes naturally and when I feel good in my clothes.
Where does SlimFast come in?
I've been using SlimFast products on and off for years. SlimFast works for me and whenever I want to kickstart weight loss or healthier eating I know I can follow the SlimFast 3-2-1 plan and it will get me back on the right track, getting my portion sizes under control, losing weight and eating better.
But, most of the time I don't follow the SlimFast plan religiously and instead, I use the SlimFast ethos and products to work for me in my day to day life. I make small changes that have a big difference and I've found, now more than ever, that I'm not really focused on weight loss. Instead, I want to feel good in my body, be fitter and feel healthier.
So I thought I'd share the little changes I've made that have made a big difference to me over the last few months. Changes that have been easy to make and have helped me feel confident again and be comfortable in my skin with the added bonus of losing excess weight at the same time.
Small changes to help me Love the Shape I'm In
Drinking more water. I know, everyone says it. Whenever anyone talks about being healthy, the first thing they say is to drink more water. But, it works. Your body needs a lot of water to function properly. It flushes out your system, keeps you hydrated and keeps everything working as it should. Drinking water is such a priority for me now and it really does make such a difference.
Exercise regularly. Exercise can be a scary thing if you're not used to it and your mind throws up images of people in gym gear working out with a personal trainer – which can be a terrifying prospect for many, myself included! But, for me, exercise is simply moving more. I've stopped using the car as much and walk wherever I can when running errands, doing the school run or even just passing some time. I go for a walk most days after I've dropped the children off at school and it really sets me up for the day. I have so much more energy afterwards and feel much more on the ball.
Eat the right things, at the right times. I know how easy it is to skip meals when you're busy, getting so caught up in work that you miss lunch or you give the kids breakfast before school and forget to eat anything yourself. But, the SlimFast plan has taught me that you need to eat regularly. Breakfast, lunch, dinner and healthy snacks in between.
I now never skip breakfast, instead enjoying ten minutes to relax with a SlimFast shake and my book in the morning whilst the children are having breakfast. It's a great way to start the day.
As you can tell, shakes and meal bars are a real go-to for me. They're perfect when I'm at my desk working as I can plough on with work and instead of skipping lunch and working right through. I can eat a meal bar or drink a shake at my desk without any disruption to my day.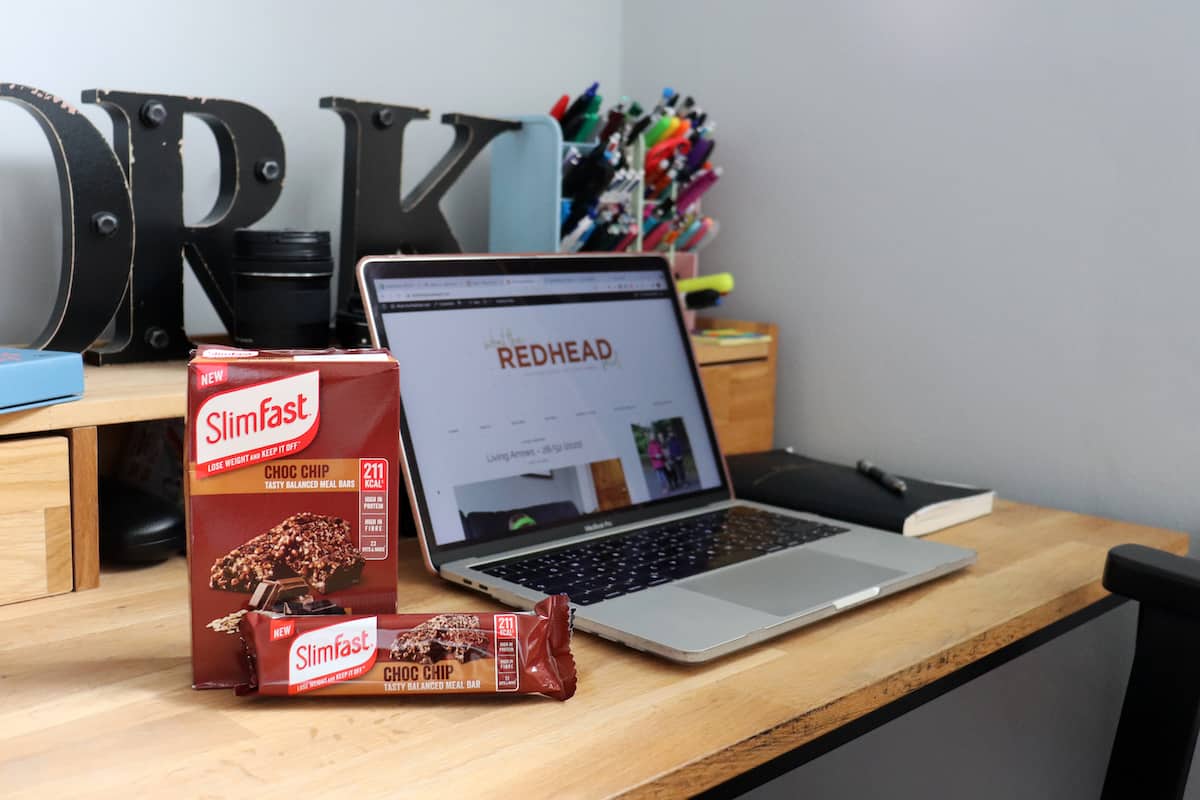 The shakes and meal bars are a great tasting, nutritious meal that is super convenient and always there when you need it. If I haven't thought about breakfast or lunch, I love knowing that I can grab a shake for a simple, tasty option that has all the nutrients I need.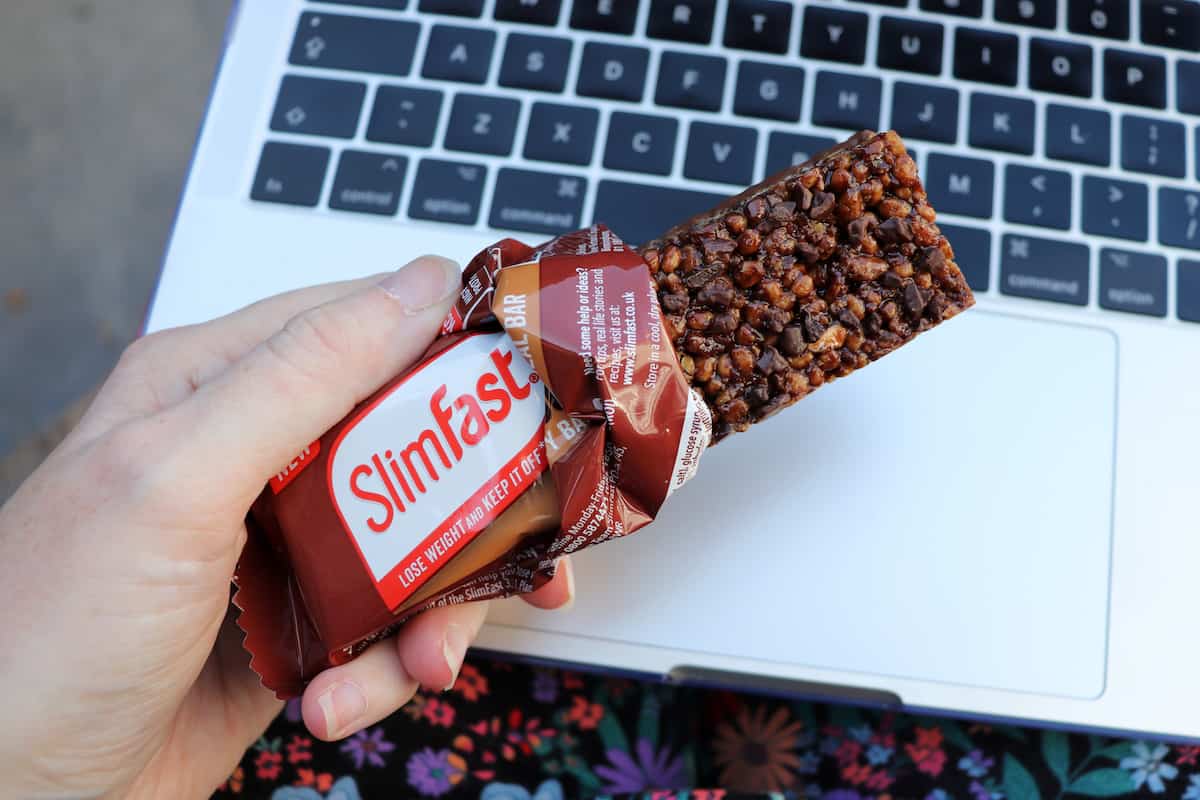 Really though, the best thing I have ever done is to start meal planning and SlimFast has a whole bank of recipes online that are all healthy, tasty, balanced meals. Knowing I have my meals planned stops me from buying takeaways or cooking something unhealthy on the spur of the moment.
One other place where I have always fallen down when it comes to healthy eating is days out, Whenever I am away from home I forget about food and end up grabbing something quick – and often expensive too. Now, I take a SlimFast meal bar or a ready made SlimFast shake on days out, if I'm working away from home or even if I'm just running errands.
And what about snacks? I know often when people are focused on losing weight they cut snacks out completely. But, for me, when striving for a healthy lifestyle, I have 2-3 snacks a day, spaced out between meals. They give me extra energy and also something to look forward to as well. I'll often eat fruit at home but, for some variety I always have SlimFast snacks in the cupboard. Bags of SlimFast savoury snacks and SlimFast bars are a great pick me up when there's still a while until lunch, in the mid-afternoon lull or in the evening whilst having a cup of tea in front of the TV.
Quality sleep. As well as eating better, exercising and drinking water, sleep plays a big part in how healthy we feel. I always feel much better when I've slept well and I now make a conscious effort to go to bed earlier, switch off screens to wind down before bed and I create a good sleeping environment without any disturbances or distractions too. Blackout blinds are mandatory!
Time for me. One big thing I've changed over the last few months is having time for me which really helps focus on my mental health and wellbeing as well as the physical side of things. My daily walks are a big part of this but also, taking time to read in the afternoon or evenings, putting everything aside to watch an episode of my favourite TV show or switching off to have a bath. Simple things that make such a difference.
For me, the main things are drinking water, sleeping better, moving more and really taking control of the things I eat and drink each day. I may not be focused primarily on losing weight, but SlimFast is a simple and convenient way to support my more long term weight management goals too.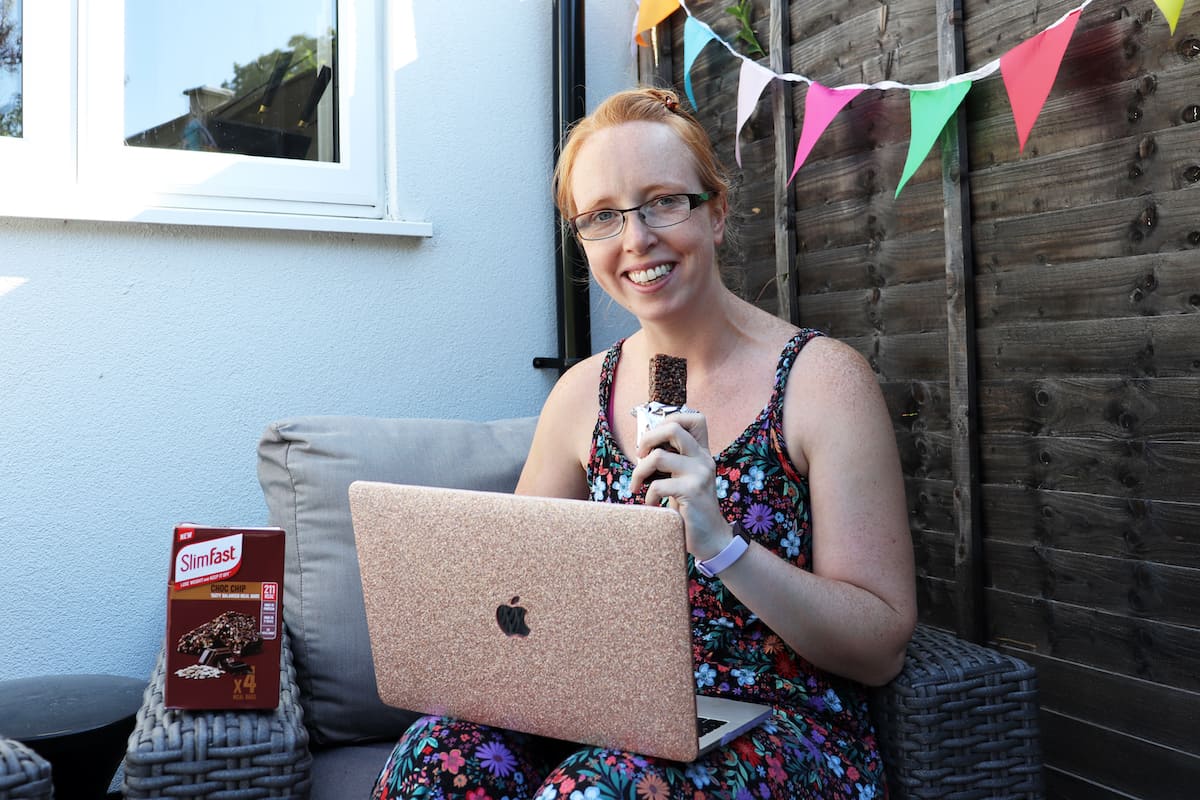 Since March, when I started focusing on making healthier choices, I have lost around 14lb and my clothes fit me so much better. But, more importantly, I feel great too. I have so much more energy, can sleep better and move more easily. After such a tough year it's so nice to start to feel good again.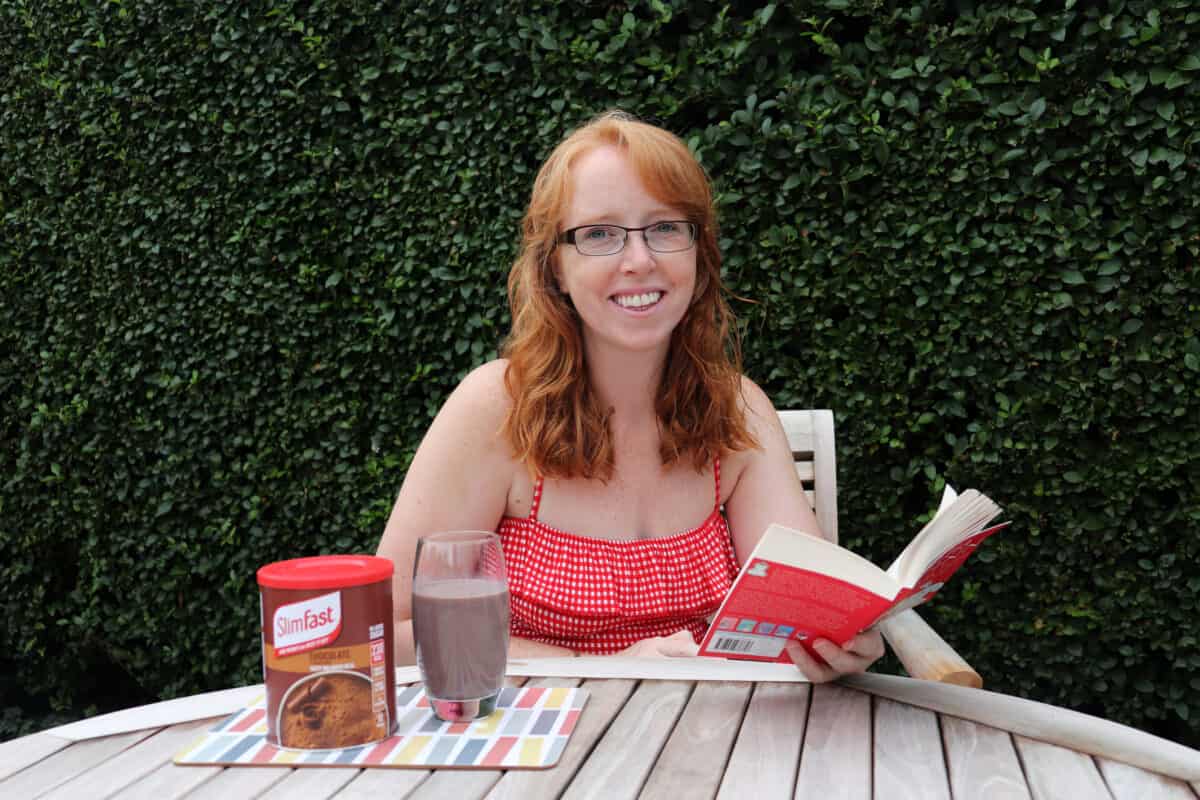 Balanced nutrition and great taste is an essential part of the SlimFast range which offers a simple, doable and effective weight loss solution. For more information on the SlimFast range please visit the SlimFast website.