*This is a paid post
Our children have always loved to get involved in the kitchen, baking, cooking and usually making as much mess as possible! But, there's nothing quite like having your own recipe book as a child. And Sammy Satsuma goes one step further – enabling you to create a beautiful, personalised recipe book for any child.
Who are Sammy Satsuma?
Sammy Satsuma create personalised books for children and their new personalised recipe book aims to encourage a healthier relationship between children and food, while introducing kids to the joy of cooking.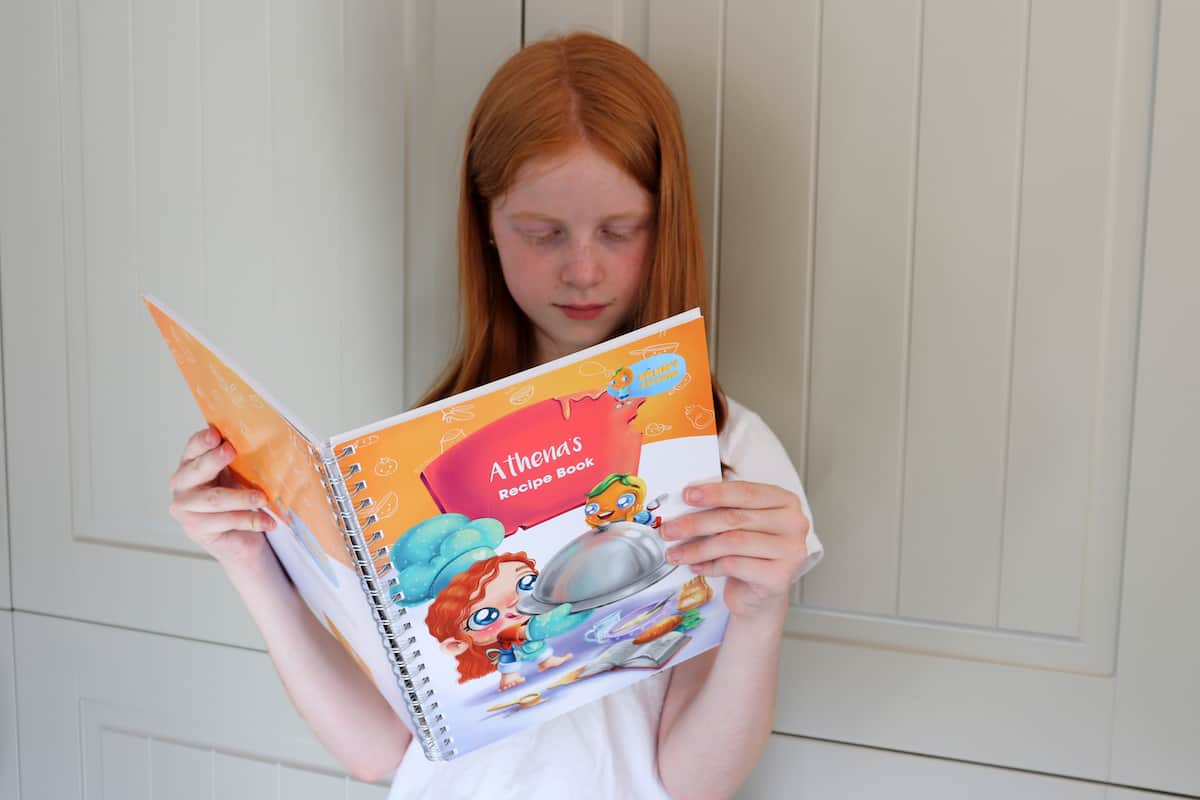 How do you create a personalised recipe book?
Making your own personalised recipe book couldn't be easier. Using the fun and friendly Sammy Satsuma interface, you create a cartoon avatar of the child that will feature on the recipe book cover. This cartoon character comes with so many choices to personalise them – with hair, eye and skin colour choices, and the ability to add glasses and freckles. You also add the child's name as it will also appear throughout the book.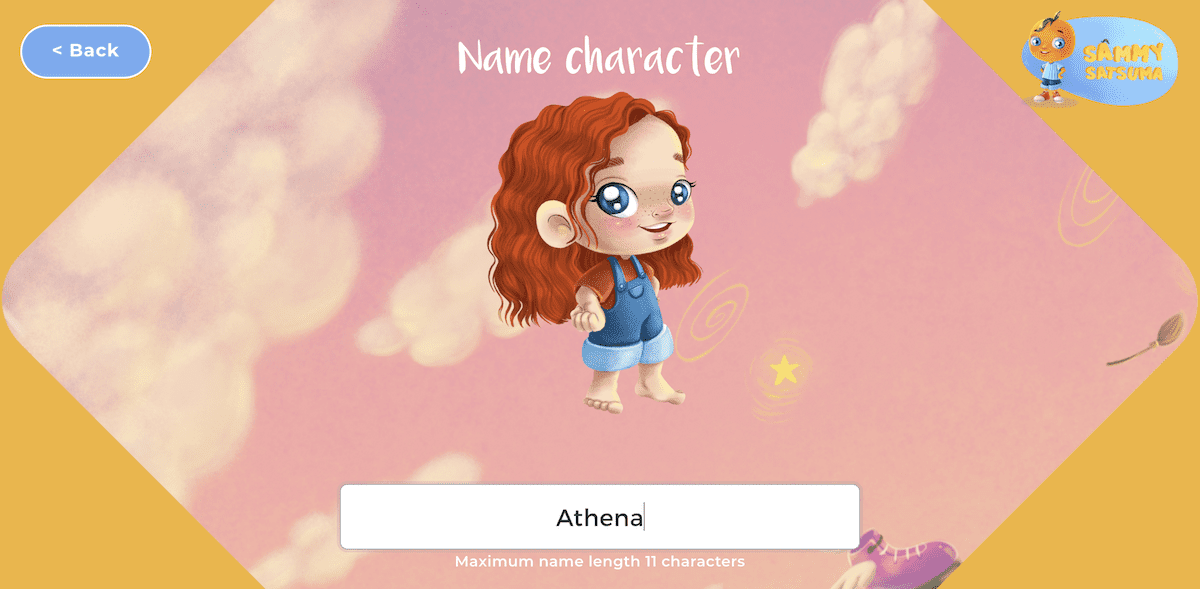 Once you've created and named the character in the book, it's time to pick recipes, all constructed by award winning chef, Jo Pratt. The book features ten healthy, nutritious but also fun and child-friendly recipes that all children will love to create. Maximising the personalisation in the book, you get to pick what those ten recipes are from a wide selection available, creating a book perfect for the child you are making it for.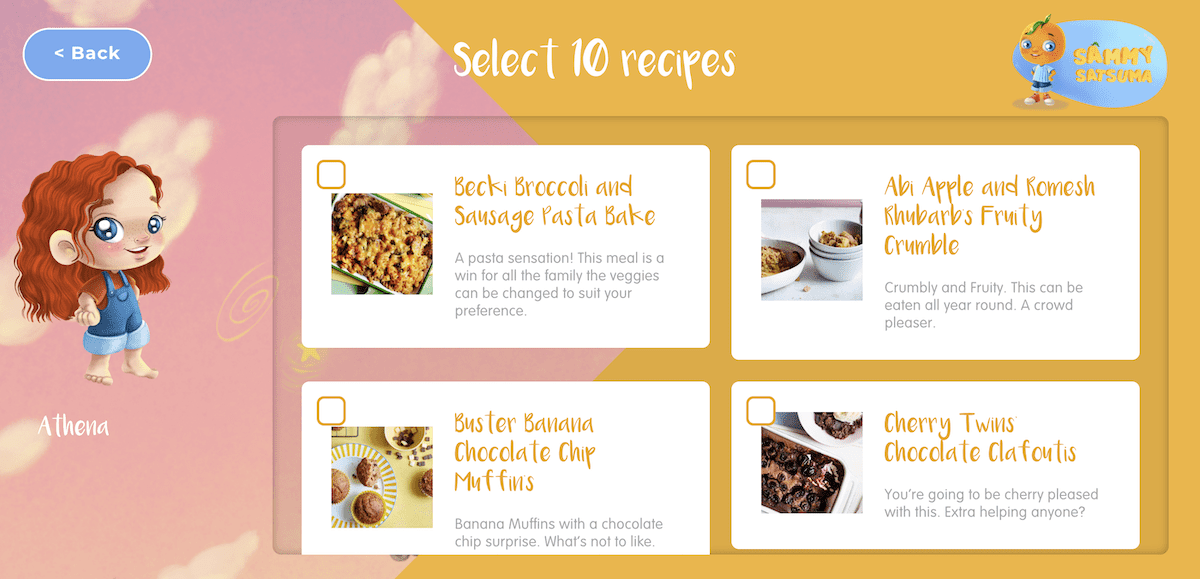 There's a great variety of main meals, snacks, desserts and side dishes from pasta bakes and muffins to curries, cookies and fajitas. Making the book for LP, I created an avatar that looked like her – with red hair, blue eyes and freckles, before picking a selection of recipes I knew she'd love to create at home.
I chose a few dinner recipes so that she could take control, making dinner for the family. But, I also added some desserts and a few tasty bakes too. LP already loves being in the kitchen but I knew that having her own personalised recipe book would be a whole new level of kitchen fun for her.
The Sammy Satsuma Personalised Recipe Book
The recipe book arrived super quickly and I had imagined a small, hardback recipe book. What arrived was a fantastic, large format, ring bound recipe book with wipe clean pages. It instantly struck me as a really practical book, perfect for even the youngest of children to enjoy.
The wipe clean pages make it fantastic for use in the kitchen and the ring binding makes it easy to use – you'll never lose your page. The pages are also really thick, perfect for small hands and giving it a really lovely, durable quality that I always appreciate as a parent.
LP loved the book from the moment she saw it. With her name on the cover, a character that looked so much like her and her name all the way through the book too, I know it's a book she'll always treasure.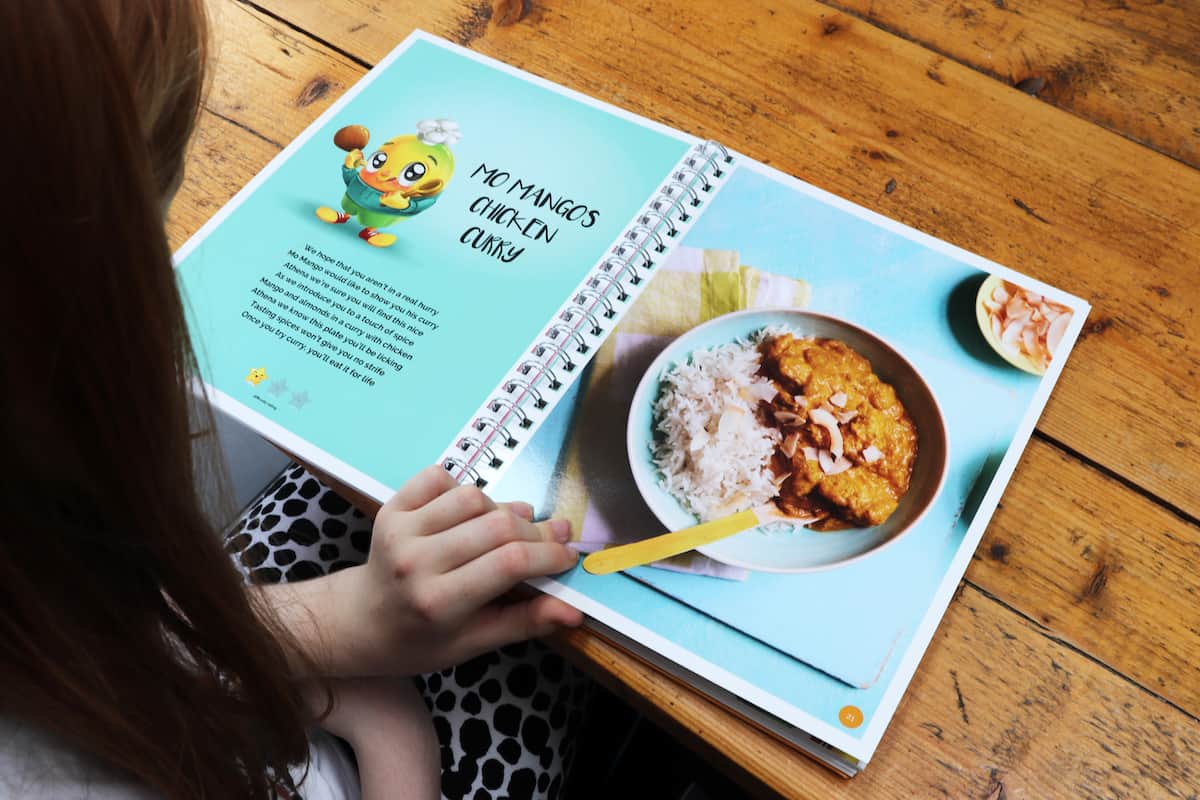 The child's name appears in a poem at the start of each recipe and throughout each recipe method. It's like the writer is speaking directly to the child and is a fantastic way of keeping them engaged.
Each recipe has really clear step by step instructions and an ingredients list. All of the ingredients are easy to find in the supermarket and the recipes show the total time to prepare and cook the meal, how many people it will serve and any dietary facts like nut free, vegetarian, gluten free, dairy free etc. There's also a difficulty rating on each recipe that LP loves, giving herself a challenge when she feels like it or picking an easier recipe when we're short on time.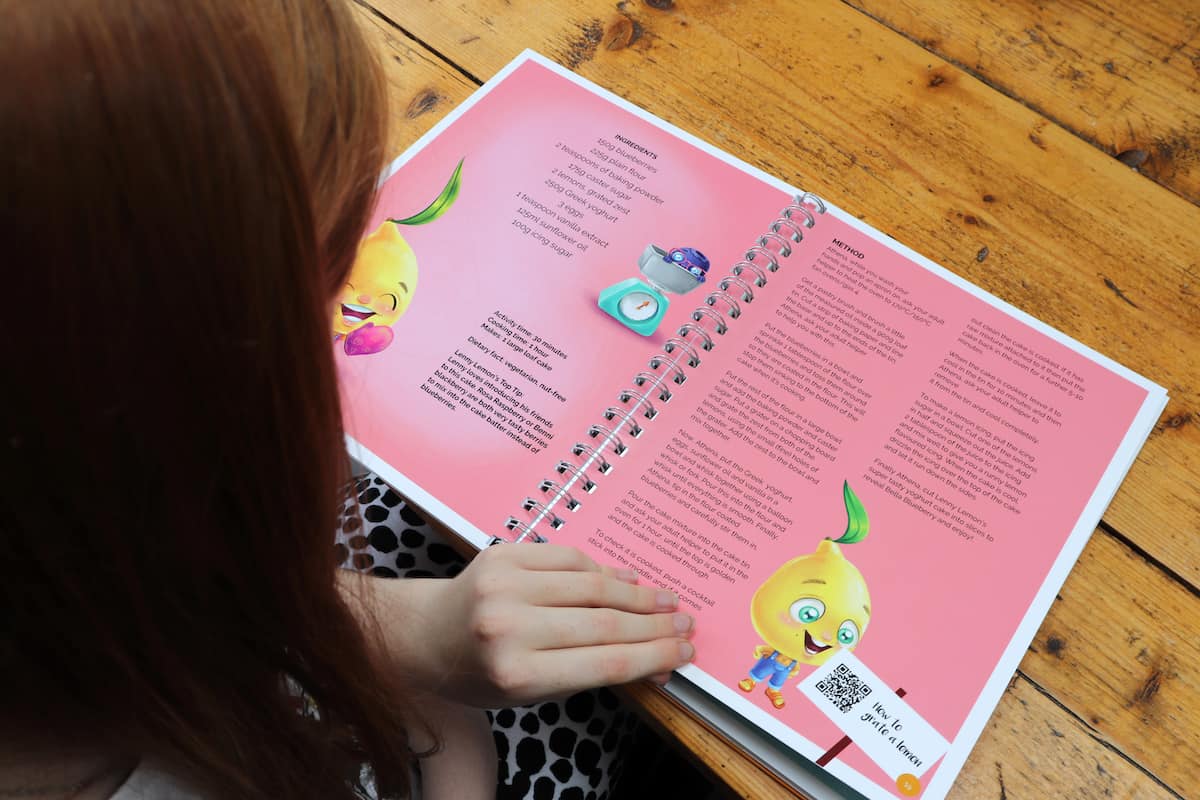 Throughout the book there are tips and QR codes to scan with extra things to learn like how to grate a lemon, how to prepare a mango, how to peel a carrot and also more recipes to extend the child's kitchen repertoire. Plus, there are cute and colourful characters on every page. It's such a fun, engaging book for children.
Each recipe book also includes a sheet of stickers showcasing all the Sammy Satsuma fruit and vegetable characters and a secret Tomato Sauce recipe – perfect for on pizza, with meatballs or as a pasta sauce. A lovely bonus recipe that comes with every recipe book.
What we thought of the personalised recipe book
As soon as the recipe book arrived LP begged to get in the kitchen and baked some banana and chocolate chip muffins which were delicious! She did pretty much everything herself and was so proud of the finished product – we even doubled up the recipe to make twice as many!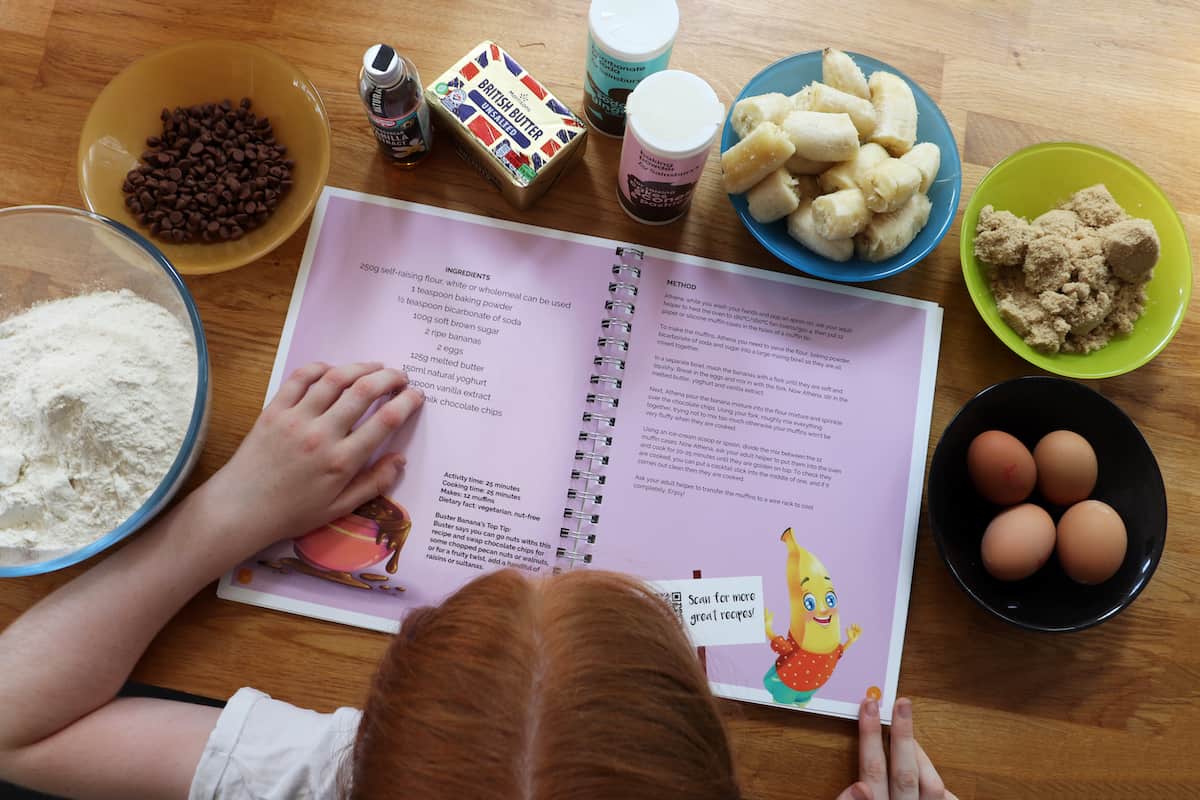 Although LP is older, and pretty independent now, the book would also be fantastic for young children. It's a great introduction to cooking, has a fantastic recipe choice and is a book that children will enjoy at any age and as they grow.
The Sammy Satsuma personalised recipe book is such a unique product. I've never seen anything like it before and I know it would make a fantastic gift for any child. It something completely different that will bring hours of enjoyment with parents, grandparents, aunts and uncles able to share the cooking experience.
Plus, it's nearly the school holidays and we're all looking for ways to keep the children happy and entertained over the summer. The Sammy Satsuma Personalised Recipe Book is something that families can enjoy together, spending time in the kitchen, doing something creative whilst making something delicious to share afterwards. I can't think of a better summer activity.
The Sammy Satsuma personalised recipes books start at £34.99 and you can find out more and create one over on their website. Plus, use code REDHEADSAID for 15% off your order!