If you need to work over the holidays and need childcare then holiday clubs are a really popular idea – and there are so many across Surrey that you're bound to find one perfect for your children that's close to where you live or work.
Why use a holiday activity club?
Most parents work and unless you work term time only, annual leave will never cover all of the school holidays. The rest of the time you have a constant juggle between grandparents and friends, trying to cobble together childcare across all the school holidays.
Holiday clubs are a great alternative and a lifeline for many parents where alternative childcare just isn't available. The kids clubs are usually fully insured, Ofsted registered and give you as much peace of mind as when your children are at school. Plus, many also accept childcare vouchers too.
At kids holiday clubs the children will do kids activities they wouldn't usually do – and ones you wouldn't have the facilities to do in your own home. This could be anything from archery to swimming, den building to team sports. There's always a good mix of active time and more relaxed holiday club activities that children are bound to love.
Another great benefit of holiday camps is that the children will make new friends and socialise with more people. They'll often attend for the same days as other children, getting to know them over the week or two that they go to camp. Plus, it's a fantastic place to make memories.
Are holiday camps a set format?
Holiday camps vary between companies and you can always find one that suits your child. There are really active sports camps, activity camps with a mix of things to do or forest school camps for children that love the outdoors. There is also often the option to go for a whole week or just for the odd activity day if you wanted.
When do school holiday camps run?
Most school holiday camps run through the Easter and Summer holidays but many are also available to book for half term holidays too. I know that kids summer holiday camps especially are quite a tradition in many families. Availability varies between the different clubs so it's best to look at all the ones local to you and see what dates they have available.
Many camps offer summer day camps or even week long camps. There are so many different kinds of camps from musical theatre camps, summer soccer club camps, martial arts camps and there are many school programs too.
Often your child's school will have after school clubs and these often offer holiday childcare too. It's definitely worth investigating clubs associated with your school as a first port of call.
Who can use school holiday clubs?
The age of the attendees varies between holiday clubs but they're generally for children aged four and over although some take children as young as three. Often they do stipulate that children need to be potty trained and need to be able to get changed and unchanged by themselves for things like swimming and muddy sports activities.
School Holiday Clubs in Surrey
Where: Nower Wood Education Centre, near Leatherhead
When: Most school holidays – Check website for dates
Ages: Wild Explorers Holiday Club: 5-11 Year olds
Wild Explorers Holiday Club is the perfect place to embark on adventures, forge friendships and turn school holidays into lifelong memories!
Ages: Wild Rangers Conservation Club: 11-17 Year olds

Help manage the ancient woodland reserve and learn skills including tree felling, coppicing and habitat surveying as well as fire lighting, whittling and carving.
---
Where: The Quays, Coleford Bridge Road, Mytchett, Surrey, GU16 6DS
When: Most school holidays, 9am-5pm
Ages: 7+
A full morning on the water either playing fun games in kayaks, building a raft and paddling across the lake or testing their balance and coordination on a wobbly boards. After lunch, it's an afternoon of land based activities including shelter building, fire lighting, campfire cooking, branding and crafting, as well as our obstacle course, a range of orienteering courses and team games. At Explore, the fun activities and games are varied throughout the week to ensure that you can experience a real mix of what's on offer.
---
Where: Locations vary.
When: Various dates and times through school holidays.
Ages: 4 – 12 year olds
Can't get enough of performing? Come along and learn an entire show in a week and perform it on stage with amazing costumes and professional sound and lighting on the last day to your family and friends. Taught by an incredible team of industry professionals, it'll be a highlight of their holidays!
---
Where: Surrey Sports Park Guildford
When: Most school holidays – Check website for dates
Ages: Ages vary between activity, check website for details.
Surrey Sports Park offer Surrey Storm Netball Camps, Surrey Scorchers Basketball Camps plus swimming, badminton, squash, hockey and tennis camps.
---
Where: Woking Leisure Centre
When: Most school holidays – Check website for dates
Ages: 4 – 13 year olds
Sports, games, arts & crafts, competitions and more. The holiday camps are jam packed with exciting things to keep kids active and entertained during the holidays – it's cool, it's fun, and definitely not boring!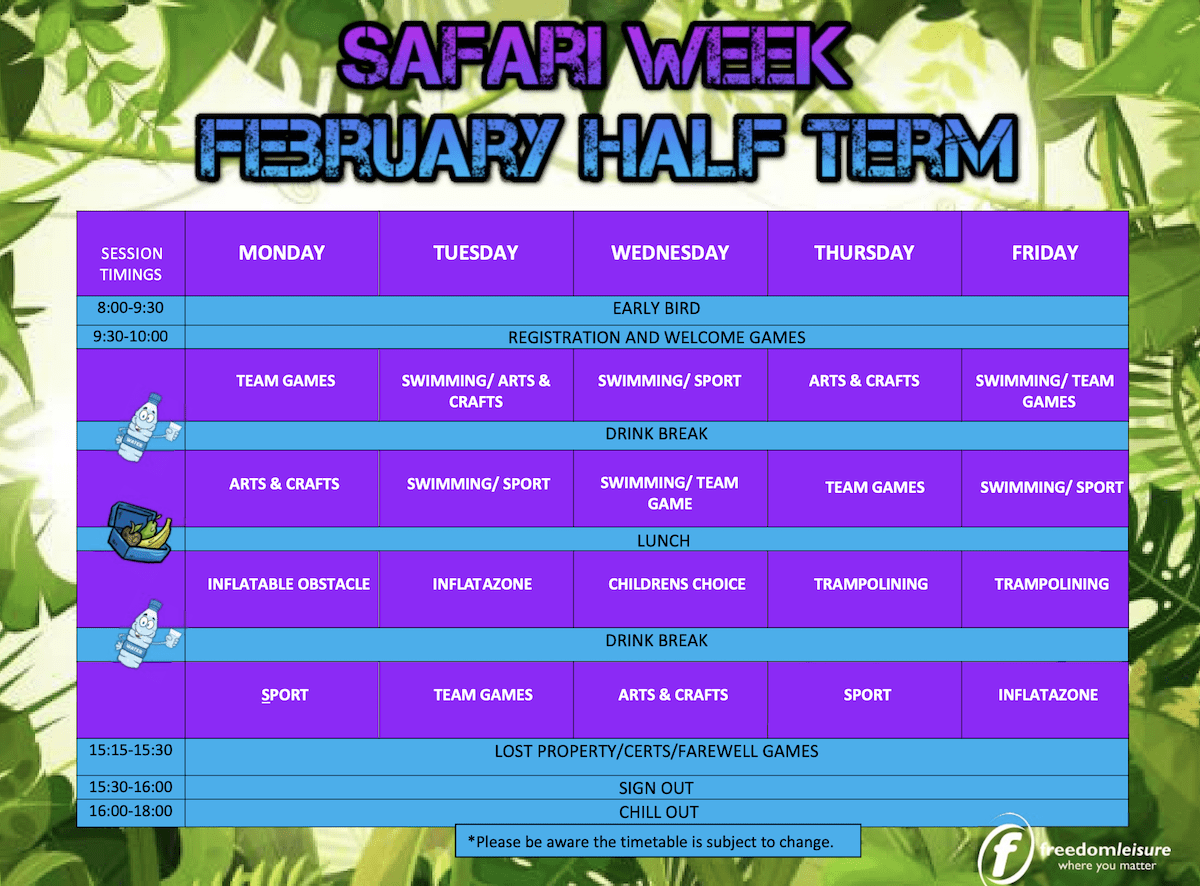 ---
Where: YMCA Sports and Community Centre, Redhill
When: Most school holidays – Check website for dates
Ages: 4-12 year olds
The focus is on having fun in a warm and welcoming environment while learning new skills and enjoying a range of kids activities including sports, crafts and games. Children have access to a new outdoor play area, a fantastic sports hall and dedicated children's activity rooms.
---
Where: Earlswood Junior School, Redhill
When: Most school holidays – Check website for dates
Ages: 7-11 year olds
---
Where: Ashford Park Primary School, Ashford – Danetree Primary School, West Ewell – Knaphill Lower School, Woking – Manby Lodge Infant School, Weybridge – St Edmund's Primary School, Godalming – St Joseph's Primary School, Guildford and more locations across Surrey.
When: Most school holidays – Check website for dates
Ages: 4 – 13 year olds
Experience all the fun and excitement of the Winter Olympics at KOOSA Kids February Half Term Holiday Clubs. With a mixture of active and non-active games and activities, the Winter Olympics Spectacular caters for all tastes and interests.
---
Where: 123 Almners Road, Lyne, Chertsey KT16 0BH
When: 9am to 5pm Monday to Friday, Easter and Summer holidays
Ages: Age 7+
Big Hat Bushcamp aims to help young adventurers to develop their skills in activities like fire lighting, campfire cooking, woodcraft and stealth games.
---
Where: Guildford, Surrey
When: Most school holidays – Check website for dates
Ages: 4 to 11 year olds
The forest school sessions give you a chance to make new friends, explore the beautiful woodland site and take part in many optional activities like ​seasonal woodland crafts, fire lighting, marshmallow toasting and campfire songs, den building, tree climbing, wild food foraging and cooking, bush-craft and more!
---
Where: St Polycarp's, Farnham – South Camberley Juniors, Camberley – Lakeside Primary School, Frimley
When: Most school holidays – Check website for dates
Ages: 4 to 12 year olds
The daily activity programme incorporates a balance of sports activities, creative fun and messy play with 'chill out' time, competitions, challenges and theme days. Activities include: Crossbow Challenge, Archery, Messy Play, Free Play, Water Play, Arts and Crafts, Sports, Cookery, team games, dress up Fridays, parachute games and more.
---
Where: Prior's Field School, Godalming – Amesbury School, Haslemere – Holy Cross Prep School, Kingston – Manor House School, Bookham – Lingfield College, Lingfield – Surbiton High School, Surbiton – Hinchley Wood Sports Ground – Sutton High, Sutton –
When: Most school holidays – Check website for dates
Ages: 4 – 14 year olds
At Ultimate Activity Camps, children will enjoy a fantastic range of sports, games and art activities every week led by engaging staff at amazing locations. Fun is at the heart of everything they do.
---
Where: Places Leisure, Camberley – Westcroft Leisure Centre, Carshalton
When: Most school holidays – Check website for dates
Ages: 4 to 12 year olds
Fit For Sport's holiday camps have been running for over 30 years and are designed to engage all children through multi-sports, games, arts and crafts and more so that they can make friends and keep active throughout the holiday.
You can read our Fit For Sport review here.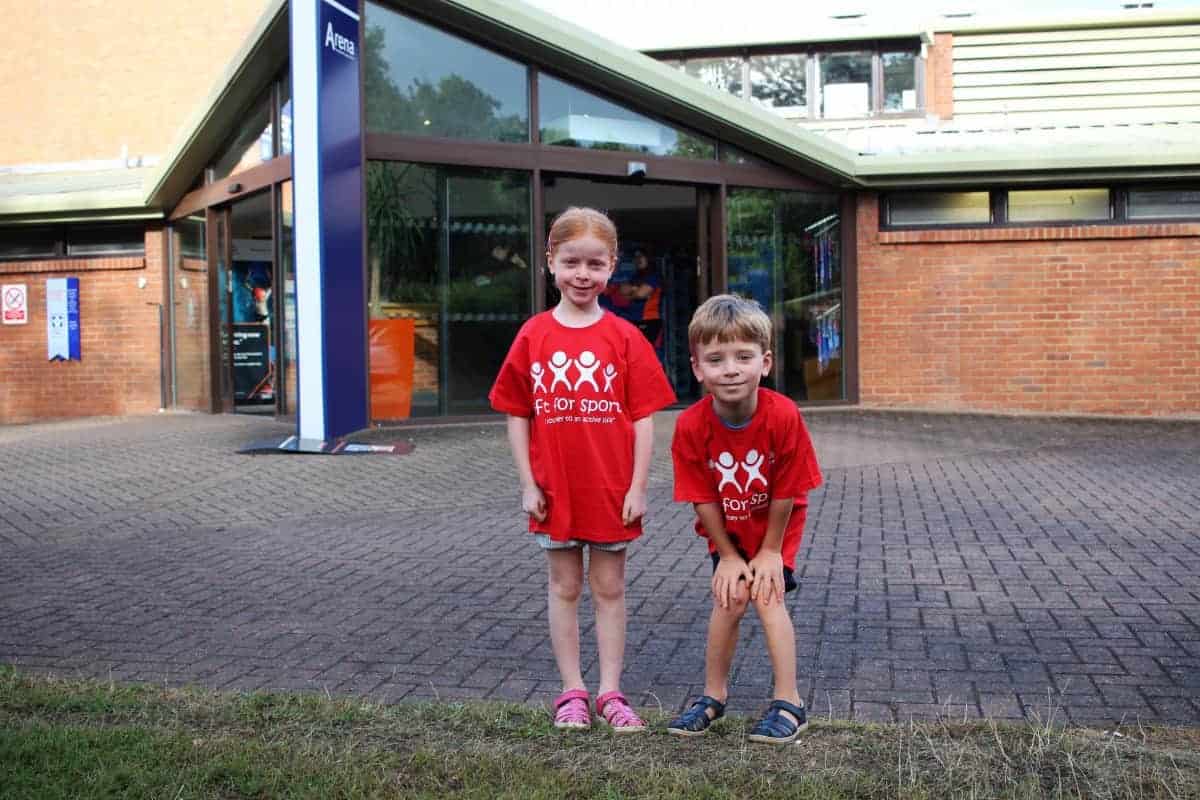 ---
Where: Chinthurst School, Tadworth – Claremont Fan Court School, Esher – Halstead Prep School, Woking – Hobbledown Adventure Farm, Park and Zoo, Epsom – Lyndhurst School, Camberley – RGS Guildford, Guildford – St Mary's School, Reigate – St Ives School, Haslemere – Tiffin School, Kingston upon Thames – Wallington County Grammar School, Wallington and more locations across Surrey.
When: Most school holidays – Check website for dates
Ages: 3 to 16 year olds
Camp Beaumont award-winning half-term adventure day camps feature over 50 activities including archery, football and tennis, teaching children new skills whilst making new friends and enjoying their best half-term break yet.
You can read a Camp Beaumont review here.
---
Where: Twickenham Preparatory School, Hampton – Elmbridge Xcel Leisure complex, Walton – Our Lady of the Rosary RC Primary School, Staines – Walsh CofE Junior School, Ash and more locations across Surrey.
When: Most school holidays – Check website for dates
Ages: 4 to 12 year olds
Premier Education have a range of fun and exciting holiday camps to keep children active. Each Holiday Camp features a range of activities and with a choice between a Multi-Activity camp, Multi-Sport camp, Performing Arts camp, or a Sport-Specific camp.
---
Where: Gordon's School, Woking – Notre Dame School, Cobham – Edgeborough, Farnham
When: Major school holidays – Check website for dates
Ages: 4.5 – 14 year olds
The perfect solution for parents during holidays, Barracudas activity camps offer high quality care and unrivalled activities for kids with an emphasis on fun! Barracudas offers a brilliant programme with a huge range of activities that offer something for everyone.
You can read a review of Barracudas Activity Camps here.
---
Painshill Park also often has a school holiday woodland camp where children can do everything from toasting marshmallows to playing games, learn survival skills and build fires. It's so much more than just a holiday camp.
If you're still looking for a childcare solution that suits your family and lifestyle, check out our review of Childcare.co.uk too – it really helped us when we were looking for a flexible childminder.
I hope this has helped you find holiday courses or summer camps for your children and I'll add any new holiday clubs I come across. If there are any that you know of that aren't on this post please do let me know and I'll add them in.