This post contains affiliate links and I may receive commission if you visit a link and buy something. Purchasing via an affiliate link doesn't cost you any extra, and I only recommend products and services I trust.
One thing our children keep talking about is VR. Whether it's virtual reality headsets like Meta Quest or a day out with a VR Experience, playing games together or as a family, it's a regular topic of conversation.
There are so many VR experiences popping up so I thought it would be a good opportunity to share all the options across Surrey for a VR based activity – whether you're looking to entertain the kids, want a family day out or are looking for something to do as a couple. VR is a fantastic multi player experience, perfect for a group activity like team building or a work night out.
I've included all the virtual reality experiences across Surrey from simple headset VR systems to VR motion platform simulators and VR racing simulators. The more I've researched, the more amazed I've been by the level of technology on offer!
VR Experience Surrey
The Challenge Games Club offer VR experiences with squad and big group games, with a wide range of game options suited to younger children, teens and adults. They also have console gaming, racing simulators and so much more. They have many different packages available, birthday parties and even school holiday clubs.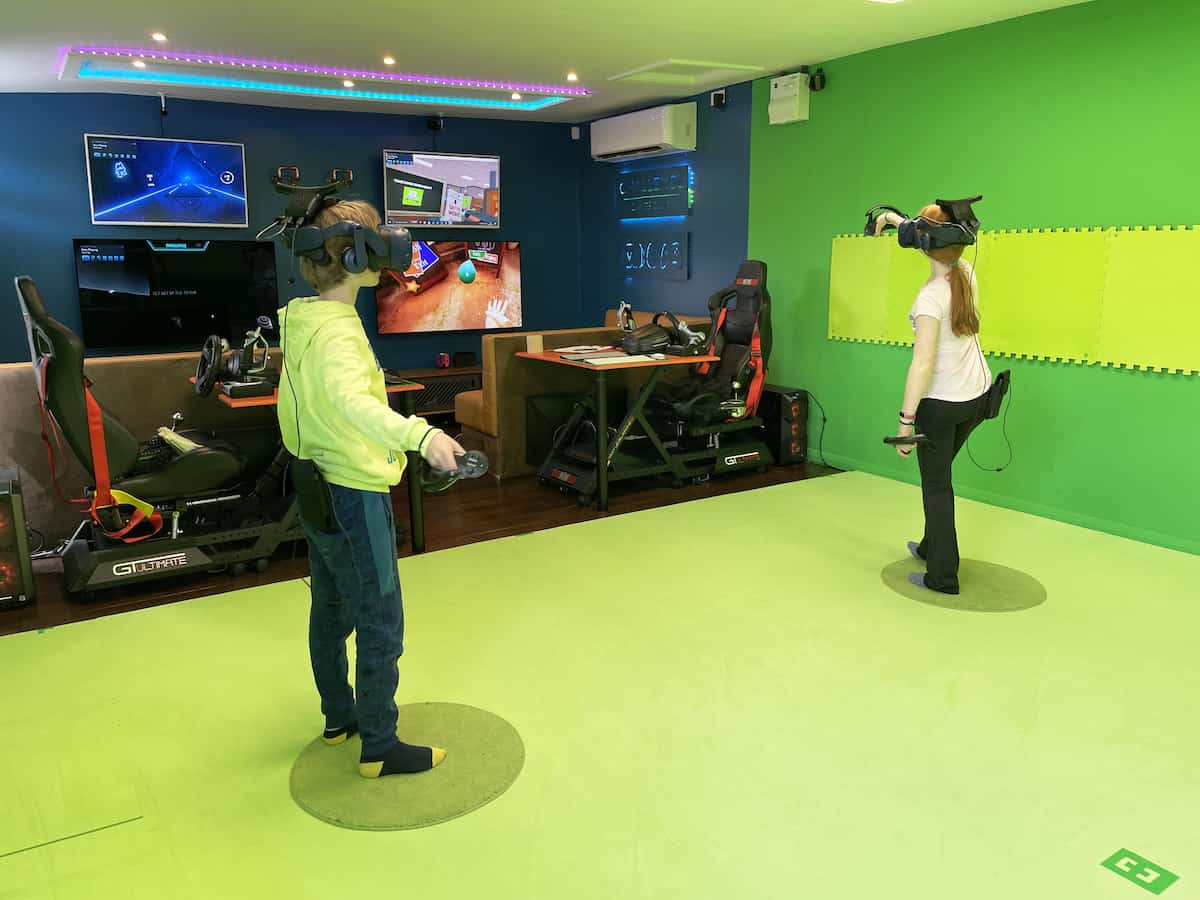 ---
Meet Space VR – Unit 6, Riverside Business Centre, Walnut Tree Close, Guildford, Surrey GU1 4UG
Meet Space VR has an immersive play zone, a VR arcade, escape rooms and a Zero Latency VR free roam experience. They also offer private hire packages too.
---
Laser Quest Kingston – 1st Floor, 402 Hook Rise North, Surbiton, Surrey KT6 5AT
Laser Quest in Kingston have a VR Ride Simulator. The 4-seater VR experience uses a combination of motion, virtual reality, audio and wind to make you feel like you have been teleported to a different world!
---
Chimera VR – 165-167 Fleet Road, Fleet, Hampshire GU51 3PD
Just over the border in Hampshire, Chimera VR has so much to offer. Arena games, arcade games, escape rooms and you can even walk the plank! They also have a lot of party options and corporate packages available.
---
If you're happy to go a little further afield, DNA VR in London offers an immersive virtual reality arcade experience.
VR Party in Surrey
VR experiences are a great option for parties too and most of the options above offer party packages and have dedicated party rooms too. But here are a few more options that bring VR to you – whether it's in the form of a gaming bus or set up in a hall or room of your choice at a time that suits you.
Alternatively, you could always buy a VR headset to use at home – or a couple that the whole family can share and use together. They would make a perfect birthday gift!
I hope that's given you some inspiration for a VR themed activity for you and the kids – or as a great evening out for you and your friends. I'll add more VR options as I come across them – and if you know one I've missed, let me know and I'll add it in.