*This is a paid post
Last weekend we were invited to Mrs Potts' Place in Camberley, a local pottery painting studio and somewhere we have been meaning to visit with the children for such a long time but hadn't got around to it until now. It's been a feature of our local town for nearly two years, a great option of something to do with the kids in Camberley, and I thought it was purely somewhere to paint pottery – but how wrong was I! It's actually one of the top things to do in Surrey with the kids.
Mrs Potts' Place is situated in a really quiet part of town, just outside of The Square, and has such a welcoming feel. The inside is so bright and airy, the staff are so friendly and it's the perfect place to pop into on any day of the week – apart from Mondays when they're closed.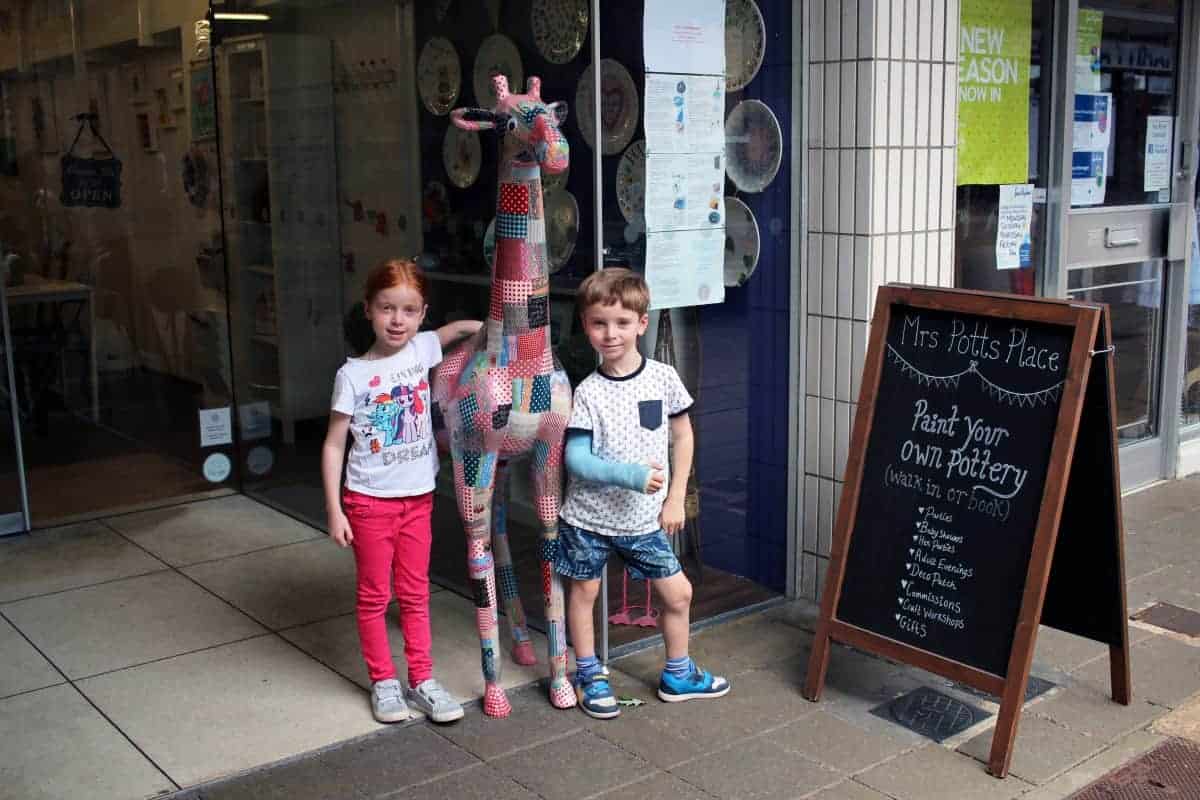 At Mrs Potts' Place LP and Little Man were able to choose some pottery to paint. They have so many options for all ages and skill levels – from little trinkets and ornaments to bigger plates, pots and other creations. At Mrs Potts' Place you pay just a £4 studio fee that covers everything from the paint and workspace to the pottery being fired afterwards. On top of that you pay whatever the cost of the piece of pottery is.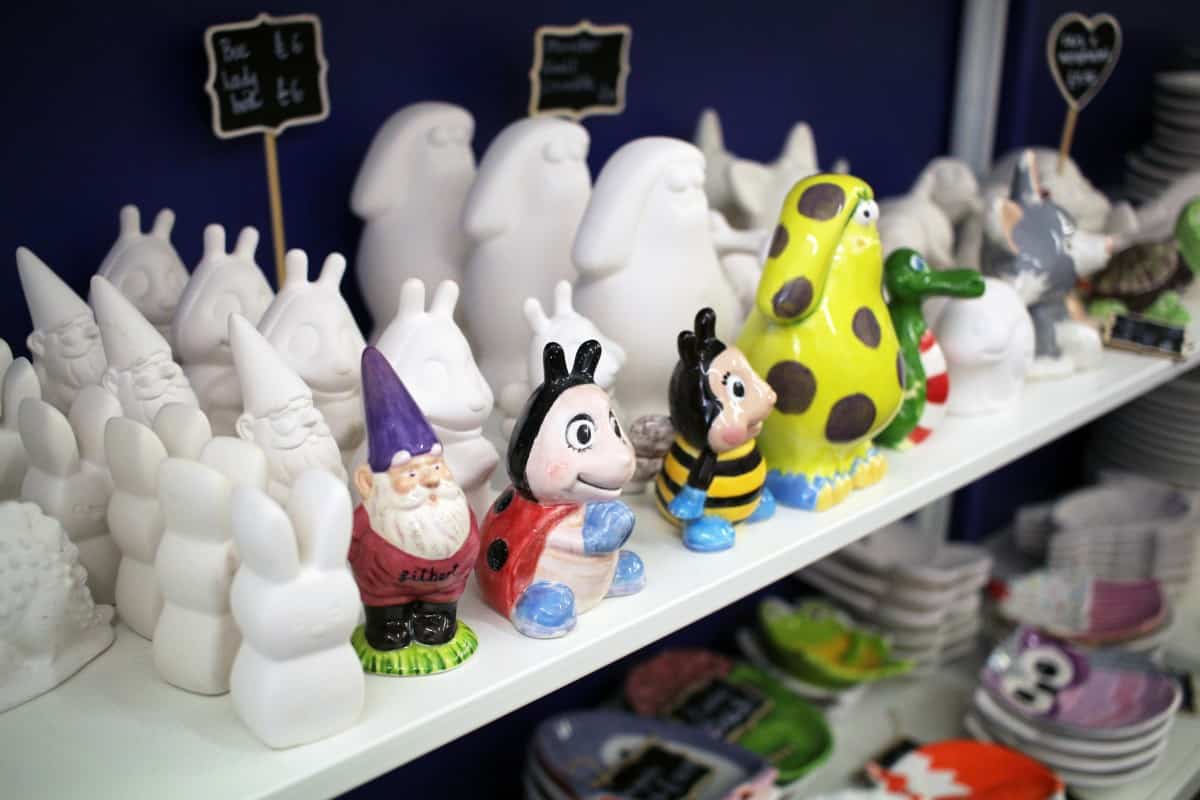 Little Man wanted to paint a little dinosaur and LP chose a fox and were then given a little talk about how to use the paints and brushes. The brush pot had all the paint colours on it so the children would know what their colours would turn out like and the brushes all have a dual purpose – one end for typical painting and the other to use for dots or different effects.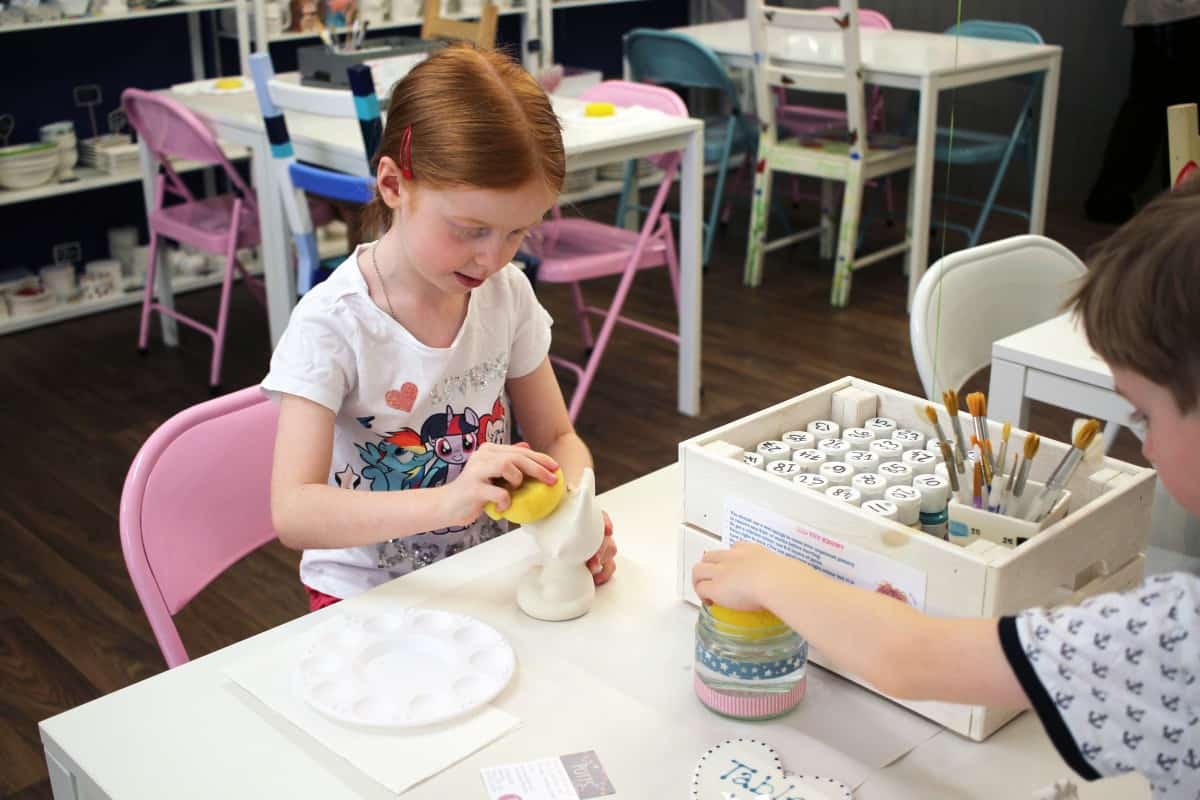 The children washed down their pottery pieces and then got to work painting. I loved that at Mrs Potts' Place there were always staff around to lend a hand or help if a mistake is made but they were also happy for us to just sit and paint for as long as the children needed. At busier times a pottery painting session is two hours long – which was plenty of time for the children.
Whilst the children were painting I took some time to admire the creations all around Mrs Potts' Place. You can tell that everyone linked to the business is just so creative and everywhere you look there's artwork and creations, made with such love and helping to inspire even the youngest of visitors.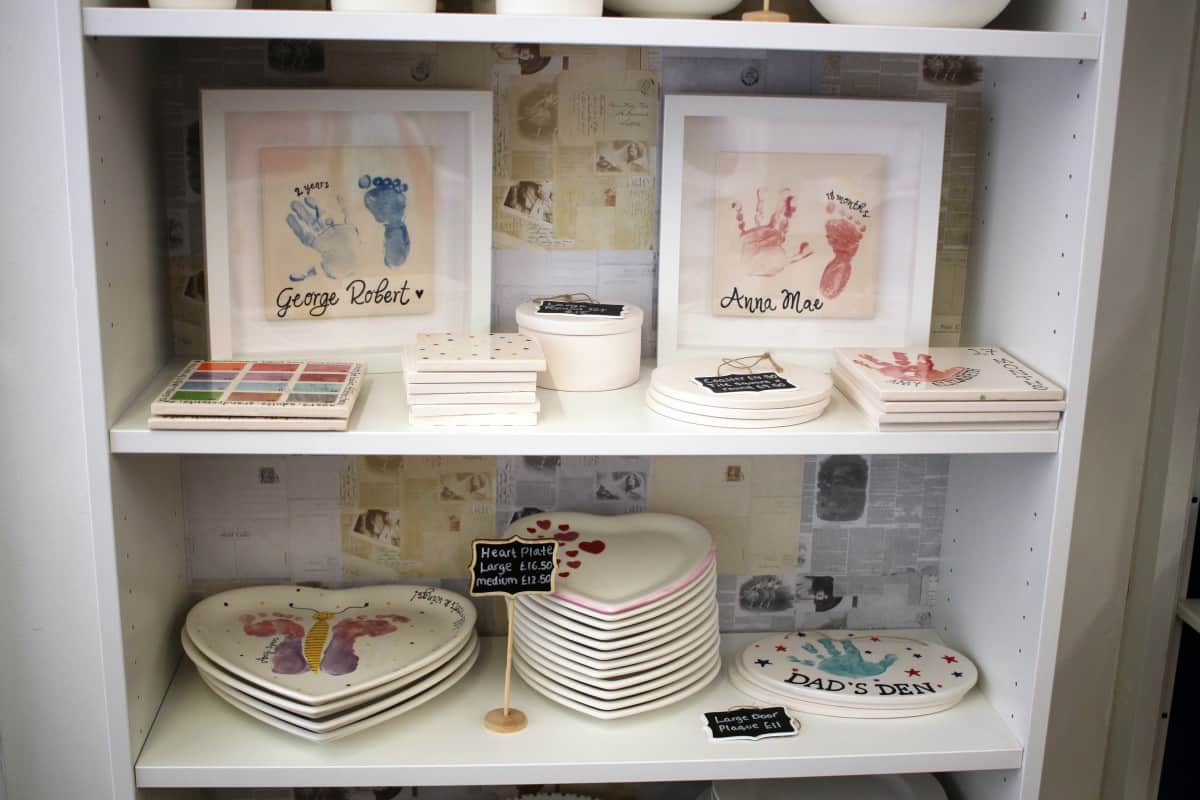 At Mrs Potts' Place you can buy tea and coffee to enjoy whilst you – or the children – are painting pottery as well as being able to bring in your own refreshments. Plus, the children get free squash to drink as well.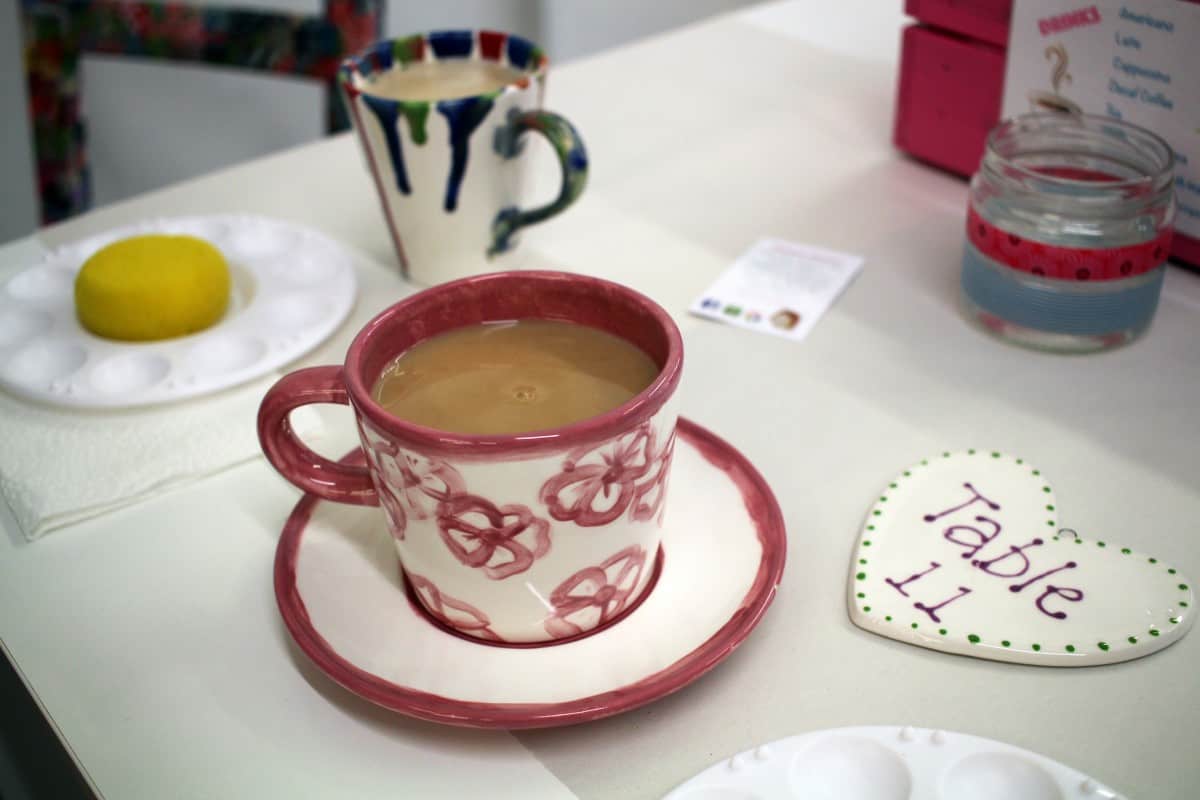 As well as pottery painting, Mrs Potts' Place also offers children's birthday parties where they set up an area of the studio beautifully – with balloons, streamers and even a birthday chair and hat for the birthday child. Each party guest chooses something to paint and the birthday child can even have a birthday plate with all their friends fingerprints on. Plus, there's time for party food and cake at the end.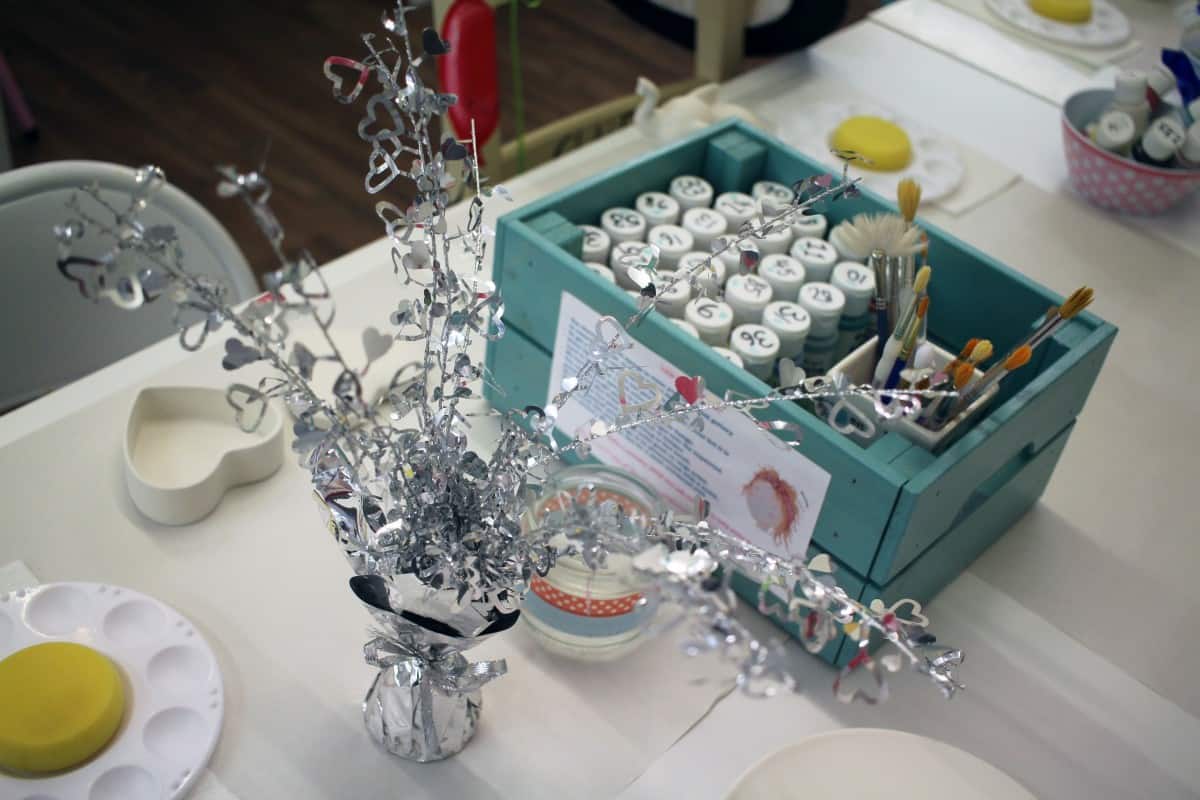 But Mrs Potts' Place doesn't just offer children's parties – they can cater for pretty much any event from hen parties to charity functions and they can even bring the pottery painting to an event as well. They are the most versatile and accommodating business I have come across in a long time and can't believe we haven't visited sooner.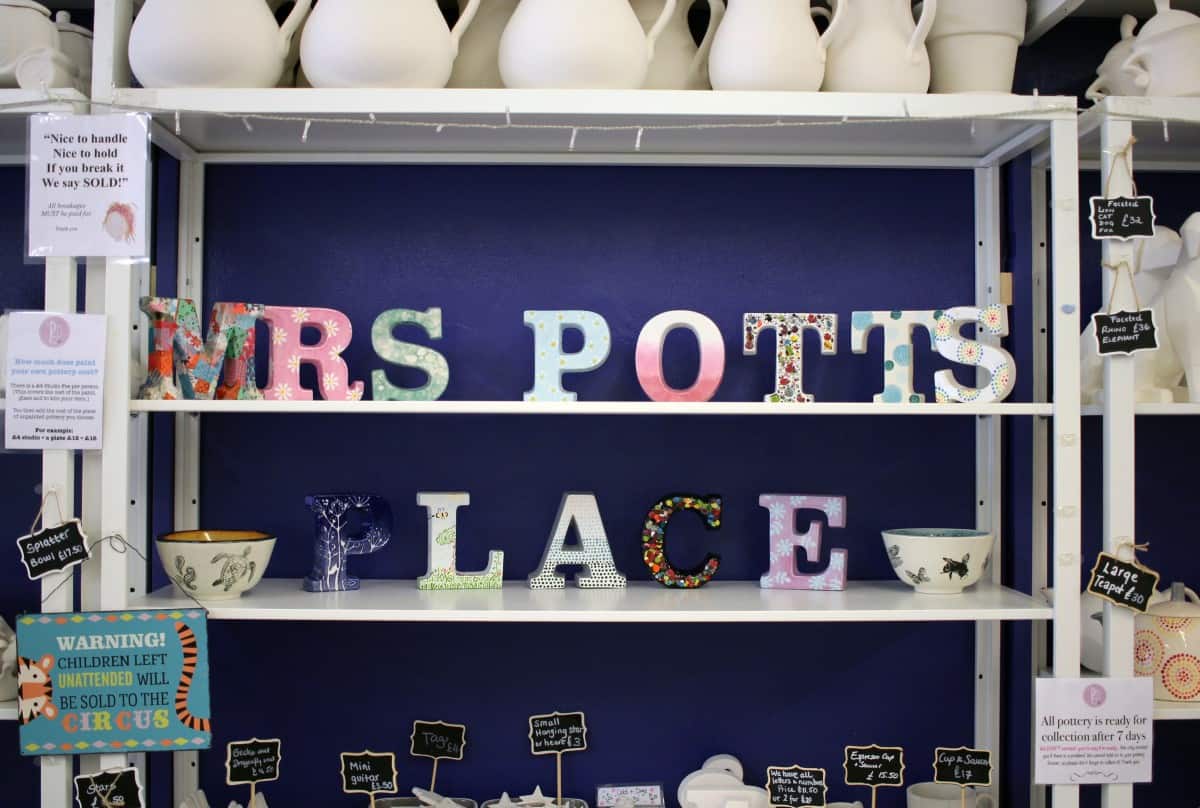 Mrs Potts' Place really is a hub of the town centre. They have regular workshops where you can learn a new creative skills – things like glass fusing, felting or silk painting. But they also offer corporate events, private hire and they even have adult only evening sessions where you can bring wine and nibbles and catch up with a friend or two. It's a real social and creative space for everyone – regardless of their age, gender or artistic ability.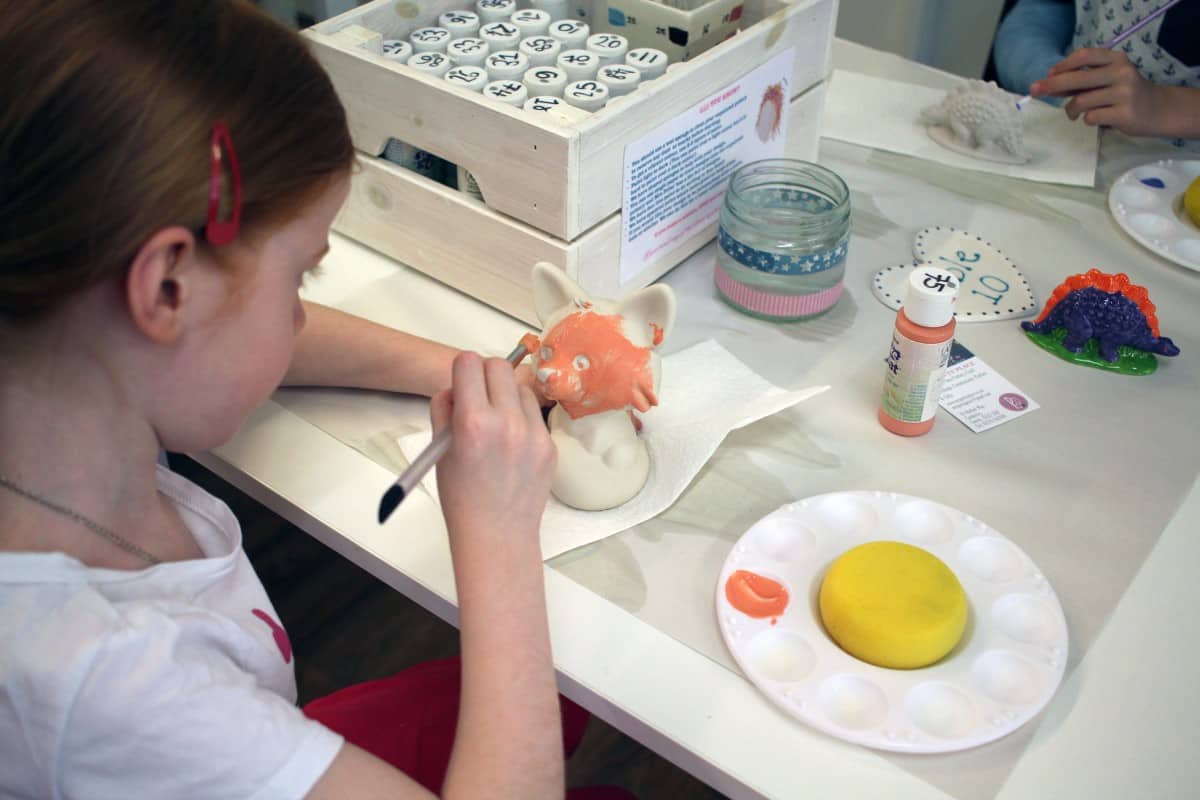 LP and Little Man finished their pottery painting and we handed them over to the lovely staff to dry and bake for us. Finished products can be collected after seven days – and they even have a service door around that back that you can park at, to save you having to park in the town centre.
We loved our time at Mrs Potts' Place and it was such a nice alternative to other activities – like soft play or the cinema. It's lovely to do something with the children and have something to take home to remember it by – making it a great value option for entertaining children too.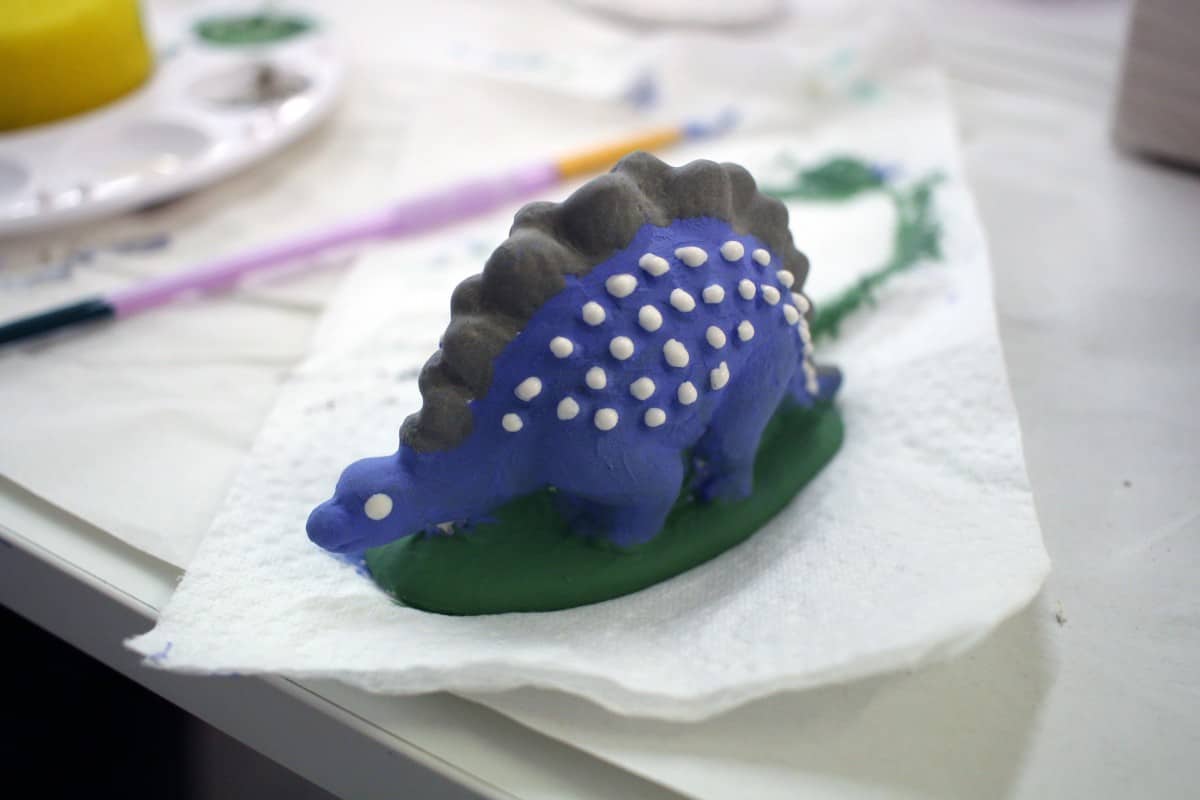 Mrs Potts' Place let's you book online – but you can also just turn up too. It's such a nice way to spend time as a family – or with friends – and I know that we'll be back really soon. Mrs Potts' Place is now one of our favourite places in Camberley.