Disclosure: We were sent the featured products for the purpose of this post however all opinions are my own.
This post contains affiliate links and I may receive commission if you visit a link and buy something. Purchasing via an affiliate link doesn't cost you any extra, and I only recommend products and services I trust.
LP moved into her 'big girl bed' shortly after Little Man was born last May. We decided that instead of going into a toddler bed she would go straight into a single bed and she handled the transition amazingly. At the time We bought a cheap wooden bed guard from eBay but because of the style of bed and age of the bed guard there was no way to fold the bed guard down out of the way – This made story times as well as changing the bed difficult.
Lindam sent us their Safe and Secure Soft Folding Bed Rail to review and I hoped it would be an improvement on the last one. The Lindam Bed Rail is available in pink and blue – We chose the blue so that Little Man could then use it when LP doesn't need it any more.
What were our first impressions of the Lindam Bed Rail?
The Lindam Safety Bed Rail comes in a surprisingly compact box and was quick and easy to put together. Once on the bed it is very secure and doesn't move at all when LP leans against it in bed. It fits different size mattress widths so is suitable for all bed sizes. The Bed Rail can be positioned at whatever point you like on the bed and we chose to put it just below her pillow so that most of the area where her body would lay is protected from falling.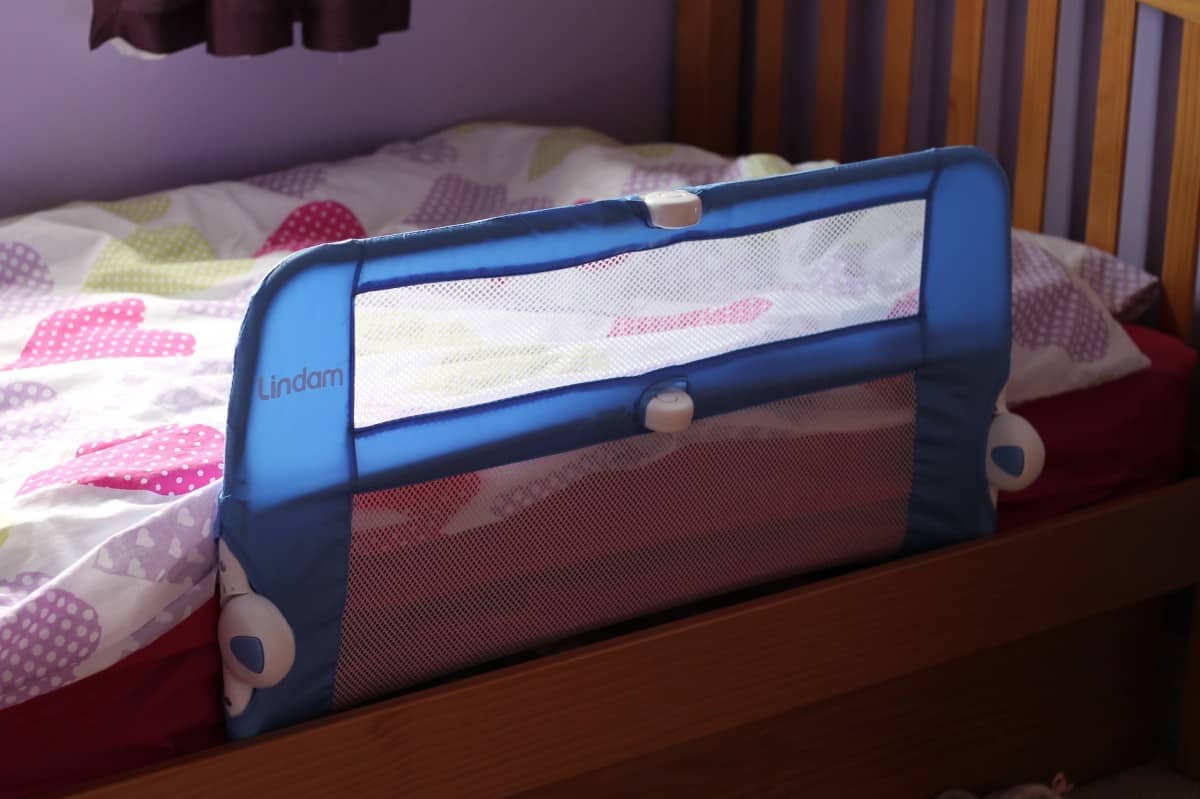 What's great about the Lindam Bed Rail?
One great benefit of the Lindam Bed Rail is that it can be folded down when not in use or to help change bed sheets, get the child out of the bed or to get more comfortable when reading bedtime stories! To fold the Bed Rail down you have to press in buttons on both ends of the Bed Rail and then pull the rail down. Unfortunately to do this in one go you need to be a contortionist or grow an extra hand. Dave admitted that he originally tested it out after fitting it on the bed by using both hands to press the buttons and pulling the guard down with his chin. I worked out that if I pressed one side in and pulled that edge down it would stay in place whilst I did the same to the other side. Not ideal but at least it fold down and I don't need to grow an extra hand!
LP loves the new Bed Rail and it definitely makes for a more comfortable story time. It's also nice that it has netting so that she can see through it. It's a great size for a single bed but may seem quite large if attached to a cot bed in bed mode or toddler bed.
The Lindam Safe and Secure Soft Bed Rail has an RRP of £24.99