It's only now, that Little Man is a year old, that I can find the words to talk about how hard it has been having two children.
When LP was newly born our world had turned upside down by this gorgeous bundle of helplessness that needed us so completely. We were in a blur of feeding on demand, sleeping when we could, constant nappy changes and everything else that came with a baby. But before we knew it we found ourselves in a routine and getting out of the house, doing housework and even having a hot cup of tea became second nature. Without even realising it we fell into a routine that worked for us and the day to day logistics of looking after a baby and a home all fell into place. By the time Little Man came along Dave and I could care for LP with our eyes closed – It was easy, it was fun and we loved it. Just over a year ago I didn't appreciate how easy having just LP was.
Little Man came into our lives when LP was 20 months old. We found ourselves immediately changing two lots of nappies. Little Man fed constantly and for most of those feeds the TV was our saviour to keep LP entertained. In the mornings Little Man would often be in bed with me, having had very little sleep, and LP would wake up. I couldn't stay in bed as I had when LP was new, I had a toddler to look after. So even if Little Man slept a bit longer, I still had to get up for LP.
When we were up LP needed breakfast. LP also needed lunch and dinner. When LP had been newborn we would eat when she was sleeping – Sometimes missing breakfast or having dinner at 10pm. When you have a toddler you have to feed them and hopefully around about the right times of the day. You have to keep up with their routine whilst still trying to care for a teenie baby that has no routine at all.
Little Man went through a phase, from very early on, where he would be sick after every feed. We'd keep him upright after feeds for as long as possible but even then he would be sick through his nose whenever we put him down. This phase lasted forever. Every night was a blur and every week blended into the next. I don't think I left the house during those weeks. I can't even remember how long it lasted for – Having no sleep, having a baby sleep on you, feeding Little Man constantly as he just kept throwing up all the milk he swallowed. It was relentless and some of the darkest times since we became parents.
At some point something changed. Little Man stopped being sick, he started to sleep for three hours at a time and we got into a routine of sorts. He would wake at 6am every day having had a feed at 10pm, 1am, 4am. I was up all night every night and until 8 months I hadn't had longer than three hours sleep in one go. It was only at 11.5 months that he slept through and he has still only done that a handful of times.
I don't remember last summer. I see pictures of last summer and know that it happened, that I was there, but I was a zombie. I was running on no sleep and chocolate biscuits. I was going through the motions to get through another day, that would then lead to another night where I would hope I would get sleep but then inevitably not get sleep and the cycle would continue.
But again, at some point, we started to make it out of the house during the day. We'd go and see friends or pop to the shops. This was around the 6 month mark where Little Man would be a bit more interactive, not just wanting food and sleep but happy to watch the world go by. He also started to sit up and was happier then. Everything got so much easier when he could sit up – When he could sit in the highchair and chase a raisin around the tray for half an hour without getting fed up.
Now, Little Man is a year old. We're regularly getting sleep in 4+ hour installments and there is light at the end of the sleep tunnel. He also eats at the same time as LP does, we have meals together and everyone is happy. Little Man plays, his sister even plays with him sometimes and he is happy playing with whatever is around. He's also happy in the pushchair, in a shopping trolley or in the car. Little Man, generally, is a very happy little thing and as a family we are happy.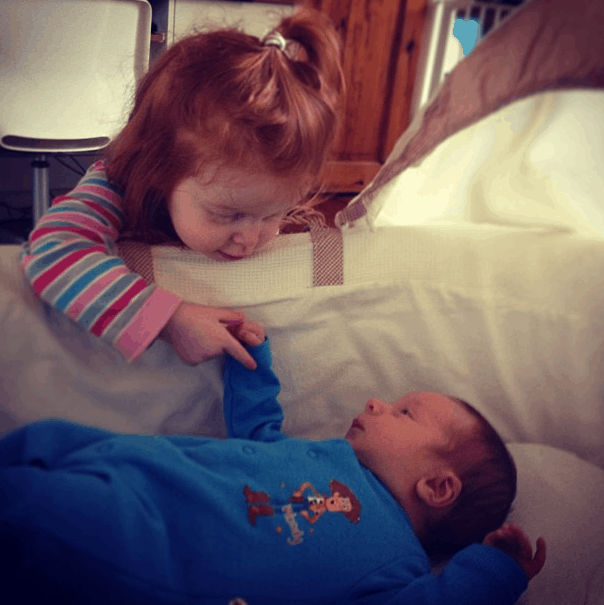 I guess what I'm trying to say, is having two babies is hard. Very hard at times, but it does get easier. I don't remember the hard times, they are a blur. I do remember my beautiful newborn baby boy and his sister giving him cuddles. The best thing ever! Then I'm aware of now, and the amazing family unit that we have become, where hard times are few and far between and most days are full of smiles and happy times. Getting to this point was hard but in the scheme of things it wasn't that long to cope with and get through, it was a few months of a dark cloud over us and now the sun is shining again.
I don't remember last summer but I'll definitely remember this one – Life with two – or more – gets easier eventually!