*We were provided with this experience for the purpose of this post however all opinions are my own.
Who doesn't love a delicious meal, cooked by someone else? It's so nice to get dressed up and enjoy an evening of great food with your closest friends or family. But, going out is always so much effort – organising babysitters and transport, not to mention the rising costs of restaurant food and drinks. This is where yhangry comes in – a fantastic alternative to going out.
What is yhangry?
Yhangry is the easy way to hire a private chef. And I know, you're probably thinking that private chefs are something purely for the rich and famous. But, yhangry offer an affordable, top quality dining experience in the comfort of your own home, making private chefs accessible to everyone.
How does yhangry work?
The yhangry platform couldn't be easier to use. You use the search facility, adding the event postcode, how many diners and the preferred date and you are then shown a whole bank of potentially chefs, all waiting to cook a dream meal for you and your guests.
You can filter the chefs by the type of cuisine you would like – with every meal type available from fine dining and pan asian cuisine to Italian classics and Mexican feasts. You could have a social barbecue meal, a buffet or a typical seated meal. Yhangry cater to all event types, group sizes and meal requirements.
For each chef on the yhangry platform there's a bio about their experience and their preferred meal types and menu suggestions along with their associated cost. This is shown as a price per head and with a minimum total spend for example, from £30 per head with a £221 minimum spend.
Once you have chosen your chef, you can secure your meal by paying a deposit or can request a quote for a specific menu and to get more information from them before booking.
Our yhangry experience
We invited some friends around for dinner and booked Chef Lukasz to cook for us. We chose the menu and were able to make one meal vegetarian for one of the guests. Yhangry are able to cater to all different dietary requirements and they confirmed things like whether there were any allergies at the time of booking and on the night of the meal too.
Yhangry send printed menus through the post which is a really lovely touch and makes the experience feel that much more of a special occasion. We were also sent full instructions for the evening, making sure we knew what would happen and anything we'd need to prepare beforehand.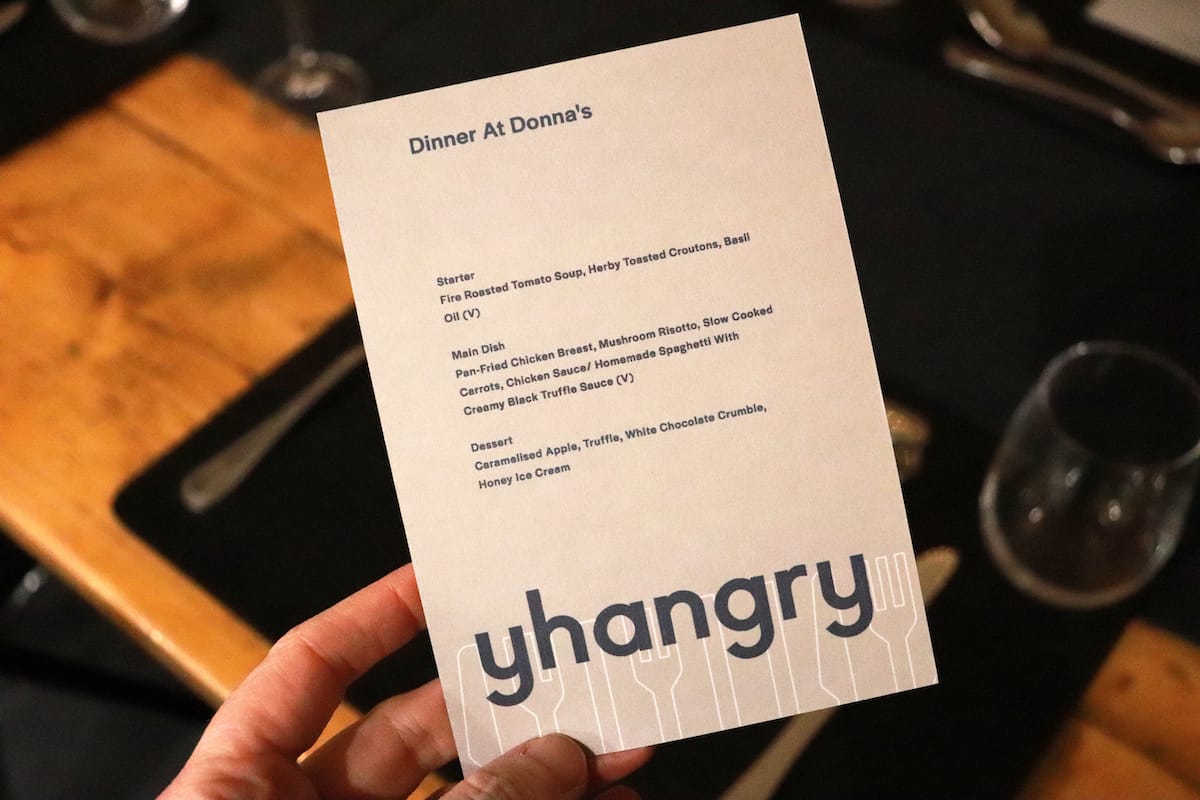 The yhangry chefs use everything you already have in your kitchen and you're sent a list of kitchen equipment that the chef may need on the night. This includes things like pots and pans, mixing bowls, knives, a sieve, grater and salt and pepper along with enough plates and cutlery for all of your guests.
We were also given the option of having the meal plated individually or served family style to share on the table. However, as we went for a fine dining menu it made sense to have it plated for us so that it would be presented as it would in a restaurant.
We were also asked to make sure the dishwasher was empty and the sink ready for washing up and to lay the table ready for service too. By the time the chef arrived two hours before the meal we felt really prepared to hand our kitchen over to someone else and could just relax until the meal was ready.
Our yhangry meal
When Chef Lukasz arrived, he got straight to work in the kitchen. We pointed out where things were and he asked an occasional question about if we had something or to check the menu but aside from that he just got on with cooking and we left him pretty much to himself.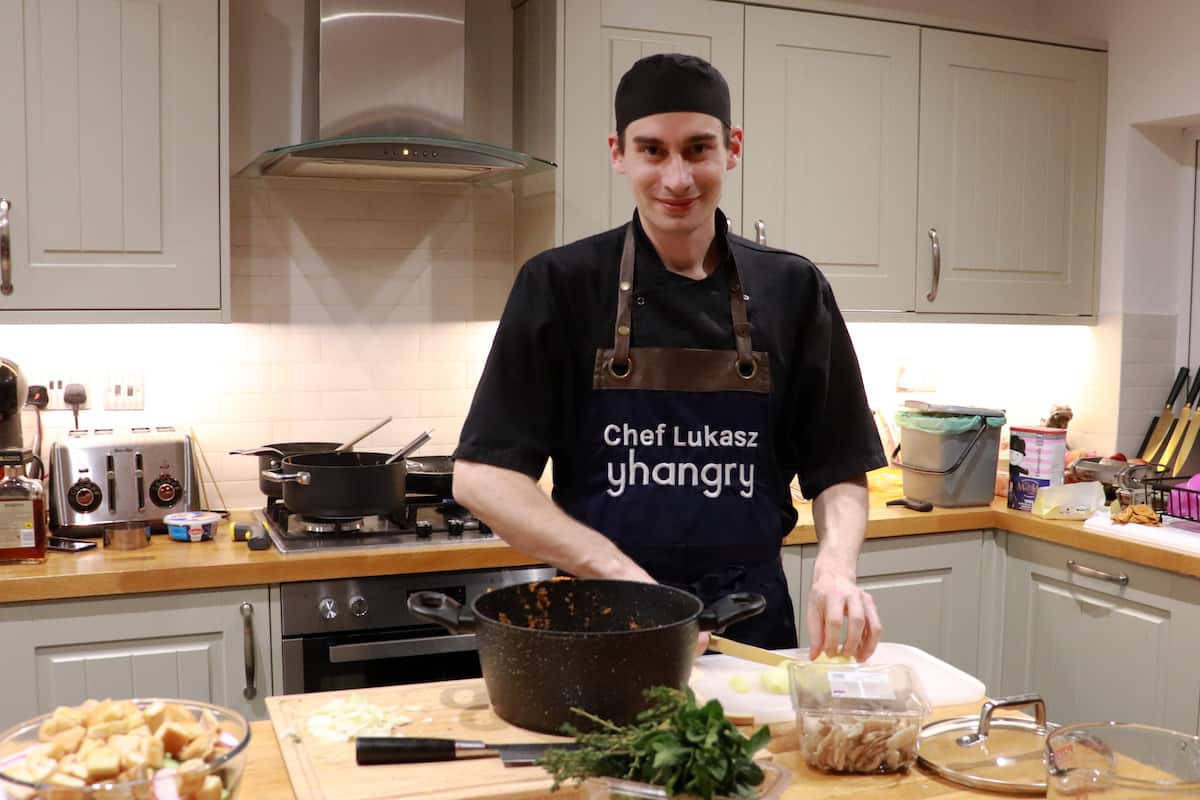 When our friends arrived we hung around in the kitchen/dining area whilst the chef cooked and it was exciting to watch. He didn't mind us being there and just carried on cooking – the kitchen smelt amazing.
We sat down a few minutes before the starter was ready and it couldn't have been a nicer experience, taking our seats in our own dining room, knowing that top restaurant quality food would be served to us by a wonderful chef.
For our starter we had Fire Roasted Tomato Soup served with a herby toasted crouton and a drizzle of basil oil. It was the perfect portion size and so full of flavour, a fantastic way to start our meal.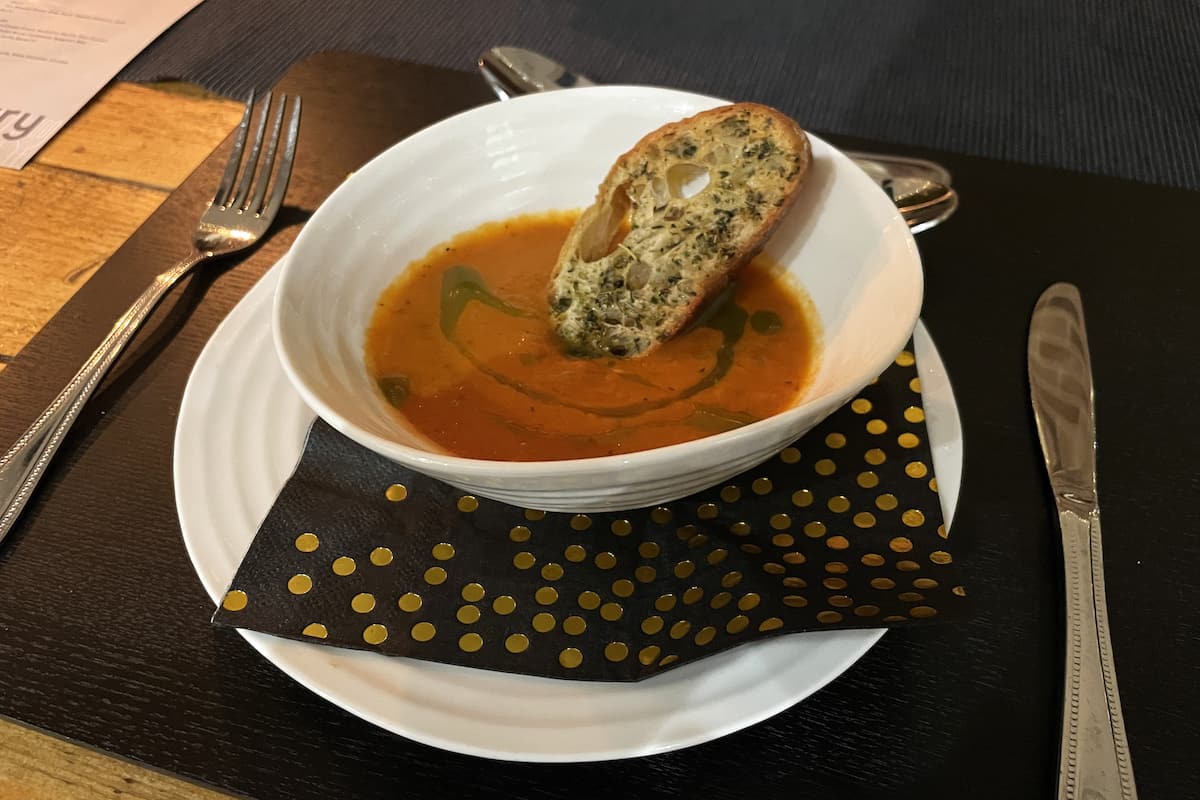 Our main was Pan-Fried Chicken Breast with a Mushroom Risotto and slow cooked carrots with a chicken sauce. This was great to watch being plated, the different tiers of food being added, finished with the sauce at the end. It was the nicest risotto I have ever had – and Chef Lukasz was happy to make one risotto without mushrooms in it for one of our guests.
As one of our friends is vegetarian, she had Homemade Spaghetti with Creamy Black Truffle Sauce that was a fantastic dish. So full of flavour and with spaghetti made in our kitchen, it was a great vegetarian option.
We also had a salad to share on the side which was amazing. I've never had a salad so full of flavour and we all really enjoyed it.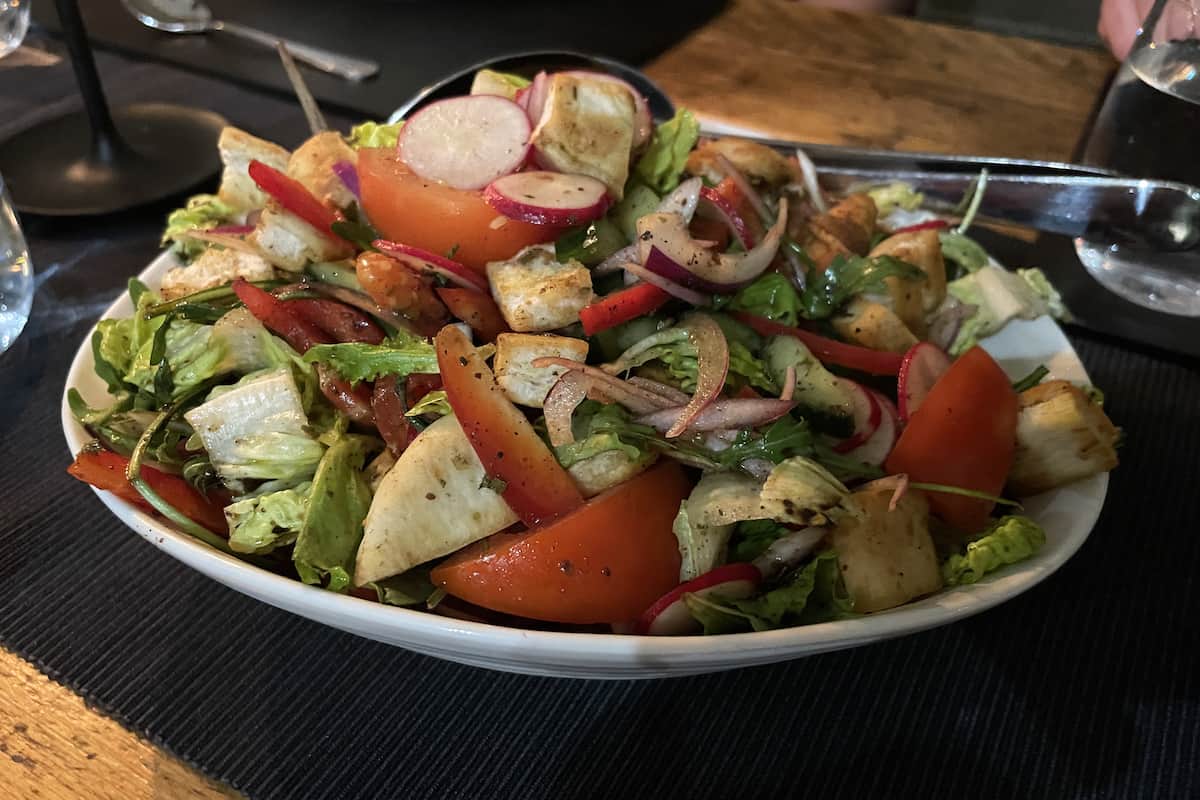 For our dessert we had Caramelised Apple, Truffle, White Chocolate Crumble and Honey Ice Cream. This was a classic crumble but served deconstructed and it couldn't have been a nicer way to finish a really lovely meal.
A chef experience with no cleaning up to do!
Throughout our meal, Chef Lukasz cleared plates away and brought each dish to the table. Service was smooth and had a really natural pace to it. Yhangry do offer a waiter service at an extra charge too if you have over 8 guests as there's only so much one chef can do!
Once the last dish had been served, the chef got to work clearing up. He loaded the dishwasher and then washed up by hand anything that didn't fit. He'd used so many pots, pans and dishes and yet the kitchen was spotless when he'd finished.
Chef Lukasz also left us any leftovers from the meal, extra things that had been cooked that weren't needed or extra perishable items that weren't needed. This was lovely as it meant there wasn't any waste at the end of the evening.
What could yhangry do better?
Chef Lukasz and our yhangry experience were fantastic. It was a pretty faultless evening and really the only thing that could have made it better would have been to have direct contact with the chef prior to the event.
A simple phone call confirming the arrival time, the menu and any dietary requirements, parking issues or anything else relevant would have been great just to add a little reassurance.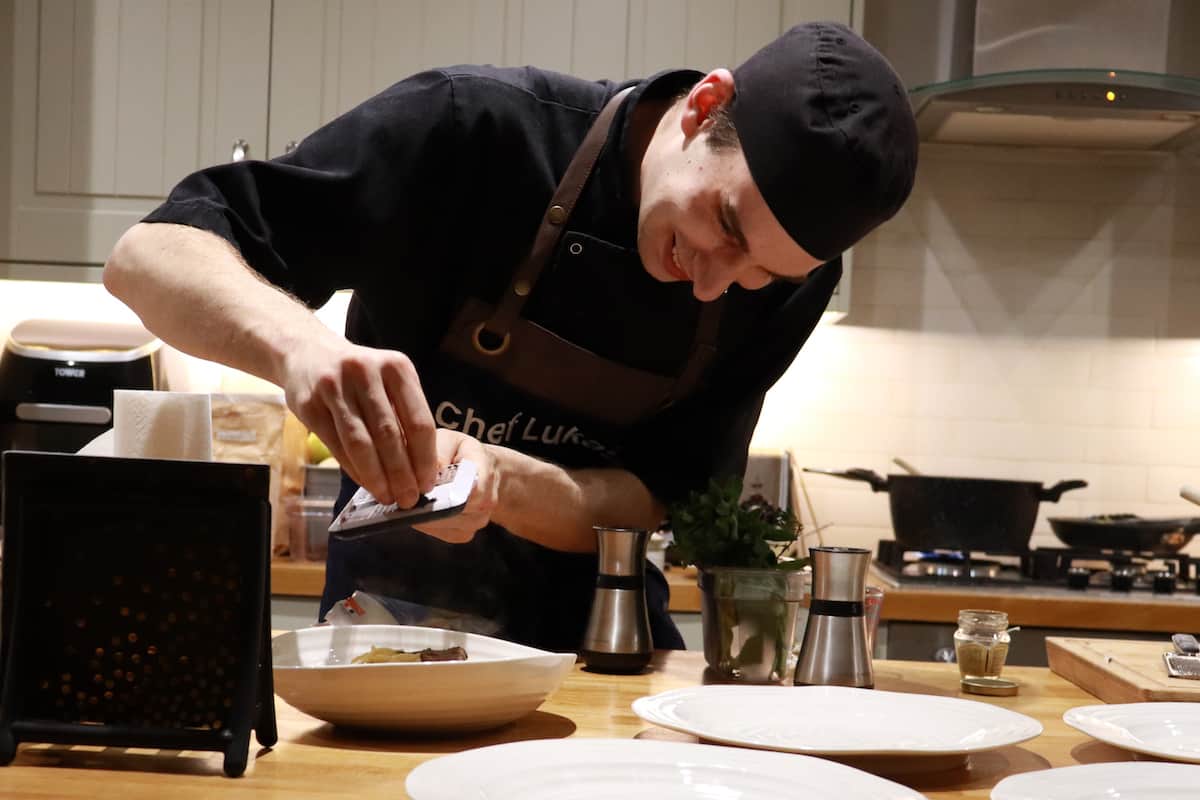 Our overall thoughts of yhangry
We absolutely loved our meal with yhangry. It made socialising with friends so easy as our children were just in bed upstairs. Plus, we bought our own drinks, saving so much money compared to buying drinks in a restaurant too.
Having a private chef in your own home is more affordable that you'd think, especially when compared to the cost of eating out, buying drinks and the cab fare home. It's definitely something we would do again in the future.
Find out more about yhangry over on their website and book a private chef for your next special occasion or as an alternative to a night out with friends.