What age should children stop using a pushchair? What age were your children when they stopped using a pushchair? For us, there is no end in sight to our pushchair days and it's something I thought I should write about.
LP is going to be five in August. Little Man has just turned three. So we should be nearly pushchair free, shouldn't we?
Well, no. We shouldn't.
You see, using a pushchair is pretty much like every other parenting decision – when to stop breastfeeding, when to stop using bottles, when to get the children into a set routine, when to potty train. Using a pushchair is just the same – there is no right or wrong answer.
When do you stop using a pushchair with children?
LP has always been really petite and lacks stamina when walking. Her walk to school is a mile each way and often it is just too much for her so we have been using our Silver Cross Surf and buggy board since she started preschool. This means that every day Little Man is in the pushchair as he can't really walk long distances either.
When the next school year starts in September, and Little Man starts preschool, we are going to try and get rid of the buggy board, using a simple stroller to take Little Man to preschool and LP can walk by the side.
We're hoping by that point she'll be more used to walking that distance and it won't be as hard for her. Then, when the time comes, Little Man can walk to school too – it's a shame he can't use a buggy board himself – the problem with being the last baby!
But the school run is only one of the times we use a pushchair. We also use a double stroller when we go on long days out – on our regular trips to Legoland, to National Trust properties or on a trip to the seaside.
Neither LP or Little Man can endure a whole day out without at least a spell or two in the pushchair and it has space for all our bags, coats and other stuff underneath too, making a day out easier for all of us.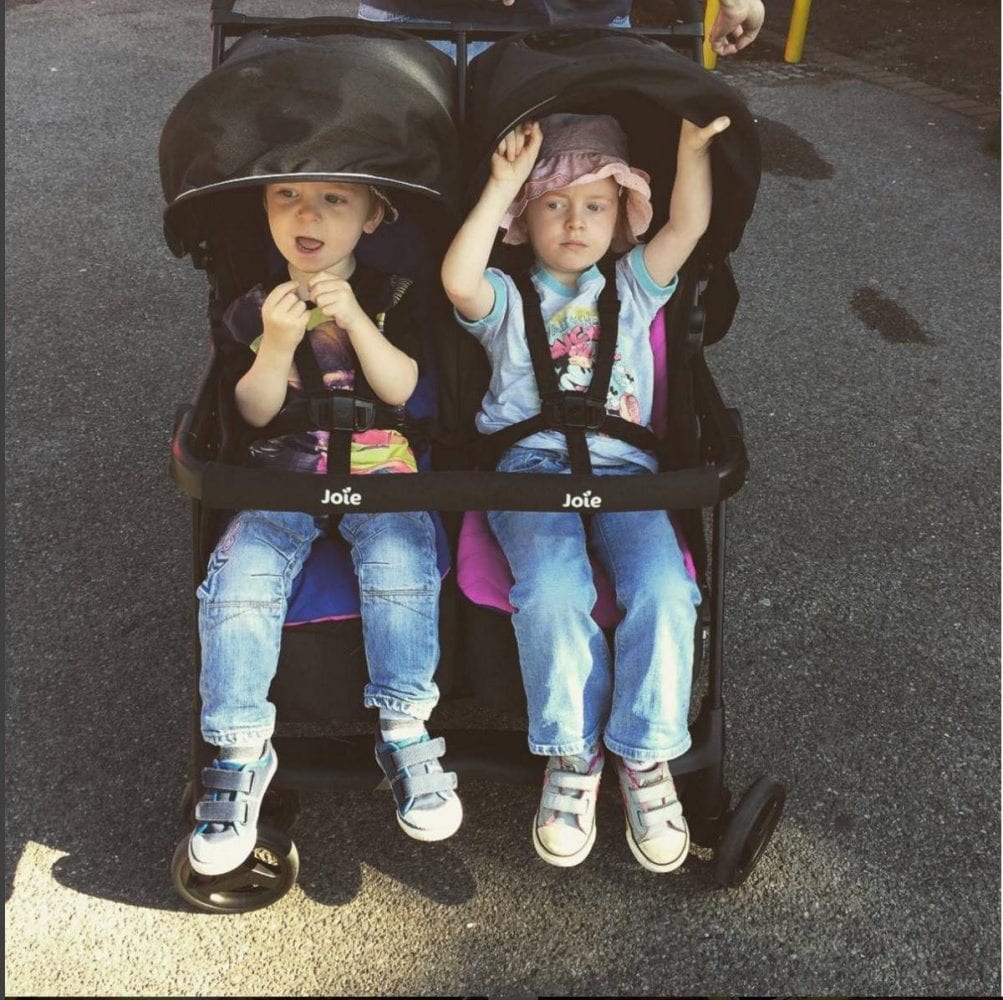 But on those days out, where we have a nearly five year old and three year old in a double stroller, we do attract attention. Mainly because, despite their age difference, LP and Little Man can pass as twins and people often comment on that.
When I say no, there's 20 months between them people do the maths and ask which is older, and I then say that LP is nearly five, Little Man is three and they typically give the stroller a double take – or, sometimes, comment on the fact we're still using a pushchair.
They don't comment out of interest or curiosity, they comment because they are taken aback that we would still be using a pushchair with a child aged nearly five.
Their comments or questions are heavy with judgement and, the first time, made me feel like I was doing something wrong and made me think that, maybe, at nearly five, LP shouldn't be using a pushchair.
But then I looked at our life. I looked at LP and Little Man and I realised that actually I know what is best for them and I know a time will come where we won't be using the pushchair any more, the children will be able to walk longer distances and won't get so exhausted on a long day out.
The children will walk to school and they will hop, skip and jump between the rides at Legoland and our pushchair days will be long behind us.
But for now we will keep doing what suits our family. We'll use a pushchair and a buggy board for the school run – at some point dropping the board. We'll use a double buggy on long days out and in time that will stop to.
Before I know it we'll be carrying backpacks of stuff rather than putting it under the pushchair, we'll be carrying school bags and we'll have much more space in the car boot. But until then we'll just keep doing what we're doing.