One thing we have always wanted to do is experience Up at the O2 – the chance to walk over the O2 Arena London and see the sights of London from a whole new perspective. For Dave's 40th birthday we booked to do Up at the O2 with the children and couldn't wait for a real family adventure.
What is Up at the O2?
Up at The O2 is just one of many family friendly activities and attractions at the O2. It lets you take an exhilarating outdoor climb over the world famous O2 roof and enjoy the incredible views of London. You can choose from a Daytime Climb, Sunset Climb and Twilight Climbs to discover a different side of London, each giving 360 degree panoramic views of Historic Greenwich, The Olympic Park and Canary Wharf.
You don't climb the O2, instead you walk over a flexible platform just above the iconic roof, climbing at angles of up to 30 degrees in places and 52m above ground level at the highest point. Anyone age eight years old and over is able to climb and you should be physically and medically fit as you can definitely feel your legs working through the climb!
Are there any restrictions on who can do Up at the O2?
As well as the minimum age of eight, all participants need to be at least 1.2m tall, there's a maximum weight limit of 21 stone, and participants can't have a waist measurement more than 125cm and not have an upper thigh measurement more than 75cm. There are also adult to child ratios that need to be adhered to. There's no walk over the O2 age limit – any age is welcome, over eight, as long as they are fit physically and mentally.
When you arrive at the Base Camp site for your session you have to fill out forms with contact information and sign to say you've read the safety information. You are then shown a safety briefing video before getting ready for the climb.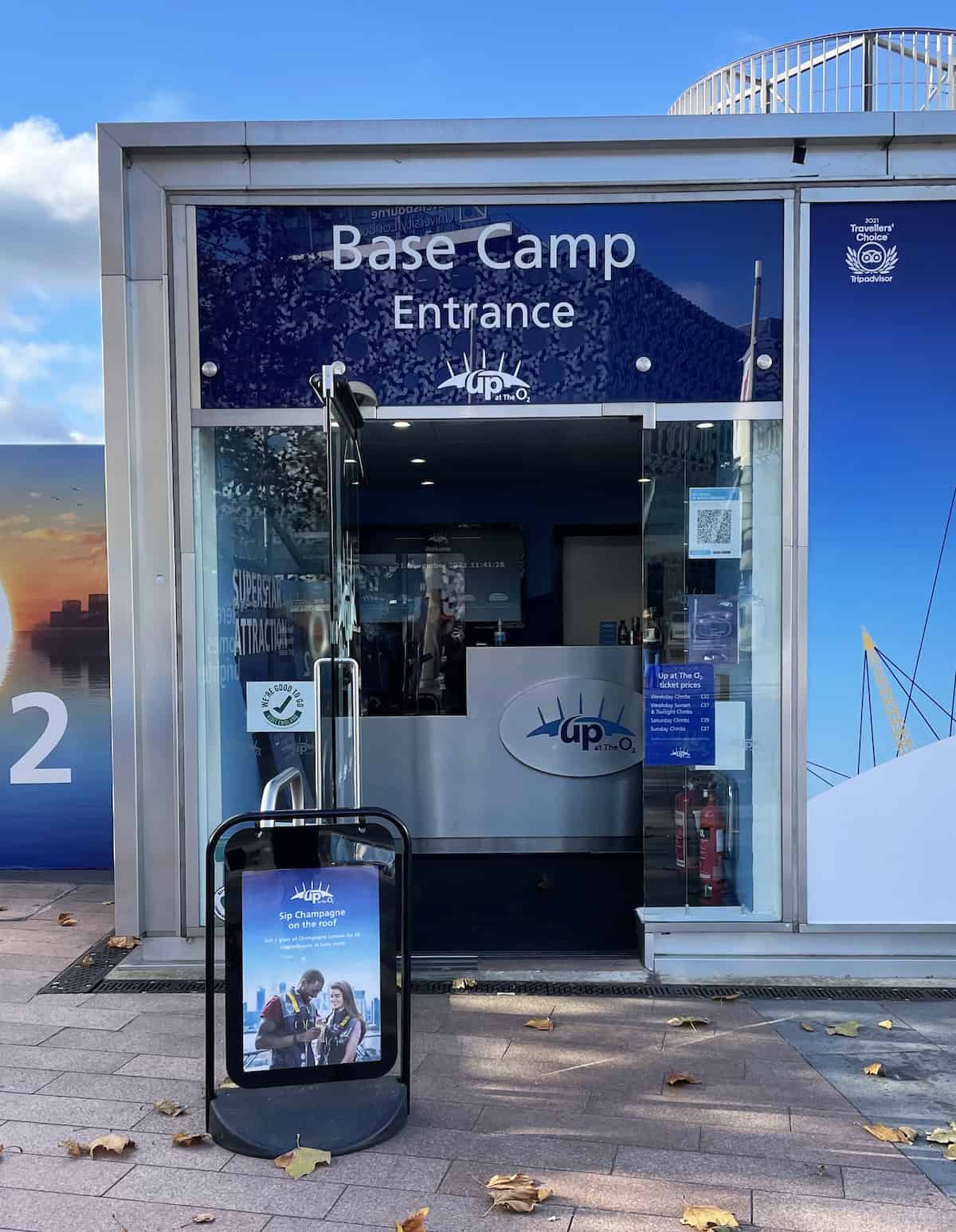 All personal possessions and shoes are put in storage boxes. You are given special climb shoes to wear and are offered coats or gilets with zip pockets to wear if you need an extra layer or don't have a coat yourself. The zip pockets allow you to take your phone or camera up to the top of the O2 with you. Up at the O2 don't offer a full climb suit but you can hire climb trousers at £4 per pair. It's best to make sure you're wearing practical clothes for the climb.
Your belongings are then sent across to the end of the climb so you have them as soon as you descend the O2 roof. We were then given a harness and shown how to put it on, with everything checked before we started our climb.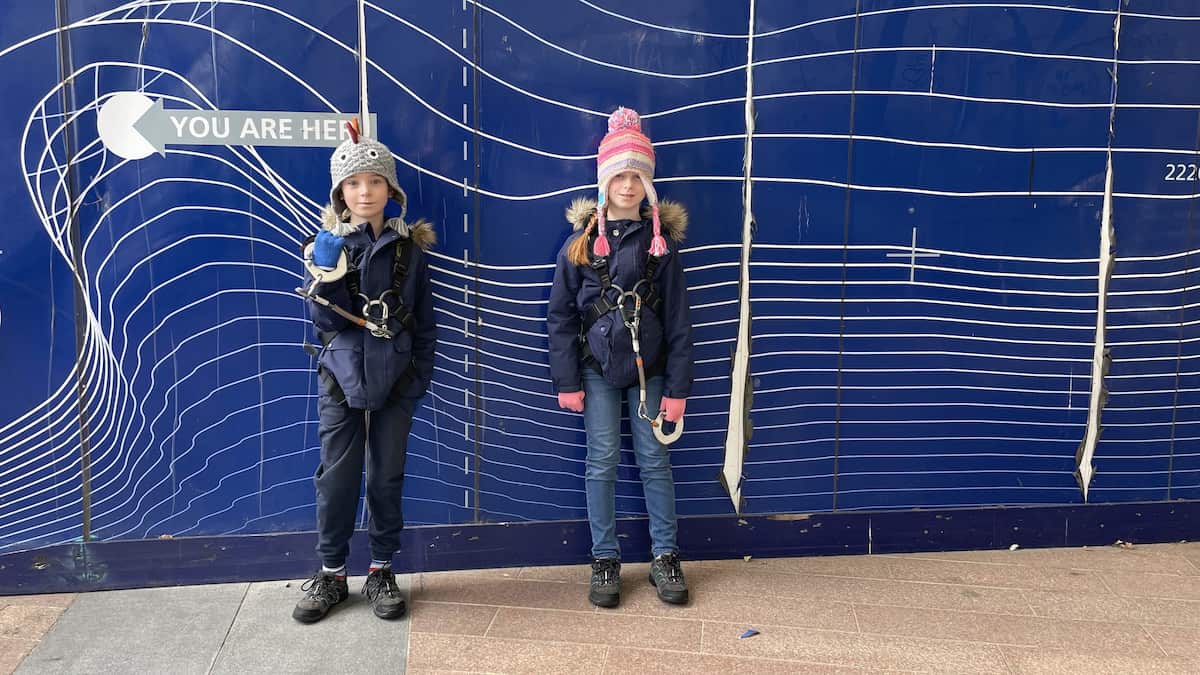 We walked up a few flights of stairs to get to the climb starting point and were given a final safety briefing – told not to jump or bounce on the walkway and shown how to connect our harnesses to the main safety rail to start our climb. This is much like the GoApe harness system and something the children were already familiar with.
Climbing the O2
Once secure, we could start to climb the 02. It starts off really steep and gets less steep as the climb goes on. The hardest parts are definitely the start and the end. It took about twenty minutes to get to the top of the O2, with regular rest stops along the way and then we were detached from the safety system to walk freely around at the top.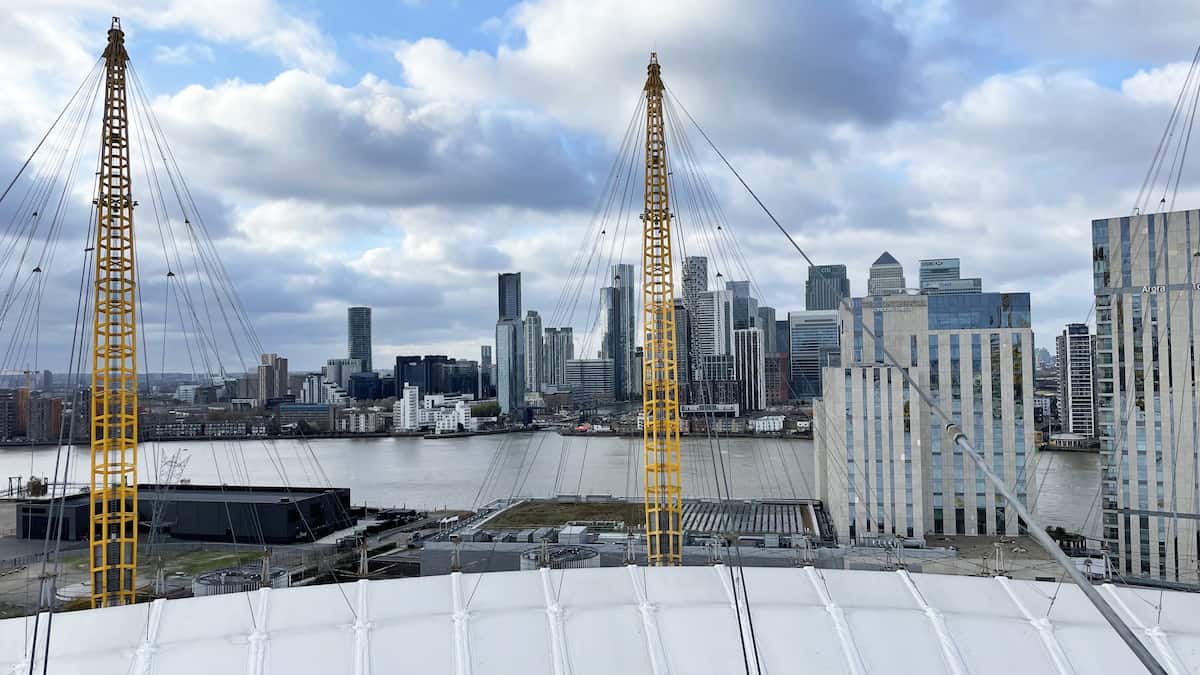 You have the opportunity to buy champagne with your climb ticket and this was given out at the top. The guide gave us a tour of the buildings we could see and we had plenty of time to take photos and enjoy the view.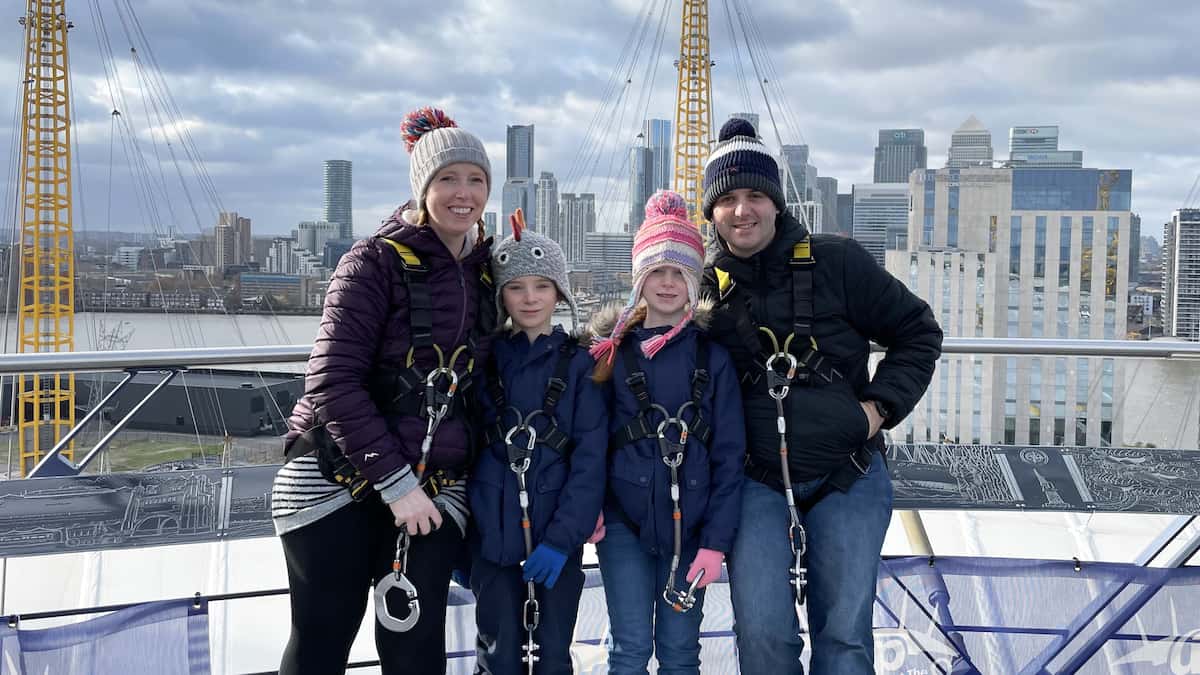 Climbing down from the O2 roof
We then got connected back on to the safety system, making sure our harnesses were secure, and began our descent. The way down felt so much steeper than the way up and we were told we could climb forwards or backwards. We all climbed forwards and took our time.
Before we knew it, we were back on solid ground and the whole experience had taken around 45 minutes from start to finish. We took our harnesses off, gave our shoes and jackets back in and got our belongings back. It was a really smooth service throughout.
Up at the O2 photo packages
Throughout the experience you have an electronic bracelet that stores photos as they're taken by photographers. These are before you begin the climb and just after you finish. It would have been nice if there was also a photographer at the top of the O2 as well.
The photos of the 02 climb start from around £15 for a single image and £30 for all digital photos although we didn't make a purchase. They also have so much merchandise that you can buy related to your climb from Get Over It clothing to medals and teddy bears.
Things to do in the O2
When you do Up at the O2 you can make a day of it by doing other activities at the O2 – bowling, trampolining or seeing a show. Plus, there's the fantastic Icon Outlet for shopping and so many bars and restaurants too. It's a real hub where entertainment is concerned! We've also written about other things to do in Greenwich if you're looking for more inspiration.
We had a great time at Up at the O2 and know it's something we will always talk about and remember. You can find out more and book Up at the O2 tickets over on the Up at the O2 website.