On a recent trip to Wales, we decided to break up the drive by staying overnight just outside of Birmingham in the West Midlands to explore the local area. We had planned to surprise the children with a visit to the Legoland Discovery Centre, handily located in Arena Birmingham.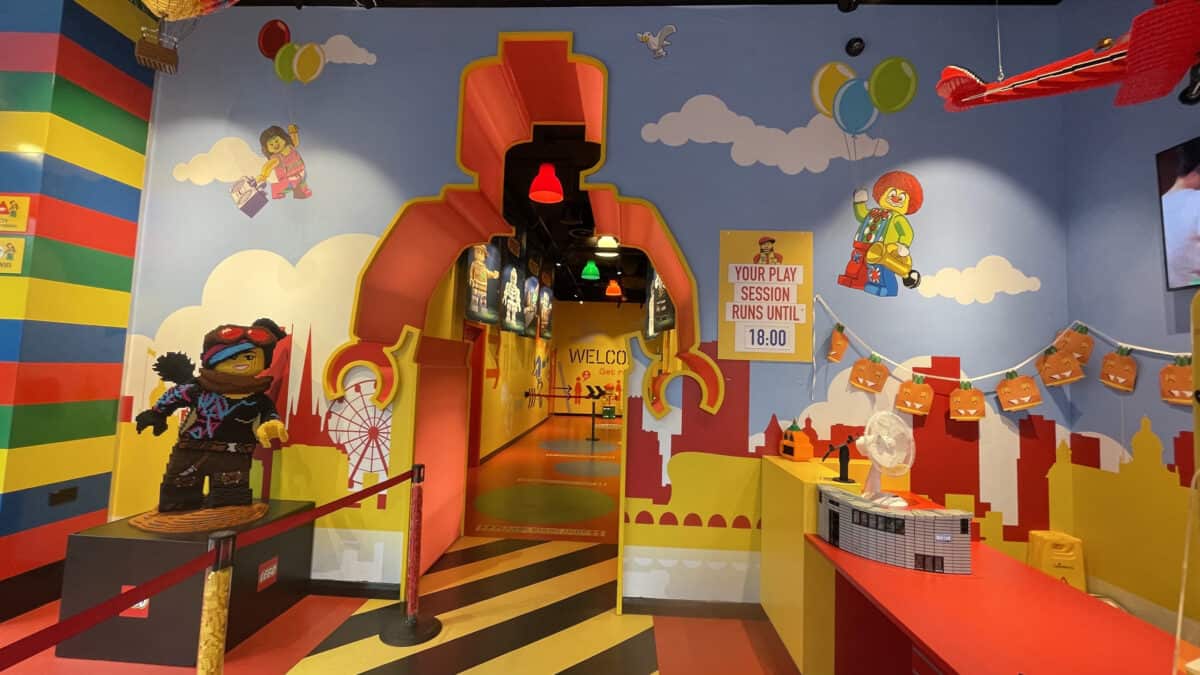 We booked a slot for 1pm so we could have lunch before enjoying an afternoon of playing. The children had no idea where we were going and the penny only dropped when they saw a life-sized Lego giraffe from the carpark and the signs for the centre in the stairwell! They both adore Lego and anything Lego related, so this was the perfect place to spend an afternoon indulging them (and Dave!).
We had previously visited the Legoland Discovery Centre in Manchester, but it had been a few years. The format and layout are similar, so we knew what to expect. After a friendly member of staff checked our tickets and gave the children a trail to spot Halloween pumpkins, we went inside.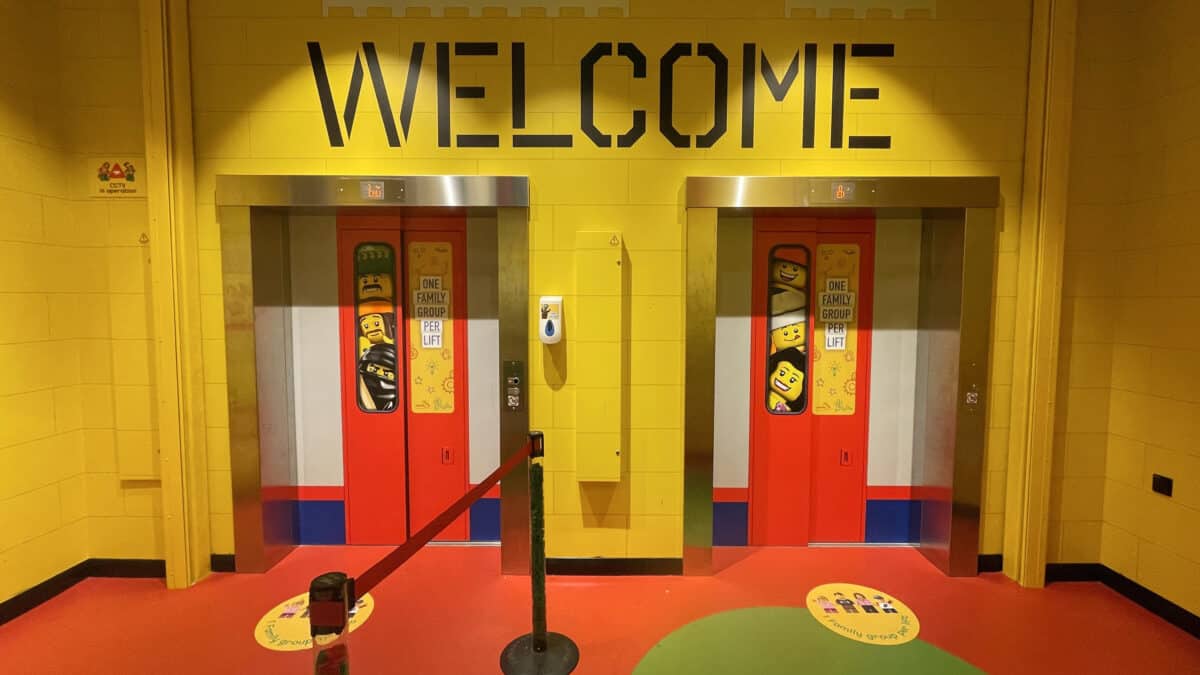 First we found the Kingdom Quest ride, a family friendly laser shooting type of ride where we had to save the Princess from Lego trolls and skeletons! Each cart comfortably sits a family of four and there are small targets to shoot as you move around the ride with scores showing on a readout in front of you, keeping things competitive. We also got to work as a team by shooting at large animated screens to keep the story going. The children really loved this and it was a great way to start the afternoon.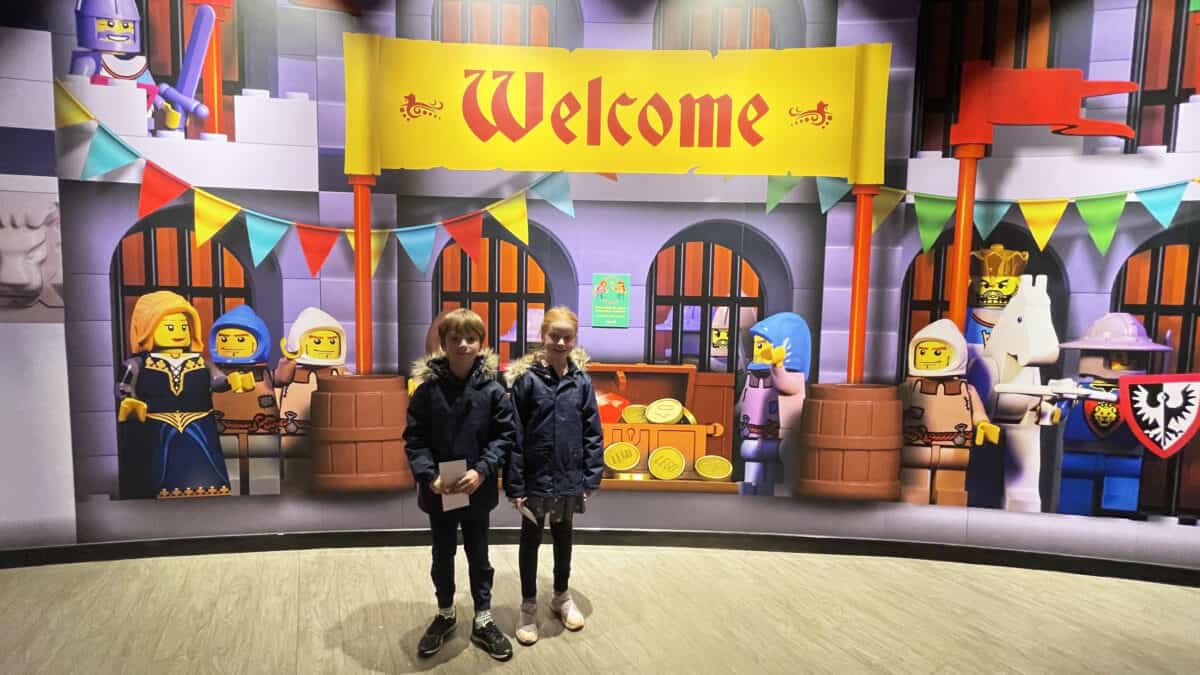 Miniland at Legoland Discovery Centre
After the ride, we walked through an awesome miniland of local sights built from Lego. As we visited during October half term, miniland was adorned with spooky extras like Lego ghosts, spiders and bats! It was fun to see a giant Lego spider attacking the buildings of Birmingham!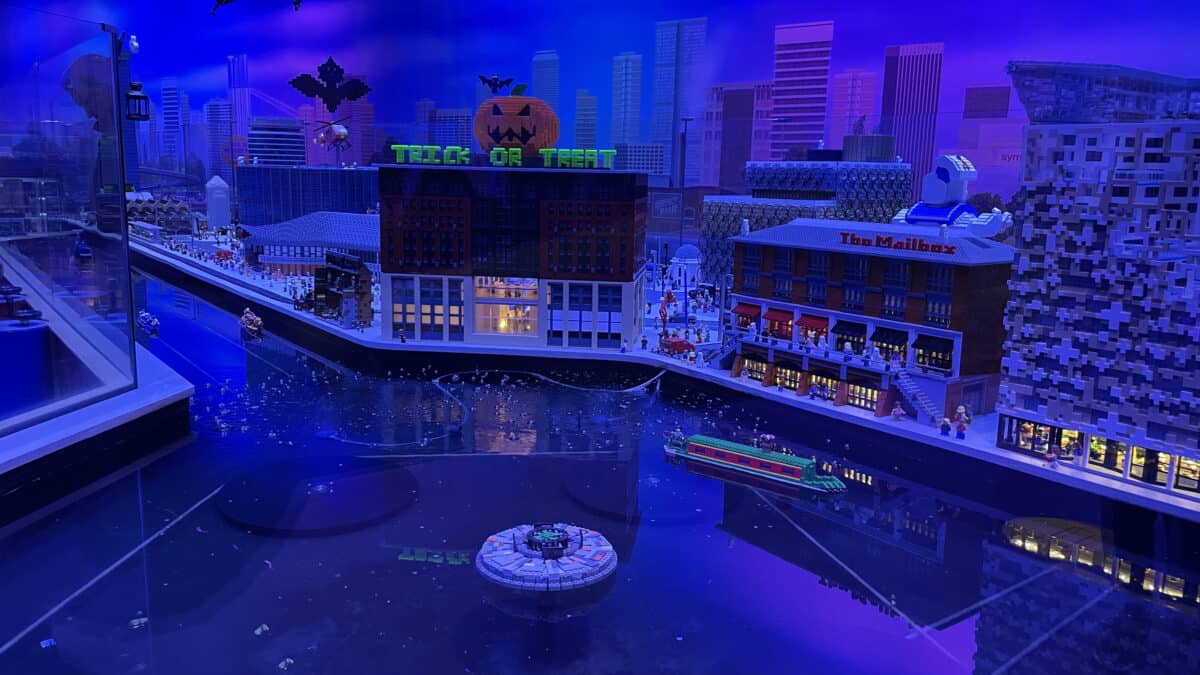 Many of these additions and the buildings themselves had flashing lights, adding to the drama. There were a few interactive models too, with push buttons to make a building shake or setting off a football match. As we spent time in miniland, we noticed the whole room getting darker and windows in the buildings lighting up.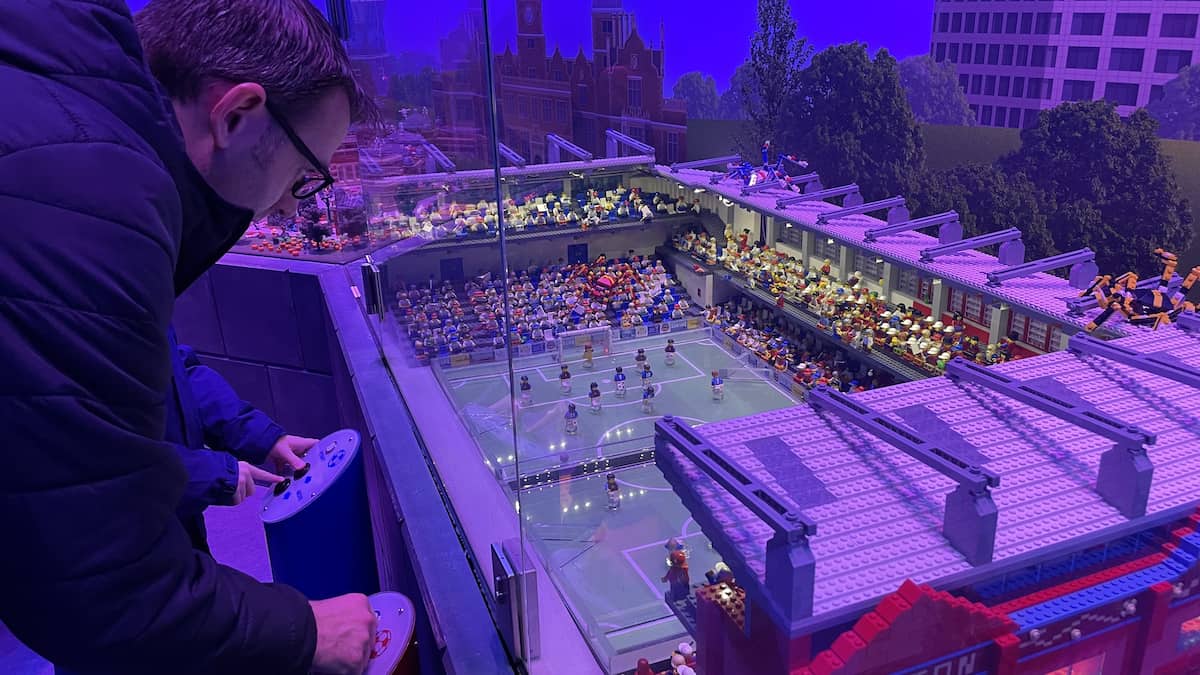 The City had transitioned from day to night in a really subtle way, giving even more life to the models. This added an extra element to the whole display so we then actively waited for the transition a couple of times so we could see the whole world in both night and day modes.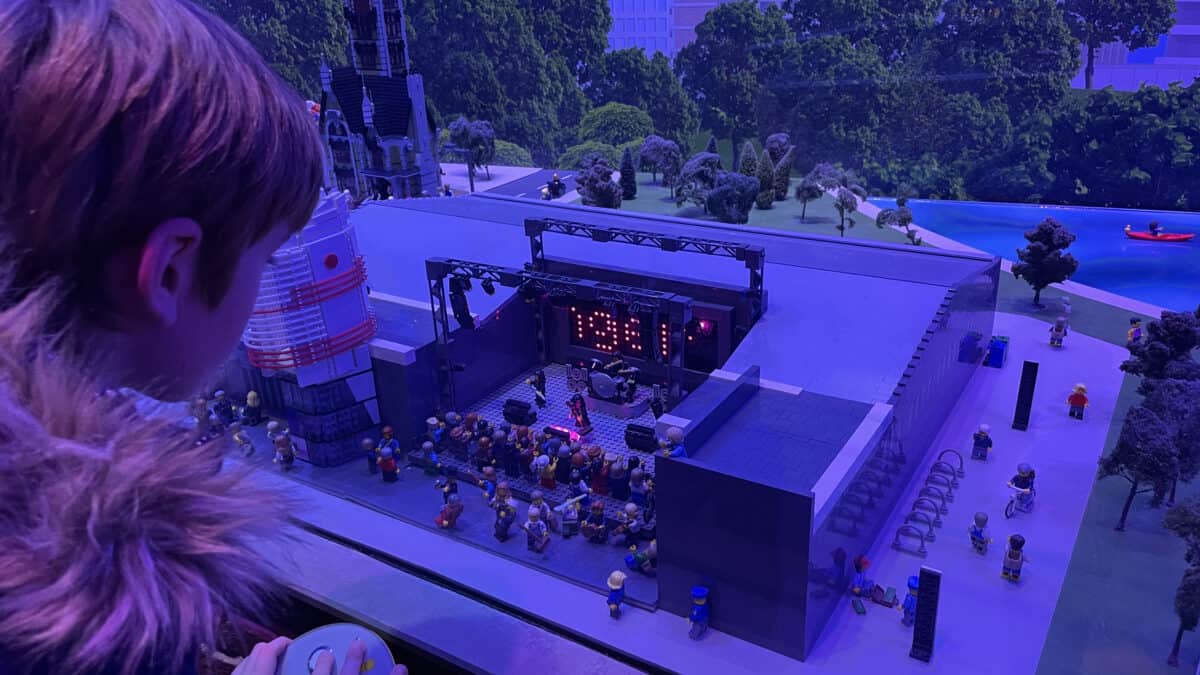 After eventually leaving miniland, we found ourselves in the main area of the Discovery Centre. There was so much to see and do, with each area offering an interactive experience. We spent around 40 minutes in the first section we came to, themed on the Lego Friends brand.
There were several tables around the zone with hundreds of bricks to build anything you wanted. The centre of the main table had a few pre-built buildings that you could add to or leave your creations as an extension of the display. As it was Halloween, there were extra orange, brown, black and green Lego bricks in the play areas to create pumpkins, cats or anything else you wanted.
After dragging the children away from the first zone, we gave them the opportunity to let off some steam in the Lego City soft play area. This play session was unlimited and we timed it to coincide with the 4D movie theatre next door.
There is a handy countdown outside the theatre to let you know when the next showing is and there are four different movies showing on rotation. We were treated to the Lego Movie 2 film, complete with rumbling seats, water showers and bubbles! We all enjoyed it very much and Little Man wanted to do it again straight away!
The Legoland Lego Racers: Build and Test track
The next zone the children wanted to visit was the Lego Racers: Build and Test track. There were lots of tubs of Lego Technic bits with basic instructions to make all sorts of cars. Whilst the children spent some time to construct their racers, Dave visited the café for hot drinks that were reasonable priced, selling Costa branded beverages and food.
You're free to take drinks around the Discovery Centre, just be careful with younger kids charging about! There was plenty of seating around the Lego Racers zone, so we were able to sit and easily supervise the children playing.
The test track consisted of two different sized ramps and a sloping straight raceway for testing creations. The children could've spent hours in this area, refining their models, adding and taking away bits. Acting as design consultant, Dave got quite drawn in too!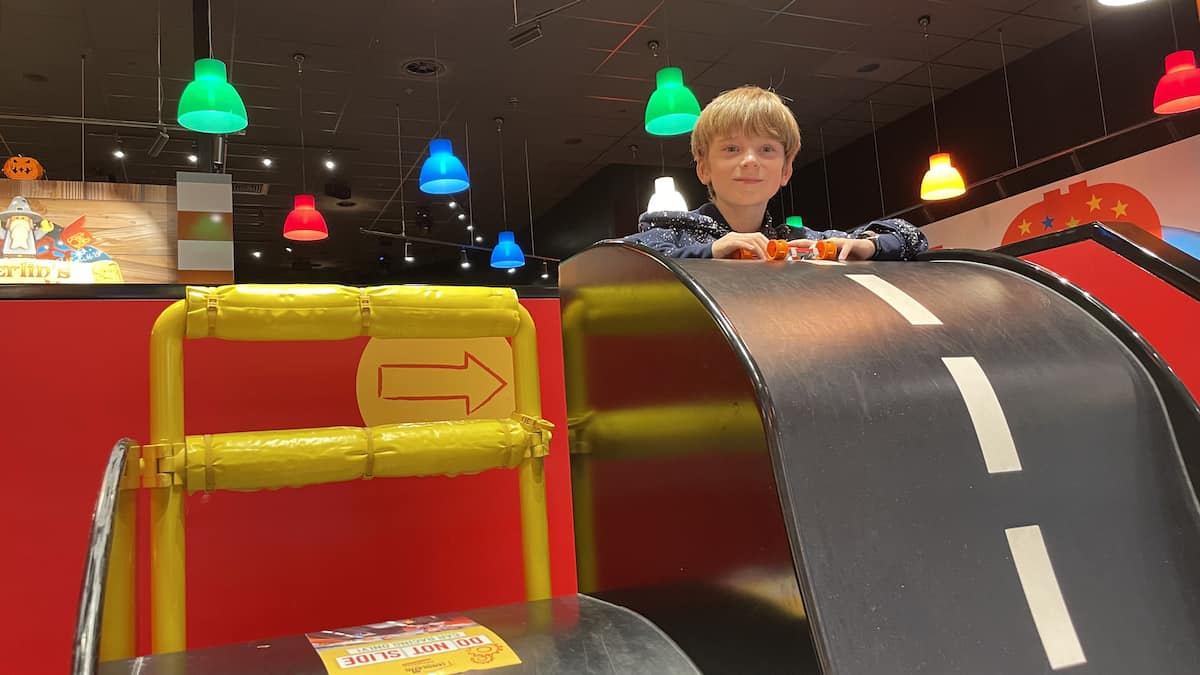 We finished the visit as we started, with a go on Merlin's Apprentice, a two person ride where you've got to pedal to take off! The children were happy that they'd spent enough time in the play areas by the time we left. We then spent a while wandering around the gift shop, being told exactly what the kids wanted to buy next!
We found that 3-4 hours was the right amount of time to spend at Legoland Discovery Centre Birmingham, although there aren't any limits on how long you can stay. You could stay all day if you wanted to.
Legoland Discovery Centre is part of the Merlin Entertainments brand and you can visit the centre with free entry along with the other Merlin attractions as a Merlin Annual Passholder. Visit the website to find out more about Legoland Discovery Center Birmingham – book tickets and check opening times as well as check out their annual pass options too.
You can see a video of our day at Legoland Discovery Birmingham over on Instagram here: