Disclosure: We were invited on this break for the purpose of this review however all opinions are my own.
The images below taken in the communal areas of the hotel were supplied by Daish's Holidays and were taken before the coronavirus pandemic and are used for illustration purposes only as there are social distancing measures in place currently.
Last week we were invited to experience a Daish's Holidays staycation at their Russell Hotel in Weymouth. We had no previous knowledge of Daish's Holidays and no preconception, we just couldn't wait to get to the hotel and start our seaside break.
Daish's Holidays is a family business with ten hotels across nine tourist destinations in England and Wales. When we were choosing where to visit we found it quite difficult as we would have loved to visit Blackpool again or go to Bournemouth, the beach of my childhood. But we chose Weymouth as it's somewhere we hadn't been before.
Traditionally, Daish's holidays are a coach holidays company. Giving guests a door to door holiday experience in so many popular UK seaside destinations.
Now, with a Daish's Holiday you can make your own way to the destination or still choose to travel by coach, on one of Daish's Holidays fleet of 25 luxury coaches. They transport guests from a number of pick up points across the country, making holidays accessible for everyone. The coach trip is included in every Daish's Holiday but we chose the self drive option.
The Russell Hotel in Weymouth, Dorset is right next door to the company's other Weymouth hotel, Hotel Prince Regent. It has free parking for guests in a car park right behind the building which was perfect for us and meant we had our car for day trips during our stay although Daish's Holidays do also organise coach day trips for guests too.
When we arrived at The Russell Hotel we were so impressed with the location. It was right on the seafront, just across the road from the beach and a little further along from the busiest part of Weymouth, making it nice and quiet in comparison too.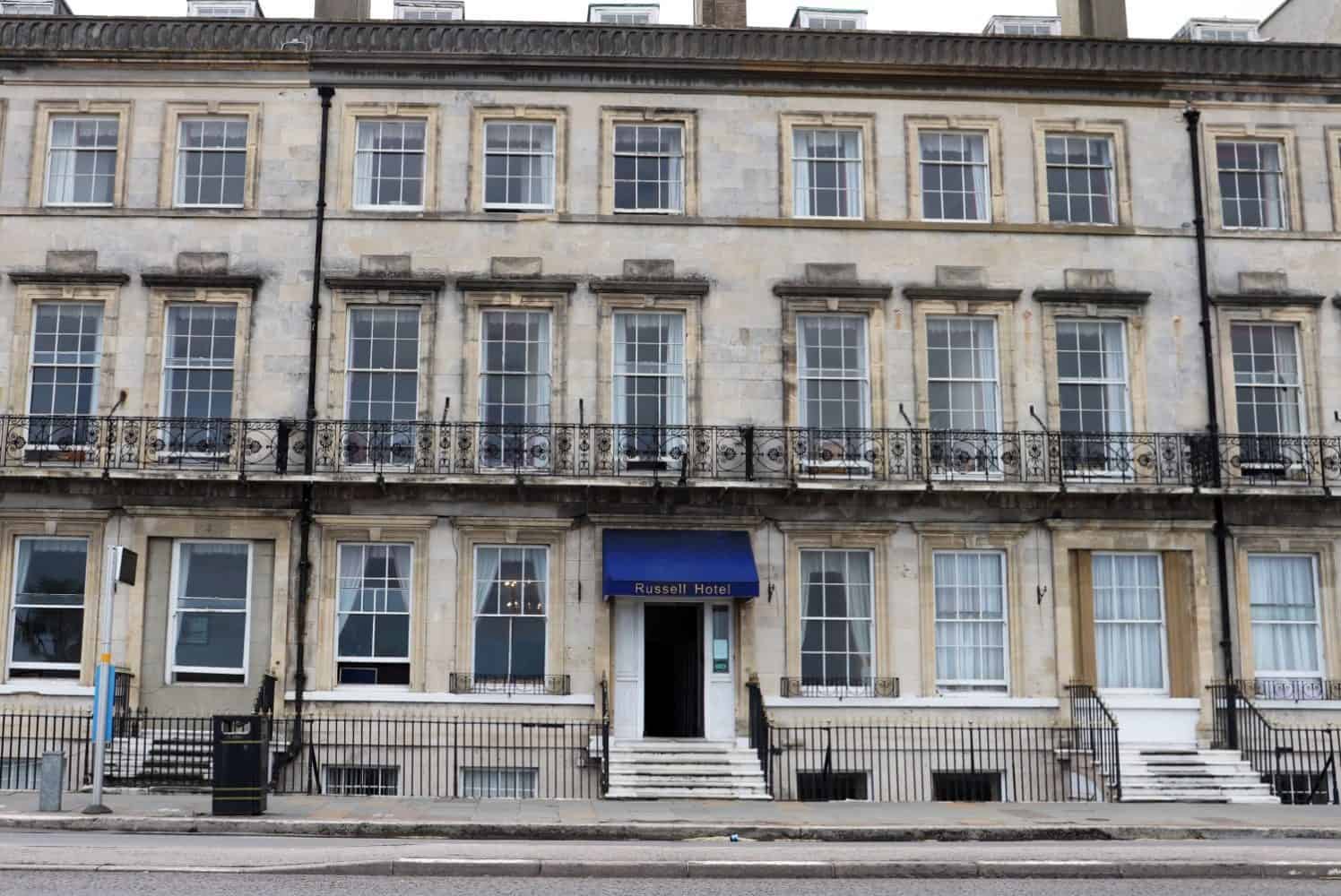 Although we arrived a couple of hours earlier than the 3pm check in we were surprised to find our room ready for us. Daish's have a lot of measures in place to keep everyone safe in the current climate – with one way arrows everywhere, hand sanitiser throughout the hotel, screens up at reception and all seating spaced out to aid social distancing. All staff wear masks and our temperatures were taken at check in. All of this really put us at ease.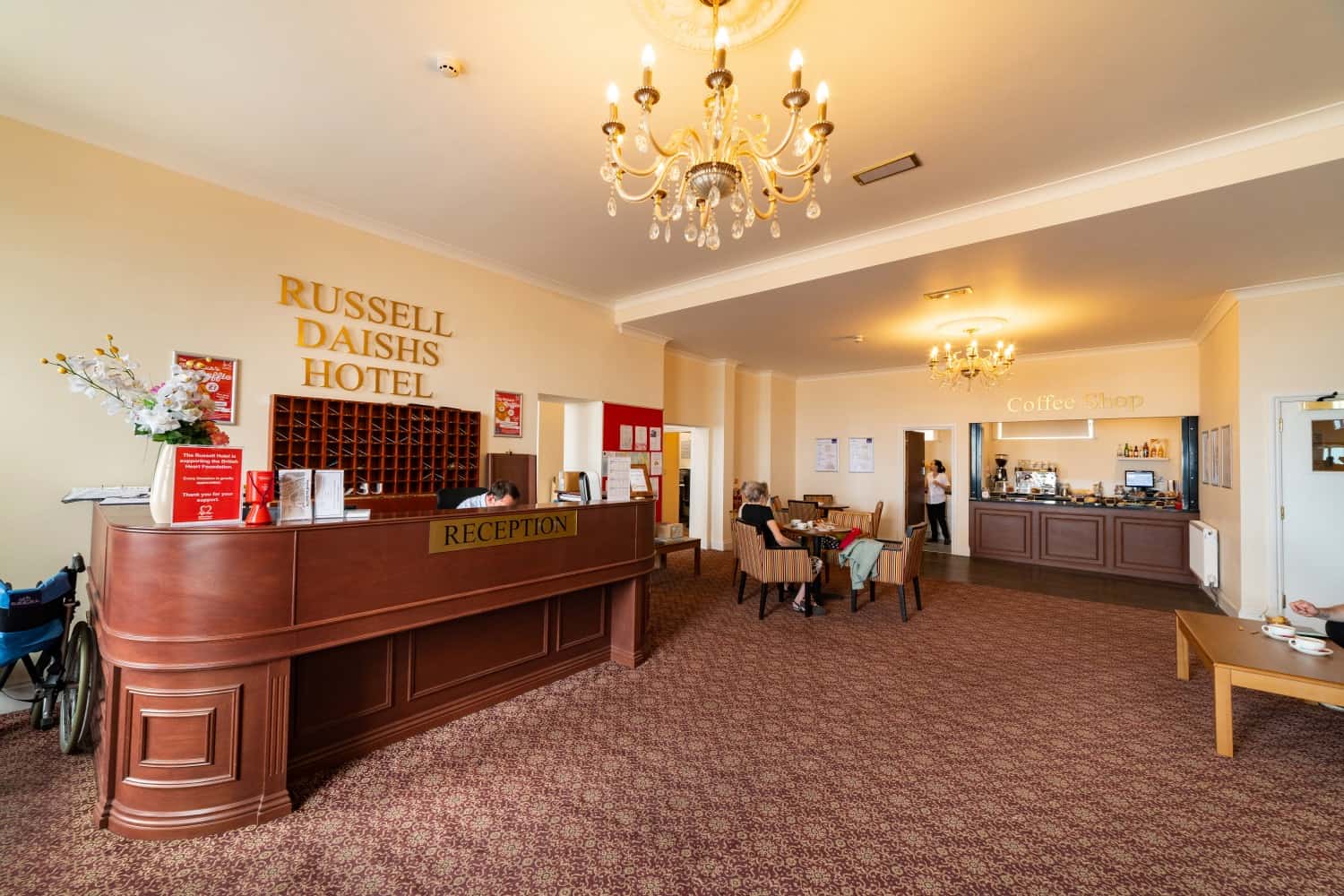 We were booked into a family room for our four night Monday to Friday break and Daish's have family rooms that can sleep up to five. Our room had a double bed, a single bed and an extra bed added too.
The room was comfortable and had everything that we needed – plenty of towels, a TV, tea and coffee making facilities, ample storage and free wifi. Although the decor was quite dated, the room was serviced daily and was a really good size for our family to get ready in and relax.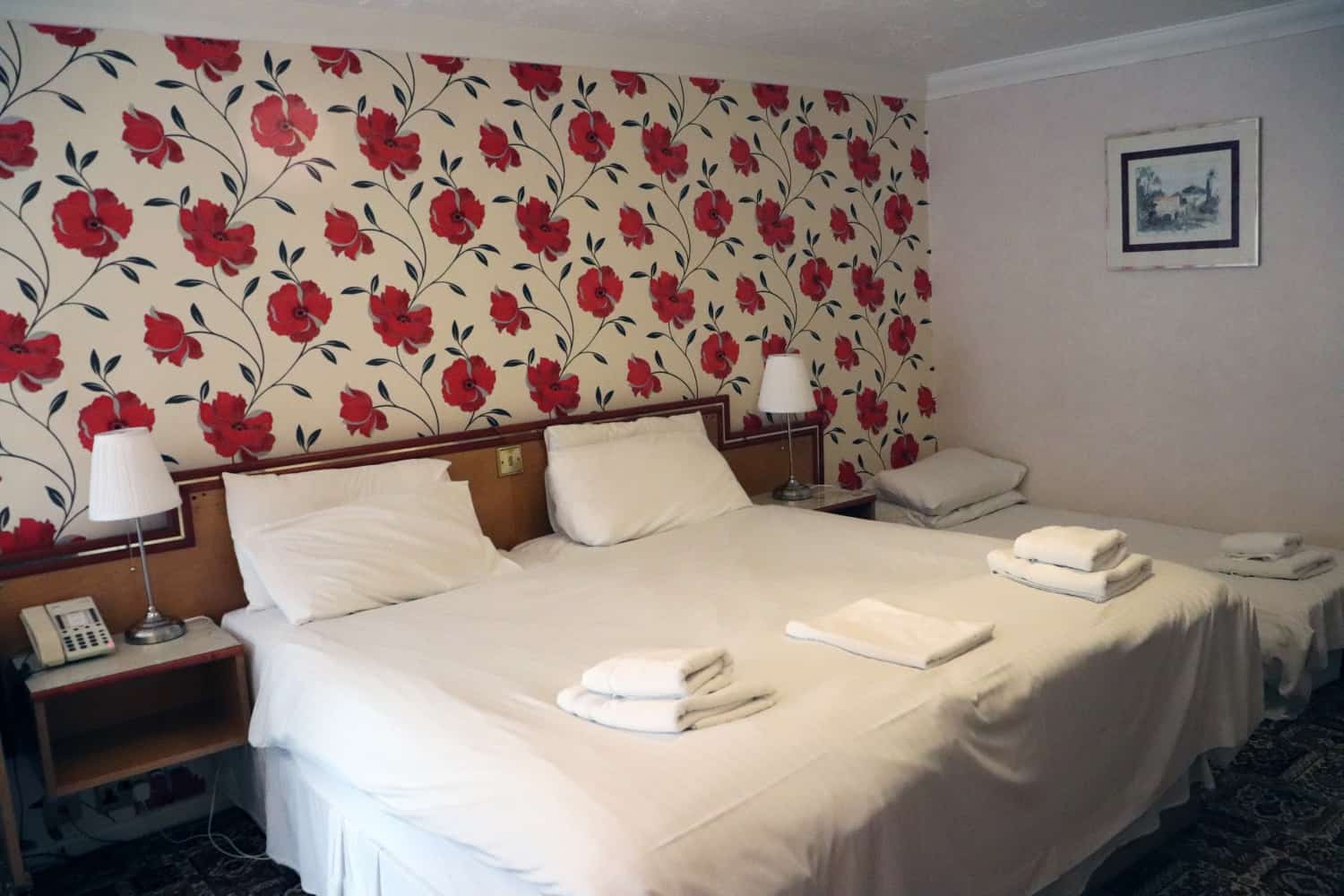 Our room had a good size bathroom with complimentary hand wash and hair and body wash. The shower did lack pressure and the whole bathroom was tired and could do with an update but it was fine for our needs for the week.
A fantastic part of Daish's Holidays is that breakfast and dinner are included in the holiday package. Our dinner was at 7pm each night and I was impressed that we were finished with all three courses of dinner by 8pm each night – this shows how great the service was. It was swift and faultless, helped along by the fact we preorder our dinner the night before aside from on the first night.
The meals were fantastic. We had two or three choices of starters each day, as well as two different meat based mains, a vegetarian option and a salad with a choice of topping. Dessert had two different options and then ice cream, cheese and biscuits or fruit salad as choices each evening.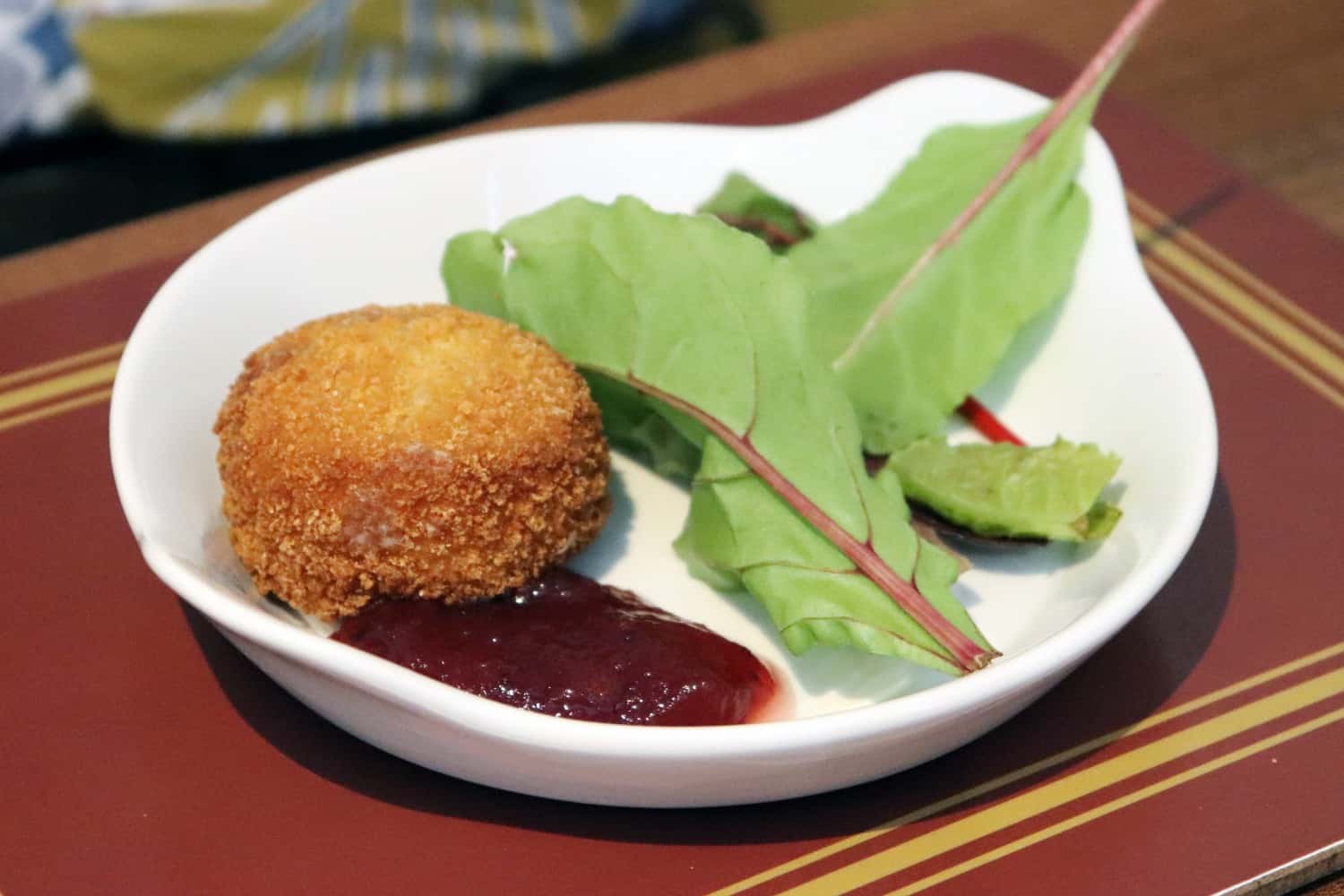 Over the course of the week we had so many lovely meals. Starters like spring rolls, soups and pate and mains like roast dinners, lasagne, hot pot, cottage pie. All mains were served with a dish of potatoes and vegetables for the table to share.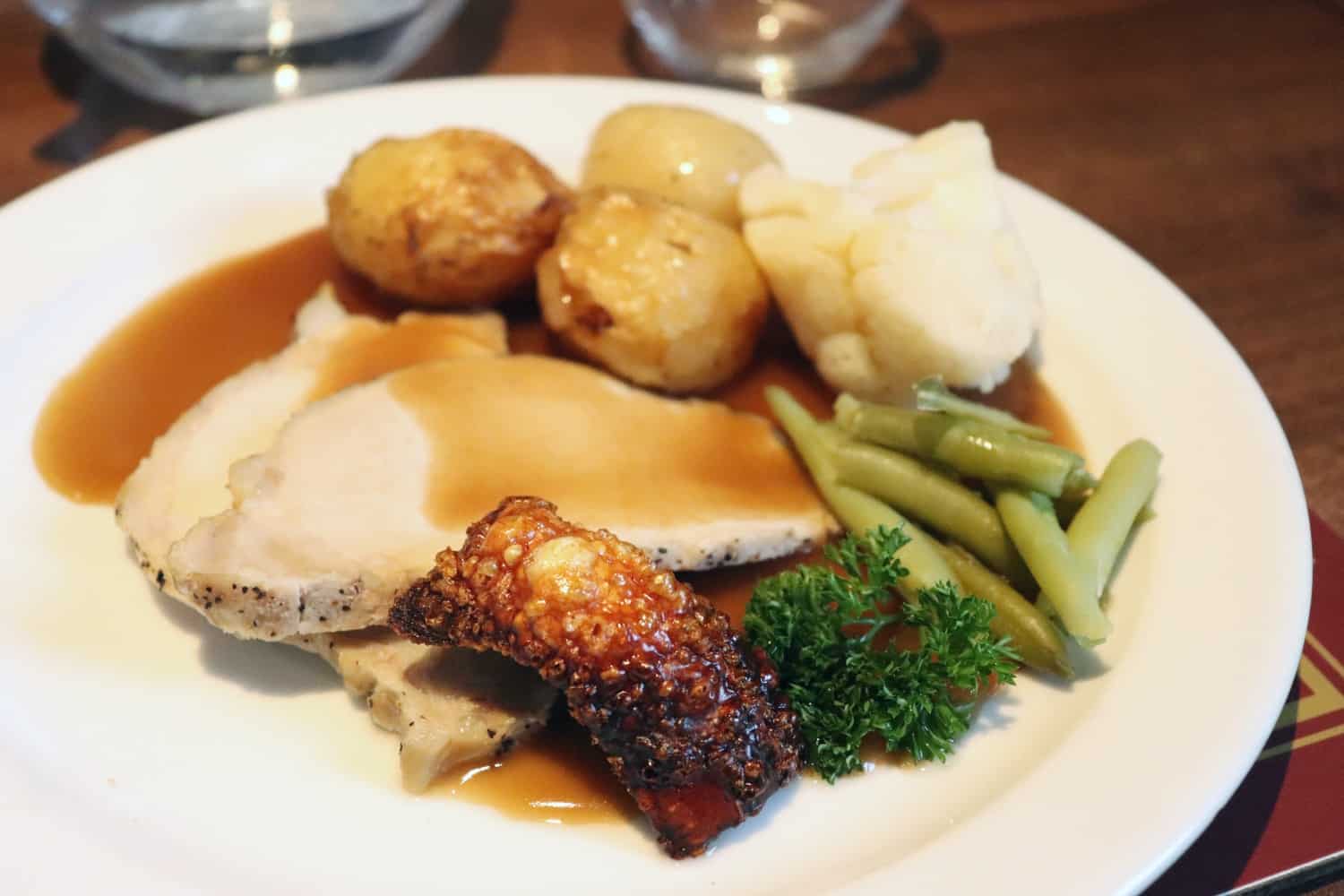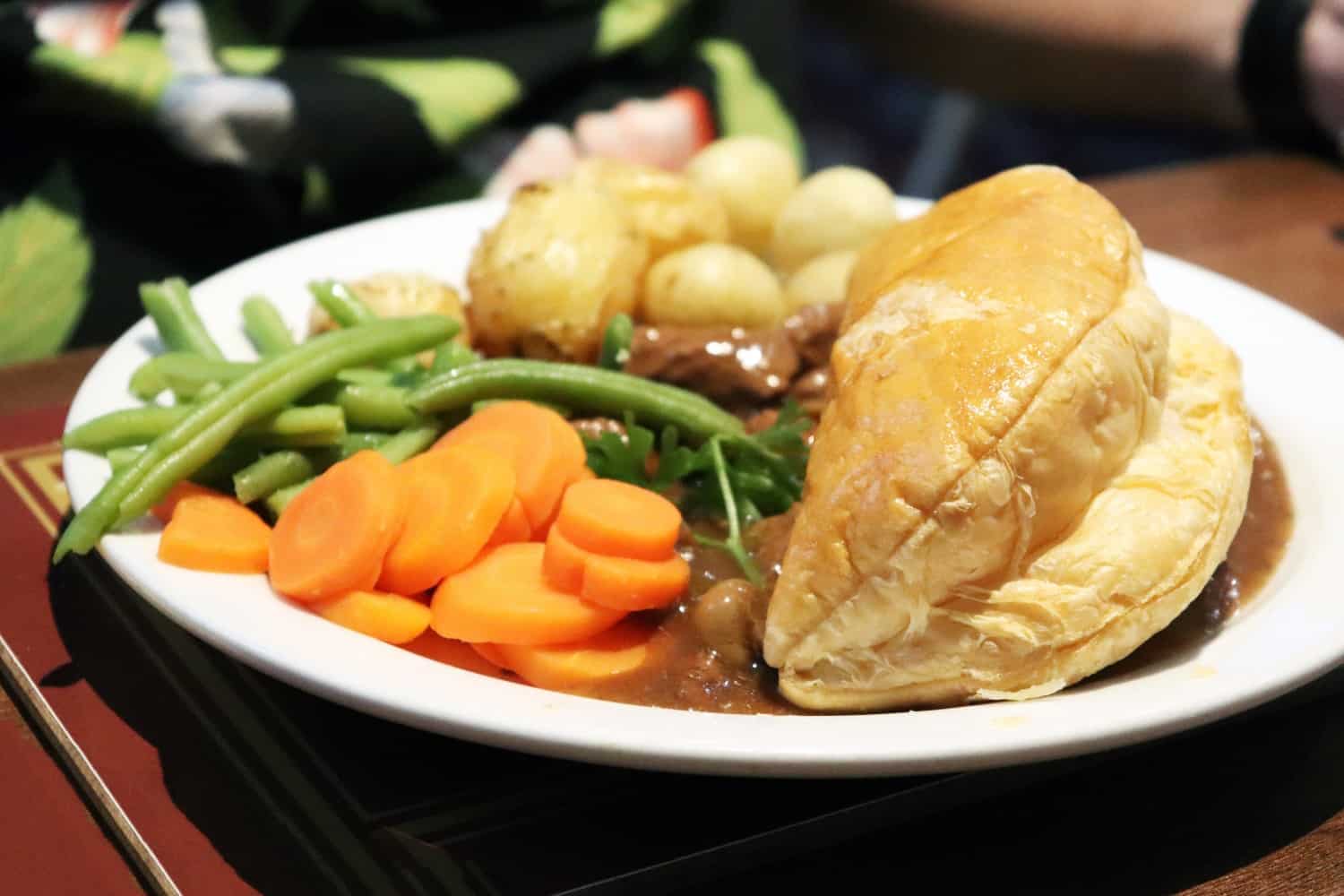 The children's options were great too. They could have anything from the main menu or they had their own dedicated children's menu. This included favourites like chicken goujons, sausages and pasta all served with a potato side and vegetable side. New potatoes, mash or chips and salad, baked beans or cooked vegetables. I really loved that the children could choose more than just something and chips which we often expect when the children eat out.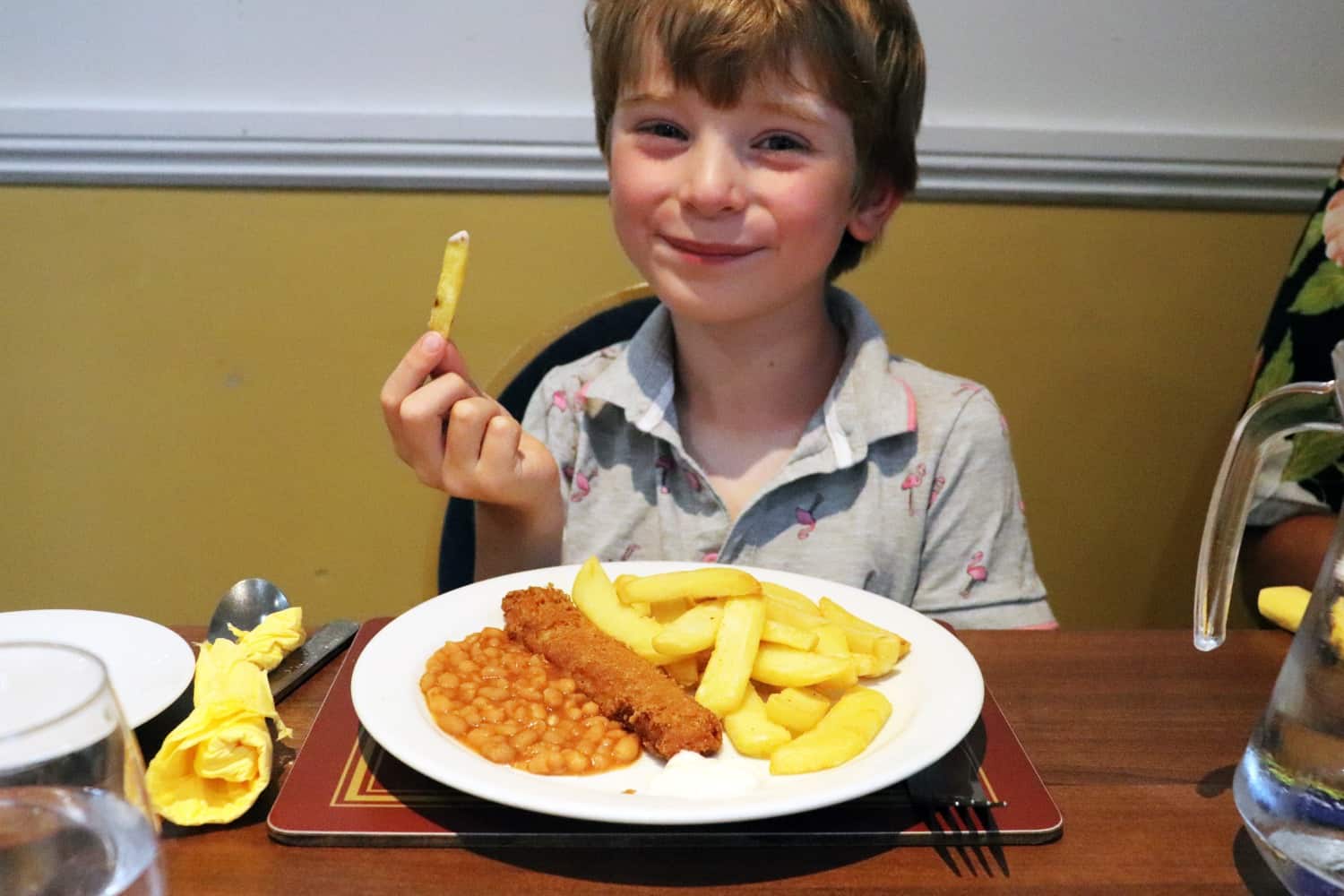 The children's meals were finished with ice cream, fruit salad or jelly and Little Man loved having ice cream literally every night! We had some wonderful desserts too – cheesecake, profiteroles, crumble and custard. The food was a real highlight of our week in Weymouth.
After dinner there was entertainment each night starting at 8:15pm. This included bingo, quizzes and live performances. Sadly the children were too tired after a day at the seaside for us to make the most of the entertainment but all the guests seemed to really enjoy it and would go off to find their seats to enjoy it straight after dinner.
The entertainment finished by about 10pm each evening which would be a perfect time to still enjoy it and get a good night's sleep. The children slept so well each night and Dave and I slightly less so. Our room was on the ground floor with a staircase running next to it and I think a corridor above. This meant we had a lot of noise from other guests moving around. We didn't mind this for our break but would ask for an upstairs room if possible next time.
Breakfast is also included in the stay and each day there are fantastic cooked options available that you order in the morning. There are a selection of fruits, yogurts and cereal available too which we ordered on the first night and then got the same things each day. It would be nice if this was also ordered each evening so you could vary your choices as it might be nice to vary your cereal each day rather than having bran flakes or porridge every day.
The cooked breakfasts were fantastic. Dave and I pretty much had a full english breakfast each day and the menu was changed slightly to have fried bread included on the last morning – what a treat! There were also fish options each day with kippers and smoked haddock on the menu and we could also order any combination of the cooked breakfast items – fried egg on toast, beans on toast, sausage egg and beans etc.
Throughout our stay we had the same waitress – Barbara – who was wonderful. She wore a mask and gloves throughout and got to know little things about us – knowing after the first night that we'd need extra water so putting an extra jug on the table for the other days as a little example. She was always seeing if there was more she could do to make the children happy – sauces, juices, anything extra – and it really felt like she went above and beyond.
In fact, all of the staff at Daish's Holidays were lovely. From the helpful lady on reception when we checked in to the manager who was always around if we needed anything. They were friendly, welcoming and attentive.
The hotel also had plenty of communal space to relax – although due to the pandemic we didn't get to experience as much of it as we would have liked. There are lounge areas to relax, the bar and a little coffee shop if you want somewhere to sit and enjoy tea and cake at your leisure.
During our time at the Russell Hotel we explored so much of the local area. We actually only went on one day trip in the car on our last day and spent the first three days just exploring on foot as there is so much nearby.
Weymouth beach is beautiful with the nicest sand on the main stretch which gradually turns to shingle as you near the hotel. There are amusements, shops and so many restaurants and ice cream stands. You really are never far from an ice cream!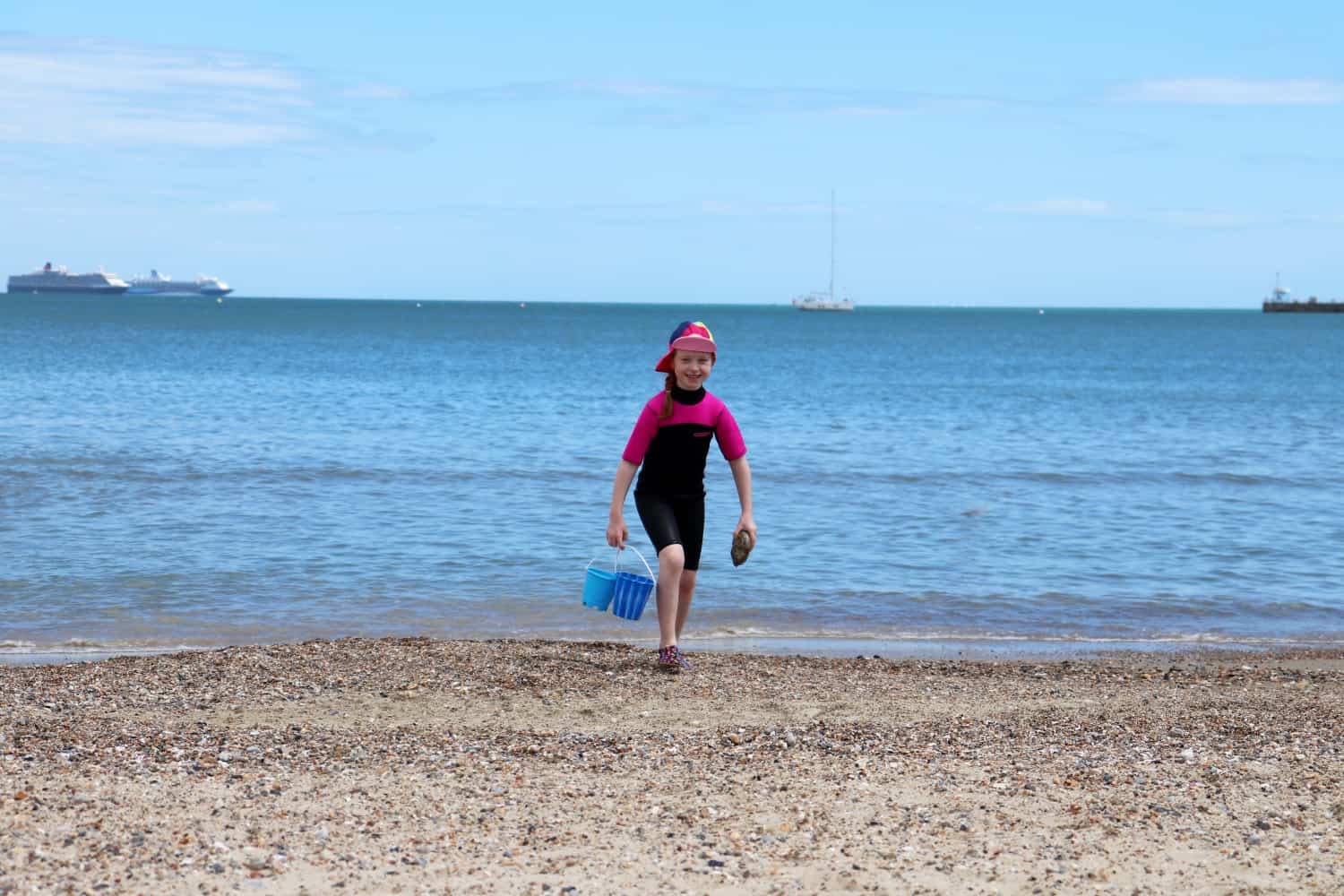 Weymouth is great for crabbing and the historic harbour is beautiful, with people sitting on the harbour walls to catch crabs or fish. We walked to Nothe Fort one day and loved walking through the gardens, watching squirrels and playing in the park.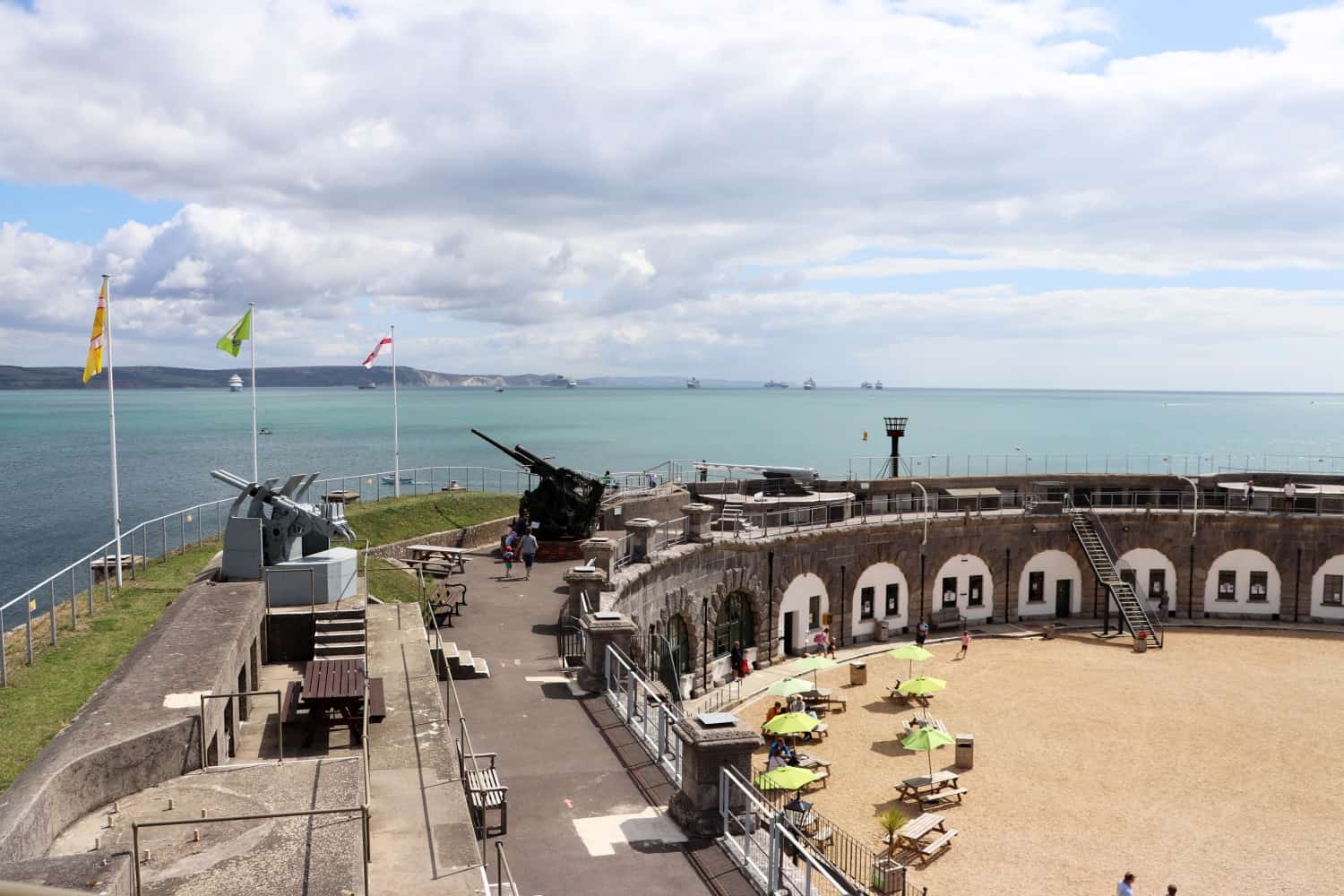 Another day took us in the other direction, loving the pebble beach at Greenhill, enjoying Greenhill Gardens and walking through the Lodmoor nature reserve and Lodmoor Country Park, ending up in the most amazing play area before spending the afternoon at Sea Life Weymouth – a must for anyone visiting the area.
The Russell Hotel proved to be a really comfortable and convenient place to stay as a family. It's a great choice for a budget-friendly family break and I'm so glad we got to stay at the hotel and experience Weymouth for the first time. It really was a wonderful staycation.
Daish's Holidays really are a great choice for families. Children under 6 go free when sharing a room with 2 adults and a family's first child aged from 6 to 12 goes free – when sharing a room with 2 adults – and all other children aged up to 15 pay just 50% off the adult price.
It would be a great choice for multi generational holidays and just a lovely way to see more of the country in an affordable way that the whole family can enjoy. Plus, they have fantastic options like the Bournemouth Sands Hotel, the Esplanade Hotel in Scarborough and others in Newquay, Llandudno, Torquay and more. You really can see most of the United Kingdom with Daish's Holidays.
You can find out more about Daishs Holidays over on their website – and we're already looking to book a trip to Blackpool with Daish's Holidays next year. They have fantastic special offers and late deals – why not grab yourself a little break away? Maybe to the Isle Wight!