California Country Park has swiftly become one of our new favourite outdoor places – and favourite country parks, along with Dinton Pastures Country Park down the road from it. In Finchampstead, Berkshire, it's not too far from us and a really lovely day out.
Managed by Wokingham Borough Council, California Country Park is a 100 acre country park which is open every day through the year.
I first went to California Country Park when Little Man was about three. We went to have a picnic and play in the paddling pool there on a sunny day in the summer. But, since then we haven't really been back – until now.
I started taking the children back to California Country Park a couple of months ago and they absolutely love it. You can park in the California Country Park car park but it's always been quite busy and is chargable.
The current California Country Park parking charges are £1.65 per hour for up to 4 hours or a flat rate of £6.60 for longer than that.
Instead, we park locally – near the Gorse Ride Play Area – and walk or scoot to California Country Park which extends our day out and gives us all a little more exercise.
The main pull of California Country Park has always been Longmoor Lake and walks through the forest and woodland. It's a great place to take your dog for a walk and we always see so many dogs when we visit.
The country park is great for feeding ducks and there's the paddling pool – outside of the pandemic anyway! It's closed this year but I'm hoping it opens again next year.
The California Country Park New Playground
Now though, there is a brand new play area that the children absolutely loved. You have to book a session and it's an hour long which is plenty of time to use everything in the park and burn off some energy!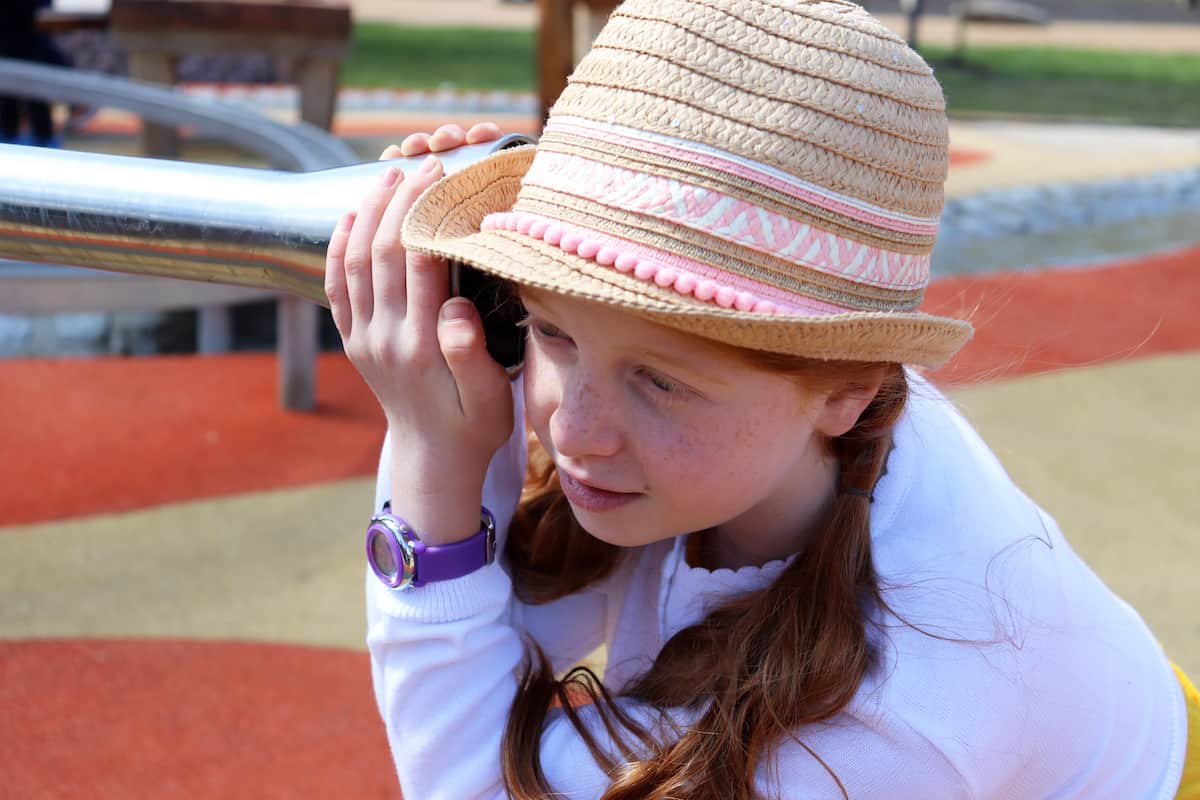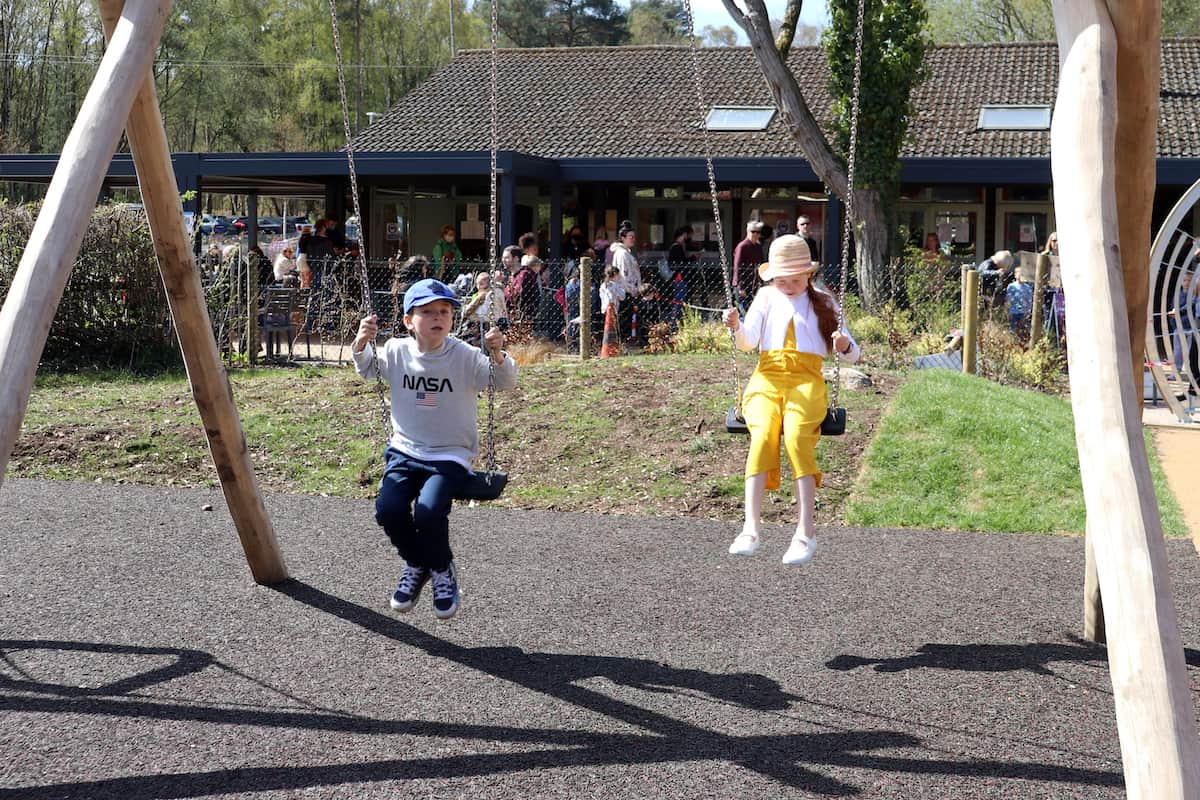 The play area is completely new apart from a renovated pirate ship which I remember from our first visit. There's so much for all ages, including younger children, from swings and the wild wood climbing structures with tree houses, a sensory garden to water play and a zip line.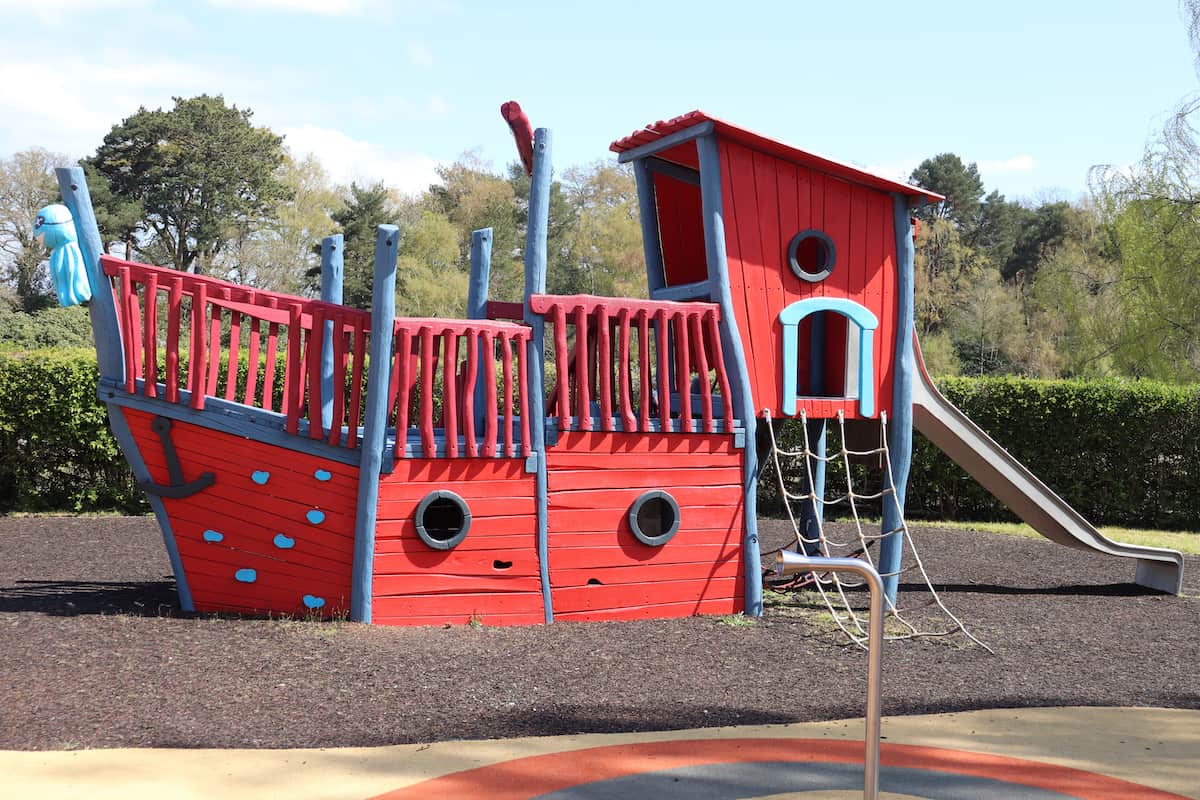 One of the children's favourite parts was a huge wooden play structure where they could climb, explore and admire the views before sliding back down. It's great fun and there are only a few pieces of play equipment that are best for older children, most would be fine for preschool onwards.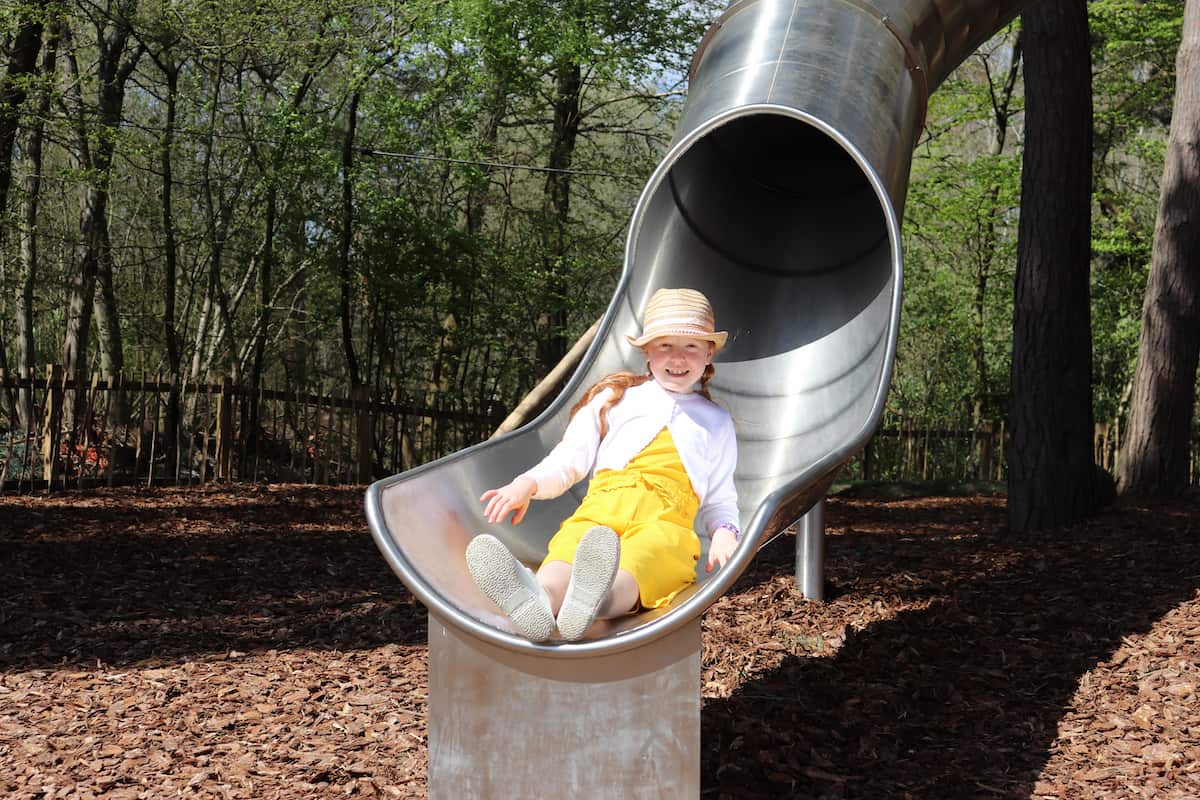 I love that the play area is all fenced in, that it's a completely safe space and there's just the right amount of people allowed in to make it enjoyable but easy to socially distance too.
There's also plenty of seating inside the play area for spectating parents and the California Country Park cafe – Jackson's Cafe – is right next to the play area to stock up on refreshments before or after your session.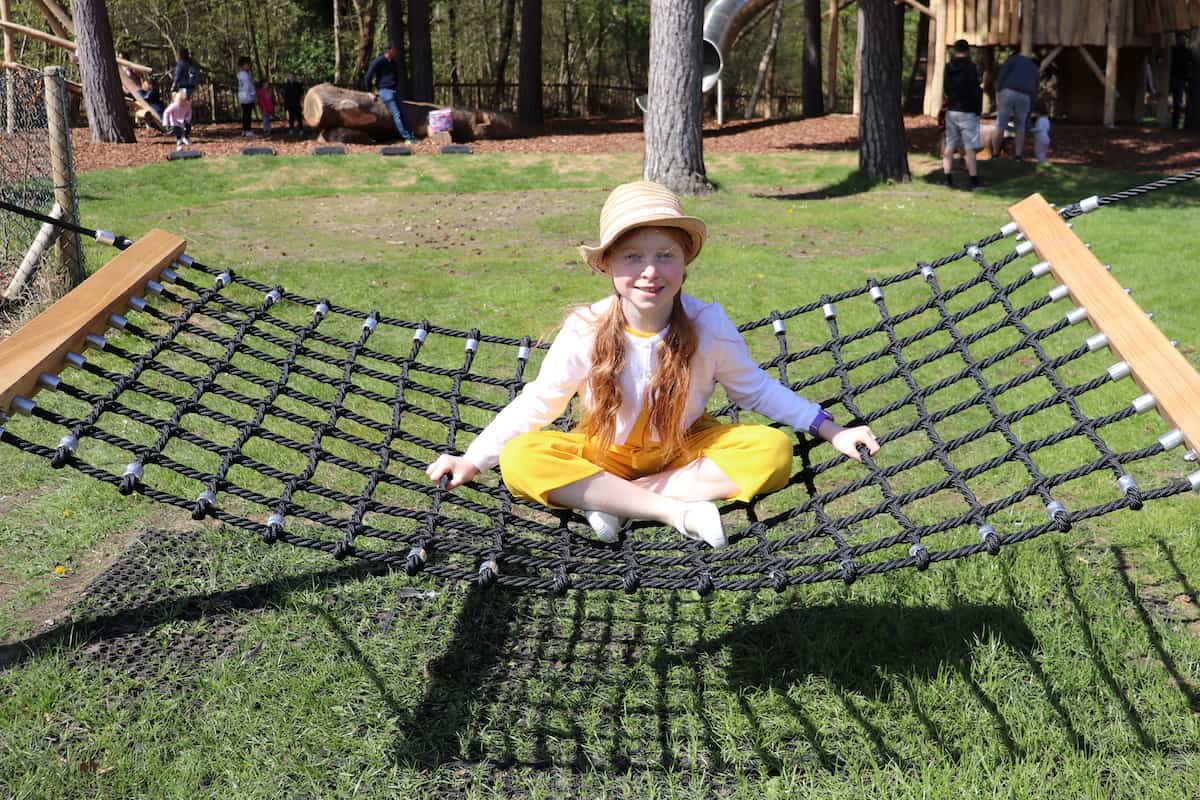 The children loved their hour in the park and afterwards we fed the ducks before scooting back to where we'd parked the car. California Country Park is somewhere you can spend an hour or the whole day depending on how much time you have and the whole family always really enjoy it.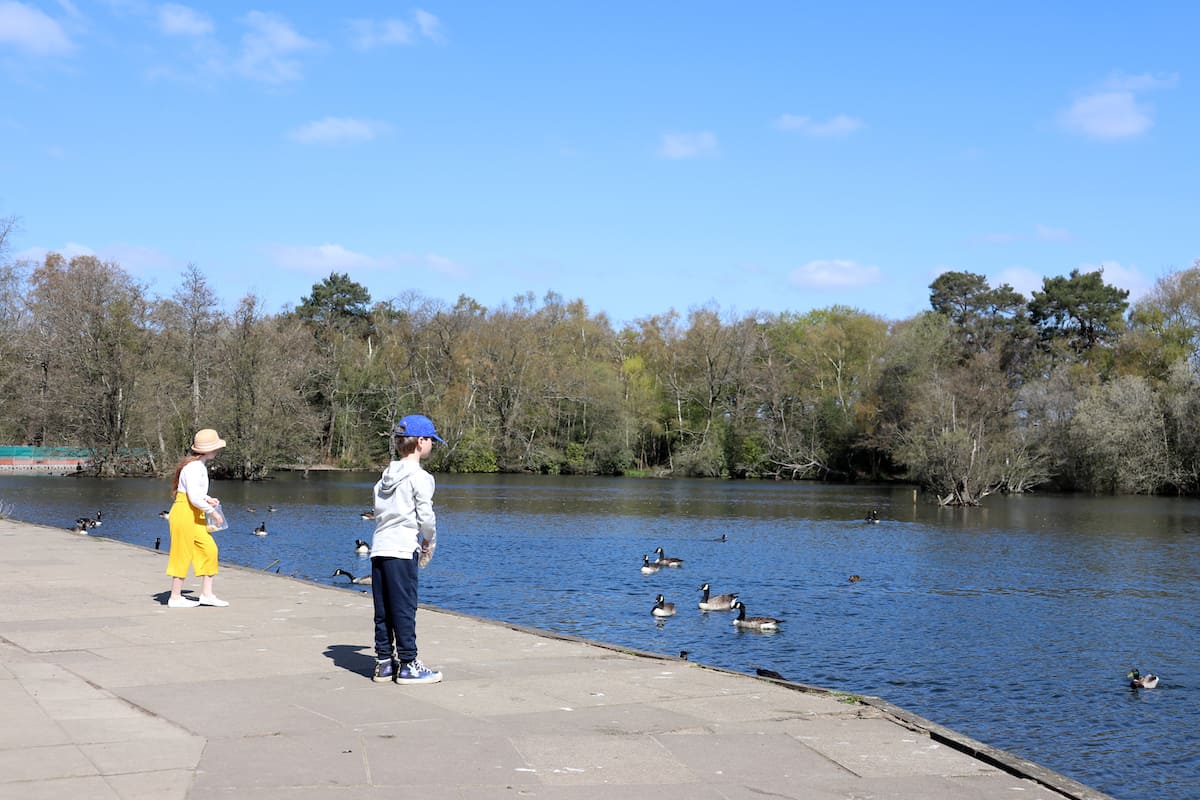 California Country Park Camping
If you're coming from further afield, or just want to have an adventure, California Country Park is also home to a chalet and touring park site. They have lovely fully serviced chalets and camping pods to rent but you can also pitch your tent on site or hire a touring pitches too. Visit the California Holiday Park website to find out more and check availability here.
You can find out more about California Country Park over on their website. There aren't any official California Country Park maps but this map gives you a good idea of the area. California Country Park is located on Nine Mile Ride, Wokingham Berkshire with postcode RG40 4HU.