When we were in York city centre, on our holiday in Yorkshire at Easter, we stumbled across Clifford's Tower, right next to York Castle Museum and decided we had to go and visit. It's an English Heritage site and as members we get to visit free.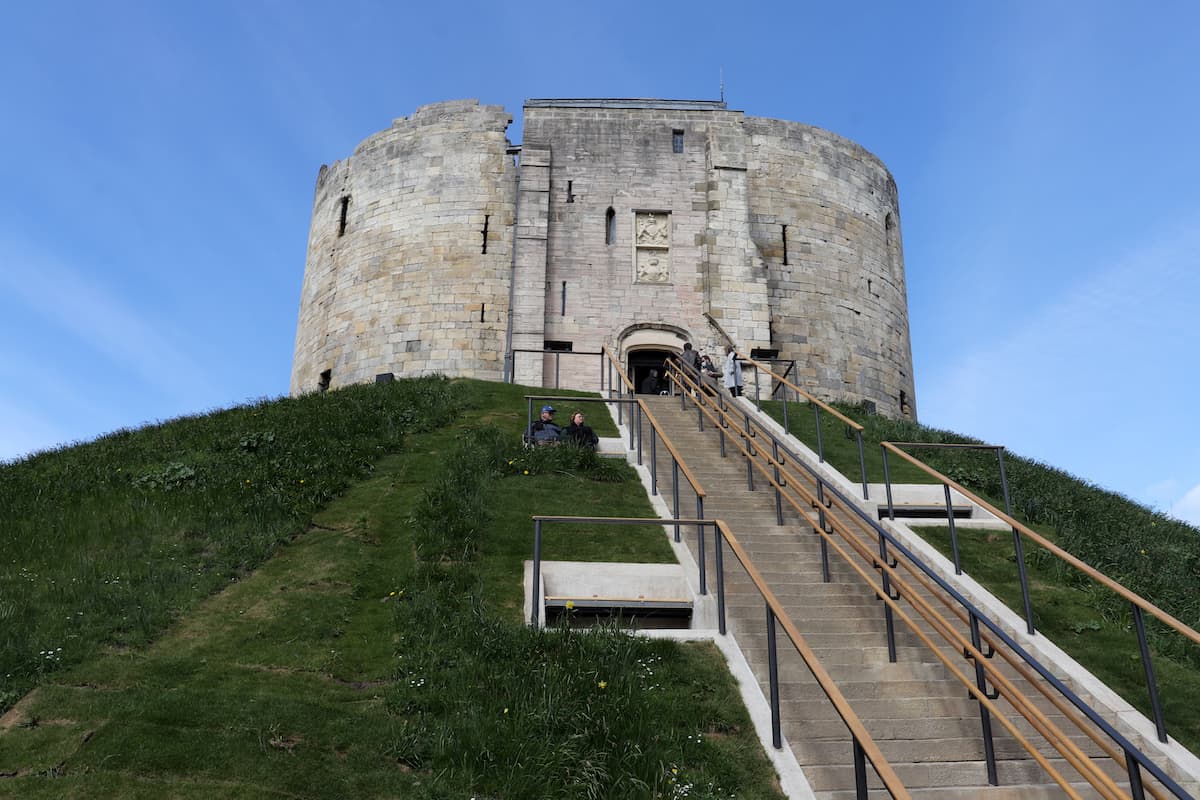 What is Clifford's Tower?
Clifford's Tower is the largest remaining part of York Castle which was once the centre of government for north England. Over the years, it has served as the Royal Mint, a medieval stronghold and even as a garrison during the Civil Wars.
When we visited, we arrived at about midday and joined the short queue which was at the bottom of the tower, managed by English Heritage staff and right next to a cute membership van. We waited in line and when it was our turn, we were directed up the steps on the mound that Clifford's Tower sits on top of. towards the entrance.
We noticed that there are a few benches built into the sides of the steps and mound, handy if you need a breather during your climb and don't want to get in anyone's way. At the top, we were met by more staff members who scanned our membership cards before showing us inside.
What we hadn't realised before our visit was that Clifford's Tower had literally re-opened the previous week after a multi-million pound restoration project was completed. Before, the Tower was a literal empty shell, the upper levels and stone staircases inaccessible.
Clifford's Tower is now gleaming inside with interactive exhibits on the ground floor, telling the story of the tower as you move around in chronological order. It also has a freestanding wooden structure that gives access to new internal walkways leading to the upper levels – and you can even see the King's Latrine!
The tower has many small spiral staircases leading onto a brand new roof deck that it a fantastic place to spend time. It gives magnificent panoramic views over York and points of interest are noted on information displays to spot in the landscape. There's also plenty of seating so you can spend some time and enjoy the views and peaceful atmosphere.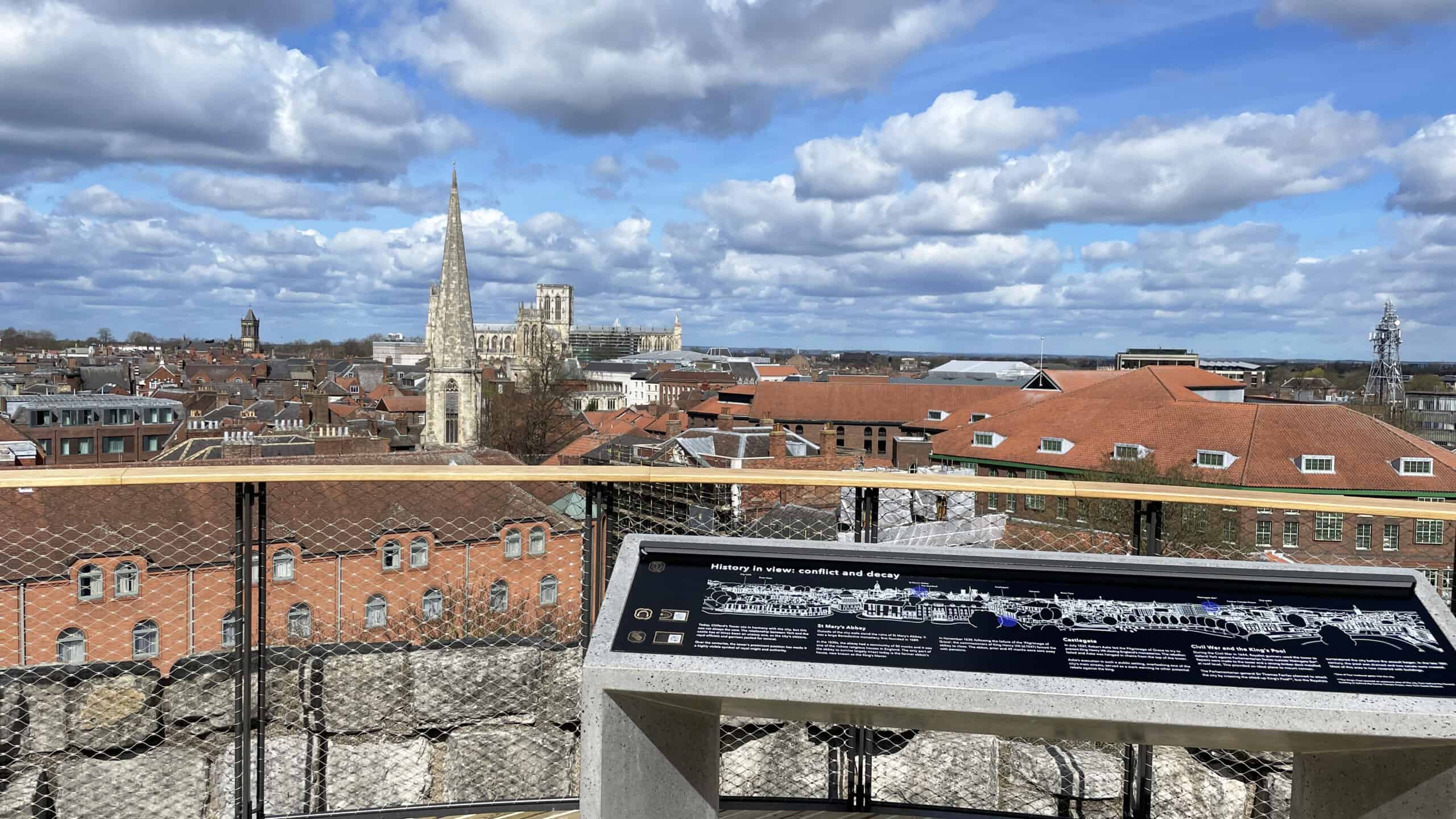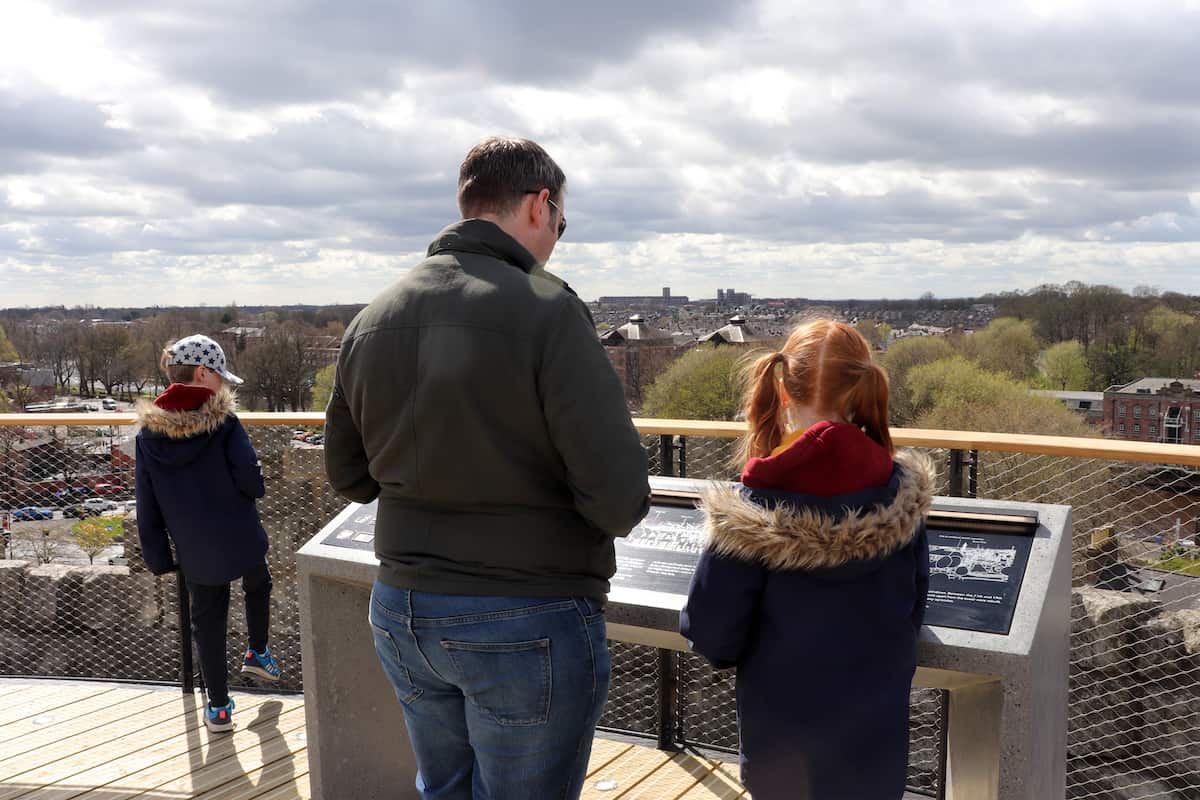 Clifford's Tower history
The children loved learning about Clifford's Tower and finding out that the tower they were standing in wasn't the original tower as built in 1068, but a replacement that was constructed in the 1250s. This new tower replaced the old wooden motte and bailey design following one of the darkest days for the Jewish community in England, where many Jews committed suicide and set fire to the tower after taking refuge from a baying Christian mob.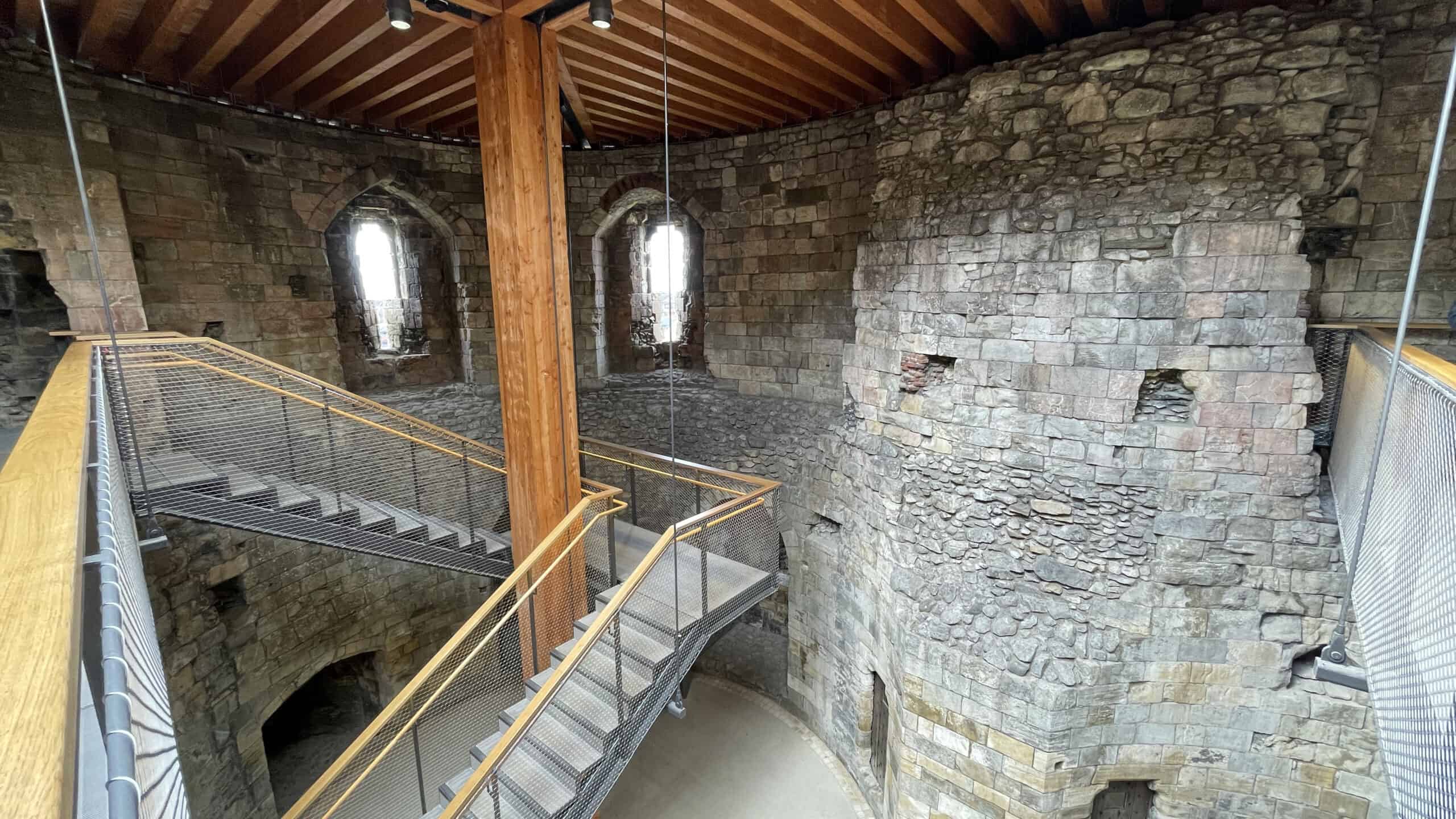 For much of the 14th and 15th centuries, Clifford's Tower was used as treasury, exchequer, mint and seat of royal power. During the Civil War, Clifford's Tower was held by the royalists while the city was under siege. Soon after this period in history, Cliffords Tower fell into disrepair after it was gutted by fire. It then formed part of the prison and court which were built from the 18th century.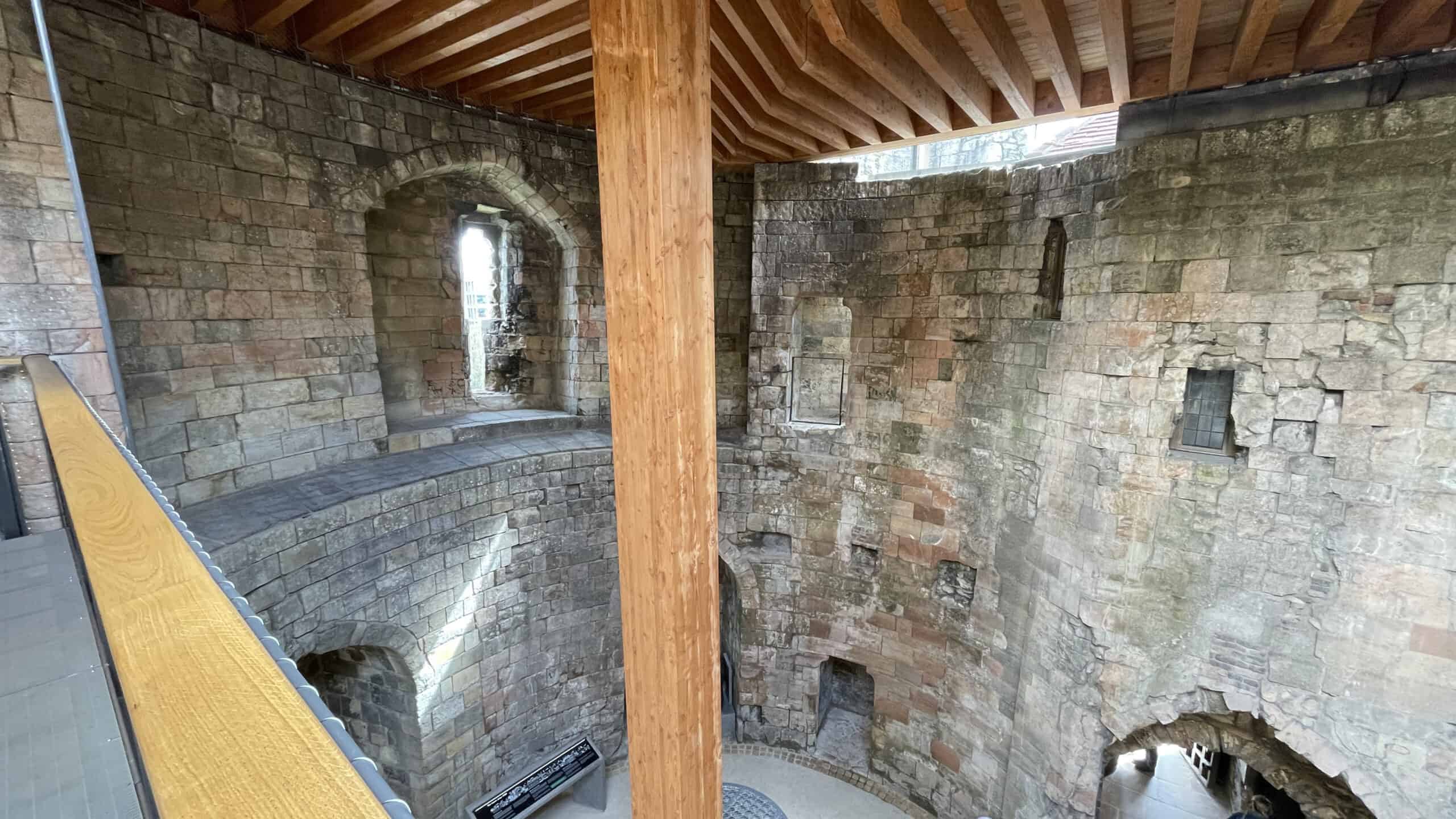 It was great to see where membership money was being spent as the restoration is breathtaking. Inscriptions have been preserved using traditional techniques and the new roof access is stunning whilst being sympathetic to the existing building. The building, its heritage and stories have been preserved for many years to come.
We loved visiting Clifford's Tower, getting to see York from a new perspective and learning so much history too. It's a great family day out if you're ever in York and looking for things to do.
Find out more about Clifford's Tower over on the English Heritage website. For reference, the address is: Tower Street, York YO1 9SA