Disclosure: The products featured were sent for inclusion in this gift guide however all opinions are my own.
Around this time every year we get asked for suggestions of what to buy for LP and Little Man and I always have no idea. So this year I thought I'd put together a gift guide full of educational gift ideas for children – not just toys for them to play with but ones that will really get them thinking, teach them something or inspire creativity. There are so many educational toys now – with so many being STEM focused and I know these will be featuring heavily under so many Christmas trees this year.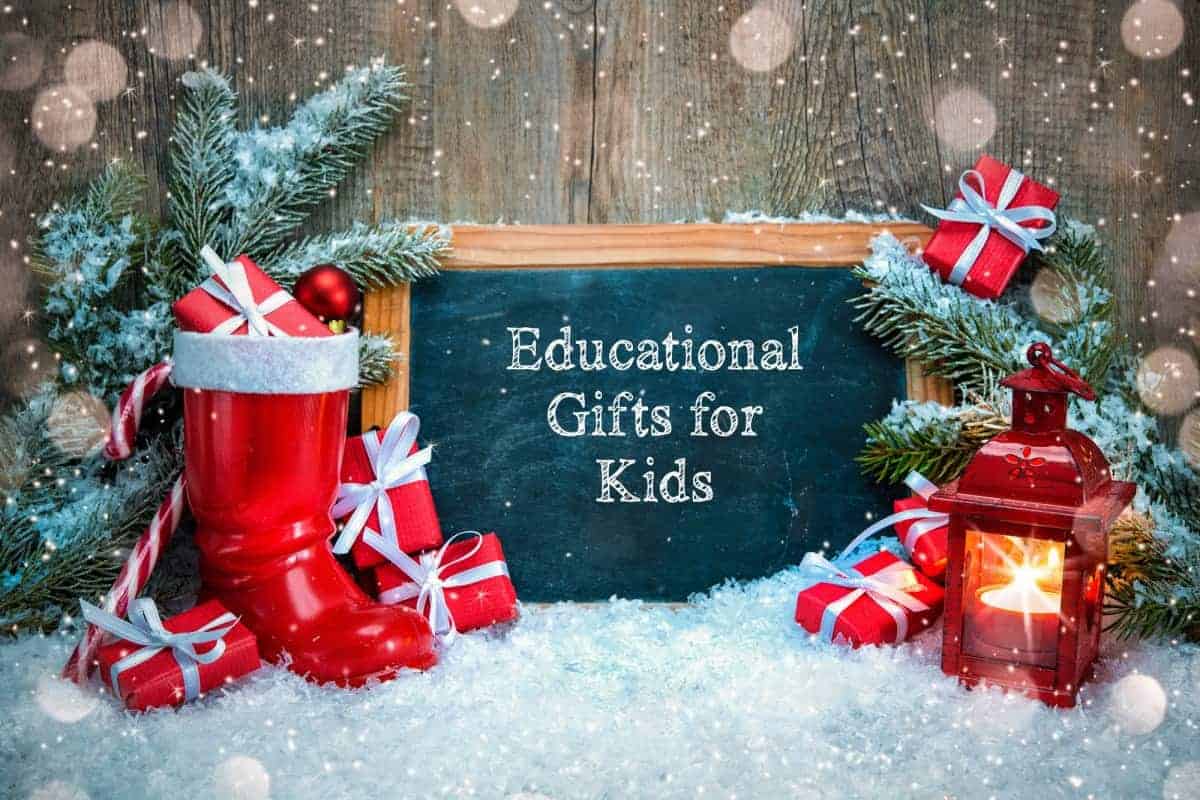 Slime is huge at the moment but it's not just stuff that gets stuck everywhere – making it is actually really educational, teaching children about science and letting them be creative at the same time, making something they'll play with for hours and then want to make all over again. The So Slime DIY Factory doesn't need any glue and is completely mess free – just needing water to start the slime making process.
Rainbows are everywhere at the moment so what could be better this Christmas than a Rainbow Science set? In this exciting set children can create five colourful and fun rainbow-themed experiments from blowing a cascading rainbow of bubbles to painting augmented reality rainbows in the air and creating magical unicorn holograms. It teaches more about science whilst using all the colours of the rainbow and working in conjunction with and Android or IOS app too.
Learning Resources are all about making learning fun and so everything on their website would make a wonderful educational gift. We reviewed their Beaker Creatures range earlier this year and the whole range would all be well received at Christmas. The Beaker Creatures Reactor Pods are a lovely stocking filler and the larger sets are a more substantial gift – teaching children about science and having a collectables element too that all children seem to love.
I remember absolutely loving microscopes when I was a child so what better than being able to make one yourself? The Build Your Own Microscope Gift in a Tin would make a great gift for any budding scientist and would give children their first glimpse at what things look like when you can zoom right in on them. This would be such an eye opening gift and one that would really inspire a love of science.
Find Me A Gift have a really great range of educational gifts for children and I know that so many kids would love their very own Chemistry Set. Who wouldn't love to do their own science experiments at home? The set lets children perform up to 125 exciting experiments like leaving secret messages in invisible ink and includes all the apparatus needed to conduct the experiments.
Another of their range is the 4 in 1 Robot Kit – and robots are huge this year. The kit lets children build four different battery operated robot designs as well as a gear box but, once they have been mastered children can use their own imaginations to create any robot they can think of.
We reviewed Power Tracks recently and I think it would be a fantastic addition to any wish list this Christmas. Volty is a great coding robot and children can make him follow lines, flip switches and even make sound effects – LP and Little Man love him! Power Tracks would be a really great educational gift for kids this year.
Wonder Workshop's range of Clever Robots are the perfect way to educate by stealth. Dash is a child's first real robot friend. He's cute, fun, and designed to grow with children, helping them to understand the basics of robotics, coding and programming while all the time having fun. Dash responds to voice commands, navigates objects, dances and sings. Plus, children can use Wonder, Blockly, and other apps to create new behaviours for Dash — doing more with robotics than you ever thought possible. You can see the full Wonder Workshop range here.
Another smaller robot friend for any child would be Sphero Mini, a super cute app-enabled robotic ball that can be controlled with your facial expressions. Sphero Mini can be driven using the Sphero Mini app or with your expressions with the Face Drive feature. Sphero Mini can be used as a controller to play different games or he can be programmed with the Sphero Edu app and runs for a whole hour before needing to be charged.
I love teaching the children about the world and as a family we love jigsaws so this World Map Jigsaw from Orchard Toys will be in one of our stockings this year. Full of bright colours, countries, facts and animals and including a giant map of the world poster it would make a great gift for any child.
Puzzles really do make wonderful gifts and if you're looking for something for a younger child then the London Bus Block Stacker from JoJo Maman Bébé may be just the thing. It's such a beautiful set and looks wonderful on display. Each block is numbered and when put together in the right order the complete red bus is formed. A gift that can be treasured for years.
All children love construction toys but Magicube are a whole other level. With a Mix & Match option for toddlers and preschoolers, through to Free Building sets for any age, Magicube are a great construction toy option. The Mix & Match sets work almost like a puzzle, letting children match the different sections of the characters or, using their imaginations to mix the characters up!
The Magicube Free Building Sets come in a range of sizes and let children create anything that they can think of – it's a set that is only limited by the size of the children's imaginations. Multiple sets can be used together, letting you grow your Magicube collection over time and as the blocks are magnetic they can be used to create so much more than traditional building blocks.
Little Tikes have launched a whole range of STEM Jr toys and the Tornado Tower looks like it will be a real hit this Christmas. The 2-in-1 toy is both a tornado and lava lamp, teaching even small children the wonders of science in a really fun way by using water or typical household ingredients.
Shape sorters are one of the first educational toys children play with and this Animal Cottage from Kiddies Kingdom is a shape sorter but also so much more. After the different animals are sorted into the house the doors need to be opened with a set of keys. This is great for teaching animals, colours and shapes – a really lovely gift idea.
Whenever I think of educational gifts things to read are always right near the top and Fantastically Great Women Who Changed the World from the Museum of London Shop is bound to be a hit this Christmas. It lets children discover fascinating facts about some of the most amazing women who changed the world we live in from explorer Amelia Earhart to the adventures of Mary Seacole. It's full of beautiful illustrations and astounding facts making it the perfect introduction to just a few of the most incredible women who helped shaped the world we live in.
Alternatively, Scoop is a literary magazine for kids aimed at 7 to 12-year olds full of short stories, non-fiction, poetry, comics, interviews, reviews, activities and quizzes. Scoop covers everything from punk to painting, from science to poetry, from super-natural phenomena to playwriting and it's distributed around the world. A subscription would be a lovely gift that a child could appreciate throughout the year.
Another magazine subscription option is OKIDO, the monthly arts and science magazine for 3 to 7 year olds. It's jam-packed with stories, regular characters, doodles, poems, games, experiments, a pull-out centrefold activity and a recipe that the family can make together – keeping children engaged for hours with things they can do on their own as well as with a grown up.
If magazines aren't quite right, how about a subscription to a book club? Parrot Street Book Club is aimed at children aged 5 to 11 and once subscribed children receive a lovely new book each month along with book club style questions to really get them thinking about the book and an activity pack with games, puzzles and instructions for craft projects inspired by that month's book. This is such a lovely idea, giving a child such a long lasting gift.
There are a whole host of educational games for children and Wordsearch Junior is one I know our children will love. Wordsearch Junior is for between one to four players – which is great that children can also play the game by themselves. It's for age four and over and is a brilliant introduction to word games. Wordsearch Junior helps children to become comfortable with seeking out patterns, and gives new readers practice at recognising letters and words. With three levels of play from searching for simple pictures, such as animals or fruit to being challenged to find a picture with the word spelled out beside it or a proper wordsearch using simple words that first readers will recognise.
Fish N Spell Race is another great word game for children where racing to finish encourages children to learn spellings. Children fish for letters to try and spell the target word as quickly as possible and the game includes 100 target words in four languages. Not only is this a great game to learn English but it can also help children with foreign languages too and it has three great ways to play.
For an educational gift for babies and toddlers, the Teletubbies My 1st Tablet would be a wonderful gift. The tablet is a great introduction to the world of electronics and includes tap and swipe functions to help young children learn with the Teletubbies. The tablet has eight pretend apps, a camera button and four touch sensitive characters and covers phonics, numbers and objects as well as melodies and sound effects.
Something a little different to traditional toys could be a solar system mobile from Hurn & Hurn. Any space loving child would love to see the planets orbiting the sun on their bedroom ceiling and it gives a really realistic representation of the planets relationships to each other and how they move in relation to each other. This is such a lovely gift idea that will inspire a love of space and you can find more great gift ideas from Hurn & Hurn here.
If you're looking for an educational gift for older children that is just that bit different, why not give them the gift of finding out more about where they came from? A Living DNA ancestry test can tell you where your blood line goes back to – breaking it down into 80 different world regions, including 21 in Britain and Ireland. The test also puts your ancestry into context by showing you a breakdown today that goes back up to 10 generations, and also the spread of your ancestors at different points in history, showing how we are all connected. This would be really insightful and something I think I would have loved to know more about as a teenager.
For an educational gift that will be a real investment, the Computer Kit Touch from Kano would be a great choice. It's a touch screen computer that children of all ages can build themselves and is designed to teach how a touchscreen computer works, and how to use it to create art, music, and games with code. This really does look like an incredible gift for children – letting them make their own tablet – complete with batteries, sensors, circuit boards, and a touchscreen before working through hundreds of creative coding challenges.
Educational gifts are set to be everywhere this Christmas – with STEM being a term you hear and see all over the place. I hope this has given you some educational gift inspiration and if you have any other ideas of educational gifts for children I would love to hear them.