There's nothing that kids love more over the Easter holidays than Easter trails or Easter egg hunts – especially if they get a nice chocolate treat at the end. We always make sure we do at least one Easter trail over the Easter weekend – it's great family fun – and so I've put together our favourite Easter trails across Hampshire and the Isle of Wight to inspire you to go on an Easter adventure too.
Easter Trails and Easter Egg Hunts in Hampshire
National Trust Easter Trails
Have an Easter adventure as you make your way along the trail and find nature-inspired activities for the whole family. Visit a National Trust site and explore the beautiful parks and gardens.
Mottisfont – 1 April 2023 – 16 April 2023
Uppark House and Gardens – 1 April 2023 – 16 April 2023
The Vyne – 1 April 2023 – 16 April 2023
Hinton Ampner – 1 April 2023 – 16 April 2023 – Read a review of Hinton Ampner here
Trails costs £3 per child.
Here's more about National Trust Days Out in Hampshire
---
Winchester Science Centre – Eggs-travaganza Easter hunt
It wouldn't be Easter without an egg hunt. Visit the science centre for an oviparity egg hunt. That means you'll be looking for eggs laid by animals that hatch. What birds will you find? Will there be a creepy crawly or two? And will you be surprised to find out a few other species that hatch?
Don't worry, the hunt is a picture trail! And once you've found all the eggs, you'll be in for a delicious Easter treat.
Find out more here
Read about our visit to Winchester Science Centre here
---
Itchen Valley Country Park – Easter Bunny Trail
Search for the Easter Bunnies around the park. Each bunny holds an egg with a code on it. Your task is to decode the message to earn a prize. Some of the boards have QR codes on them revealing some cracking jokes! Pick up a trail pack and prize from the Woodland Café for just £3!
---
Whitchurch Silk Mill – 28 Winchester Street, Whitchurch, Hampshire RG28 7AL
Easter Egg Hunt at the Mill – 3rd April 2023
Explore the Mill grounds in search of the missing chocolates left by the Easter bunny! Each child will receive a bag to collect their chocolate and they will have 13 letters (chocolates) to find.
---
Queen Elizabeth Country Park – Gravel Hill, Horndean, Hampshire PO8 0QE
Big Butser Egg Roll Trail – 1st to 16th April 2023
Find all the signs of spring to lead you to the bottom of Butser Hill. Once there you can give your rubber egg a good throw and see how far it rolls!
Each pack comes with a trail guide, a pack of pencils, a springtime craft to take home and a rubber egg to decorate. Priced at £6 per pack.
---
Longdown Activity Farm – Deerleap Lane, Ashurst, Southampton, Hampshire SO40 7EH
The Great Big Golden Egg Hunt – 7th April to 10th April 2023
Who will find the platinum egg! The popular Longdown Golden Egg Hunt is back again this year. There are nineteen golden eggs to find every day, PLUS one very special platinum egg! There are no clues, and they are VERY hard to find. There will be a prize for those who are fortunate enough to find a golden egg, and an eggstra special prize awarded to the person who finds the platinum egg.
Read about our visit to Longdown Activity Farm here
---
Curtis Museum – High Street, Alton, Hampshire GU34 1BA
British Bird Eggs Hunt – 1st to 16th April 2023
There are 8 eggs hidden around the museum. On each egg there is a picture of different British Bird. Using your activity sheet, find the eggs and match them to the birds on your sheet. £2.00 per trail sheet – and get a prize at the end!
---
Milestones Museum – Basingstoke Leisure Park, Churchill Way West, Basingstoke, Hampshire RG22 6PG
Bun and Ted's Eggscelent Adventure – 1st to 16th April 2023
Can you help save Easter? The Easter Bunny's Easter eggs have been stolen by Professor Y and sent back in time! But don't worry, the Easter Bunny's niece, Bun, and her best friend, Ted, are on hand to save the day. Step onto the streets of Milestones and help Bun and Ted save Easter. Hunt the missing eggs that have been hidden through time and work together to reveal the identity of the mysterious Professor Y! £2.50 per trail
Read about our trip to Milestones Living History Museum here
---
Basing House – Barton's Lane, Basingstoke, Hampshire RG24 8AE
The Big Basing House Easter Egg Hunt – 1st April 2023
Join the hunt for hundreds of eggs hidden across the 14-acre site! Every egg handed in will enter you into our prize draw, so the more eggs you find, the higher your chance of winning a very special Easter prize!
Basing House Easter Family Trail – 1st April 2023 to 16th April 2023
Enjoy spending time outdoors exploring the grounds of Basing House. Learn about Easter traditions from days gone by and receive a special Easter reward!
Join in with some free Easter crafts too. £2.50 per trail.
---
Staunton Country Park – Middle Park Way, Havant, Hampshire PO9 5HB
Springtime at Staunton Trail – 1st April 2023 to 16th April 2023
This Easter holidays try the Springtime at Staunton children's trail. Take a stroll and find all the signs of spring and solve the clues! Each pack comes with a trail guide, a pack of pencils and a springtime craft to take home. Priced at £4 per pack
Read about our time at Staunton Country Park here
---
Isle of Wight Steam Railway – Havenstreet Station, Isle of Wight Steam, Main Road, Havenstreet, Ryde PO33 4DS
The Great Railway Easter Hunt – 4th April 2023 to 13th April 2023
Make some amazing, amusing family memories together as you search for the giant eggs hidden around the entire attraction and solve the clues to claim your chocolate.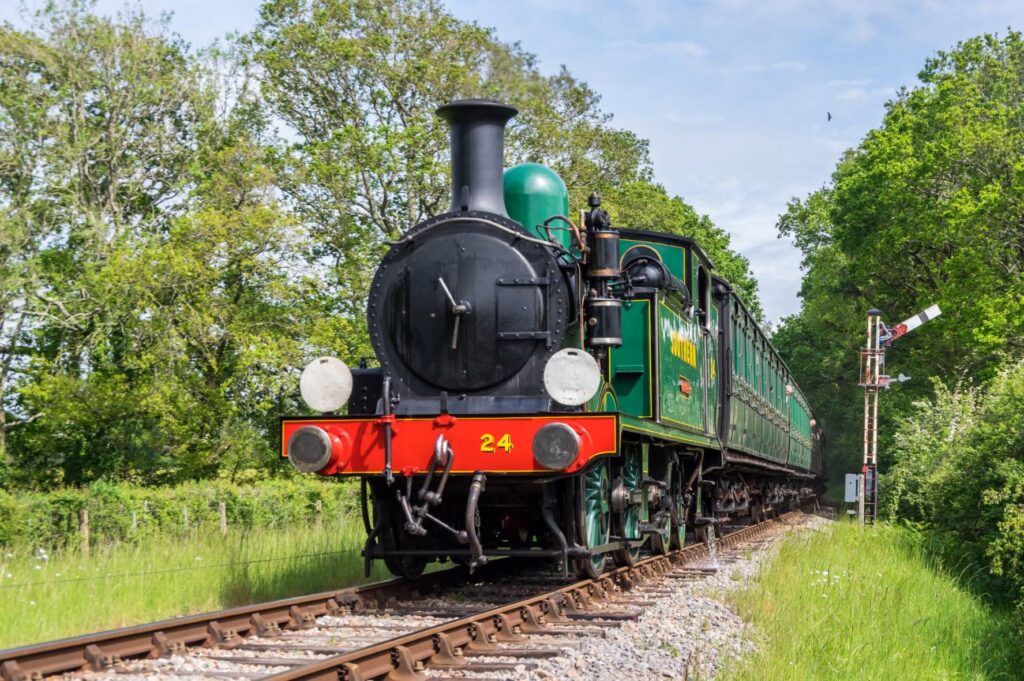 ---
Fort Victoria – Fort Victoria, Westhill Lane, Yarmouth PO41 0RR
Easter Fun at Fort Victoria – 1st April 2023 to 16th April 2023
Head on over to the Imaginarium when you arrive and for the small fee of £2 you can take part in their Easter trail through the country park, a treat bag awaits your child at the end if they successfully solve the puzzle. Also there will be crafting activities from £2 and free Lego building areas to keep the kids amused whilst you browse the shop.
---
Brading Roman Villa – Morton Old Road, Brading, Isle of Wight, PO36 0PH
Daisy Chains Easter Egg Hunt – Saturday 8th April
Easter egg hunt and activities. £3.50 per child.
---
Aldershot Military Museum – Queens Avenue, Aldershot, Hampshire GU11 2LG
British Bird Egg Hunt – 1st April to 10th April and 12th April to 16th April 2023
There are 8 eggs hidden around Aldershot Military Museum, can you match them to their British bird species? Once completed your spotter sheets can be used to birdwatch at home or at your local green space. Suitable for ages 4+.
Read our review of Aldershot Military Museum here
---
Shanklin Chine – 3 Chine Hill, Shanklin, Isle of Wight PO37 6BW
Easter Egg Hunt – 7th to 9th April 2023
Visit Shanklin Chine for daily easter egg hunts over the Easter weekend and you could be in with a chance of winning an annual family pass for the 2023 season too.
---
I hope that's given you some inspiration of things to do for a lovely Easter day out whether it's on Easter Sunday or any other day during the holidays. There really is nothing quite like an Easter treasure hunt! I'll add more Easter events as I find out about them and if I've missed your favourite egg hunt off then please do get in touch to let me know.