Disclosure: We have been gifted Merlin Annual Passes for the year however all opinions are my own.
The children last went to Shrek's Adventure in London last summer, shortly after it opened. Since then they have both been keen to go back so we planned a weekend in London with our Merlin Annual Passes and booked to go again.
One thing to note if you are a Merlin Pass Holder is that you can just turn up and book a slot to go on Shrek's Adventure – as it's all run on scheduled arrival times. But, if you would rather have a guaranteed time to visit you can pay just £1 per person to book a place which is the option we went for to make our weekend run as smoothly as possible.
We arrived on time and were shown straight in to the start of a queue for our session. Everywhere is decorated with the Shrek theme and the children loved that there was so much to look at whilst we waited. We then had the opportunity to have our photo taken with Donkey before starting the adventure.
We were introduced to Shrek's Adventure by a member of staff who was wearing a bellboy style outfit and was very much in character. He told us the rules of the adventure – no phones or camera and to let the children get to the front of each part so they could see and participate.
The adventure starts on a London bus, with donkey as the driver. We drove – and then flew – around London with other Dreamworks characters popping up to say hello. The children loved this bit and didn't even mind when it ended – with us crashing into the wicked witch, Rumplestiltskin's partner, which then set the scene for the whole adventure – finding Shrek to help save us from Rumplestiltskin!
We then went on a quest, going from scene to scene, meeting Cinderella, Sleeping Beauty, the Muffin Man and with Donkey, Ginge and other characters making appearances. Each part of the quest had computer generated aspects that were really realistic and there were real people playing the characters who were really true to character. Everything was really well designed and well acted, meaning the children were engaged throughout and really felt like they were running away from Rumplestiltskin and going on this mammoth quest!
Shrek's Adventure was completely interactive, with children being picked to do something in each part of the adventure – pressing a button, knocking on a door or taking something with them to the next part. LP was actually chosen three times and loved helping with the quest – it made it feel even more real for her.
I won't spoil the ending, but when Shrek's Adventure finishes there's a photo opportunity with Shrek where a member of staff will take a family photo on your camera for you. This is lovely and considering not everyone can afford the official photos that were taken at the start it's really nice to have a free option that will be treasured.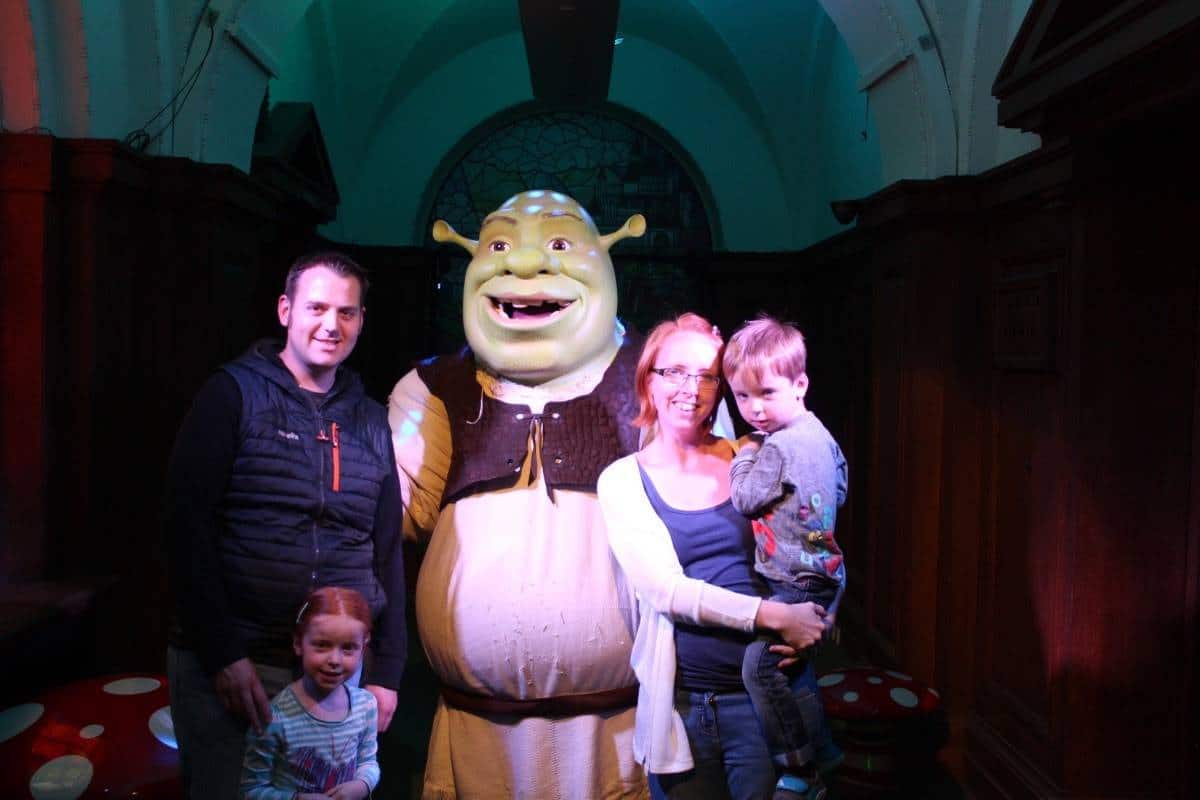 We then walked through a room full of Dreamworks characters and sets that we could wander around freely and take photos with, The children loved this and could have spent ages there just wandering from set to set. LP even had her photo taken with a dragon at the end.
The Shrek's Adventure lasts for an hour and fifteen minutes and then extra time to wander and take photos at the end so it isn't really an all day attraction but something definitely worth adding on to any trip to London.
The children were definitely a better age for Shrek's Adventure this year as last year they got scared at times – this year, being a little older, they were able to participate and really get into the story a bit more. There were people taking toddlers to the attraction but I would think the optimum age would be four and over.
Having now been to Shrek's Adventure two years running I realised that this isn't just an attraction you'd visit once and never go to again. so much of the sets and scripts had been updated since last time we'd been, little changes with the story and the bus ride had been updated too and included different characters. We enjoyed Shrek's Adventure just as much seeing it for a second time and think we will make it at least an annual visit. It's something the whole family can really enjoy.