Disclosure: We were sent the featured products for the purpose of this post however all opinions are my own.
Before having children Dave and I would go out for dinner all the time – as a couple or with friends. But since having LP and Little Man we just haven't had as much opportunity to go out. There's not always childcare available. When we do have childcare one of us will, more often than not, have to drive. Then there's the inflated cost of alcohol in restaurants or bars. It makes you wonder whether going out is really worth all the effort.
So when DineIndulge introduced us to their private dining at home service it looked like a great idea. DineIndulge give you the experience of dining out in the comfort of your own home. This makes dining in just as exciting as dining out but without as much to organise.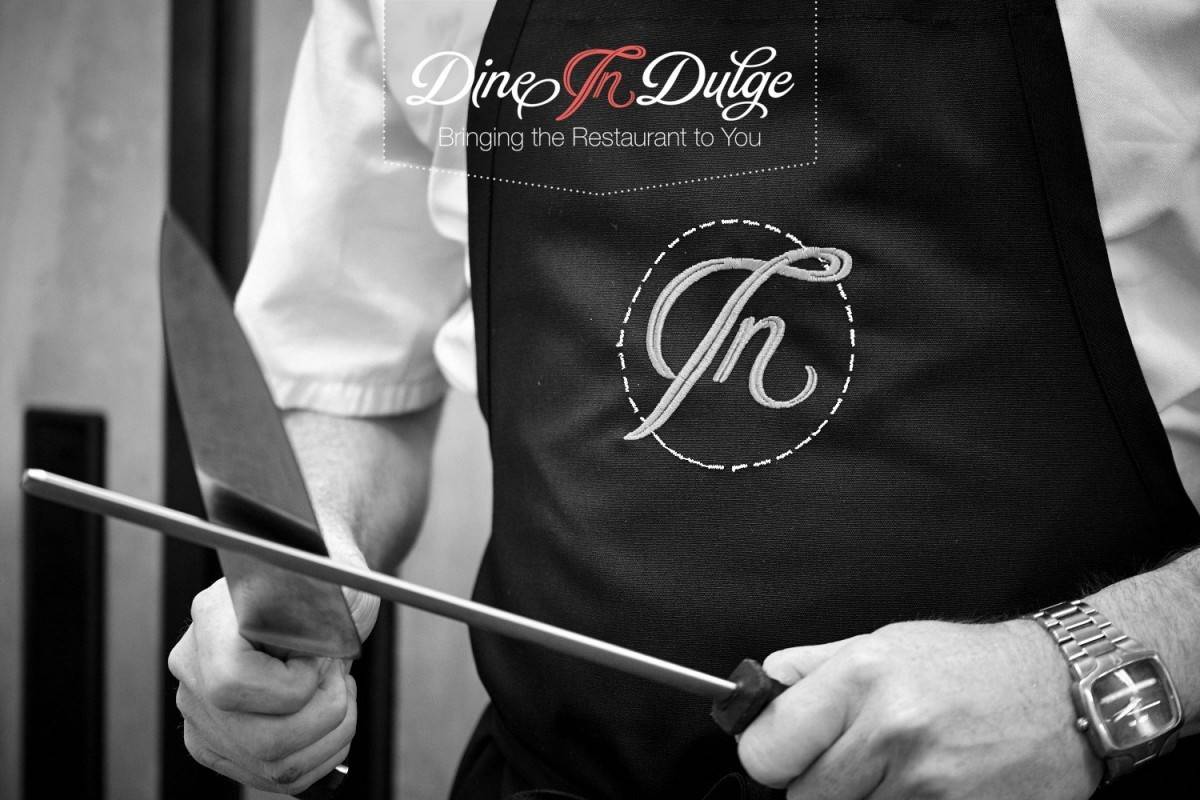 What type of meals does DineIndulge cater for?
DineIndulge have different menu packages to choose from. There are express menus that are simple but delicious Or indulgent menus for more of a treat. And deluxe menus for something really special. They even do platters for a more laid back and social dining experience. It's so simple to book online with just a £60 deposit.
We invited a couple of our closest friends round for a meal, catered for by DineIndulge. We chose a nine course tasting menu. This was the kind of meal that we would love to go out and enjoy but instead brought to our home. All the details of the meal were confirmed by DineIndulge in advance. This included what time we'd like to eat and whether anyone was vegetarian or had any allergies. There were two courses with meat or vegetarian options and we chose what we'd like in advance, ready for the private chef to buy the ingredients.

What's it like to hire a chef for a day?
Our chef, Jordan, phoned me the day before our meal. We arranged for him to arrive a couple of hours before our meal would be served. He brought with him absolutely everything he needed. This included his own pans and knives and all the ingredients . Ge'd even prepared as much as he could in advance too.
Whilst Jordan got set up in the kitchen Dave and I got ready. We relaxed and waited for our friends to arrive. I laid the dining table and we cracked open a bottle of wine. It was so nice to both be able to drink. We could pay supermarket alcohol prices rather than the prices we'd usually pay in restaurants.
What was our meal like?
Our friends arrived and we sat down to eat. As there were only four of us Jordan cooked and served the food himself. He cleared dishes when we had finished and even washed up plates in between courses. The first course was a Gazpacho Shot Tickler. This was so full of flavour and an amazing start to our meal. Each of the courses were fairly small and well paced. It gave us a chance to try so many different types of dishes and really savour them.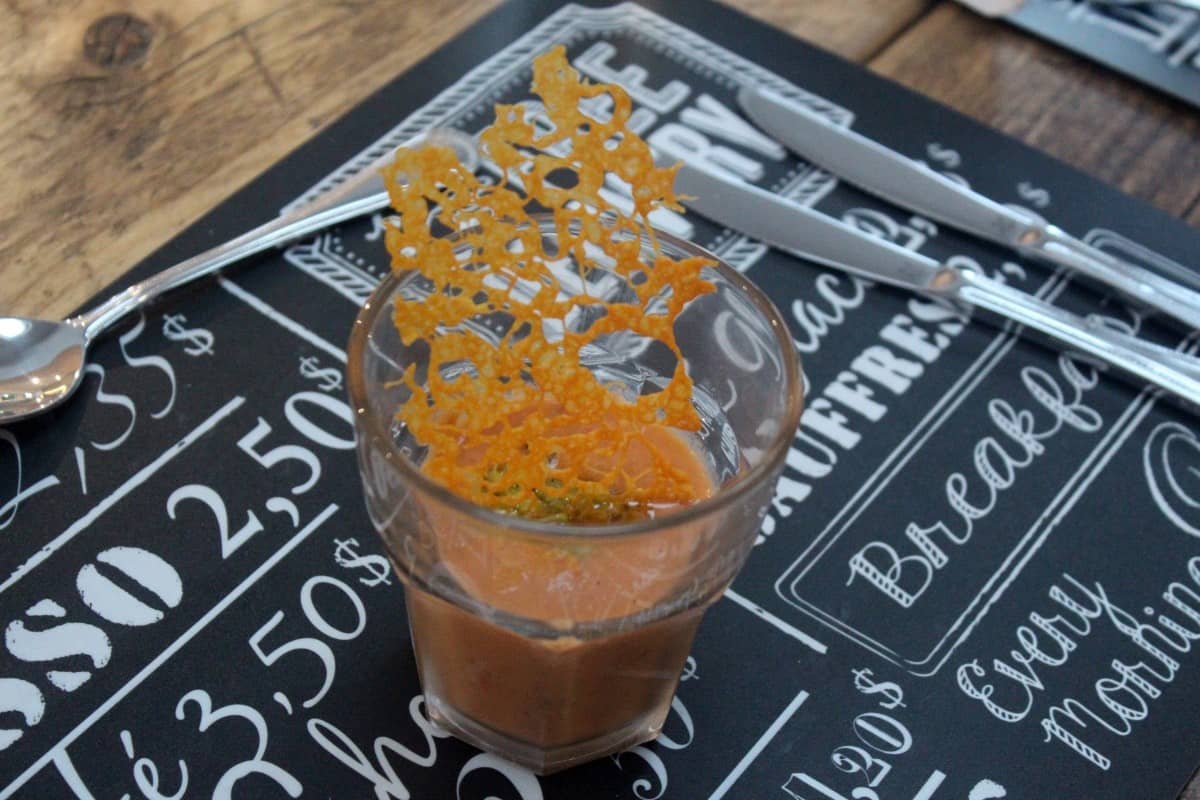 This was swiftly followed by a Seared Mushroom Selection. It was served with a poached egg yolk and although a vegetarian dish it was really meaty and filling. We could tell even just from the second course that the meal was going to be memorable. It was the sort of food we would usually only experience in really high standard restaurants.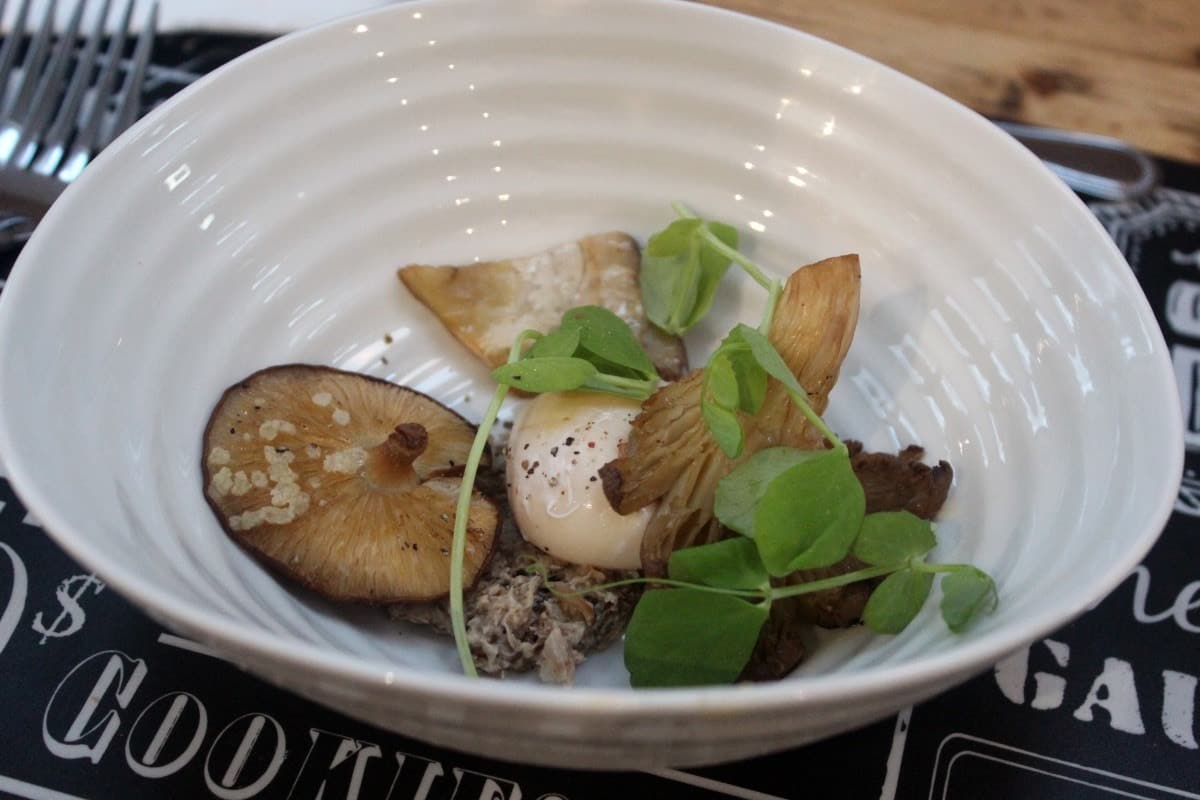 Next was a course we chose in advance. We all went for the Crisp Crusted Scallop which was served in a shell! The alternative dish would have been Crisp Crusted Courgette Beignets if we hadn't wanted scallops.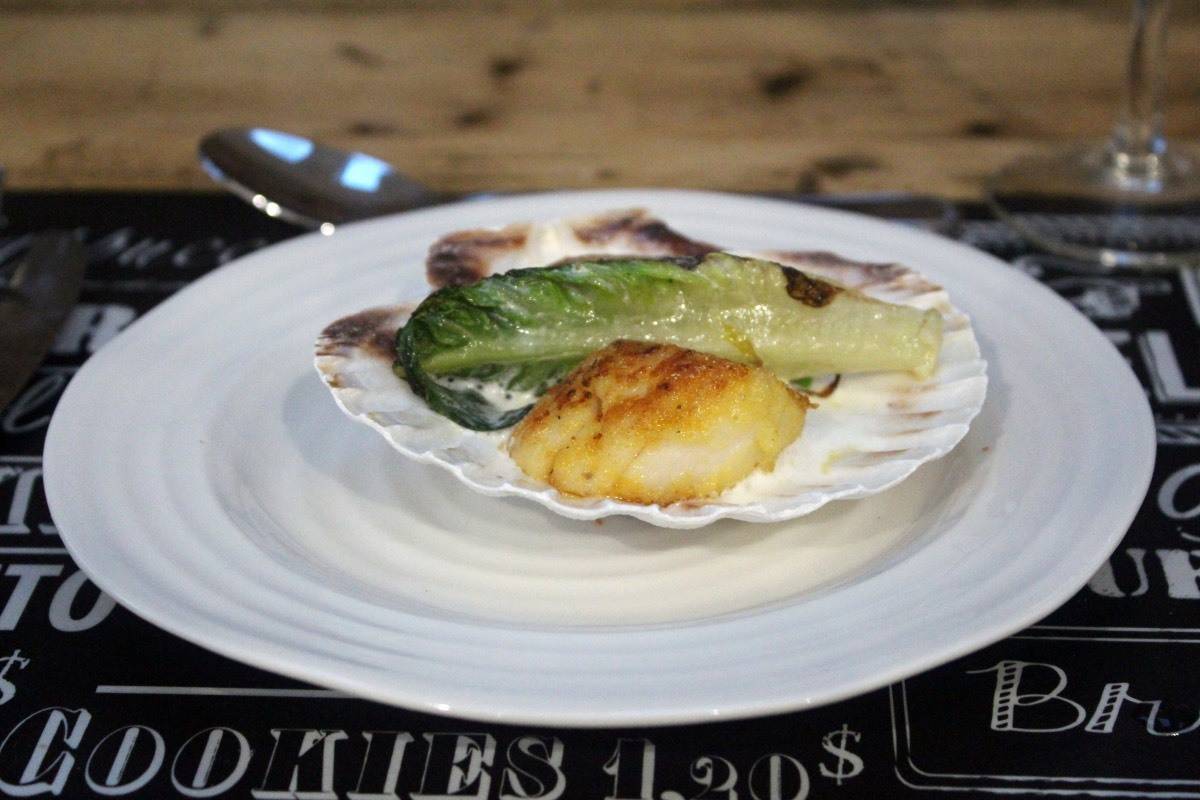 We all loved the Truffle Tagliatelle. This was a dish we were still talking about at the end of the meal. With shaved celeriac and truffle oil it was so full of flavour, creamy and something that I would happily eat every day.
Is having a chef at your house awkward?
All through the meal Jordan was in the same room as us as we have an open plan kitchen and dining room. But after a couple of courses we forgot he was there. We focused on each course as it came, carried on with our conversation and Jordan was so unobtrusive. He was quiet and just got on with cooking and serving. Although at times we made conversation with him he was very much focused on his job and so professional.
The tagliatelle was followed by a Mango Sorbet. This was so interesting as I've never had a meal that's included something sweet part way through the courses. It worked well though and really cleansed the palette before the main course was served.
For our main three of us had the Lamb Noisette which was beautifully cooked. It was served with feta, broccoli, carrot puree and a jus. My friend Sarah had Parmesan and Pine Nut Polenta as she's vegetarian. The dish came with the same accompaniments. It was nice that we all got to eat something that looked so similar. It had most of the same flavours despite the main aspect being different.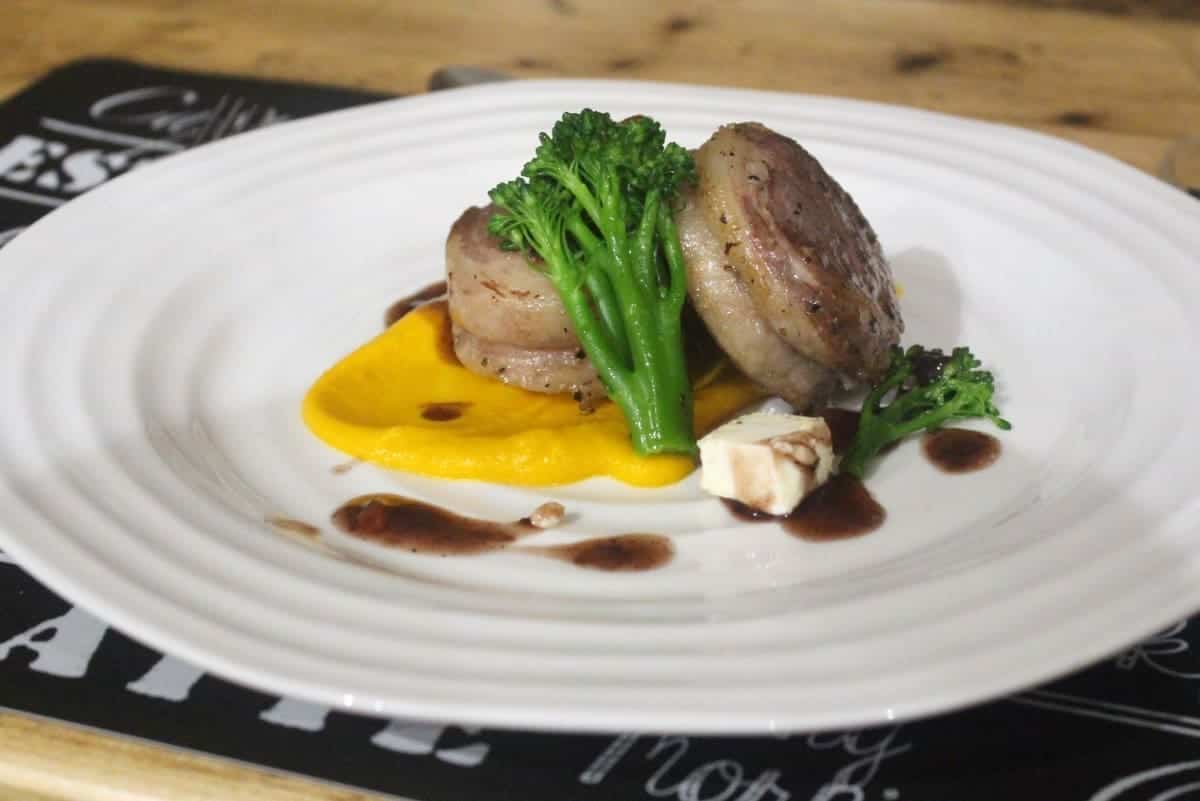 What were the desserts like?
Before our dessert we had a Peppermint Cream which could have been a dessert in itself. It was so rich and chocolatey and something we all really took time to savour and enjoy. I could happily eat one of those every day and not get bored.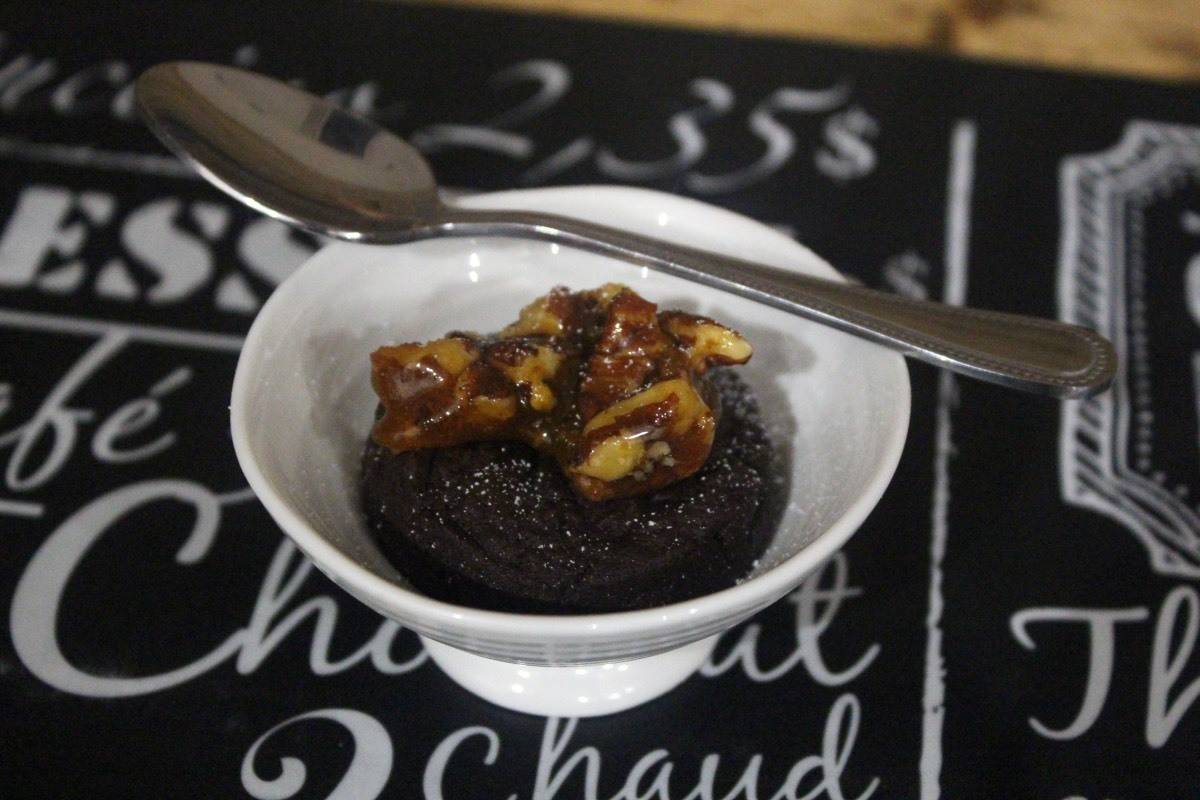 Our dessert was a Dark Chocolate Marquise served with strawberries. It was lighter and less rich than I expected yet a really good size, filling dessert.
The final part of our meal was an incredible cheese board. It had a good variety of cheeses, crackers, chutneys and grapes. This was something we took time over and enjoyed through the rest of our evening.
When a chef cooks at your home do they leave a lot of mess behind?
Whilst we were savouring the cheese and biscuits Jordan washed up, tidied up and even swept the floor. He loaded our dishwasher and put as much away as he could before he left. Through the whole evening he wore his chef whites. It was amazing to watch him create such great quality dishes in our family kitchen.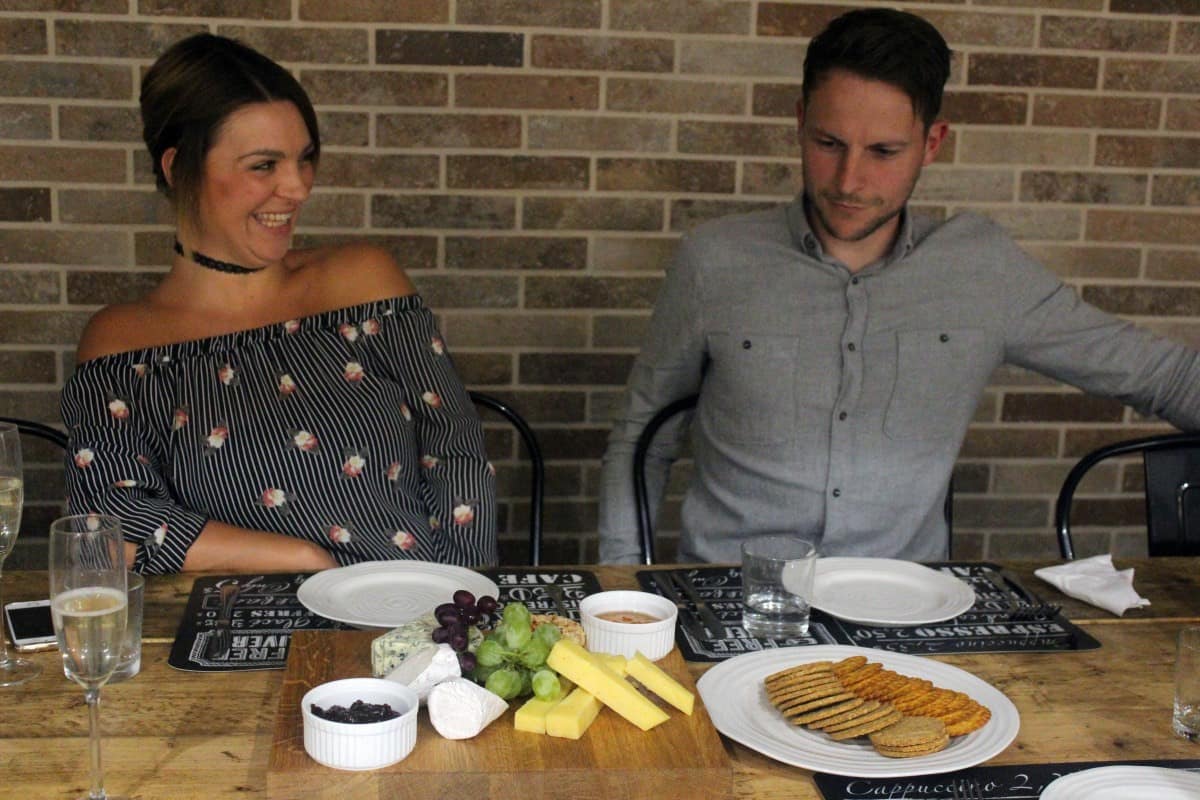 All four of us loved the food and had such a nice evening. It was lovely to all be able to eat together at home. Without having to cook and serve at the same time. And it was a luxury not having to clean up afterwards! We could spend the whole evening focusing on the lovely food and great company. DineIndulge took all the other organisation and prep away from us, making it such a relaxing and enjoyable evening.
How did we find the whole DineIndulge experience?
DineIndulge gave us such a lovely evening with a private chef at home. It saved us having to organise childcare. And it allowed us both to drink without having to get a cab. Plus we had much nicer food than we would have got at a chain restaurant in town. DineIndulge was the ultimate chef at home experience. It was such a nice evening and I am already looking to hire DineIndulge for another meal, event or even a party in the future.