*This is a paid post
Giving the kids a good financial education has always been really important to us and now that LP is starting secondary school in September we thought it was time she had access to money without having to always have cash with her. In exploring all the money management options available for children we decided to go with HyperJar.
What is HyperJar?
HyperJar is a free prepaid card and money management app that anyone can use – it's not just for kids. But HyperJar aims to give kids confidence, clarity and control over their money with HyperJar Kids Cards which is exactly what we wanted it for. With HyperJar you create different jars for different areas of spending, giving you full control of your finances and a better knowledge of your spending habits.
How do you set up HyperJar?
HyperJar is so simple to use and getting started couldn't be easier. You just need your own mobile phone to have the app on and it takes seconds to set up. I opened my own HyperJar account really easily and I then had the ability to order free pocket money cards for the children.
Once the children have their own phones they can also have the HyperJar app to keep tabs on their money, know exactly how much they're spending and even move it into savings if they want to. But, they can happily use HyperJar just with the kids cards – they don't need their own app but it's great for teaching kids more about money.
I can easily, and instantly, transfer money from my bank account to my HyperJar adult account and from there into the children's 'jars' within the HyperJar app. You can have as many jars as you like – to save for holidays, Christmas or a rainy day. I've set ours up so the children each have their main kids HyperJar jar and then a second jar that they can use for savings. It couldn't have been easier.
Plus, you can also set up scheduled payments from your wallet to kids' jars to add money automatically on a set date. This is similar to standing orders you may have with your bank and means you can add money instantly each month or week to pay for travel, school meals or anything else your child may need.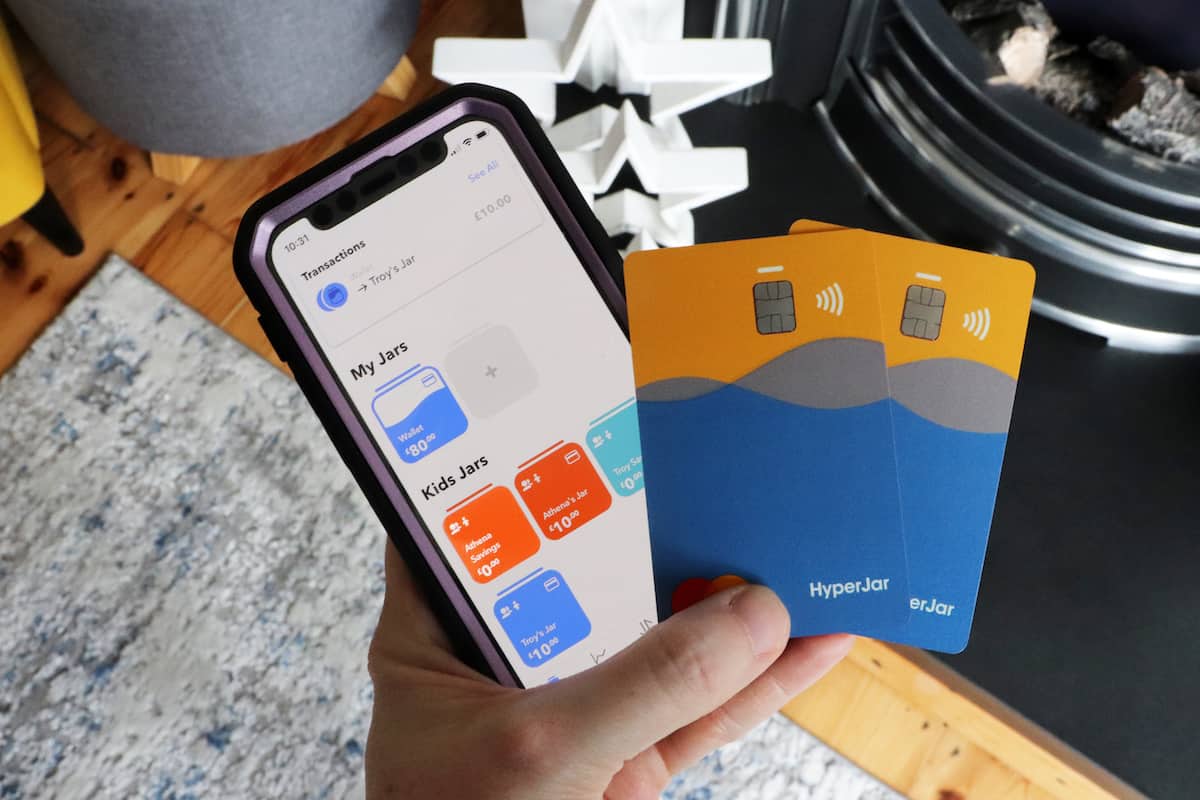 HyperJar also lets you share jars with friends and family so if you have a big annual holiday with friends to pay for or you're all putting money towards a night out, it can be stored in its own HyperJar jar where everyone can keep tabs on it. These shared jars are a great way to combine finances, split costs or save jointly without the commitment of a joint bank account.
You can even set up jars so that purchases from certain retailers only come from specific jars. It means you can save and then spend directly from a jar, keeping all your money and financial commitments separate.
Can you get interest with HyperJar?
Unlike a savings account, HyperJar doesn't pay interest but, if you put money aside to be spent at any of HyperJar's brand partners – like Shell for petrol, Tui for holidays or Lathwaite's for wine – your money grows by 4.8% AGR – annual growth rate – annually. You can instantly see your spending power grow with partners you've allocated money to inside the jar.
Why is HyperJar great for kids?
HyperJar is a great way to teach kids about money. The children know they only have access to the money in their jar. Once it's gone, that's it. But, I can also easily top up their balances if I need to. HyperJar also gives you the ability to set spending limits on the HyperJar Kids card and you can also make it so they can't spend money in certain jars using their card.
So, both LP and Little Man know that their savings jar is separate. That money is for saving and won't be spent by accident using their cards. Plus, we can limit where they can spend money in each jar if we want to – so one for travelling can only be used with bus and train companies and one for lunch can only be used at restaurants, cafes and supermarkets. You can do so much with HyperJar and the more I use it, the more impressed I am.
Transferring money to HyperJar is so easy and it means that if relatives have a HyperJar account they can also transfer money across to the kids whenever they want to. HyperJar is a great way for grandparents to send children pocket money directly or a gift on birthdays or any other occasions.
When you pair kids cards to your account, all your jars are automatically shared and you can also invite anyone else with a free HyperJar card to share a Jar with you or your child. Grandparents, friends, uncles and aunties… It's a fantastic way for anyone to transfer money quickly and easily whenever they want or need to.
As LP now has a mobile phone, she can check the balance of her jars on her HyperJar app and can check her recent transactions too. She finds it really easy to navigate the app and I know that HyperJar will really come into its own when LP is off in town with friends, shopping or buying lunch. It's a seamless way for children to manage money.
Standard bank accounts for children that come with cash cards or debit cards usually start at age 11+ but often children want access to their money and a bit of independence before then. Even Little Man, at eight, loves that he has a HyperJar account and thinks of it as an online piggy bank.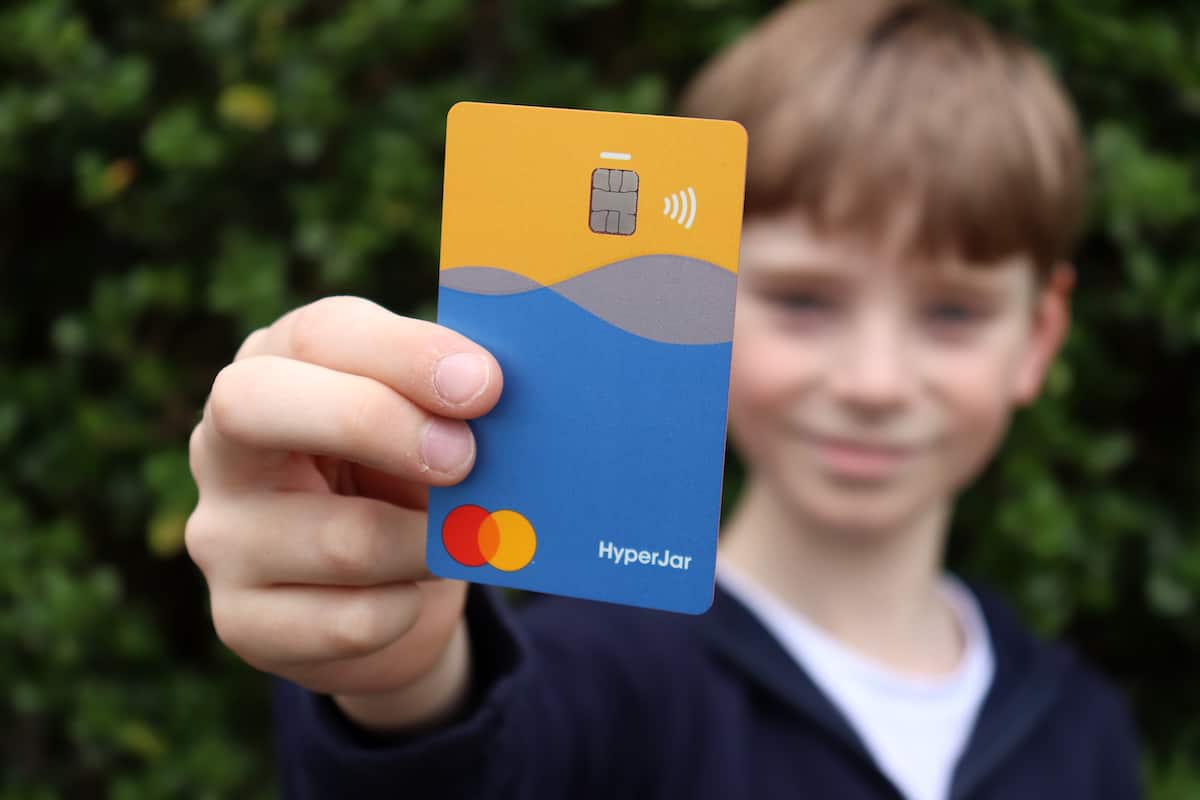 Can teenagers use HyperJar?
You might think that HyperJar is just for young children but, really, it's a great way for anyone to manage their money so it's perfect for teenagers too. Whether they are getting their first job, want to be able to shop online easily or just want independence, HyperJar is great at any age. Plus, from age 13 you can use Google Pay and Apple Pay too.
Is HyperJar safe?
HyperJar is completely safe to use. You set your own pin number for your HyperJar card – and your children's cards – and can access that pin number securely in the app. You also have passcodes to access the app as well as Touch ID or Face ID if your phone supports it.
HyperJar aren't a bank and don't take risks with your money by lending it out or reinvesting it. All HyperJar funds are kept in a safeguarded account governed by the e-money regulations of the Financial Conduct Authority meaning that your money is completely secure too.
How much does HyperJar cost?
HyperJar is completely free. I know, I didn't believe it myself at first either. I wondered what the catch was. But HyperJar really is free. And all the people in your household can have HyperJar accounts and there will be no cost at all. It's fantastic.
The only time HyperJar charge a fee is if you lose your card, there is a £5 charge for a replacement which I think is really fair. The first card is always free and when your card expires you'll be issued a new one free of charge too.
With HyperJar there are no subscription fees, no fees to add money to your HyperJar account and no foreign exchange fees when you use the cards abroad. It really is a free to use service.
Are there any downsides to the HyperJar prepaid cards?
The only slight downside is that you can't use HyperJar in an ATM to withdraw cash but you can use it everywhere else – and we hardly ever use cash nowadays anyway. You can use HyperJar in shops, online and anywhere you would typically use your own debit or credit cards. The HyperJar card works wherever Mastercard is accepted – even in other countries around the world and after the first use, Hyperjar cards can be used for contactless payments too.
You also have to have a phone number to access the HyperJar app. LP has a phone and so uses the HyperJar app herself but Little Man doesn't have a phone so he just asks me to check his balance which works absolutely fine for us.
We are loving using HyperJar and the kids love the independence and control it gives them. It's a perfect financial solution for our whole family, is easy to use and I couldn't be happier with it.
Why not try HyperJar for yourself? It's completely free and available on Google Play and the App Store. Visit the HyperJar website to find out more and order your free Kids Cards too.