Disclosure: We were sent the featured products for the purpose of this post however all opinions are my own.
I have always loved jewellery but since having children I have limited the jewellery I have worn and the times I have worn it as I've worried about it hurting the children, getting caught somewhere or the children hurting me by accident too. When Trollbeads got in touch to see if I'd like to review one of their bracelets I thought that it could be just the thing to get me back into wearing jewellery.
What are Trollbeads?
Trollbeads lets you build a bracelet that fits your style, memories and personality. You can have a Trollbeads bracelet that tell the best or most meaningful stories of your life. I chose to review a Trollbeads sterling silver bracelet – although they do have Trollbeads leather bracelets available – with a Sun, Moon and Stars lock and a selection of beads. The bracelet turned up in a beautiful gift box and I put it on immediately – and have worn it ever since.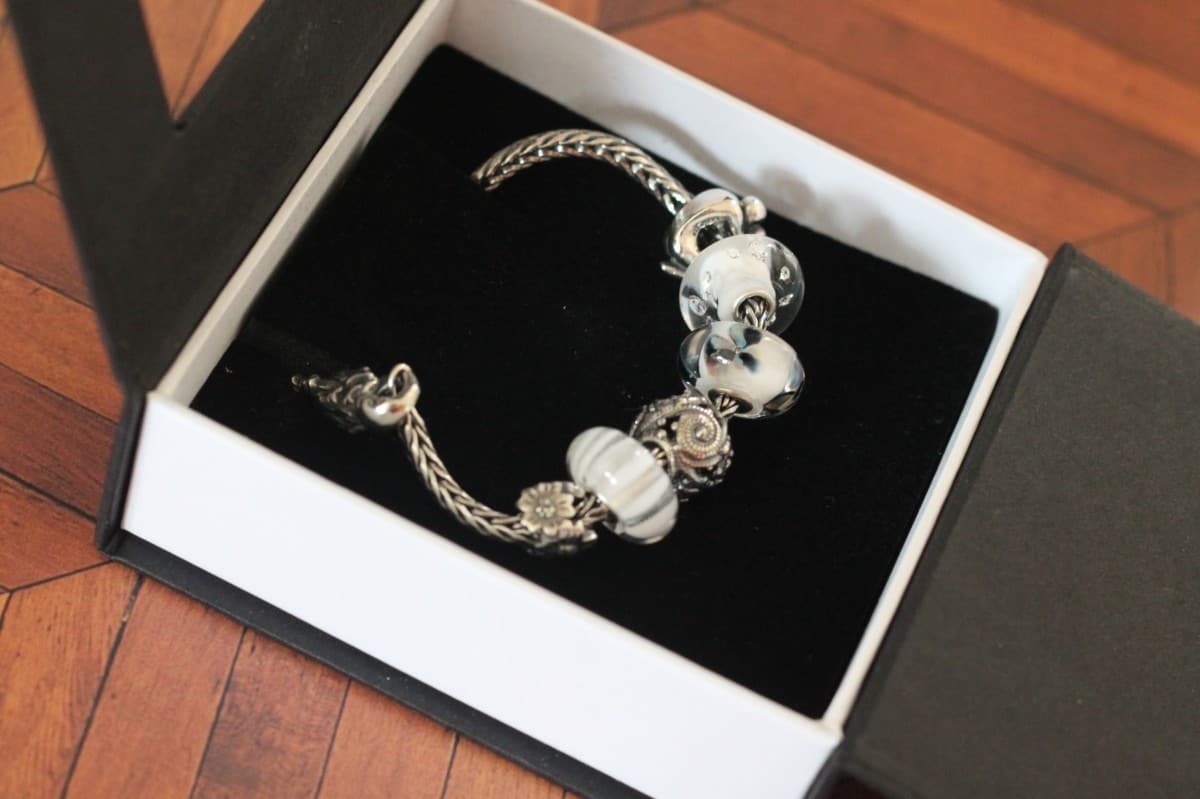 How can you wear a Trollbeads Bracelet?
The Trollbeads bracelet is perfect for wearing during the day but looks equally good when dressed up for a night out. I wear it to work, out in the evening and even when just relaxing at home. I love how even the lock on the Trollbeads bracelet is lovely to look at and so much detail has been put into something so small. The clasp on jewellery is usually forgotten about but with Trollbeads the lock is just as beautiful as the beads and they have beautiful safety chains you can also buy.
What are Trollbeads beads like?
Each of the silver charms – or beads – is a work of art, with something to suit every time in your life and every aspect of your personality. My favourite bead is called 'Motherhood' that symbolises not just the last three years of my life but the rest of my life yet to come. The bead is beautifully sculpted from silver to show a mother and baby who roll around the bracelet so smoothly. This for me is the main focus of the Trollbeads bracelet.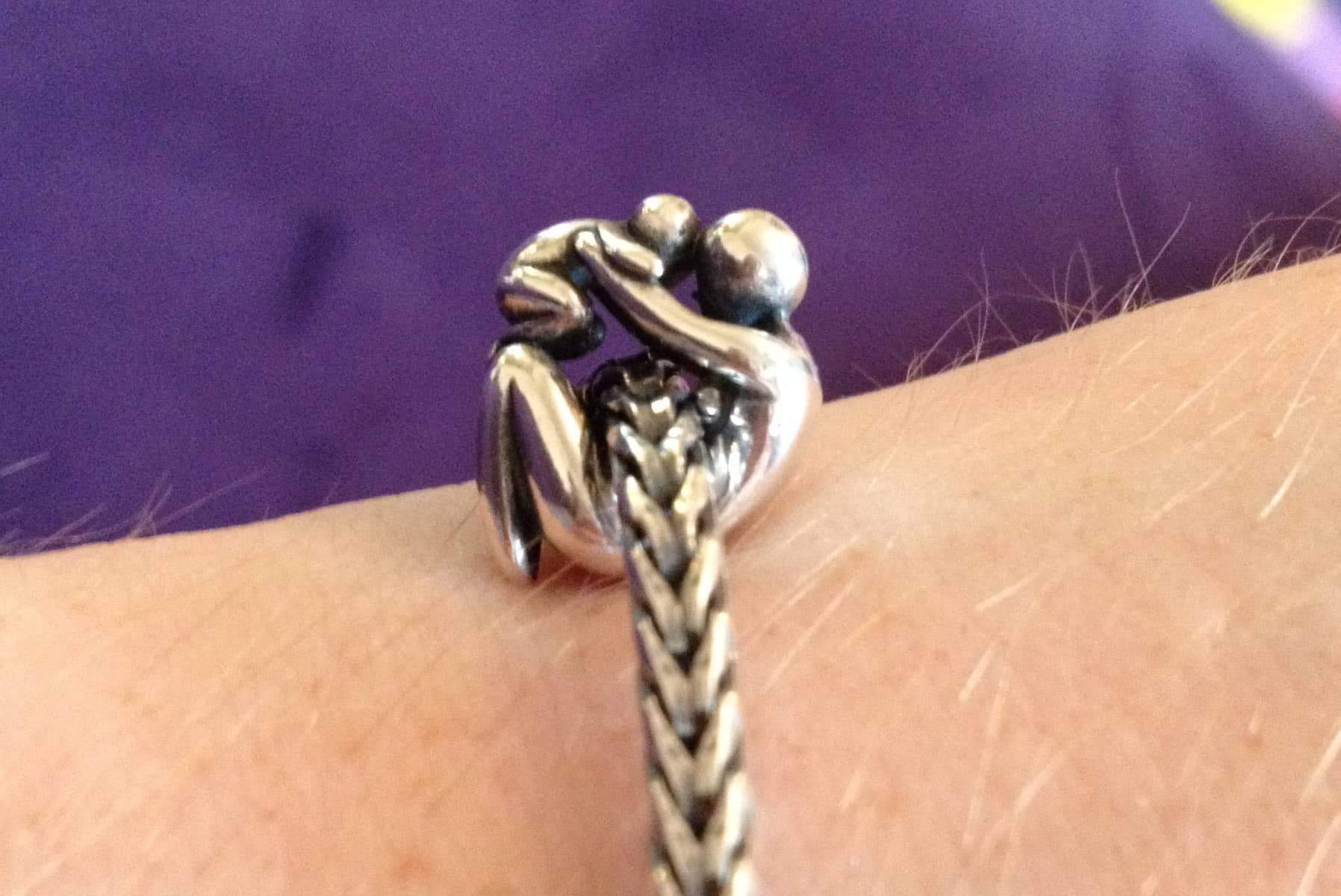 Another bead on the Trollbeads bracelet is Sakura, a cherry tree which blooms at the sign of good news. This to me is like a fortune token or good luck charm and a gorgeous little silver flower bead. I then have the Silver Whorl which is spirals found in all of nature and even in fingerprints. It's such a lovely shape and design, so intricate and the perfect addition to the bracelet.
Trollbeads have a fantastic selection of glass silver or precious beads and I have three on this bracelet – White Stripe which has alternating layers of glass in it, Desert Flower which has the most beautiful flowers throughout it and White Diamond which is a beautiful white glass bead embedded with cubic zirconia stones. Each bead has a huge amount of detail and is so beautiful to look at.
I love how with Trollbeads you can collect the beads indefinitely. A bracelet can start off as just one bead on a chain and then you can collect the beads to symbolise any event in your life – pregnancies, children, marriage, holidays. Anything in your life can lead to a bead on your bracelet and there are so many to choose from.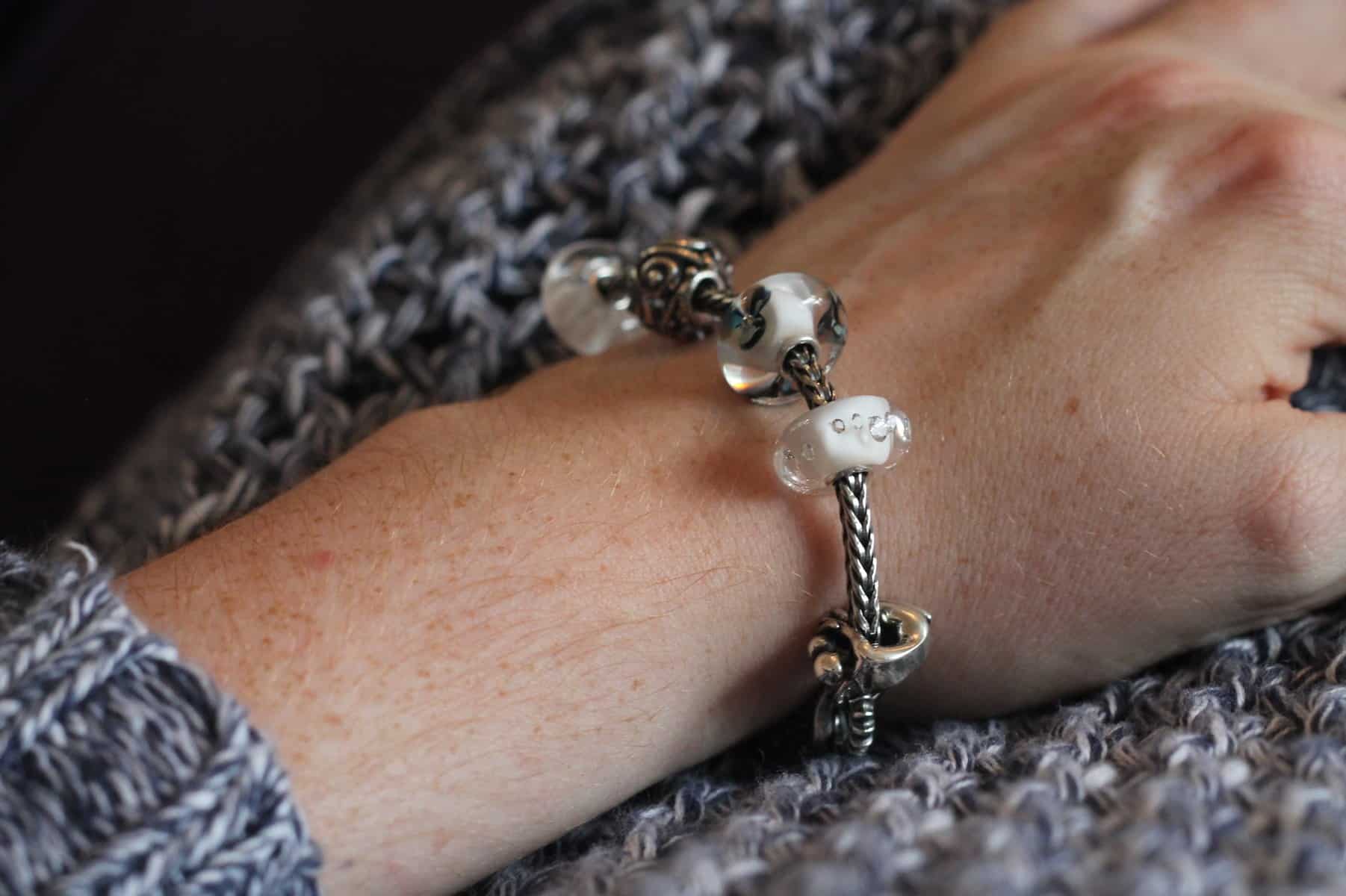 What are my overall thoughts of Trollbeads Bracelets?
The Trollbeads bracelet was something I was going to look at for my birthday in October but now I've already started writing a list of charms I'd like instead! I don't think anyone will have trouble finding me a gift in the future. My Trollbeads bracelet is absolutely beautiful and I love wearing it every day.
If you're looking for a gift for someone or just looking for something for yourself then definitely take a look at Trollbeads. If you can't decide which beads to go for Trollbeads even have a selection of Trollbeads starter bracelets to kick start your collection. They also have a variety of limited edition Trollbeads products throughout the year as well.