Disclosure: We were sent the featured products for the purpose of this post however all opinions are my own.
This post contains affiliate links and I may receive commission if you visit a link and buy something. Purchasing via an affiliate link doesn't cost you any extra, and I only recommend products and services I trust.
I'm always keen to try new baby products. When Boots got in contact and offered us the chance to review a selection of their Baby Range I was interested to see what would arrive.
What were our first impressions of the Boots Non-Contact Thermometer?
We've been sent a Boots Pharmaceuticals Non-Contact Thermometer as well as a variety of Boots baby toiletries. This included Baby Bath, Dreamtime Bath, Baby Lotion, Baby Shampoo, Baby Head To Toe Wash, Baby Oil and Nappy Cream.
We started using the toiletries straight away and the review for those will follow shortly. I knew that the Non-Contact Thermometer would be getting some serious use with our current teething spells
The Boots Non-Contact Thermometer looked great. Thermometers aren't the sort of thing I can get excited about but I have never seen a 'Non-Contact' Thermometer before. The thermometer measures a person's body temperature without touching them and regardless of their age. This isn't aimed just at children and babies but can be used by the whole family.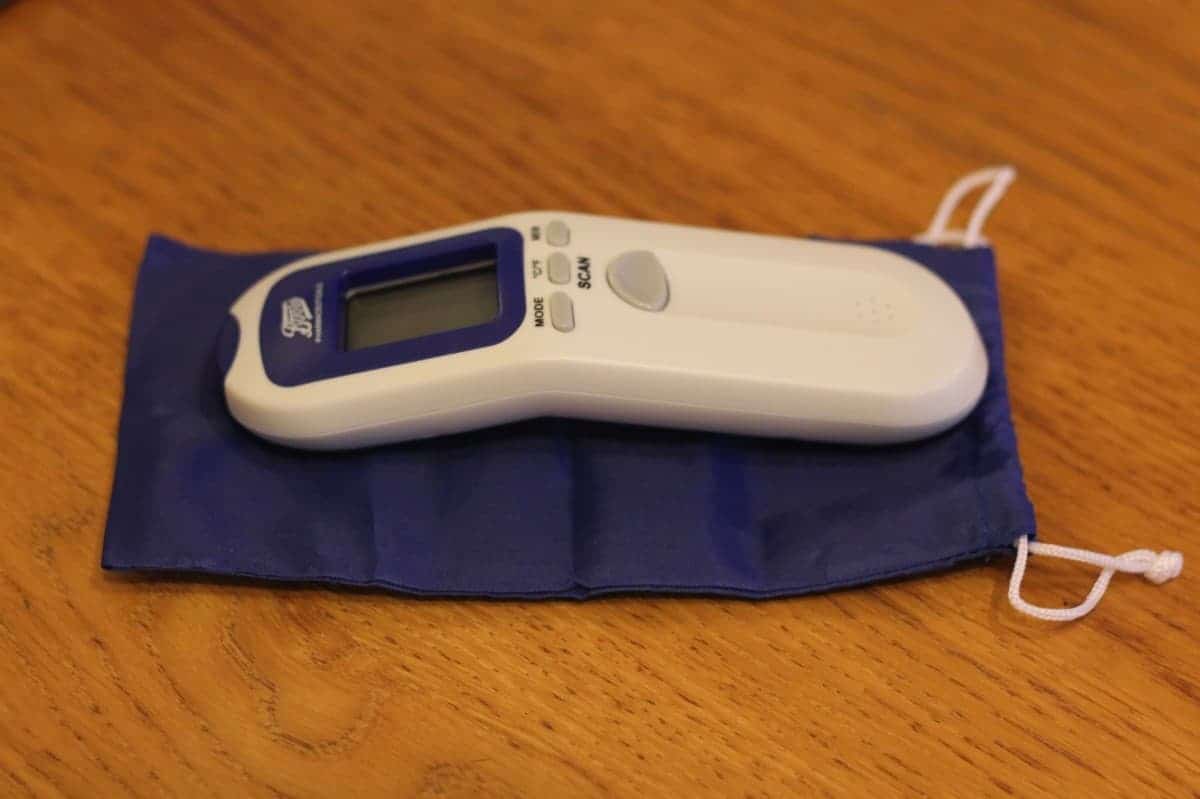 With Non Contact thermometers you can take the person's temperature hygienically, without having to wake or disturb them which is great for checking children's temperatures quickly whilst they're sleeping. It can also be used to test the temperature of a room, food, bath water and bottled milk.
What features does the Thermometer have?
The Boots Non-Contact Thermometer features a backlit LCD screen which is colour coded. It shows a green light for a normal temperature and red for a high temperature or fever. The thermometer also automatically stores the last 32 readings taken. This means you can keep track of any temperature changes easily without having to remember what the last temperature was.
Because the thermometer doesn't need to touch anything to take a reading there is no need to purchase additional probe covers. The thermometer has an automatic shut-off feature, prolonging the battery life. Both of which will be great for long term money saving.
How did we find the Boots Thermometer?
We found the Boots Non-Contact Thermometer easy to use by pointing it at LP and LM's forehead and pressing the button. The readings were accurate. They had the added benefit of being able to also take temperatures of bath water and room temperature. These features aren't something I'd probably use too often.
Being able to take a child's temperature without waking them is a huge benefit to this thermometer. This is something that would definitely make me choose this thermometer over others on the market as a family with kids.
It also means that you don't have to fight with a child to get a thermometer in their ear, under their arm or in their mouth and keep it there for a certain amount of time. This really is a great product.
Were there any issues with the Boots Non-Contact Thermometer?
The only slight problem we find was when we try to take the children's temperatures when they are awake. They are overly interested in the thermometer and won't let us get a temperature reading with it. LP just wanted to play with it herself. This meant that taking temperatures needed to involve distraction methods!
Having said that, taking temperatures when LP was watching TV or when either child was asleep was straightforward and easy. This would make the forehead thermometer a great health gift for a new mum or a baby shower gift during pregnancy and it's such a great alternative to a traditional ear thermometer.
The thermometer comes in a handy storage bag, complete with batteries and has an RRP of £39.99 at Boots Pharmaceuticals shop which is fantastic value.