Dave has wanted to go to The Historic Dockyard in Portsmouth for ages and when we saw a deal on Groupon giving two adults a year pass for about £20 we snapped them up! Children under 5 are free so it seemed like a great value day out.
We finally found the time to go to The Historic Dockyard on one of our rare family days – that also happened to fall on a weekend and I was looking forward to seeing what The Historic Dockyard had to offer, and I was fully expecting it to be incredibly busy on a weekend too.
What is parking like at Portsmouth Historic Dockyard?
The Historic Dockyard website gave us the choice of parking at the dockyard or at Gunwharf Quays, just a couple of minutes walk away. We chose to park at The Historic Dockyard and I was disappointed that we had to pay for car parking on top of the entrance fee – I always feel a bit robbed when attractions charge quite a lot for entrance and then parking on top.
What were our first impressions of Portsmouth Historic Dockyard?
It only took us a couple of minutes to reach The Historic Dockyard and before we knew it we were inside the attraction. I didn't realise before that The Historic Dockyard is pretty much an open air attraction with cobbled streets in between each exhibit. It's well planned our and everything is easily accessible with a pushchair – there are even buggy parks outside each of the ships.
What is there to do at Portsmouth Historic Dockyard?
There are ten attractions in total to visit. We first went and saw HMS Warrior which was a pretty impressive ship, complete with cannons and ropes a plenty! The children loves exploring the ship and it was in incredible condition for being 150 years old.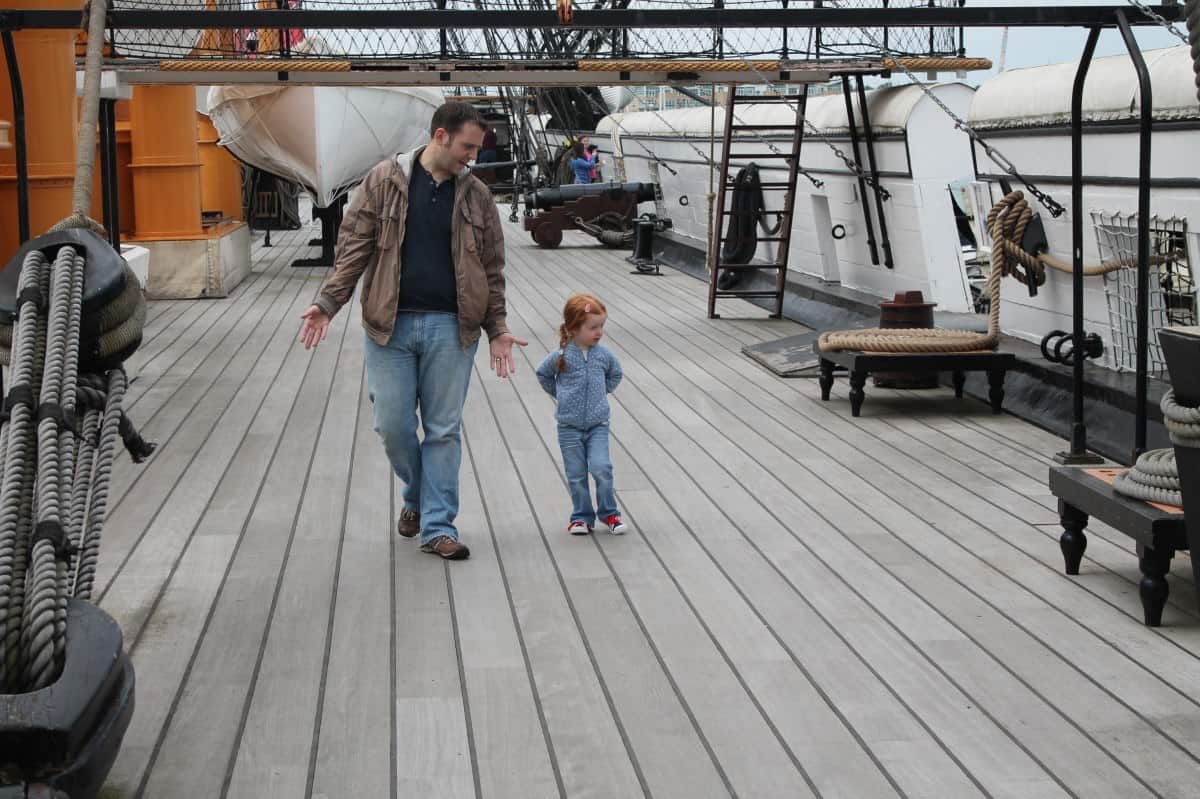 We then went in search of toilets – which are few and far between – before going on board HMS Victory, the ship that Lord Nelson died on during The Battle of Trafalgar. This ship was huge and compact on the inside with low ceilings but so much to see.
HMS Victory is such a great piece of British history and it really was incredible to see – and be able to stand on board. Considering HMS Victory is 250 years old it looks fantastic and has been well preserved.
After HMS Victory we wandered back to the start of The Historic Dockyard to a small but beautiful garden where we laid out our picnic rug and had lunch. It was the perfect place to relax for an hour, out of the way and I'm sure often missed by visitors to The Historic Dockyard.
After lunch we went to The Mary Rose Museum where you could see what remains of The Mary Rose, as well as artefacts found on board and a lot of history of the ship too. Like HMS Victory, The Mary Rose is a really significant ship in British history, if not for the fact that it sank down to not much more than human error. It was one of Henry VIII's ships which sank over 470 years ago.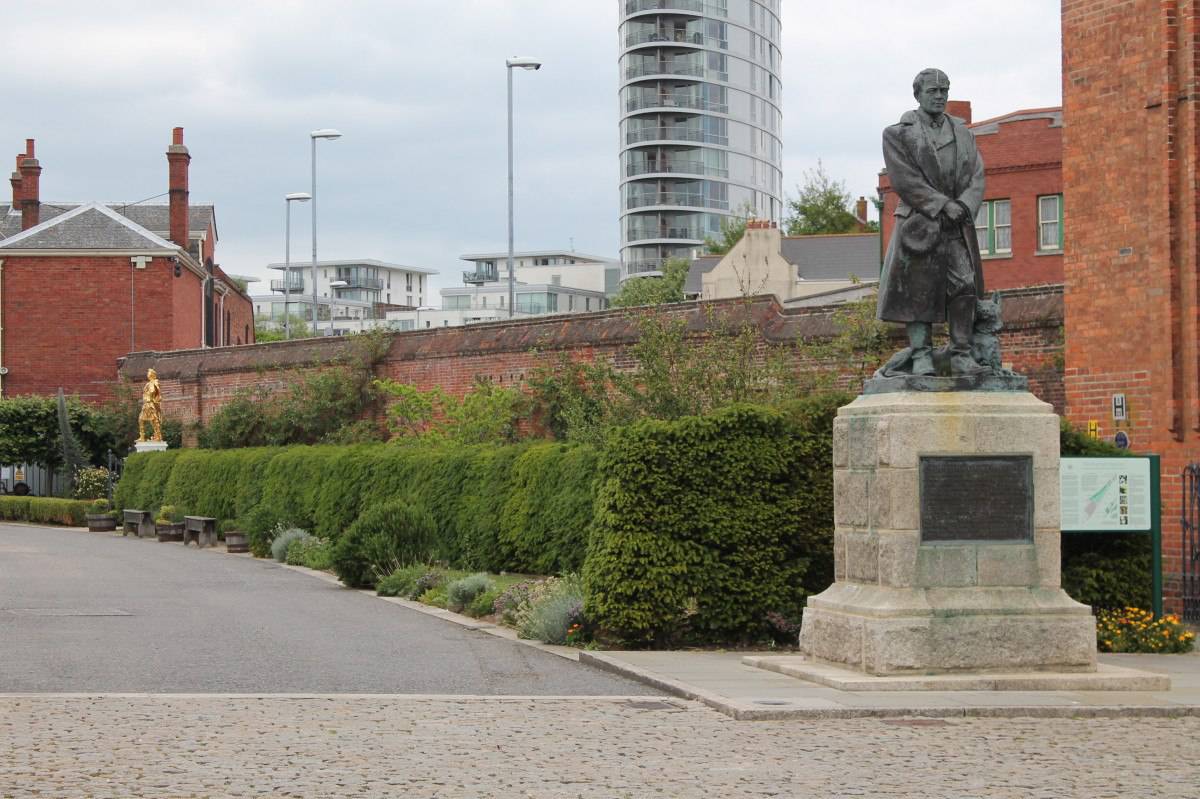 Personally, I preferred HMS Warrior and Victory as they still looked like ships and felt slightly disappointed that The Mary Rose wasn't in the same condition – and was just planks of wood. But, as Dave said to me, it's impressive considering it's over 500 years old and spent so long under the sea.
There was so much more to see at The Historic Dockyard that we just didn't get time for – the children were so tired that at this point we went and had tea and cake in the cafe before heading home. Our tickets let us visit again though so we'll be sure to go and see HMS M.33, The Royal Navy Submarine Museum, The National Museum of the Royal Navy, The Royal Marines Museum and everything else when we go back again soon.
If you're looking for a really action packed day out on the south coast with so much to see, interactive exhibits, an incredible amount of history lunch options and shopping then The Historic Dockyard would definitely be worth a visit.