Disclosure: We were sent the featured products for the purpose of this post however all opinions are my own.
A few months ago we decided to embark on a full bathroom renovation. It's something we've wanted to do since we moved in five years ago but as the old bathroom was pretty functional the bathroom was always low on the list of priorities. But when our plans of getting an extension this year fell through we decided instead to do the bathroom.
Over the last few months we have sourced everything we've needed for the bathroom and stored it in the loft and shed. We also found a bathroom fitter and pencilled the time into our schedule to actually have the bathroom renovation completed. Luckily for us, having only one toilet in our house, the work fell on half term week and so we went away for a few days and only had to live with no toilet for two days – lots of fun with kids.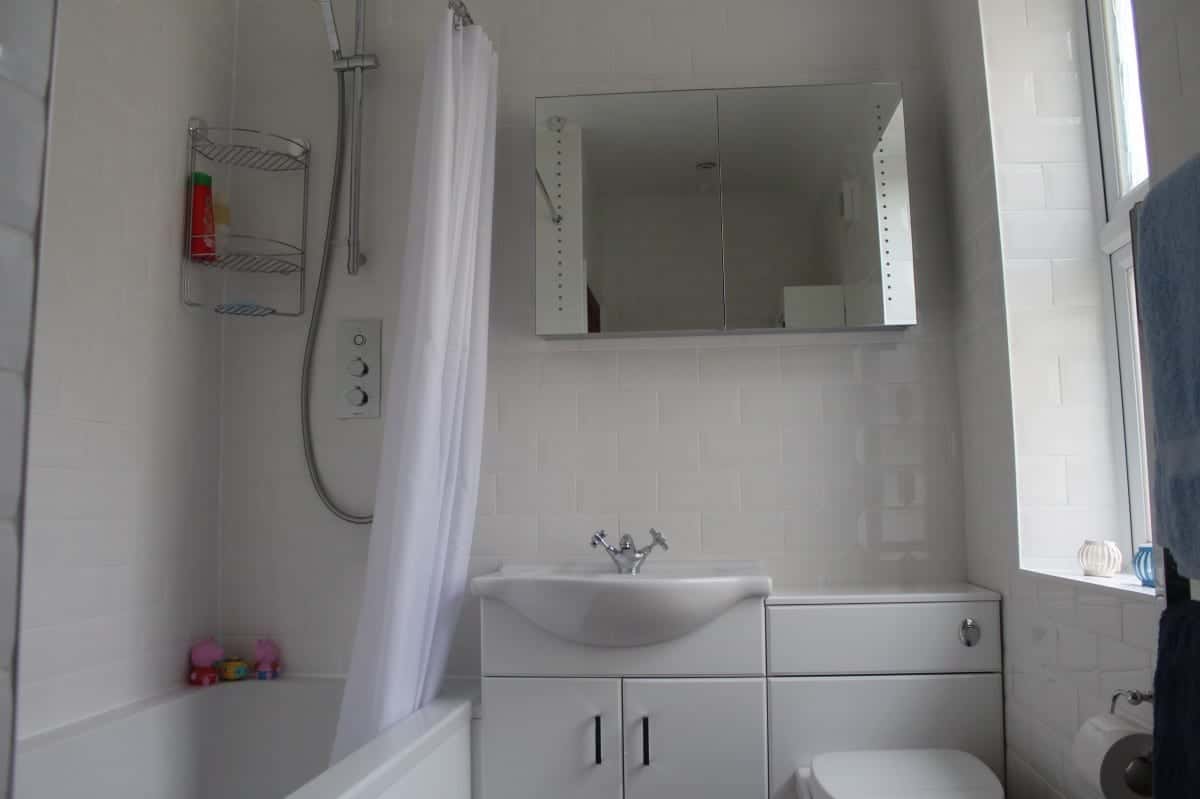 I wrote a couple of weeks ago about the bathroom renovation halfway through. It was great to see the progress made each day but I was so excited to come back from holiday and see the finished bathroom. Now that we're home, and I've filled the bathroom back up with all our bits and bobs I thought I would share our bathroom renovation with you. So here it is.
The first thing everyone notices is the tiles. We chose metro tiles which are quite popular at the moment but as the bathroom isn't that big I chose to keep the grout white to try and open up the space. The floor is actually tiles too but they're made to look like wood and we chose dark grout on the floor to tie it all together. I think the contrast between white walls and dark flooring works really well.
Most of the room is taken up with our VictoriaPlum.com bathroom suite and considering I had the job of measuring and ordering everything I don't think I did too badly! We chose the longest and widest bath that would fit in the gap and went for a double ended bath as it was as close to a roll top one that I'd ever get! Our lovely bathroom fitter then built a shelf in at the end of the bath which was a great use of the space and extra storage too!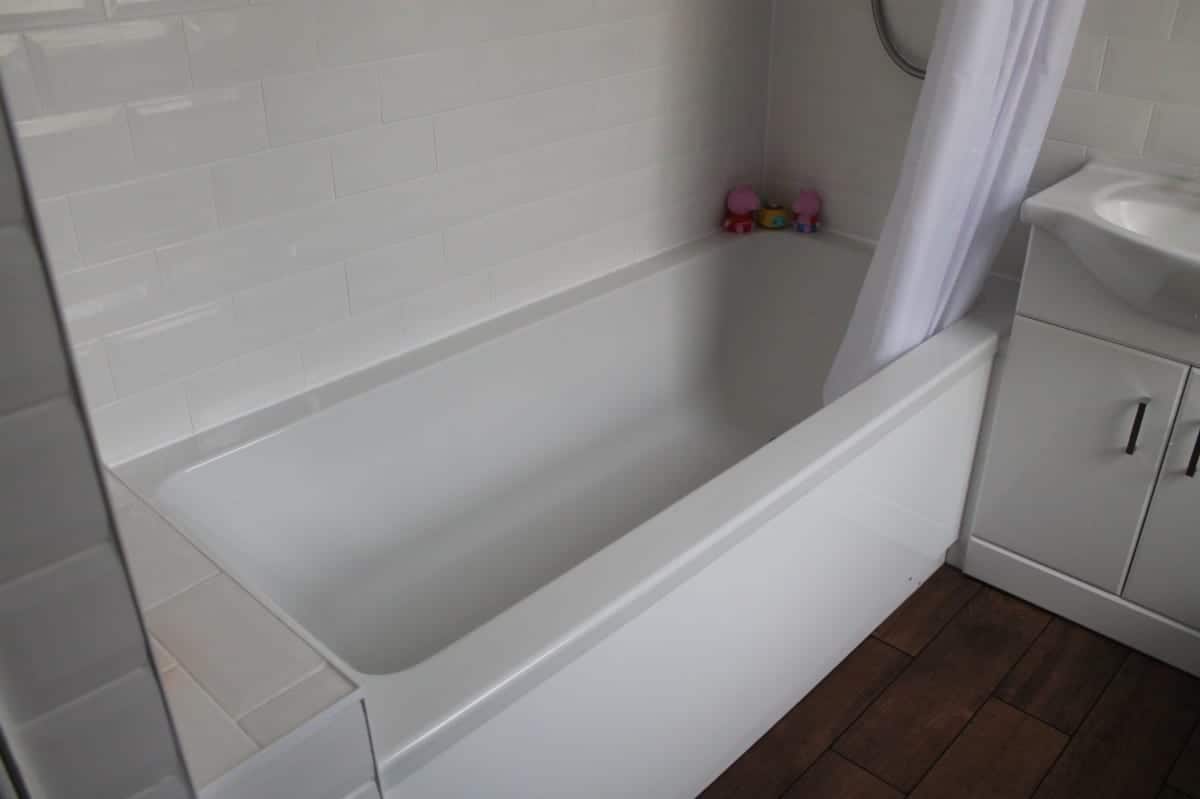 We also chose a built in sink and toilet vanity unit to try and make use of the space, to create more storage and to make cleaning easier! The unit fits perfectly into the gap we had and I love the finished look. The cupboards are really well made and came ready assembled – I've been so impressed with the VictoriaPlum.com products considering how affordable they are, they really are great value for money!
Dave insisted on a mist free bathroom cabinet as he said, rightly so, that if we're paying a lot of money for a new bathroom then he should at least be able to have a shave after he's had a shower with the mirror not all steamed up! So we splurged on this cabinet and I love it. It has built in lights, a huge amount of storage space and even a shaver socket inside it.
Our favourite part of the new bathroom is our Aqualisa Shower which I'll be writing more about separately – as there's just so much to say! The bath doesn't have taps and instead we have a bath filler which is connected to the shower and the shower controls operate both the shower and the bath filler. It also has a remote control so we don't have to lean into the shower to turn it on and the whole thing looks beautiful in our new bathroom – the traditional feel of the tiles against the modern streamlined shower controls work really well together.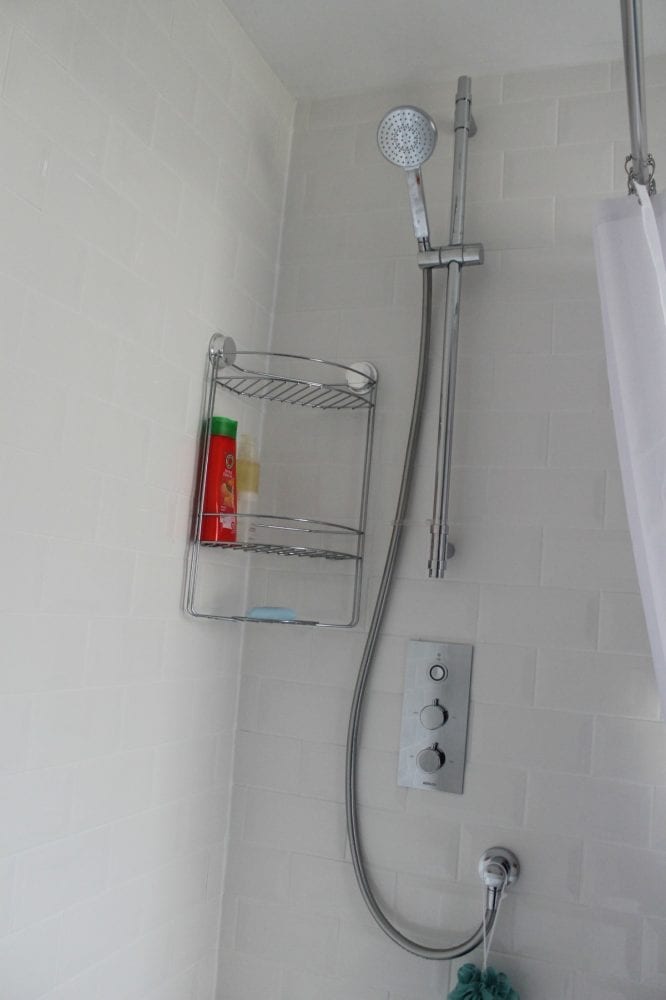 We installed a new heated towel rail that was bigger than our old one and better positioned to keep the room warm too. We even invested in a new set of John Lewis towels to give a pop of colour to the room and hopefully they'll be a good investment – I've never heard anyone complain about towels from there before.
We kept our Ikea storage units as they were pretty new and moved them up into the space created by the towel rail being moved. The whole bathroom feels so much bigger and I am just so pleased with it. All that was left to do was accessorise!
We decided on mainly chrome accessories and chose a range from Croydex, deciding on a curtain pole, shower curtain, shower caddy, toilet roll holder and towel ring. I love how the products all compliment each other, fit seamlessly into our new bathroom and are really functional too.
So there we have it, our new bathroom! It doesn't feel like ours at the moment and instead feels like a hotel or something but I am sure we'll get used to it. I am now itching to start a new project – who know what it will be?!